The colorful summer home is as eccentric as its owners, with each room expressing a different shade of their world renowned style.
Perched along the coastline of Italy's volcanic Stromboli Island, fashion designers and former couple Domenico Dolce and Stefano Gabbana purchased this summer home for themselves in the 1990s. The seven bedroom and nine bathroom abode was once three separate villas. 
The pair eventually merged the spaces into a 2,500-square-foot single residence and decked out the interior with their signature style—from brightly-colored suites to distinctive upholstery and walls of hand-painted majolica tiles. 
The traditionally styled whitewashed exterior has many characteristic Aeolian features, with a flat roof and sections built as modular cubes for easy expansion. Urban development is extremely restricted on Stromboli, requiring that all homes conform to these established styles and source local building materials whenever possible.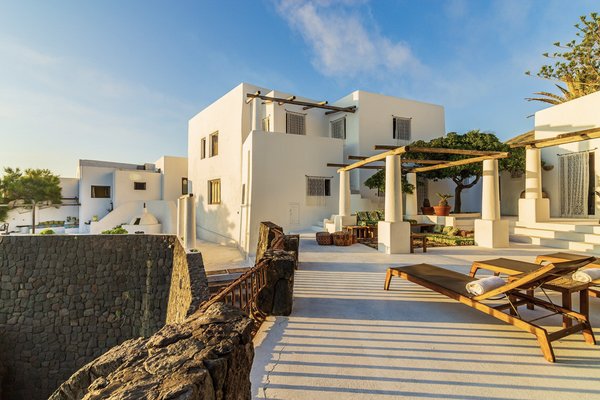 But, the conventional design ends once over the threshold. A walk through the home reveals distinctively styled rooms, each featuring unique shades of bright patterns or colors, and all expressing elements of Dolce and Gabbana's extravagant taste.
See the full story on Dwell.com: Dolce & Gabbana Part Ways With Their Vibrant Italian Villa on Stromboli Island