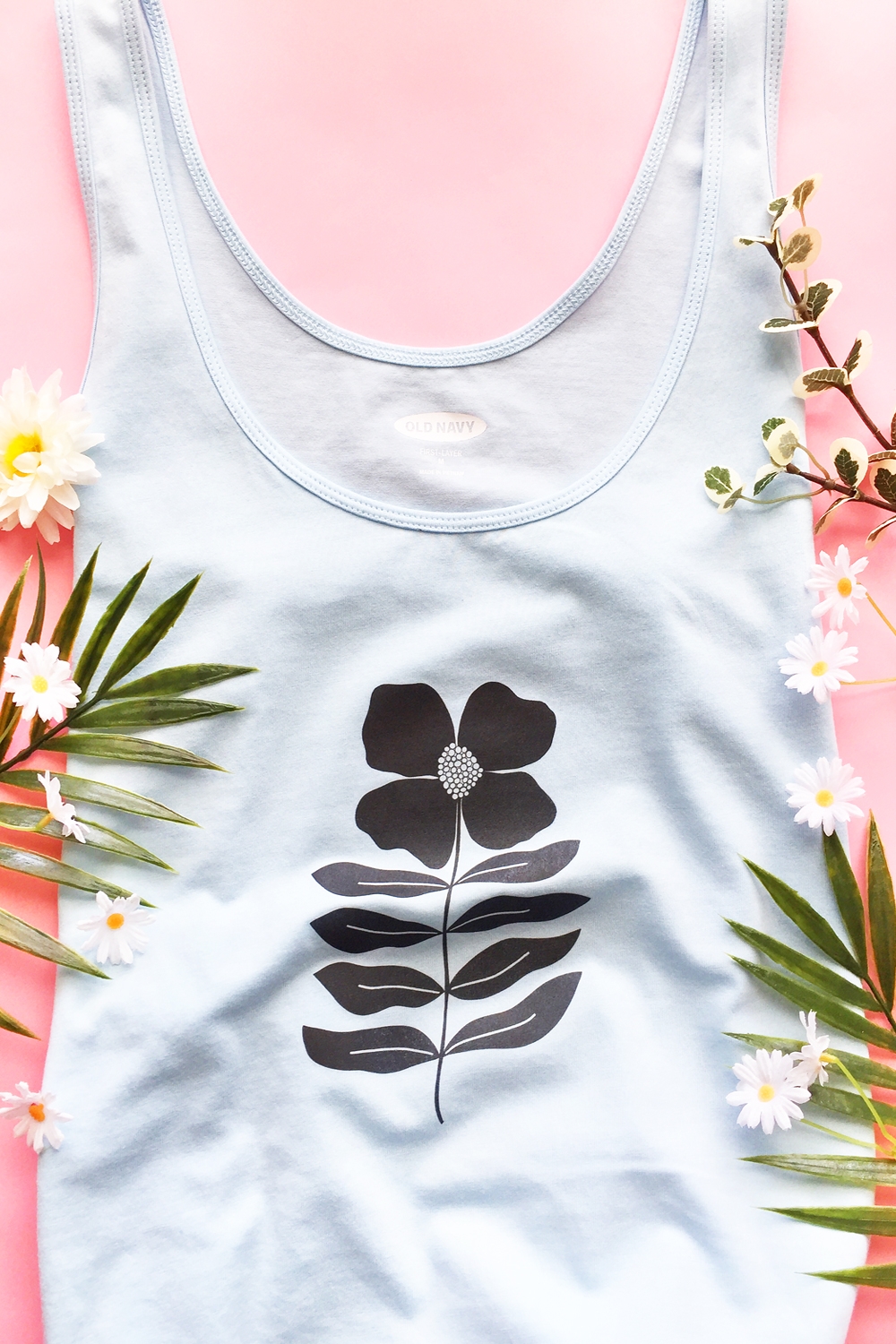 With temperatures soaring, I thought this Tank Top tutorial will be a fun activity to do and wear. It's all about using a floral image and transferring it to a blank tank top using your printer, transfer sheets and an iron. I also found a really good brand of transfer paper (Not an affiliate, just a fan!) that I want to share with you. Read on for the full tutorial!
---
---
*This post contains affiliate links for products that I use and love!
What Is Fabric Transfer Paper?
Iron-on transfer paper sheets are used to transfer images or text onto a fabric medium with heat. They are commonly used to print onto mediums like T-shirts, tanks and canvas totes. For today's tutorial, a black floral image will be used as the image to transfer. It will then be printed onto special transfer paper sheets that can then be ironed on to your fabric for a customized look.
Typically there are 2 types of Iron On Transfer Sheets that you can purchase:
Transfer sheets for light colored fabric
Transfer sheets for dark colored fabric
For today's tutorial I will be using transfer sheets for light colored fabric on a pale blue tank top.
---
DIY Flower Tank Top: Materials
Graphic software
Black floral image in .png format – I illustrated mine using the Procreate App on my iPad. You can also source your images on places like Creative Market
Printer paper for a sample
PPD Light Fabric Transfers for Inkjet Printers. I've tried a few brands, and I was really pleased with the results from this one
Tank top – I got a pale blue one at Old Navy
Scrap fabric or pillowcase
Iron
Heat resistant, smooth hard surface (it is recommended that you do not use an ironing board). The hard surface must have enough support for you to apply pressure as you iron on the floral image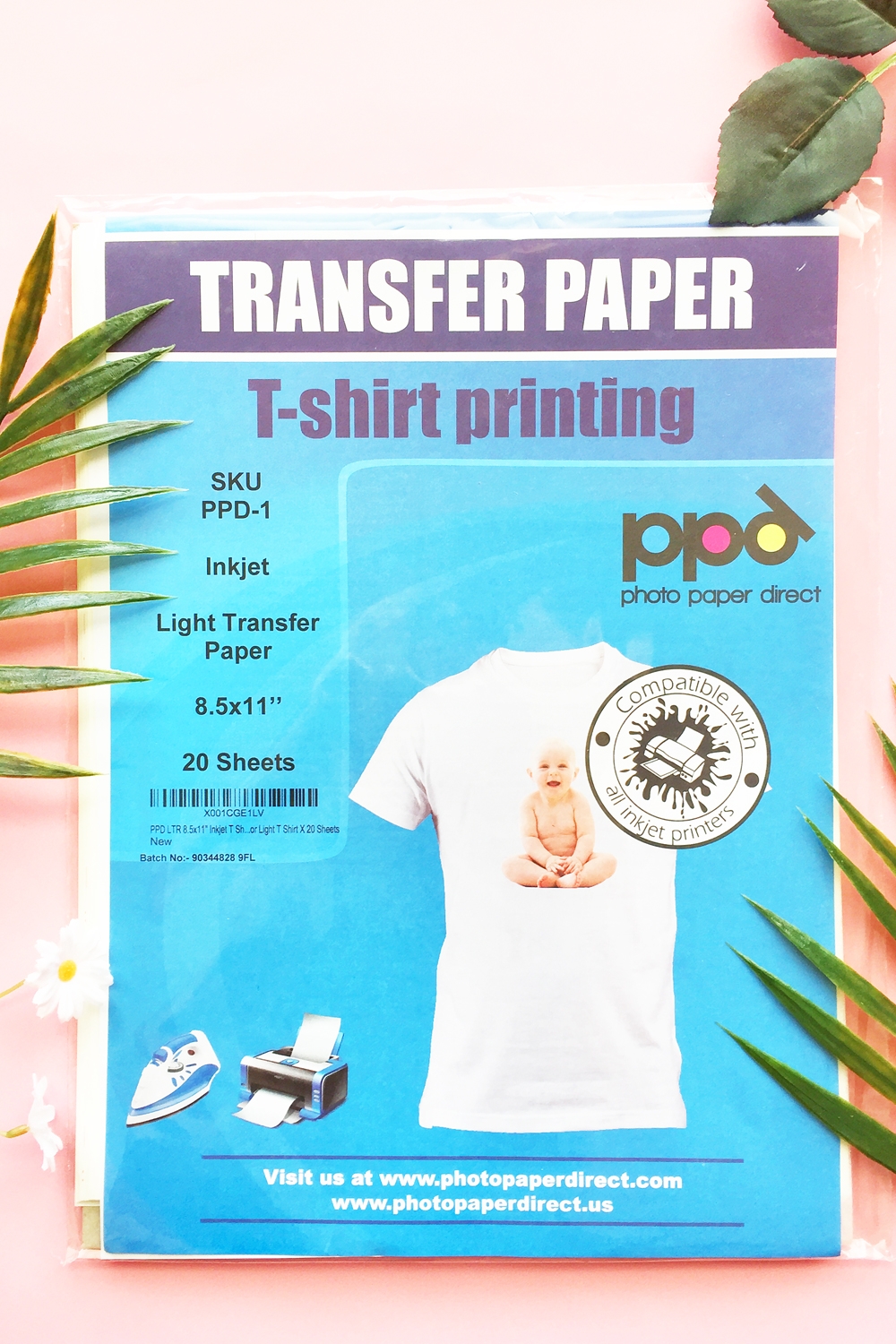 ---
DIY Flower Tank Top: Instructions
Step 1: Open Your Flower Image In Graphic Software
Launch your graphic software
Open your black floral image – I recommend .png because the background is transparent
Resize your image so that it fits on your tank top. I resized mine to 6 in
Flip or mirror your image
Step 2: Send Your Flower Image To Print
Print a sample of your floral image on regular printer paper first to make sure that the size meets your expectations
If everything looks good, load your Light Fabric Iron On Transfer sheet into your inkjet printer
Send your image to print
Step 3: Trim your Floral Image
Cut out around your image staying very close to the edges. Keep the edges rounded to avoid any curling or lifting from the fabric.
Step 4: Prepare Your Surface and Iron
Your surface should be waist high or lower so that you can apply pressure when ironing. Before turning your iron on, make sure it is empty of all water and set for No Steam. I really recommend following the instructions that come with your transfer paper. I found looking at this video from the PPD brand extremely helpful.
Put a piece of scrap cloth on the hard surface (a pillowcase is recommended)
Set your iron to the highest setting and preheat for 5 minutes
Iron your scrap piece of cloth or pillowcase to remove the wrinkles
Then lay your tank top on the scrap material or pillowcase
Iron your tank top or T-shirt to remove any moisture
Step 5: Iron Your Floral Image
Place the transfer paper with your printed floral image face down onto your tank top
Make one sweep over the entire image – this will adhere the paper to the tank top
Iron on with pressure by making small circles over the entire transfer – from left to right and top to bottom (the guidelines for how long to do this will be listed on the package instructions and video link above)
Step 6: Peel The Transfer Off Of The Material
Peel the paper backing from a corner of the transfer off of your tank top. Your floral image should appear on the material
Place a silicon sheet (that came with your transfer paper package) on your image and iron again over it in small circles for about 20-30 seconds
Remove the silicon sheet
Stretch your fabric a little while it is hot
---
And that's it! I love my new my tank top! Let me know how your pretty floral top turned out in the comments below!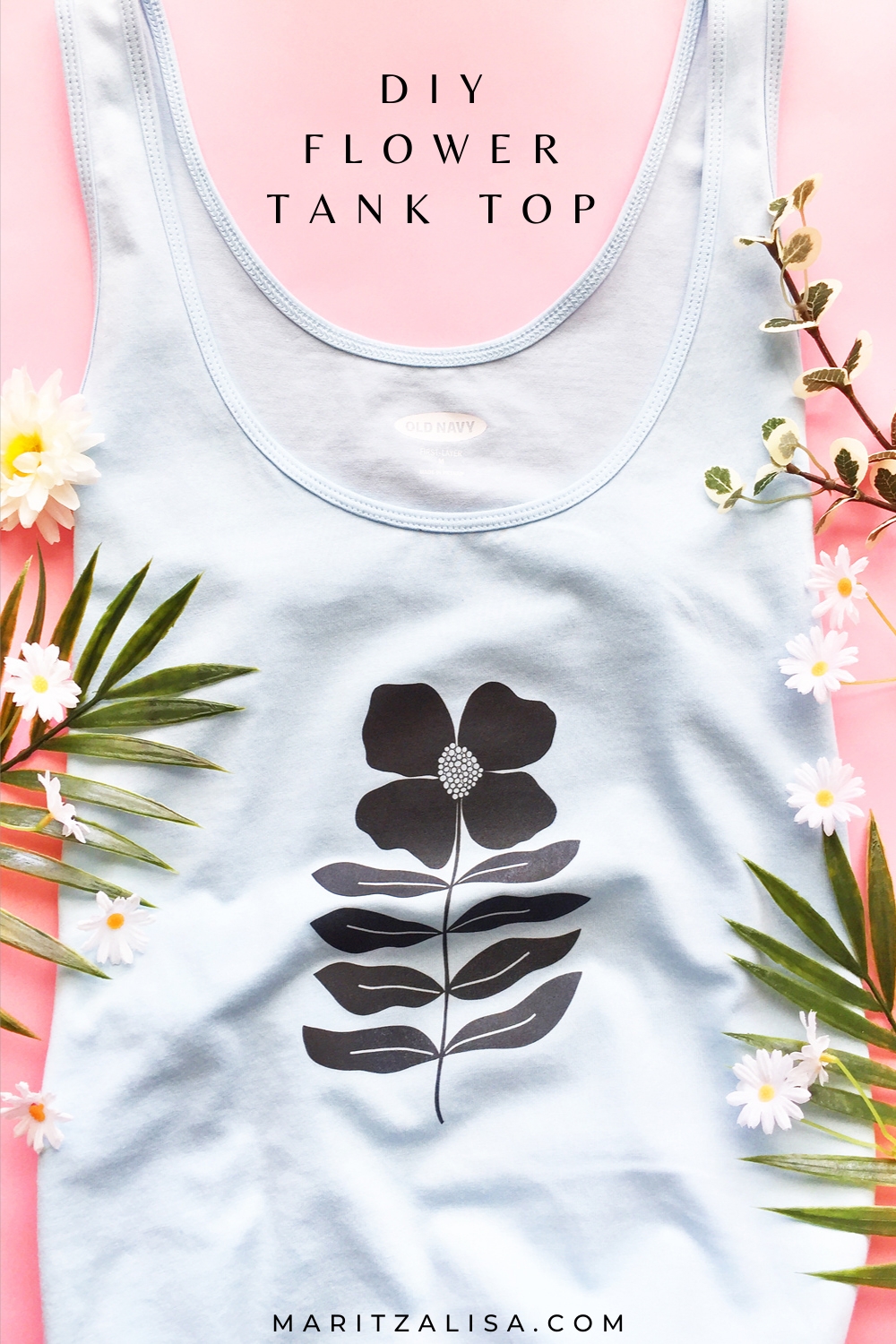 Looking for some more crafty inspiration? Take a look at these tutorials on How To Make Your Own Stationery!
The post DIY Flower Tank Top appeared first on Maritza Lisa.