If you're looking around the room and you feel like there's one special touch missing, why not personalize your space with a wooden letter? Large letters can be combined on a wall or shelf to spell out a word, or they can serve as monograms that help you put your own unique stamp on your interior. Nowadays there are many designs and styles to choose from, so keep reading for ideas and tips on decorating with wooden letters. [from The Land of Nod]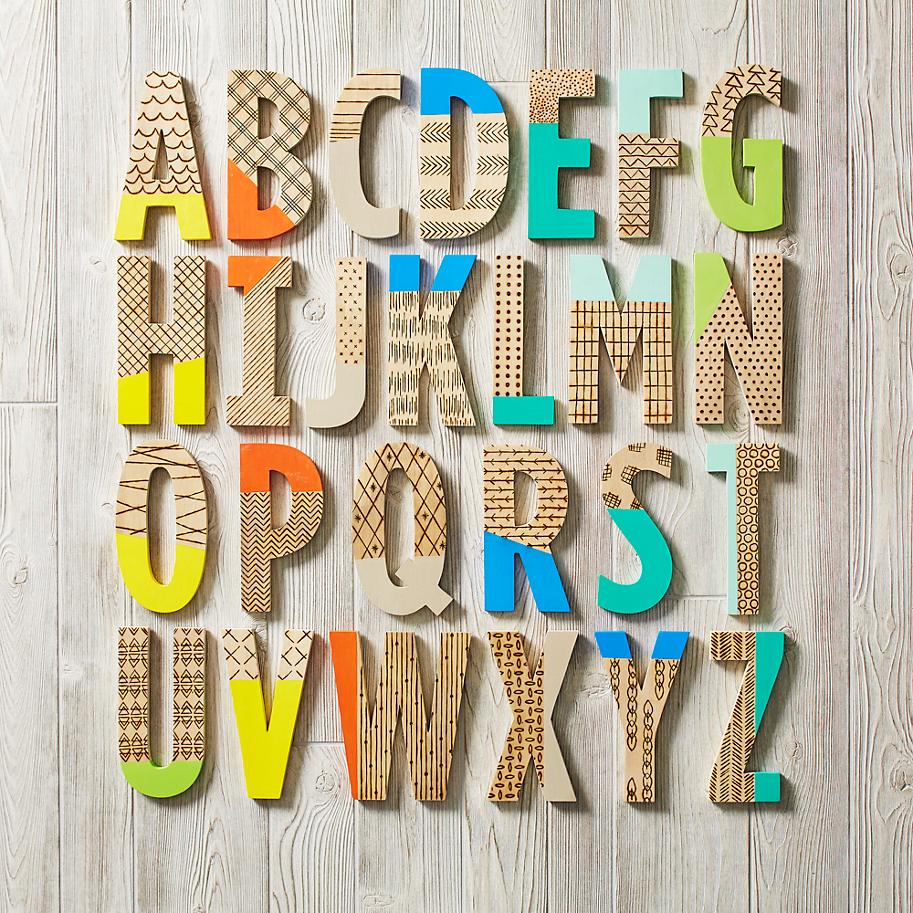 Industrial Flair
Many wooden letters feature details that create an industrial look. For example, the letters below have a distressed feel that combines modern flair with eclectic painting. The effect: an eye-catching wall art statement. [from Magnolia]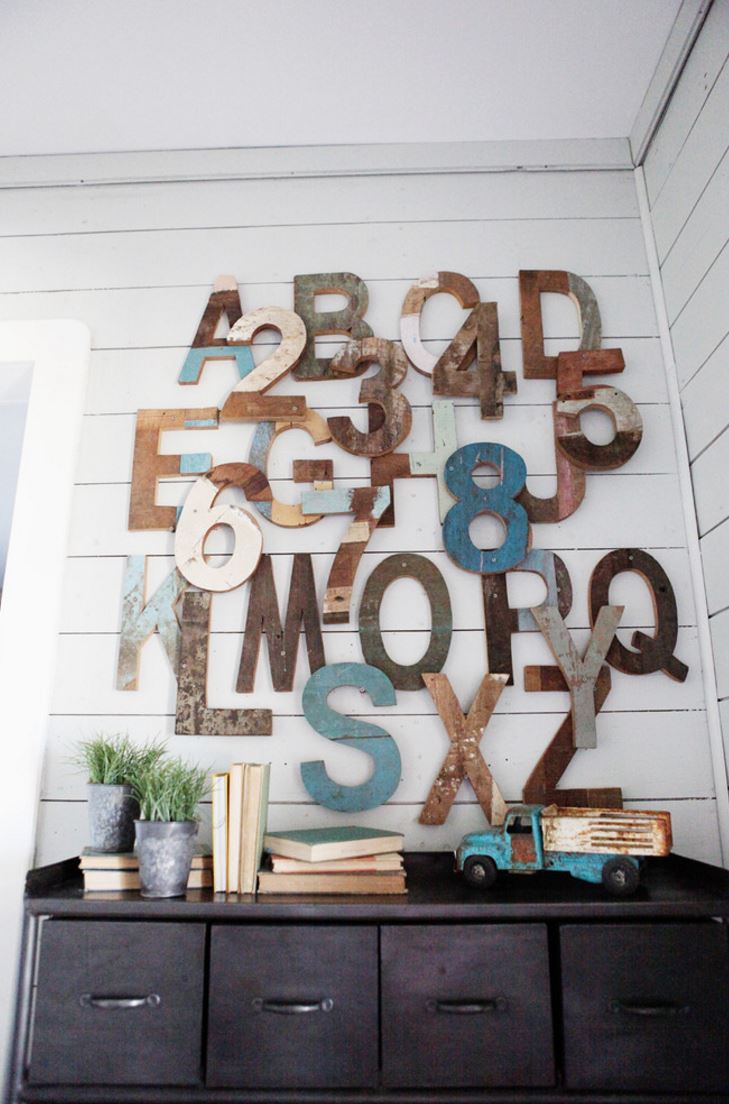 This grouping of artwork and letters creates an intentionally mismatched look that channels both rustic and industrial style. [from Charm Home]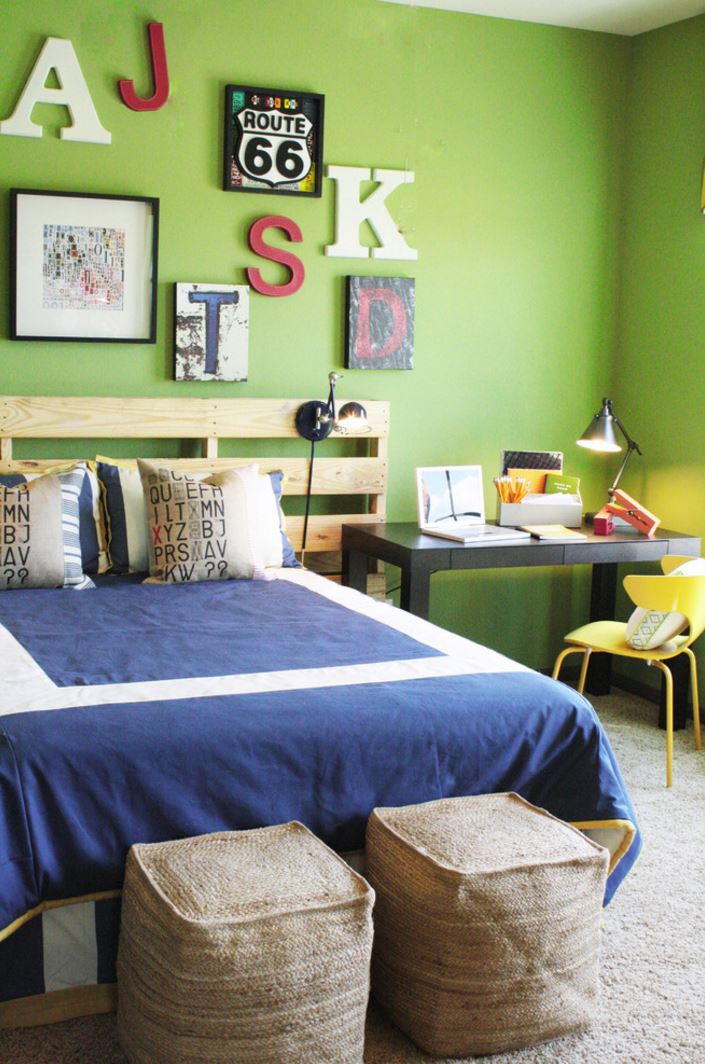 There are many places to shop for wooden letters, such as Restoration Home Baby & Child. The Vintage Industrial Letters in the next image feature metal trim that's held in place by exposed nailheads. In case you doubted for one second that they were industrial at heart!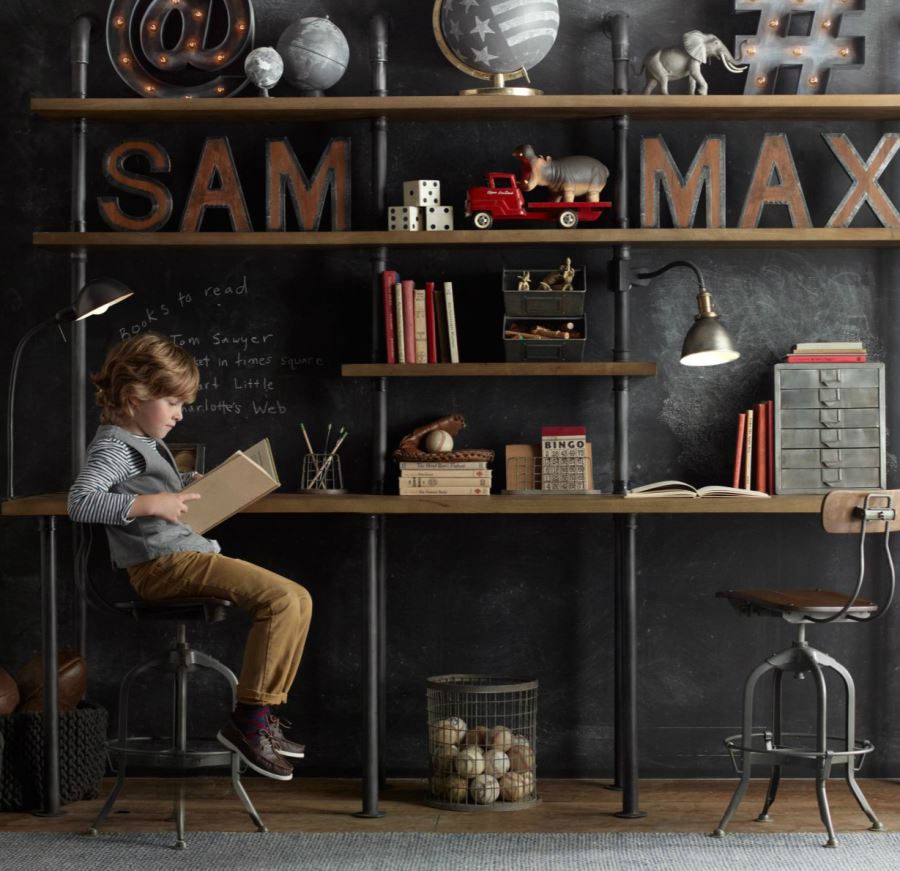 Here are the same letters, this time in a modern nursery with a masculine feel… [photo by R. Brad Knipstein Photography for Niche Interiors]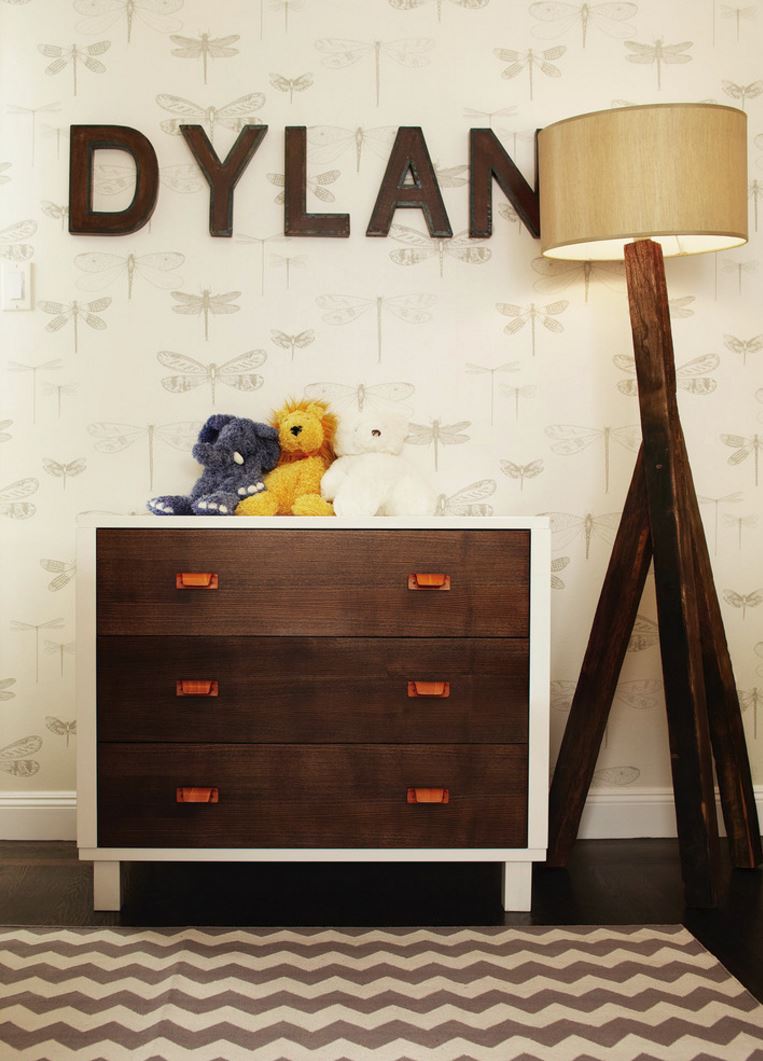 These Wooden Block Letters from RH Baby & Child are inspired by typesetting blocks. The result: a vintage look that works well in classic and industrial spaces alike: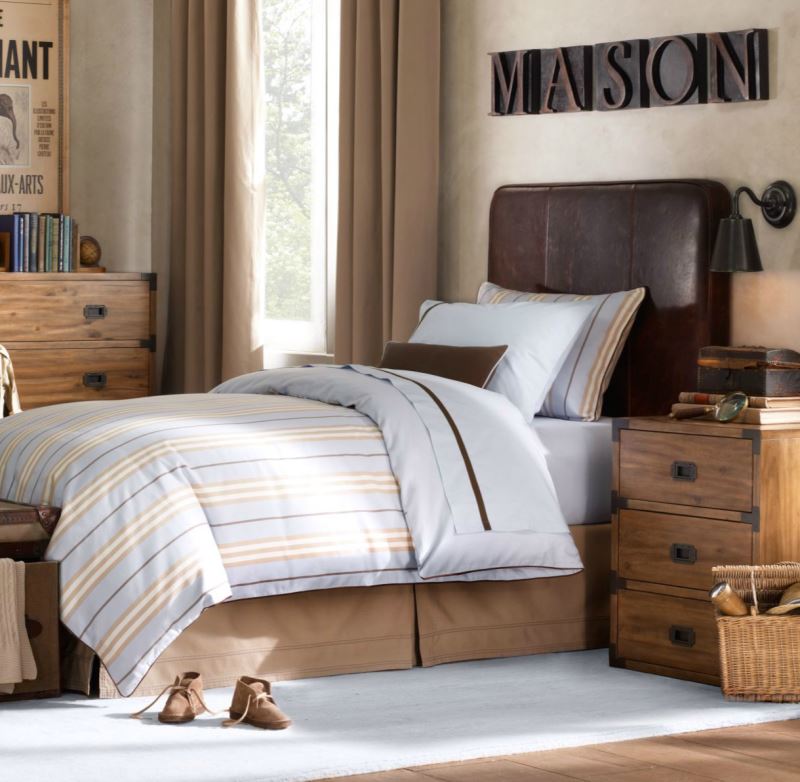 If spelling out names is a popular way to use wooden letters in kids' rooms, spelling out words is a popular way to showcase them in spaces such as the kitchen. Below we see rustic-modern letters that remind us exactly why we bother maintaining a kitchen in the first place! [from SoCal Property Portraits]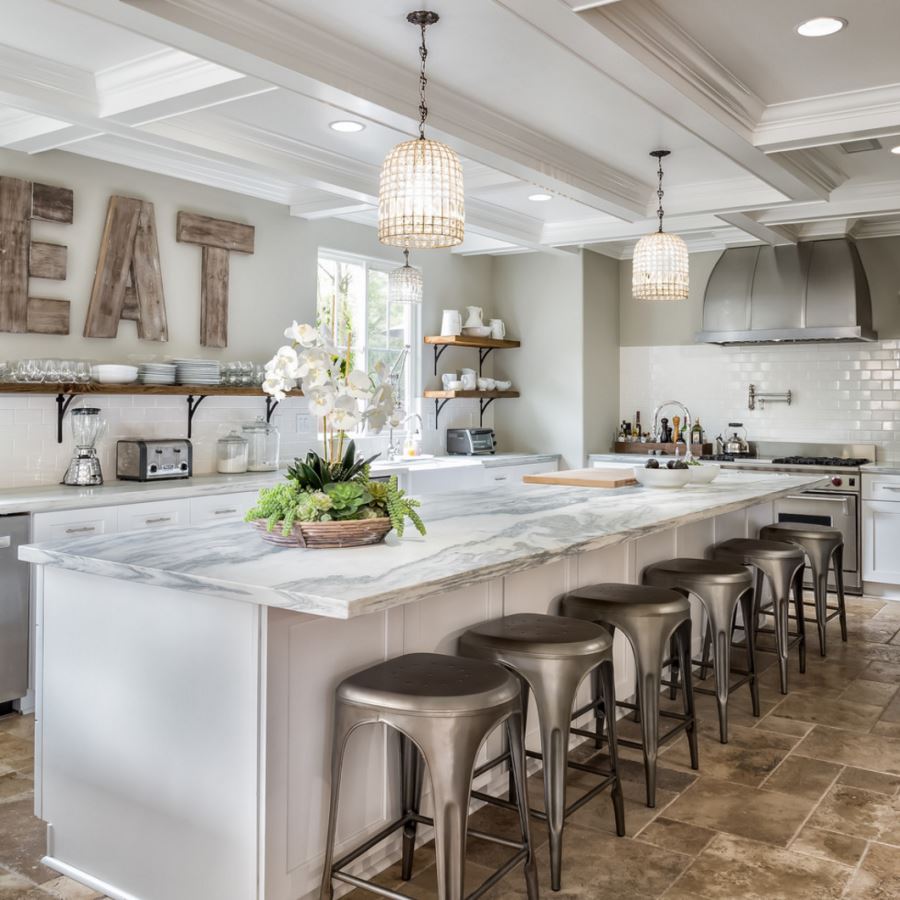 Etsy is another wonderful source for wooden letters, and the small custom letter below comes from Etsy shop Summer Design Shop. In addition to this foot-tall letter option, Summer Design Shop offers a larger 20″ size. Request any letter of the alphabet and receive a beautifully crafted finished product made from reclaimed wood.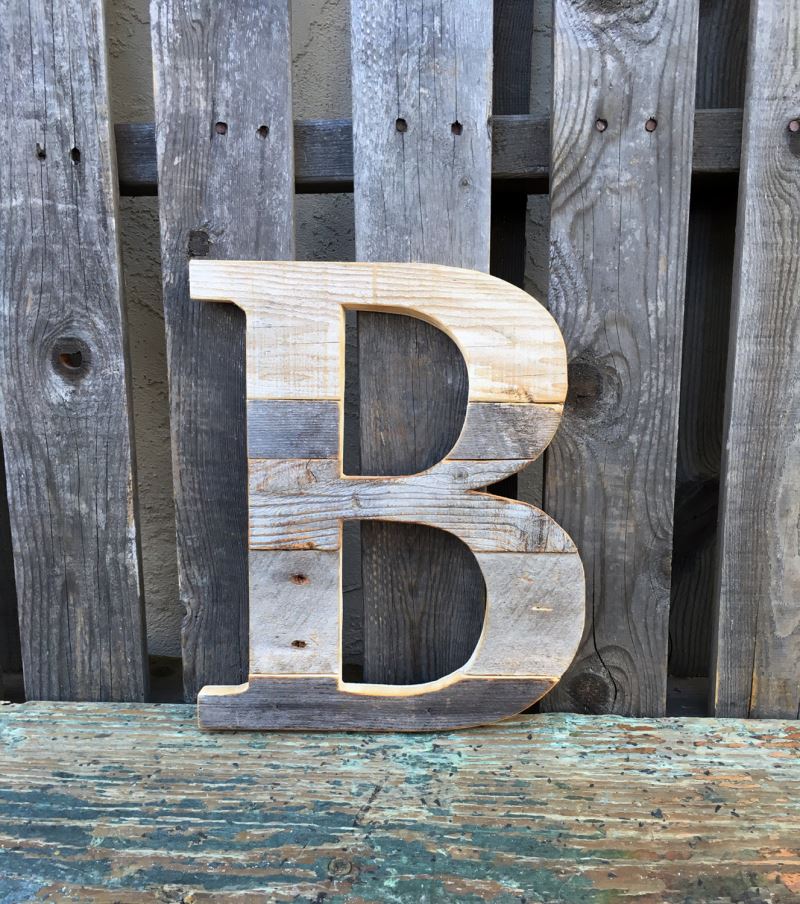 The chest of drawers in the next image is made by Luke Ellis of Kent and London. In fact, this piece inspired by vintage printing blocks just might inspire YOU to add wooden letters to the furnishing of your choice, DIY-style! You can find purchasing information here. [via Houzz]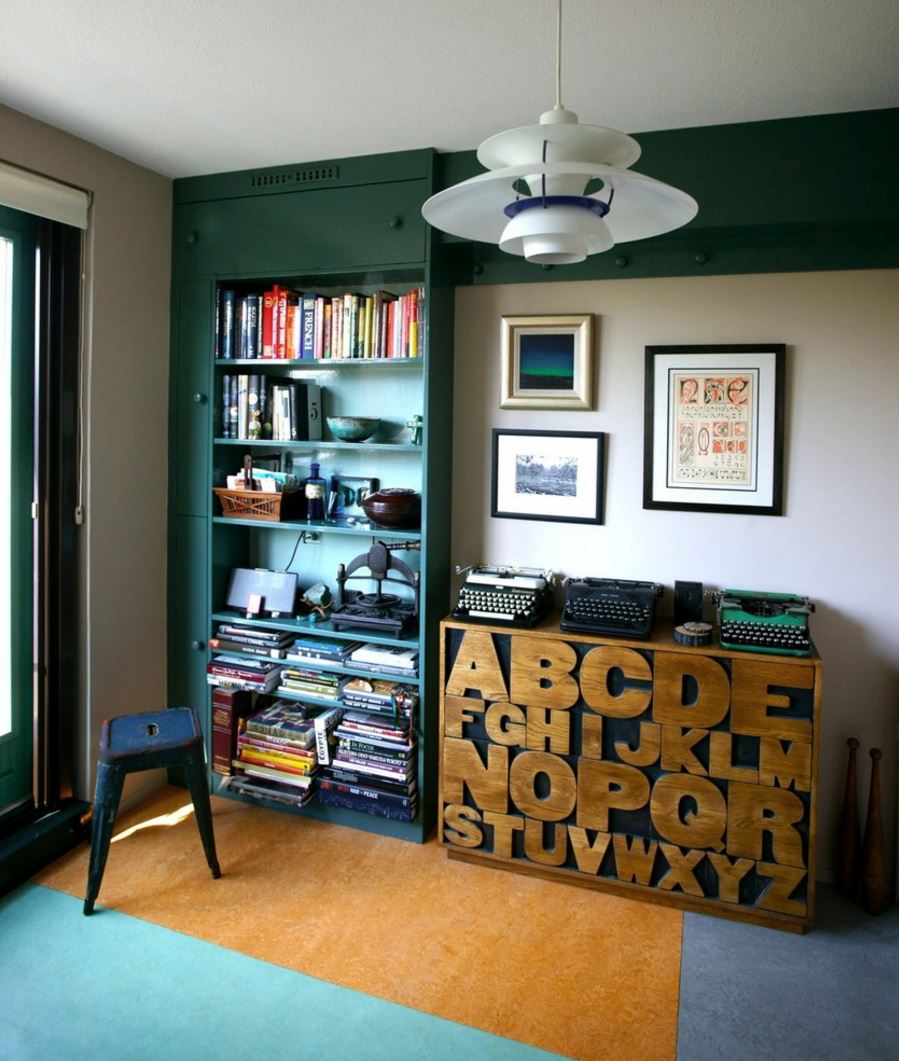 Top Trends
So many new design trends, so little time! Today's wide array of wooden letter options reflects the latest trends, and these Wood Shop Letters from The Land of Nod are no exception. For starters, they're paint-dipped in colorful hues. And their wood-burned designs create a hand-drawn look (another top trend)! See more of these letters designed by Ampersand Design Studio at the top of the post.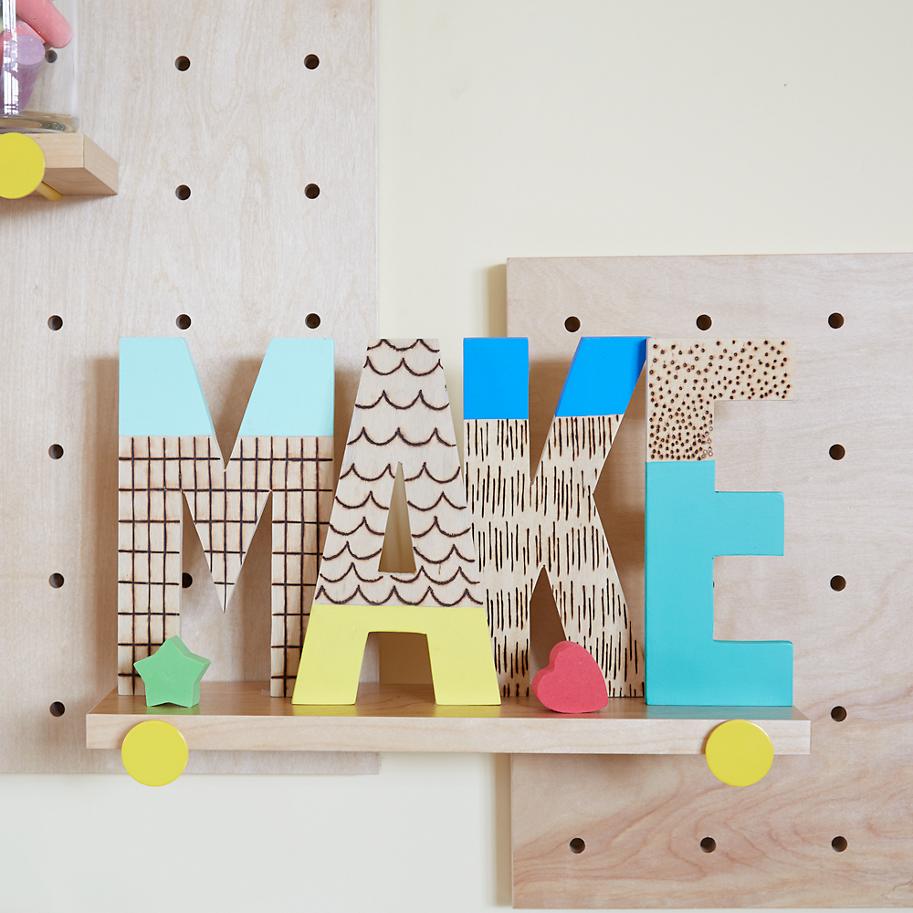 Carved acacia wood is accented with pastel and white paint for these Woodshop Monogram Letters from Anthropologie. Their modern form and painted surfaces create a geo look that's right in line with the current celebration of all things geometric!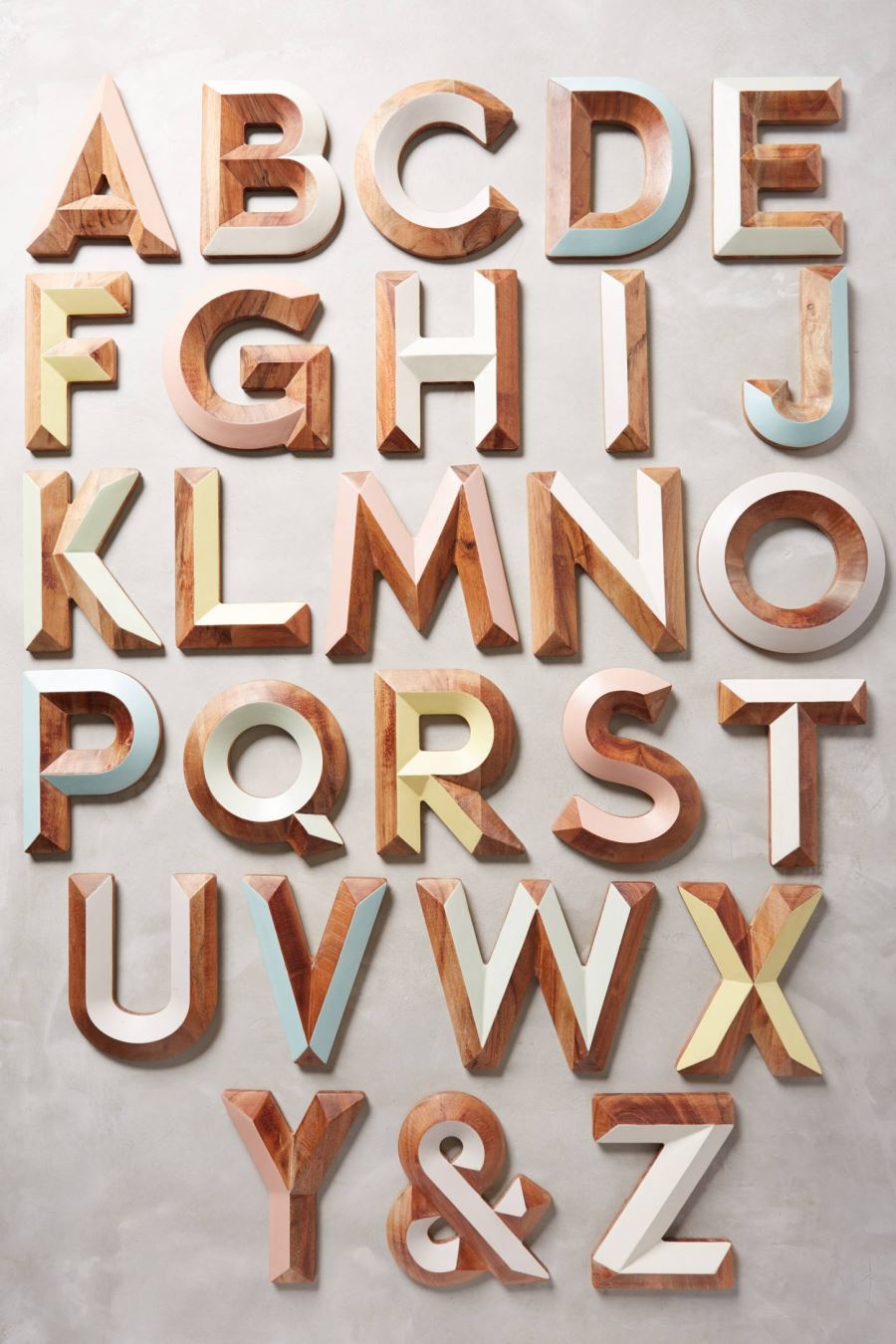 Paint-dipped style is alive and well… These Gold-Dipped Baby Name Letters from Etsy shop Cucumber Apple Studio are hand-cut from MDF, hand painted, and given a gold-dipped finish. Each letter is sold individually, so you can spell out your little one's monogram or full name: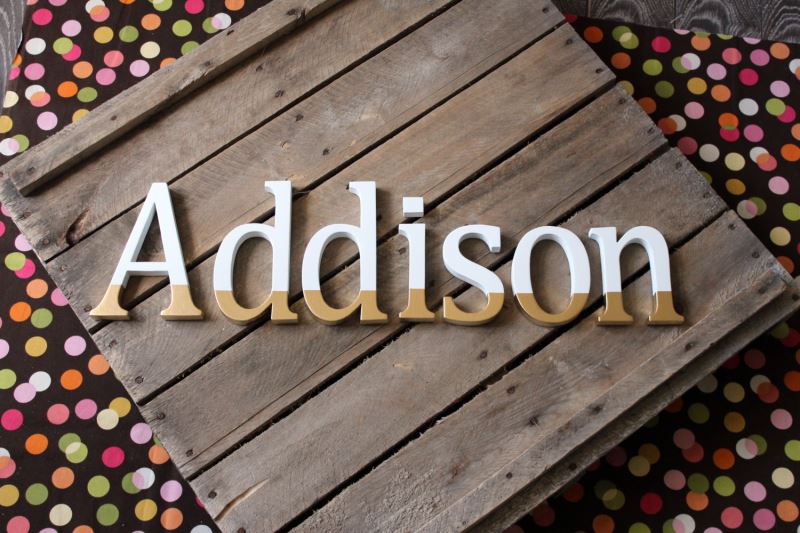 Why are we so fascinated by rocks and minerals? Perhaps their natural beauty is irresistible! These Ice Crackle Monograms from Anthropologie are actually crafted from mango wood and resin. While the resin clearly isn't crystal, it has a crystalline look from a distance.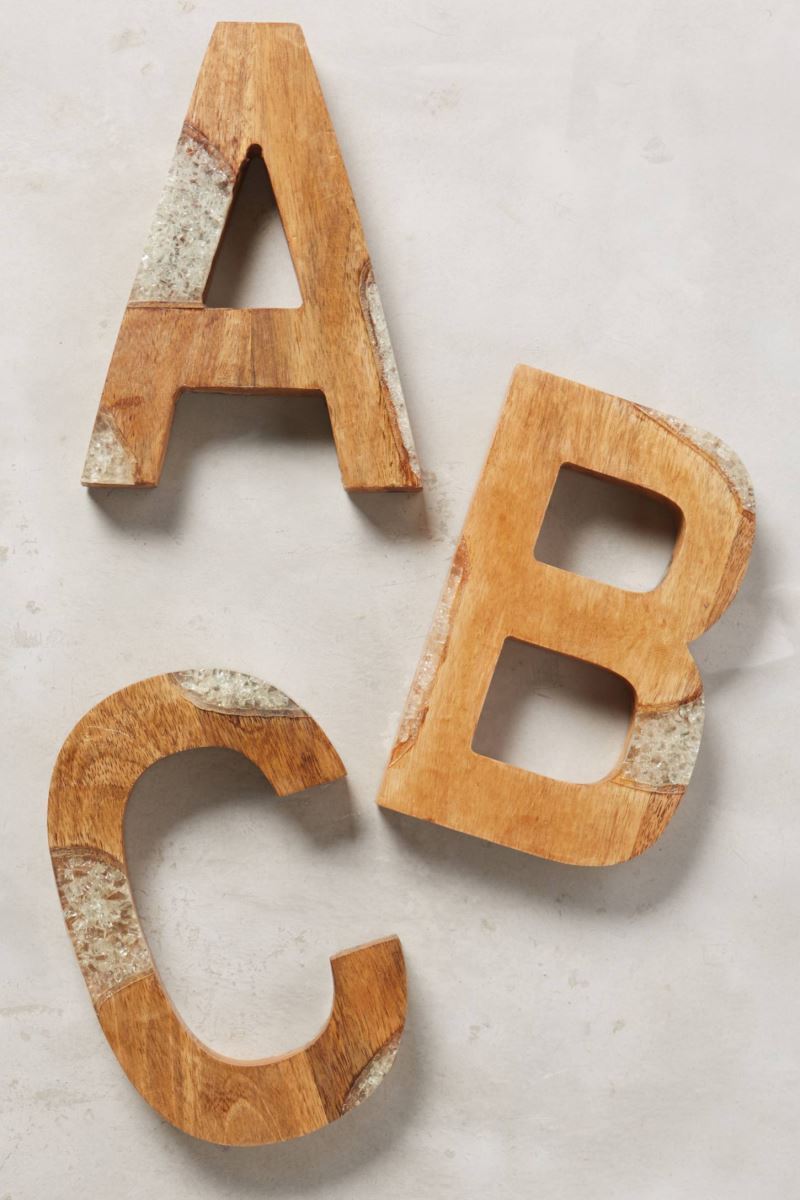 Succulents! They're all the rage. So why not merge them with wooden letters and create a vertical garden with a message?! [from Imperial Kitchen & Bath]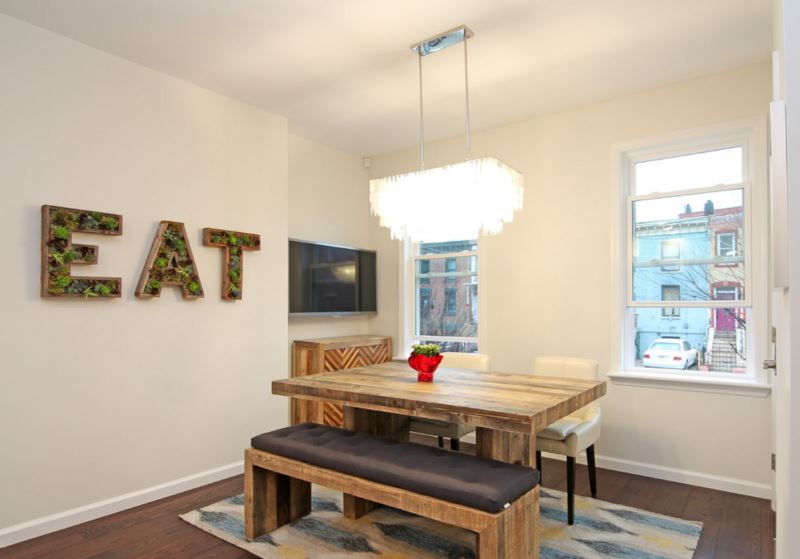 Classic Style
We end today's post with a collection of wooden letters that exude classic style. These gold-hued letters from Restoration Hardware Baby & Child are a combination of classic and glam: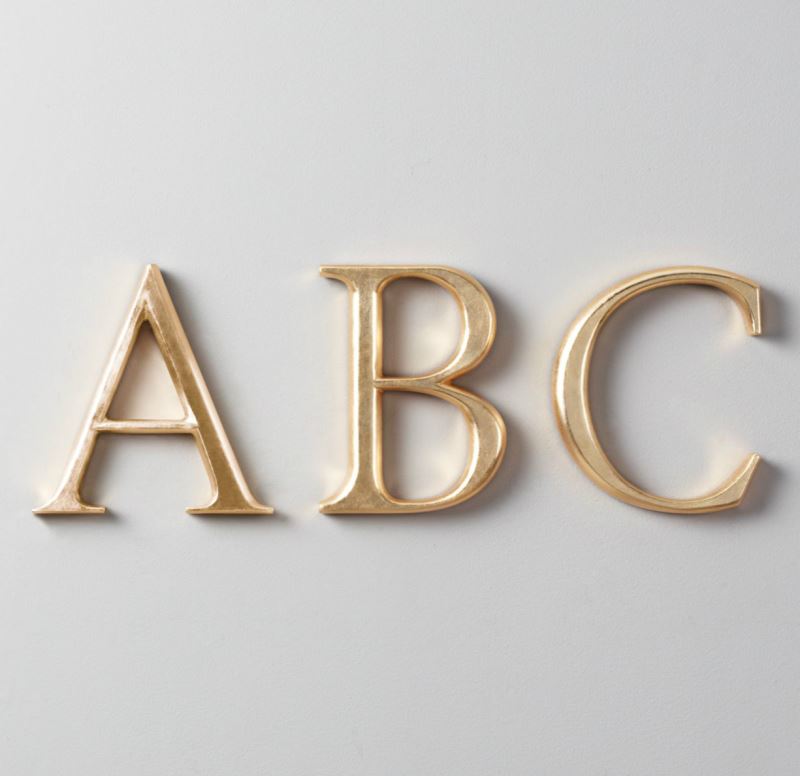 Put a bold spin on a traditional font by painting your letters a vivid color! There's no doubt about the purpose of the room below. Yes, they've spelled it out for us. [from Lisa Wolfe Design, Ltd.]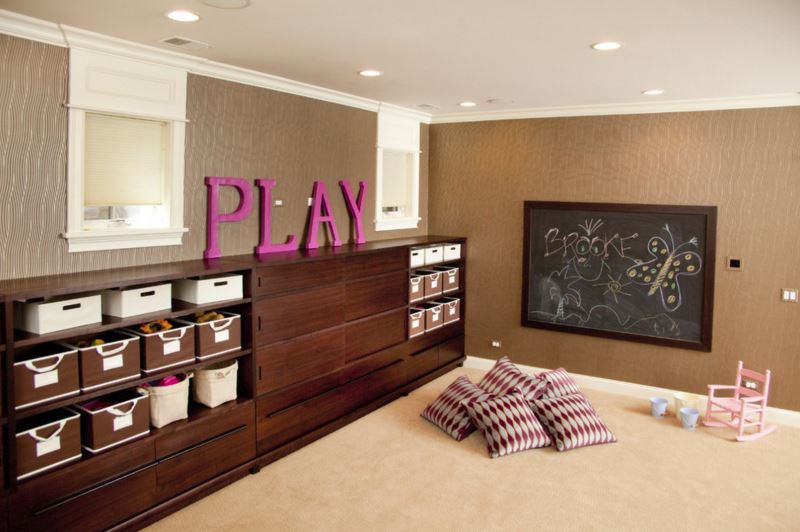 Etsy shop From a Little Dust offers painted and distressed custom wooden letters. You choose the color!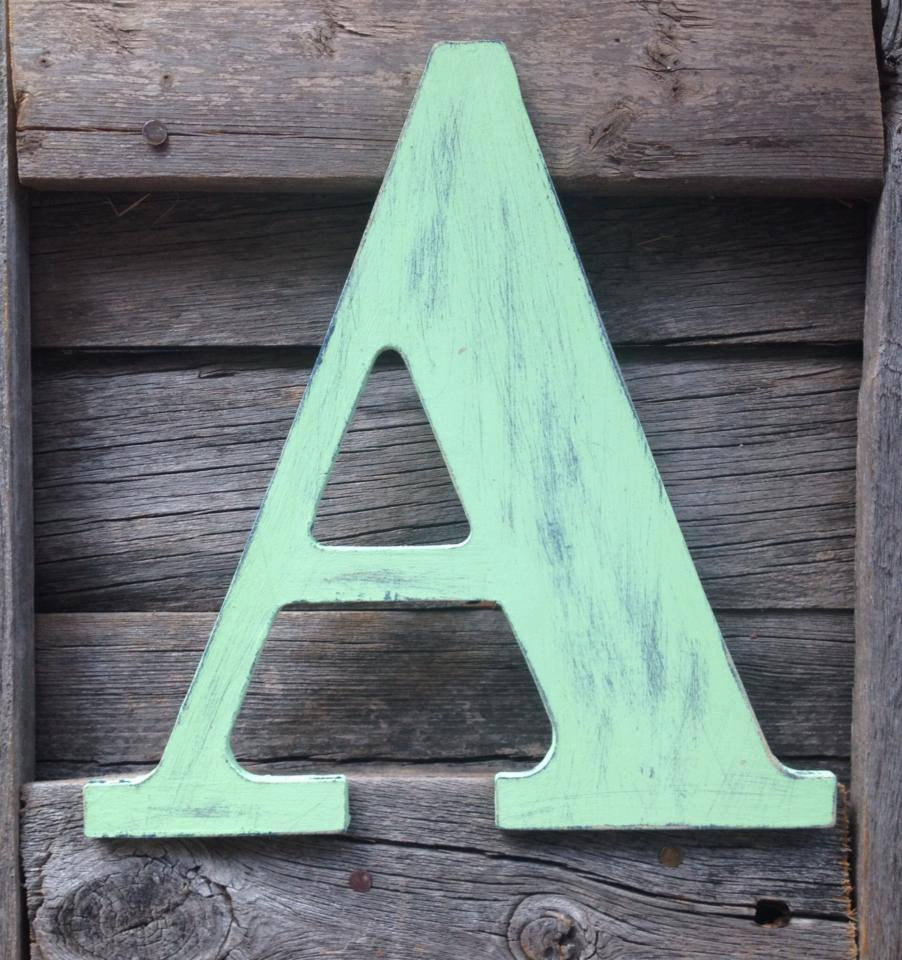 Last but not least, these Wood Beaded Letters from RH Baby & Child combine earthy wooden charm with fluid forms. Antique grey wood beads are the materials of choice: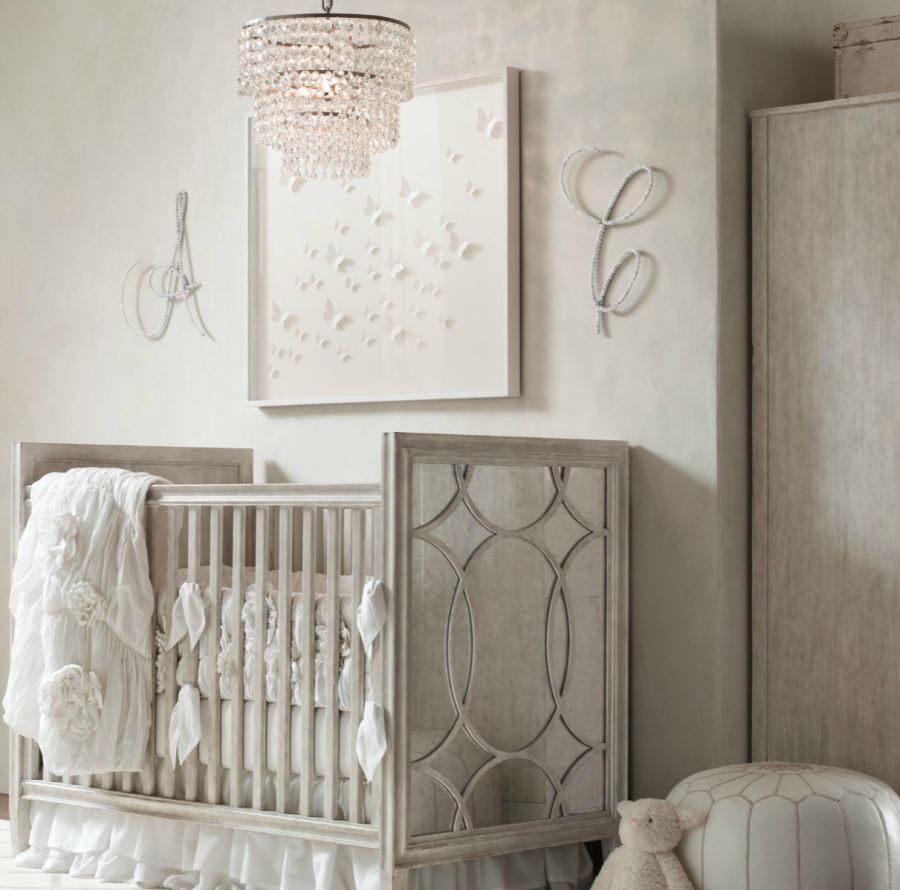 When it comes to wooden letters, do you prefer an industrial look, a trendy feel, or classic charm? Share your thoughts by leaving a comment below…
You're reading Decorating with Wooden Letters, originally posted on Decoist. If you enjoyed this post, be sure to follow Decoist on Twitter, Facebook and Pinterest.