If wood flooring is available, why go with porcelain tiles that look like wood? For one thing, this sturdy tile is perfect for areas such as the kitchen and the bathroom. Porcelain and ceramic tiles are durable, and they can hold up in spaces where moisture will accumulate. After all, it would be difficult to maintain a wood floor in a highly trafficked area where there's the potential for spills. Not to mention, porcelain and ceramic wood-effect tile can handle rough wear and tear from active kids, muddy-pawed pets and other elements. But did you know that wood-look flooring has the potential to be sleek and stunning? We've got the pictures to prove it…
Porcelain Tile in the Living Room
High-traffic areas such as the living room are perfect for wood-effect flooring. And boy, has this tile come a long way! Check out the clean, fresh look of the impervious porcelain tile from Surface Art, shown below: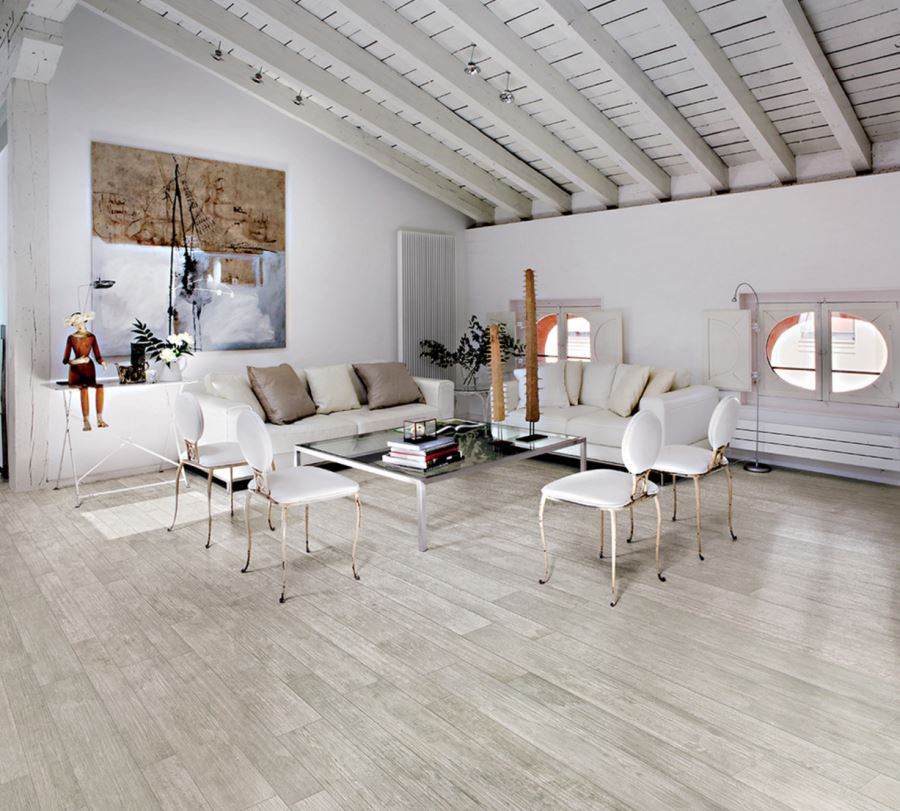 Next we get a a closer look at the "Bahamas" Paradise Plank from Surface Art. This porcelain tile is made in Italy. We're loving the texture and color variation: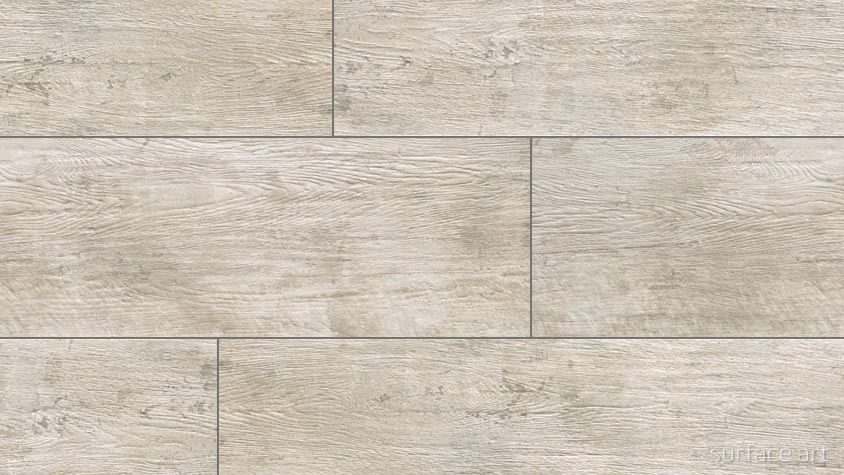 The length of the planks can vary, as shown by Surface Art's Paradise Plank Antigua. The look is multi-dimensional, as a range of tones can be seen on each tile: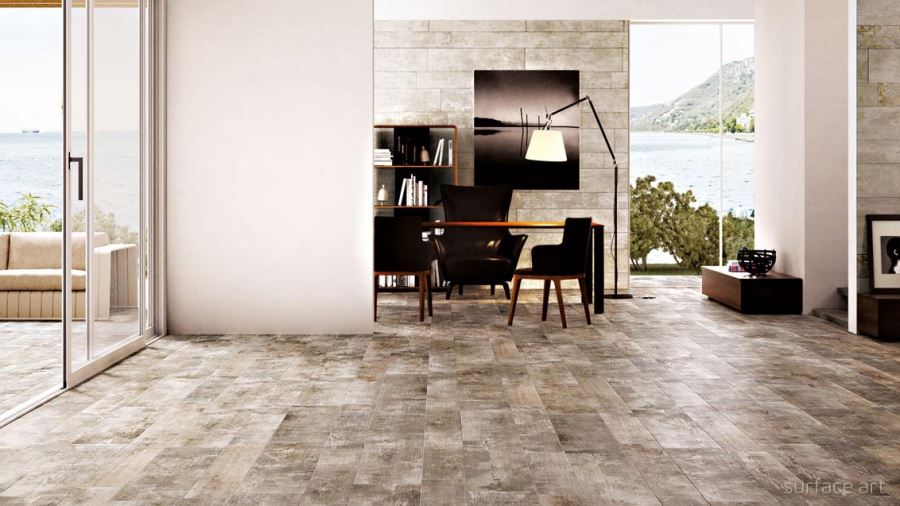 In the next image, we see Pasandena wood effect porcelain tiles from Direct Tile Warehouse. Since it can be used in commercial spaces and as deck tile, you can bet this light brown wood-effect flooring is durable enough for spaces such as the living room.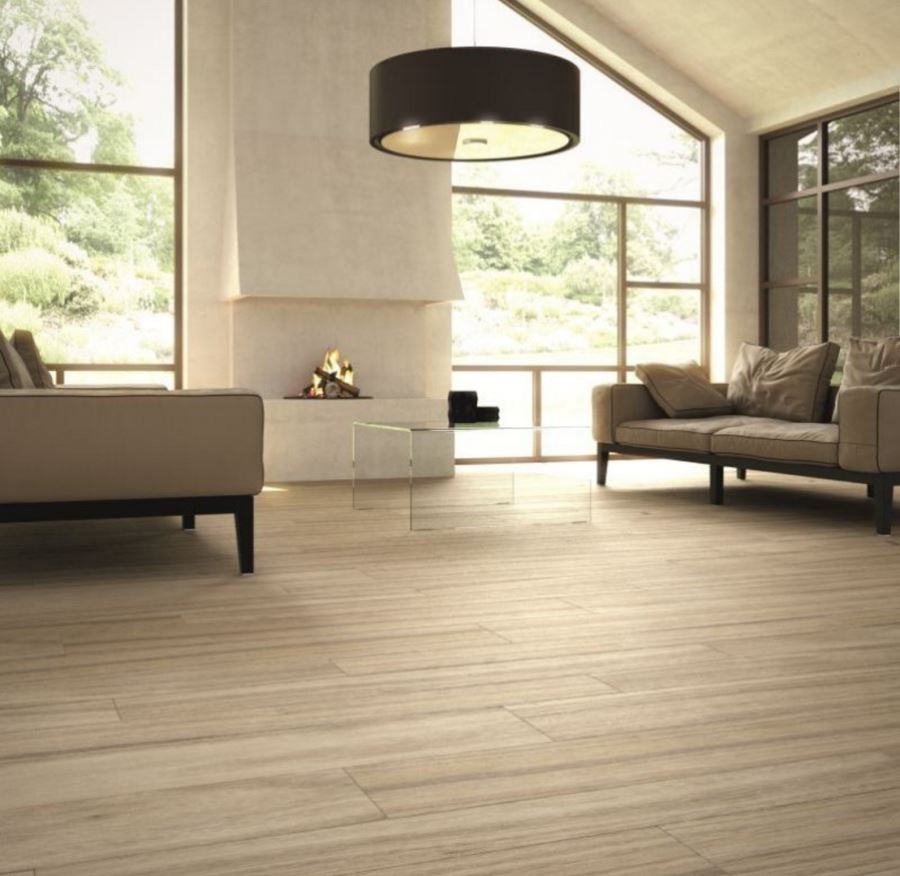 Even pricey porcelain tile is less expensive to maintain than hardwood. If you don't save on the initial cost, you will save on maintenance!
Sleeping Spaces with Wood-Effect Tile
Bring some low-maintenance wood-look flooring to the bedroom and create a serene sleeping space. The Lux Wood below is inspired by actual wood flooring. Rest and recline while gazing on the rich tones of the tiles, which are finished to evoke the feel of wood such as beech and elm! [from Architectural Ceramics]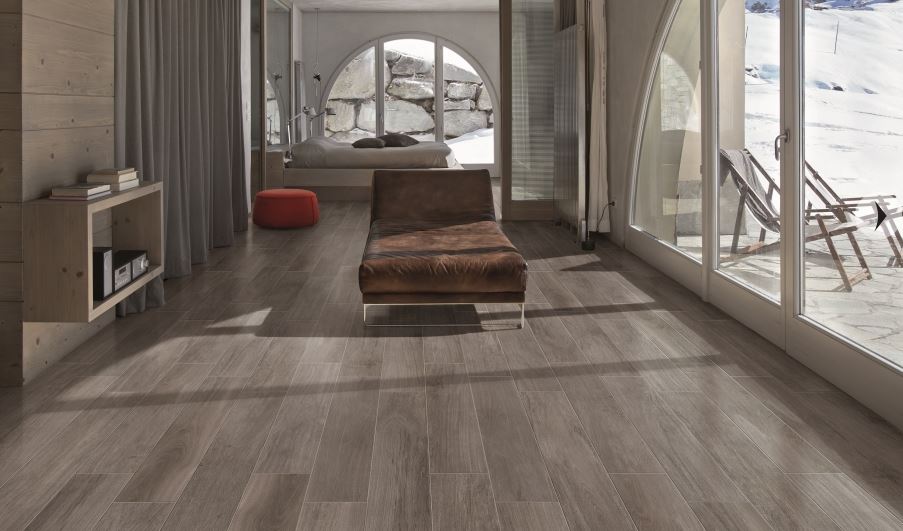 Wood-effect porcelain tile has an upscale look, yet the flooring is super durable. We're starting to get the appeal. Are you?… [from Tons of Tiles via Houzz]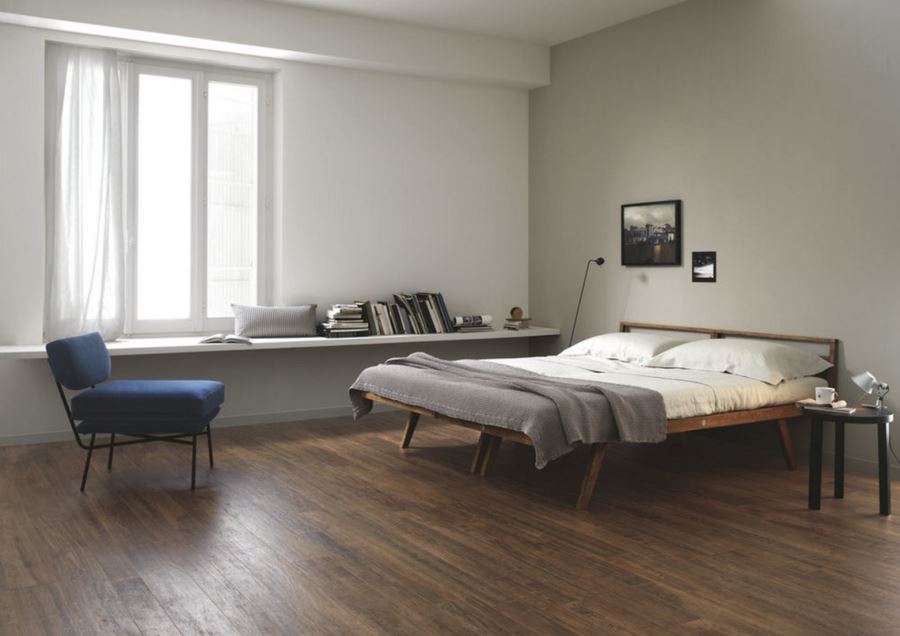 In most of these photos, you'd never guess that the flooring is anything but wood…and that's the point! If your bedroom and bathroom blend together, don't worry about splitting the space between hardwood and tile. Get a tile that looks like wood and sleep easy knowing that your hardy flooring will hold up, even if the sink water regularly splashes from the basin to the ground. [from World's End Tiles]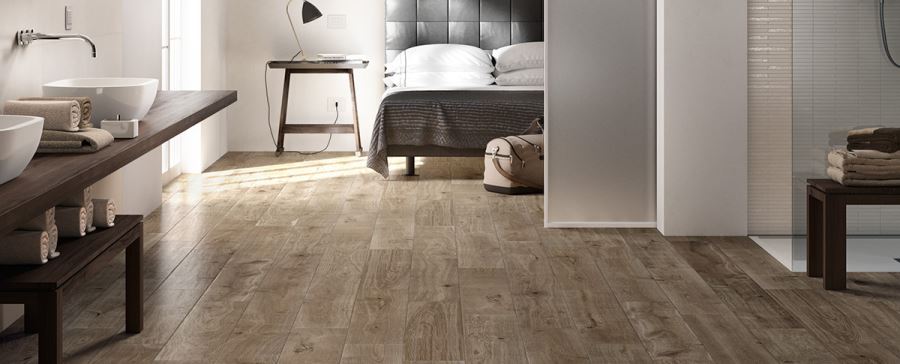 Durable Porcelain for the Kitchen and Bathroom
Speaking of tile that can handle spills, next we see Paradise Plank Port Royal from Surface Art. There's no point in tiptoeing around the kitchen for fear of scuffs and spills. Porcelain tile with a wood effect packs on the style AND the sturdiness: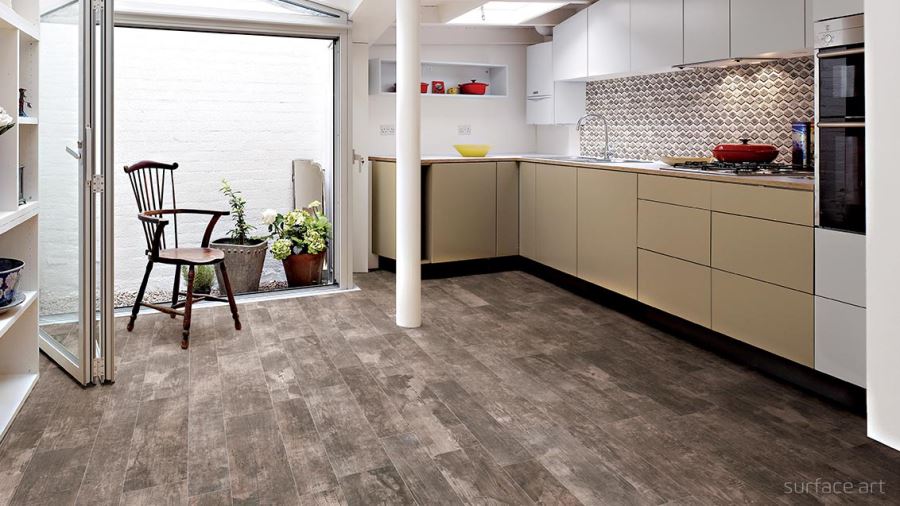 If you wish you could put hardwood flooring in your shower and get a spa feel at home, now you can achieve the look without the high-maintenance consequences. Ceramic tile to the rescue! The long planks create the look and feel of wood. [from Leivars]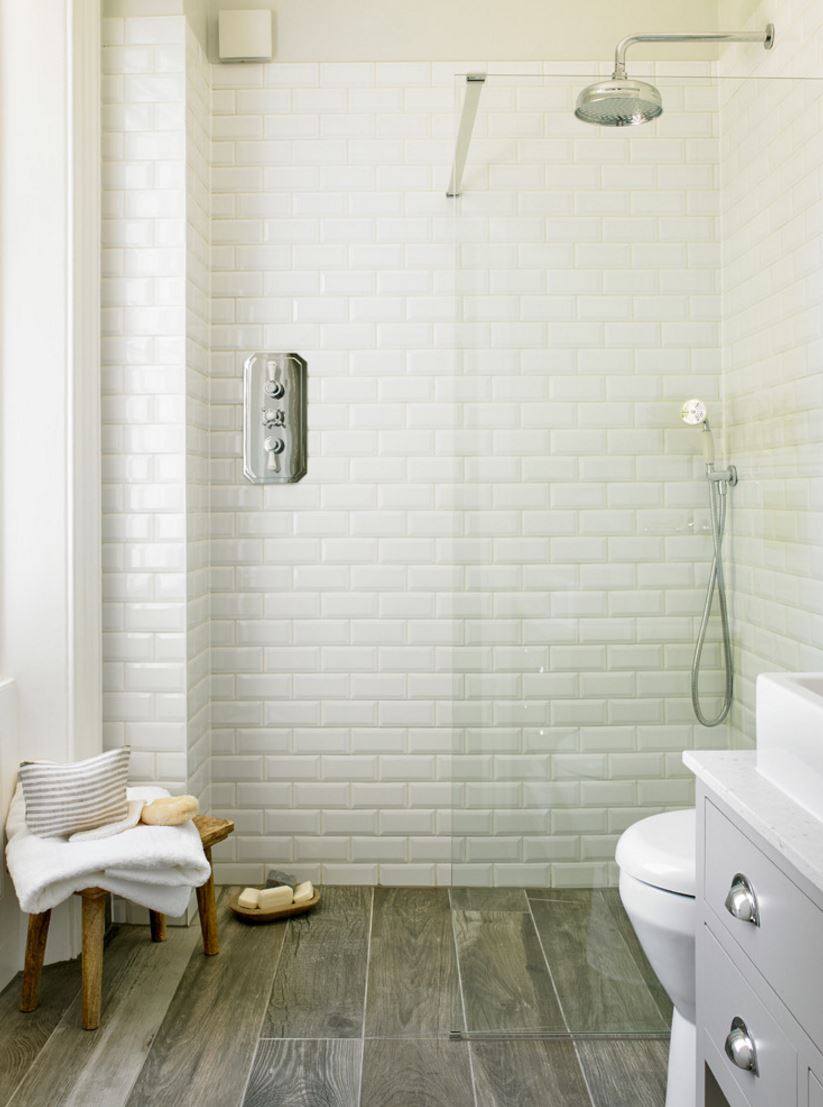 The markings and colors on each plank below create a realistic portrayal of wooden flooring. [from Options Bath & Tile Studio]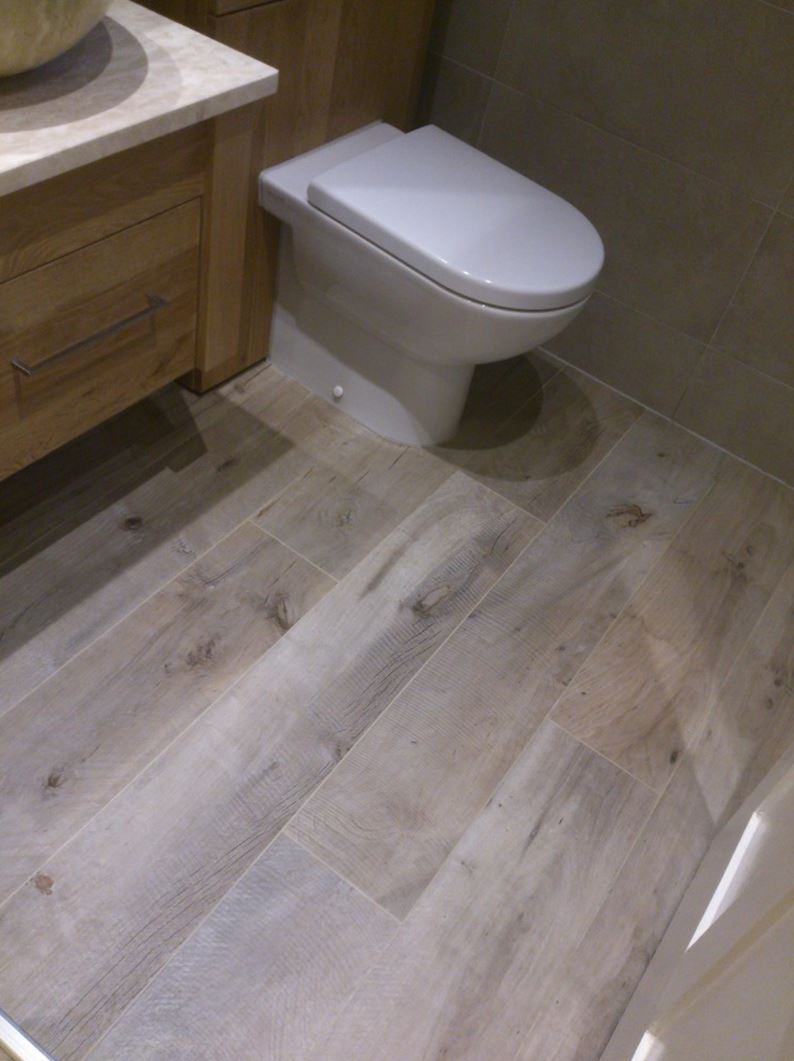 While the area immediately under this next bathtub is a pebbled section of flooring, the wood in this powder room is actually wood-effect porcelain. No worries about wet feet after leaving the tub! [from International Custom Designs]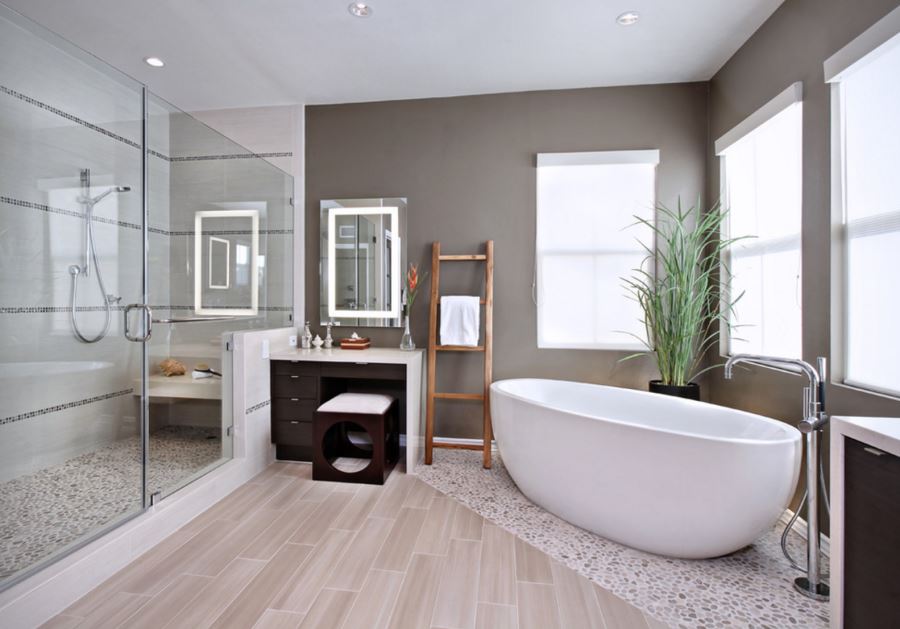 Next we see farmhouse-style flooring that creates a clean yet charming look in the eclectic bathroom below. [from Walls and Floors]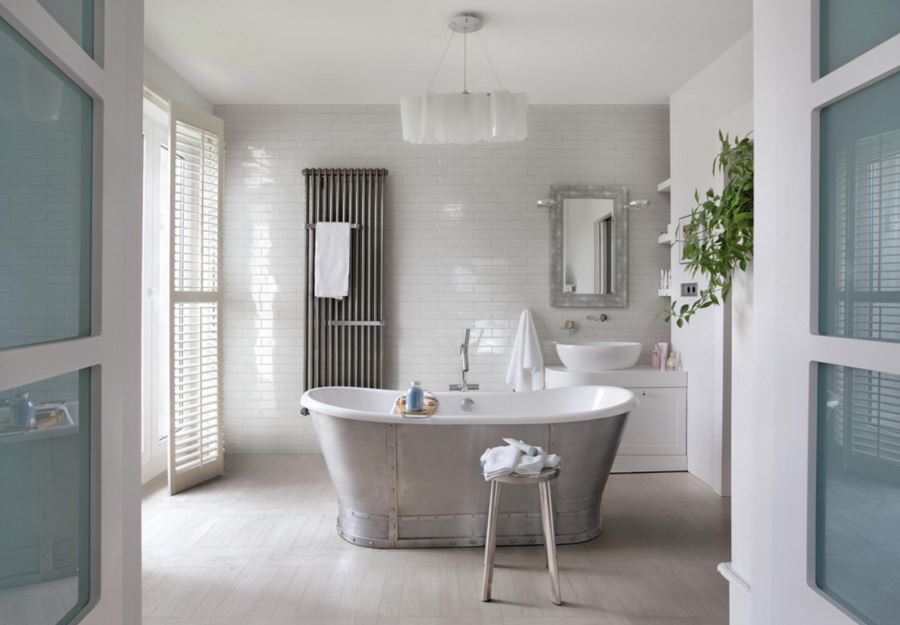 Knots, irregularities and gradation can be found on wood-effect tile, especially when the flooring is well designed. Next we see Porcelain Plank Nassau from Surface Art: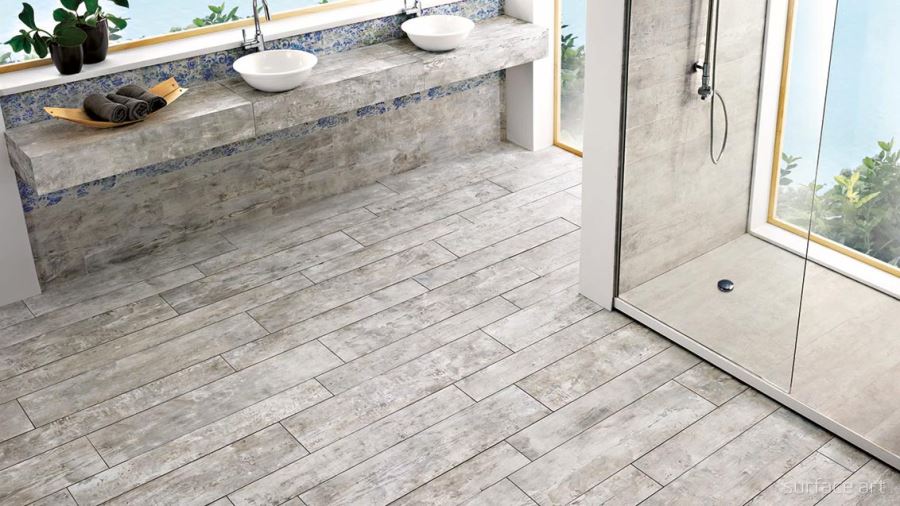 Here's another shot of Lux Wood flooring, which is inspired by real wood. Use it in the powder room for extra durability. This flooring is available in three colors and two sizes.[from Architectural Ceramics]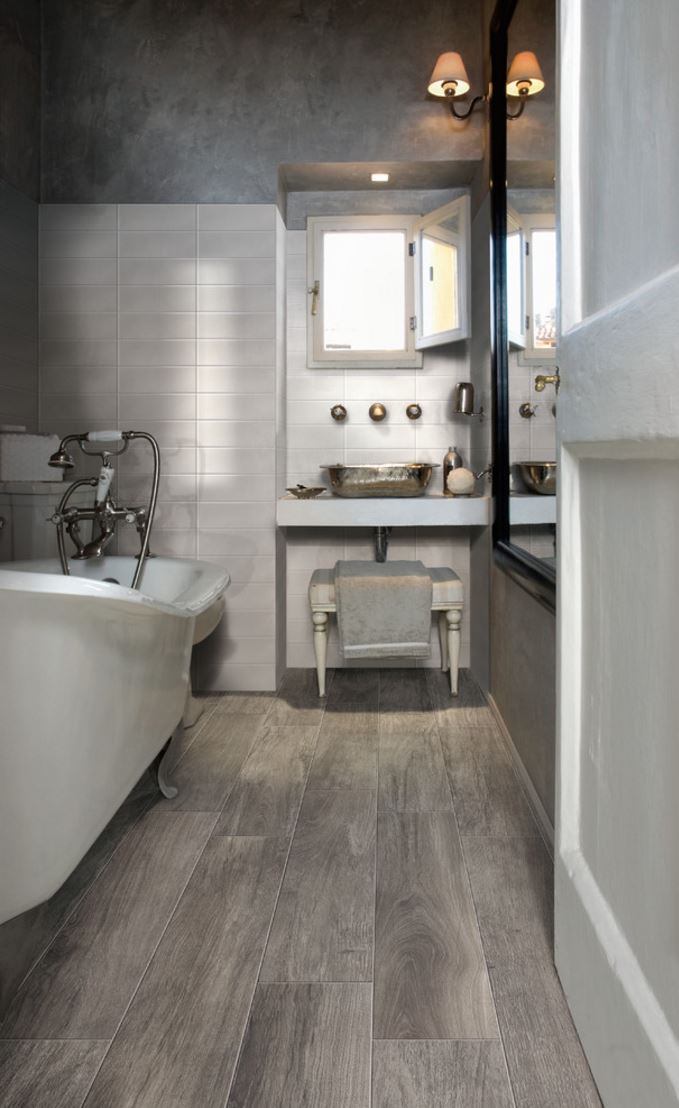 Sleek and chic…that's the effect of the porcelain tile flooring below. Anyone else finding it strange to call this flooring "tile"? With the realistic wood grain effect, it's hard to grasp that the flooring didn't come from a tree! Below we see Wood Rovere from Ceramiche Supergres: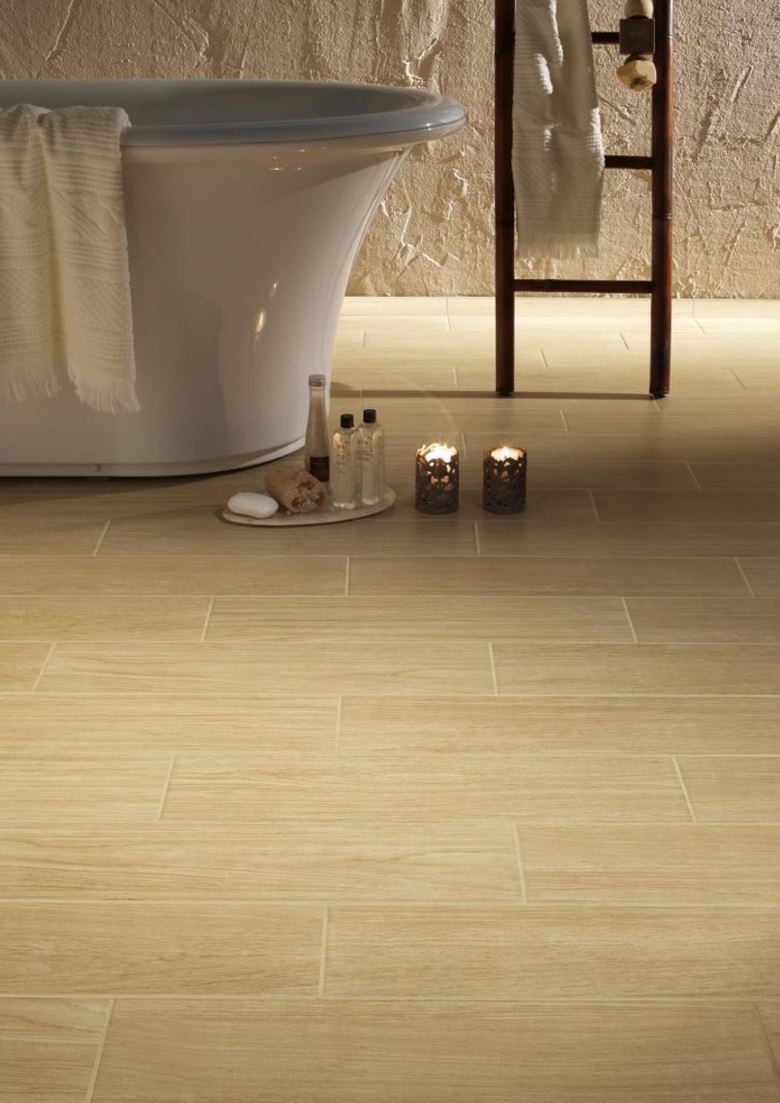 Pool-Perfect Tiles That Look Like Wood
Since durability is the name of the game with porcelain-effect tile, it didn't take long for it to be used in outdoor spaces, such as pool-side lounges. This Pasandena wood-effect porcelain creates a hardy surface with an upscale look. [from Direct Tile Warehouse]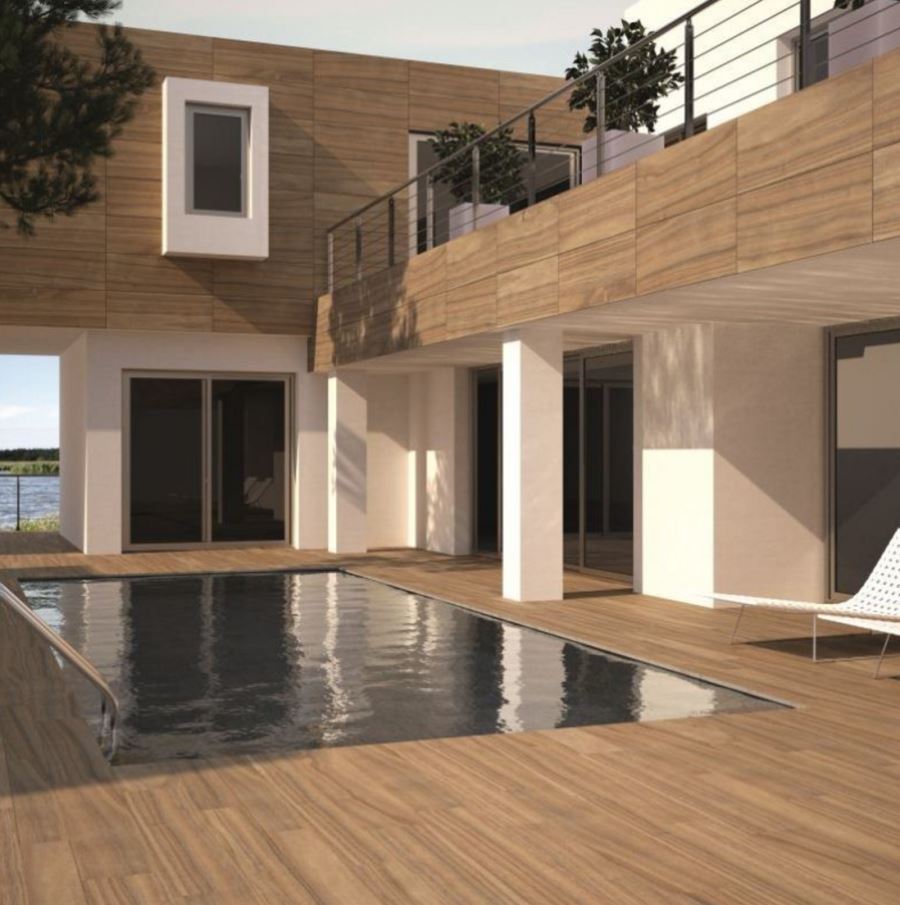 Next we see wood-effect tile from Collinson Ceramic & Porcelain Tiles. The grey tones create a modern look in this beautifully landscaped yard: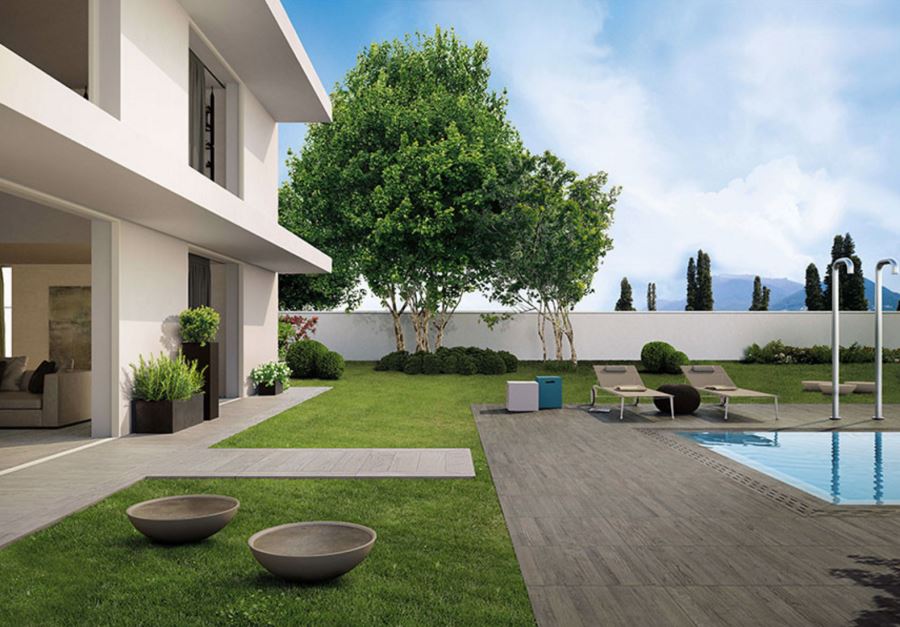 Here's a closer look at the tile, which is segmented into squares. Light, airy and outdoor-perfect! [from Collinson Ceramics via Houzz]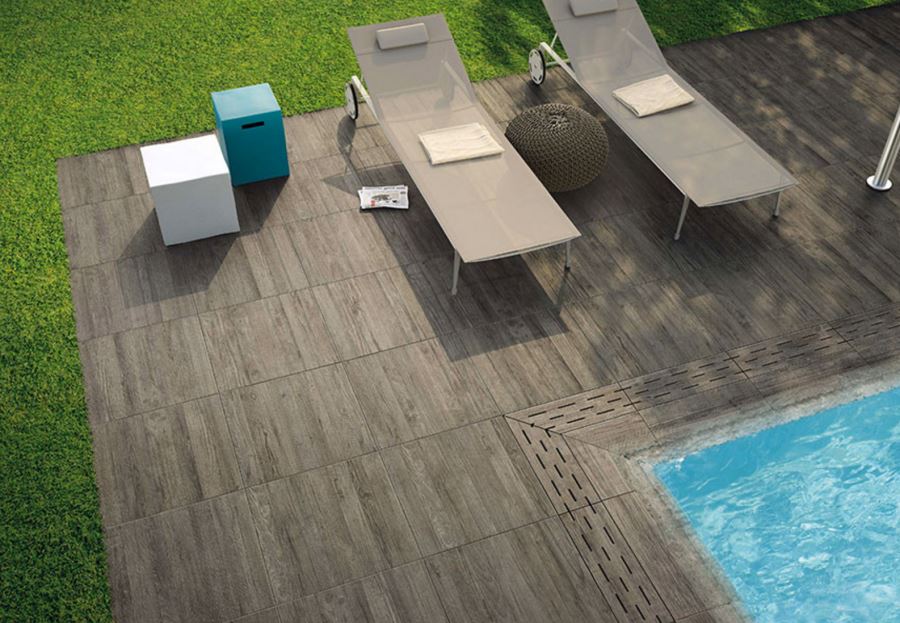 Would you use porcelain tile in your home rather than wood? Share your thoughts by leaving a comment below…
You're reading Decorating with Porcelain and Ceramic Tiles That Look Like Wood, originally posted on Decoist. If you enjoyed this post, be sure to follow Decoist on Twitter, Facebook and Pinterest.