Aménager sa salle de bain, est aussi important que de choisir une cuisine. C'est un des éléments essentiels de la maison, dont le coût de revient est assez important, et une pièce où les travaux ne sont pas faciles à recommencer si on s'est trompé.
Aussi connaître les tendances récentes, permet de créer ou de rénover une pièce qui donne un plus à son intérieur, en matière de confort mais également en ce qui concerne la plus-value d'un domicile. Quelles sont les dernières tendances de la salle de bain, celles qui vont faire de cet espace un endroit « to die for », que vous envierons vos visiteurs et où vous passerez de réels moments de détente? Décryptage.
La première obligation, lorsque vous choisissez des meubles de salle de bain et des équipements sanitaires, est d'opter pour de la qualité. En effet, cette pièce humide met à rude épreuve les éléments qui s'y trouvent. Si on peut être tenté par des lignes séduisantes de sanitaires et de mobilier dans certaines grandes surfaces, on est souvent déçu à terme. Les cabines de douche venues de Chine, parfois équipées de gadgets (leds, jets multidirectionnels), pour des prix très abordables, ont une durée de vie très relative. Mon grand-père disait « je n'ai pas les moyens d'acheter bon marché ». En vous rendant sur un site comme Isi Sanitaire, distributeur entre autres marques de qualité de  Villeroy et Boch par exemple,  est un gage de trouver des produits qui dureront dans dans le temps,  tout en conservant leur beauté d'origine.
How to choose a beautiful and timeless bathroom?
Designing a bathroom is as important as choosing a kitchen. This is one of the house essential elements, the cost is quite important, and one of the rooms where the work is not easy to start all over again if  you got it wrong.
So,  known the recent trends, allows create or renovate that room,  that gives a plus to an interior, in terms of  comfort, but also add value to your home. What are the latest trends in the bathroom, those that make this space a place « to die for », that your guests envy and where you 'll  have good relaxation time? Decryption.
The first requirement when choosing bathroom furniture and sanitary equipment, is to opt for quality. Indeed, this wet room strains the elements that are there. If you can be tempted by seductive lines of sanitary and furniture in some large do-it-yourselves,  people are often disappointed in the long term. The shower cabins from China, sometimes equipped with gadgets (LEDs, multidirectional jets), for very affordable prices, have a relatively short life. My grandfather said « I can not afford to buy cheap ». Visiting a site like Isi Sanitaire, distributor among other quality brands of Villeroy and Boch for example,  ensures to find products that will last in time, while maintaining their original beauty.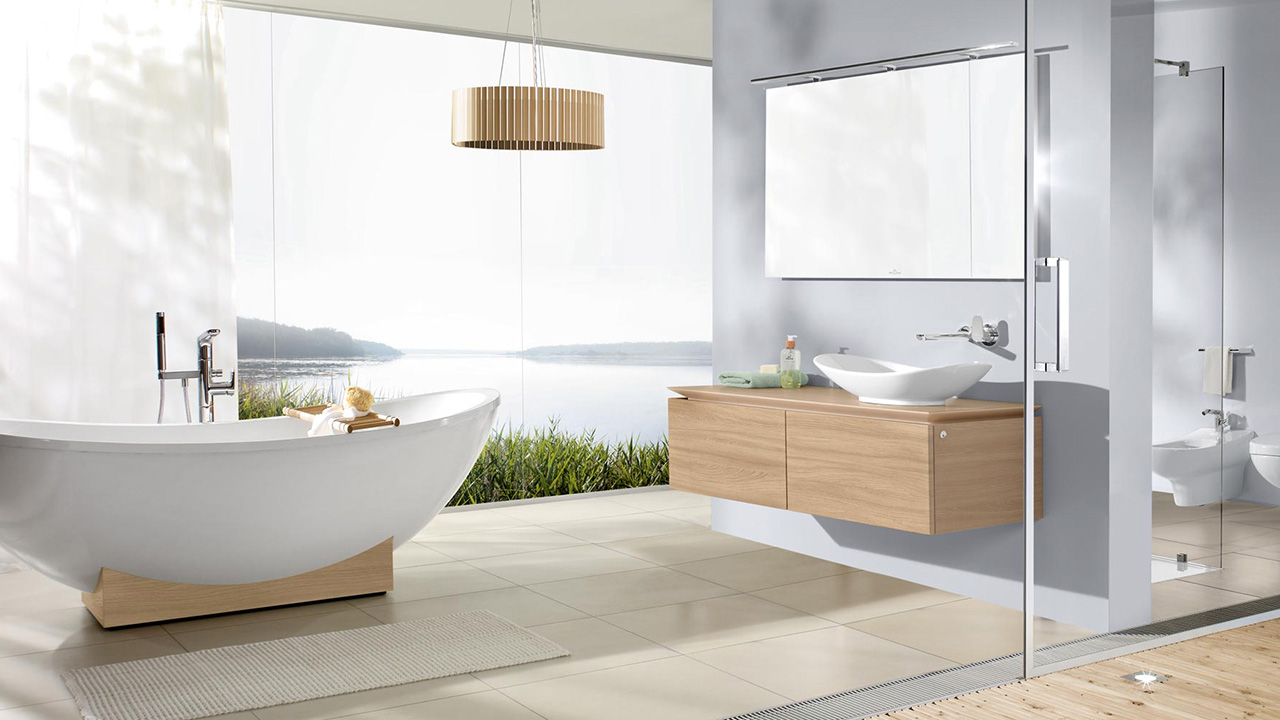 Source : Villeroy et Boch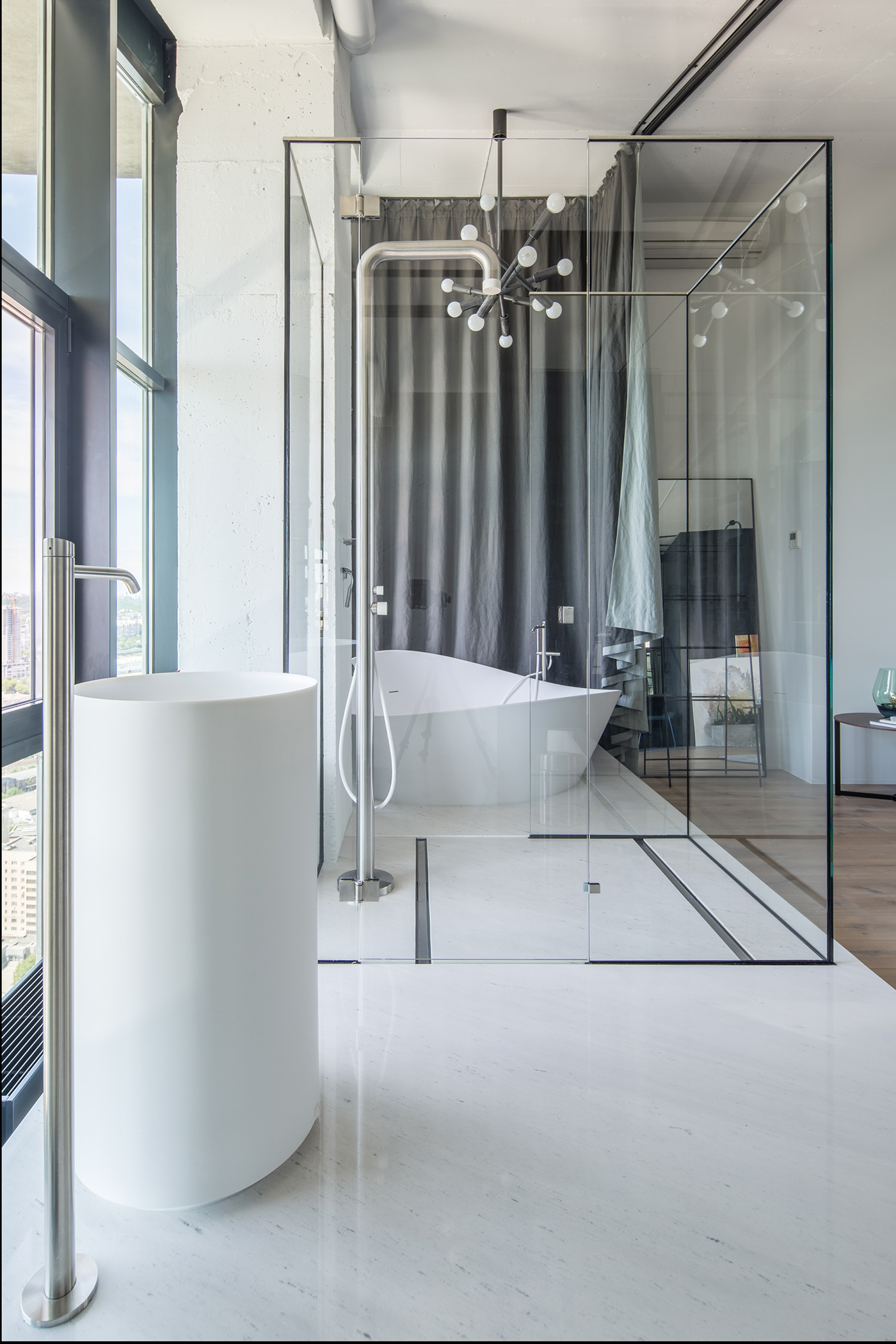 Source : Behance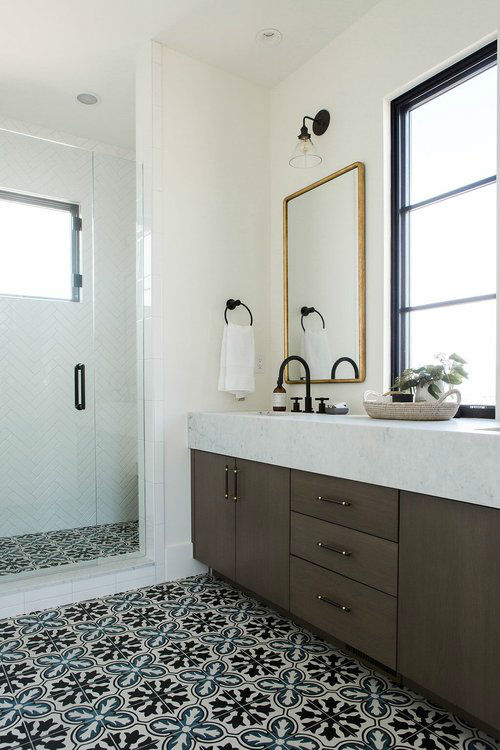 Source : Studio Mc Gee
Il n'est pas recommandé d'investir quelques centaines d'euros dans du matériel qu'il faudra changer au bout de deux ans, souvent difficile à monter, où il manque parfois les vis indispensables, et qui s'abîme à toute vitesse. Cela sera joli 6 mois ou un an, et vous regretterez vite votre achat. Une salle de bain possède une durée de vie importante, il est donc nécessaire de choisir des éléments non seulement beaux, mais d'une qualité irréprochable, qui vont résister à l'usage, à l'usure, et ne pas se démoder trop rapidement.
C'est pour cela que le style doit être relativement intemporel. Le mélange bois clair/blanc/ et gris fonctionne toujours parfaitement. Pour le style, on part de plus en plus souvent sur des lignes design mariées à des éléments plus intemporels, comme les carreaux de ciment, indémodable, le carrelage métro, ou encore le marbre dont le style classique est modernisé par les sanitaires, et le mobilier design.
It's not wise to invest a few hundred euros in equipment that will need to change after two years, often difficult to mount, where sometimes the necessary screws are missing, and which could be damaged very quickly. It will be pretty 6 months or a year, and you will quickly regret your purchase. A bathroom has a long life, so it is necessary to choose elements not only beautiful, but of irreproachable quality, which will withstand wear, and not go out of fashion too quickly .
That's why the style must be relatively timeless. The light wood / white / gray mixture always works perfectly. For the style, we start more and more often on design lines married to more timeless elements, such as cement tiles,  subway tile, or marble whose classic style is modernized by sanitary, and  design furniture.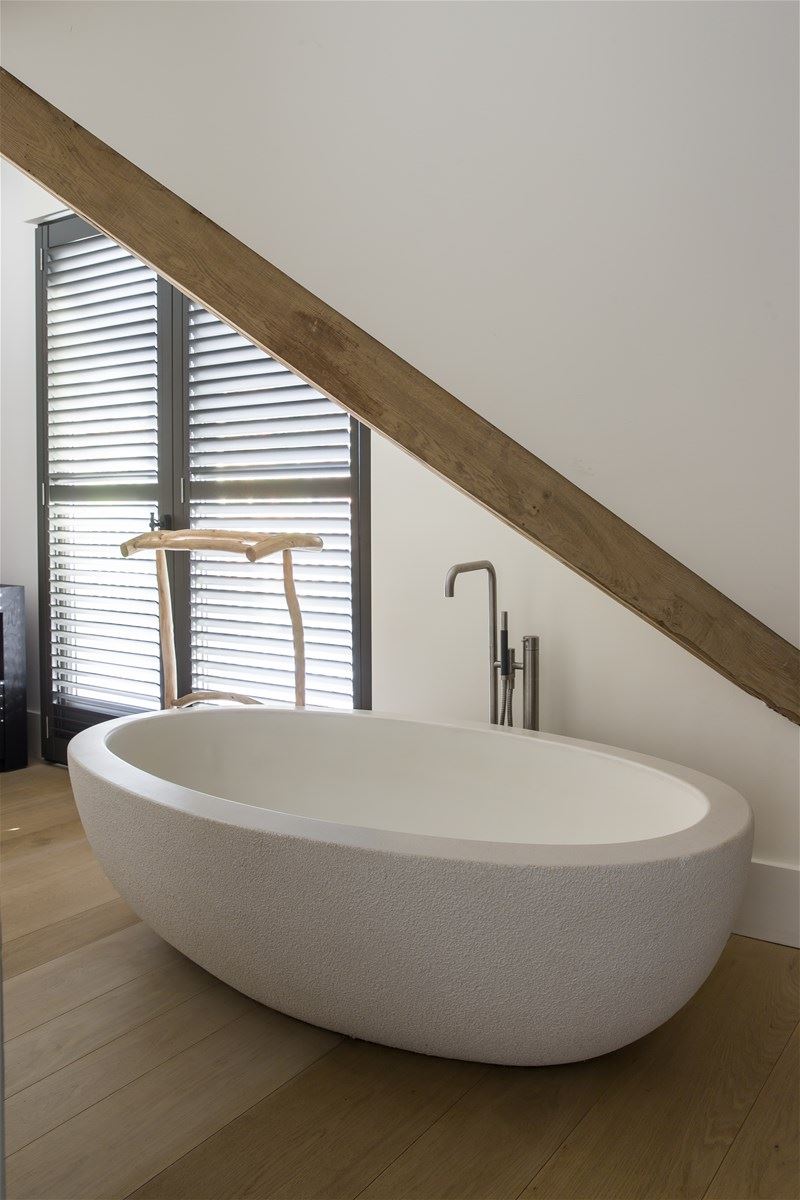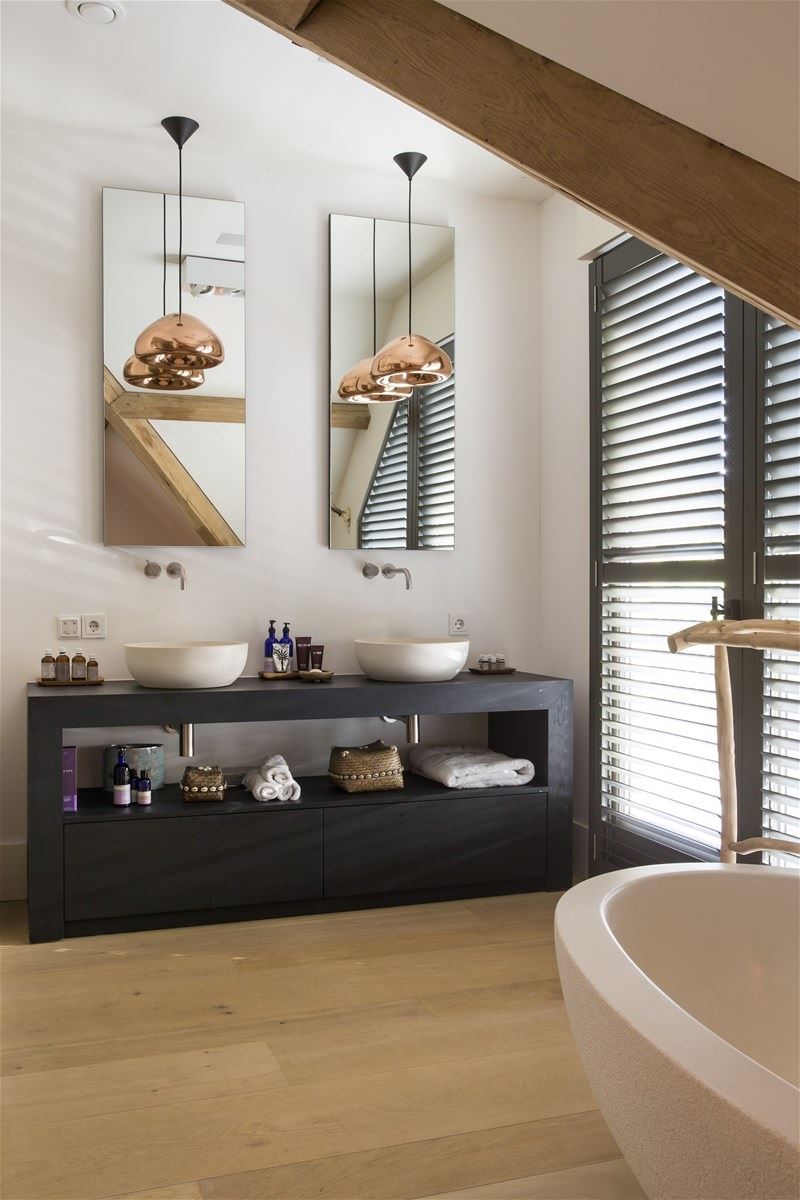 Source : Funda
La douche à l'italienne, ou extra-plate, a le vent en poupe, pour ceux qui n'ont pas forcément la place d'installer une baignoire. Mais cela peut également être un choix, et elle se fait extra large, en remplacement de la baignoire, fermée ou non par un vitrage, de style épuré ou industriel. La baignoire classique a toujours de beaux jours devant elle, mais lorsqu'on a assez de place, la baignoire design îlot est un must.
The walk-in shower, or extra-flat, is on the rise, for those who don't necessarily have enough space to install a bathtub. But it can also be a choice, and in its extra large size, replaces the bathtub, closed or not by a glass partition, in sleek or industrial style. The future still looks bright for classic bathtub, and when there is enough space, the island design bath is a must.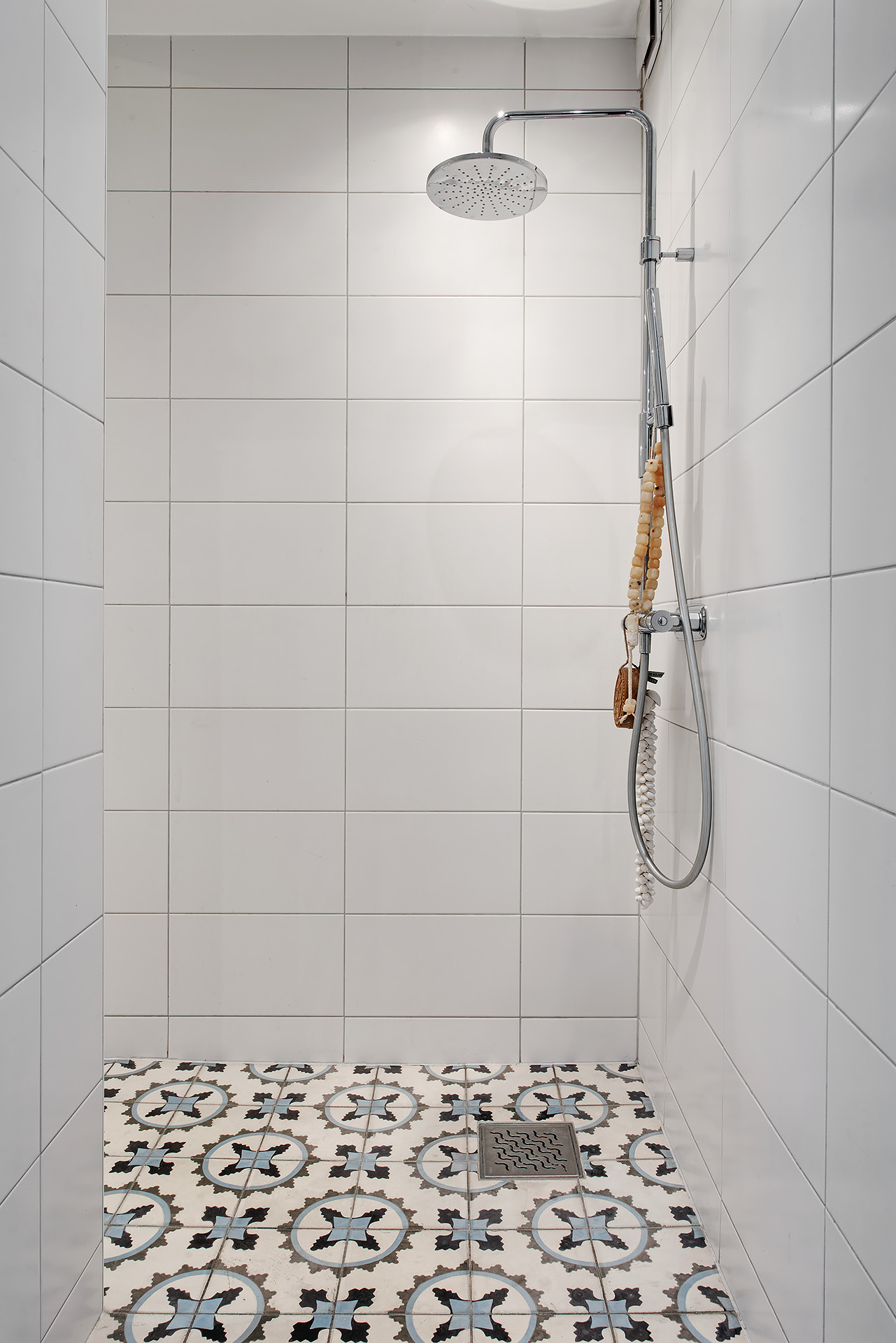 source : Alvhem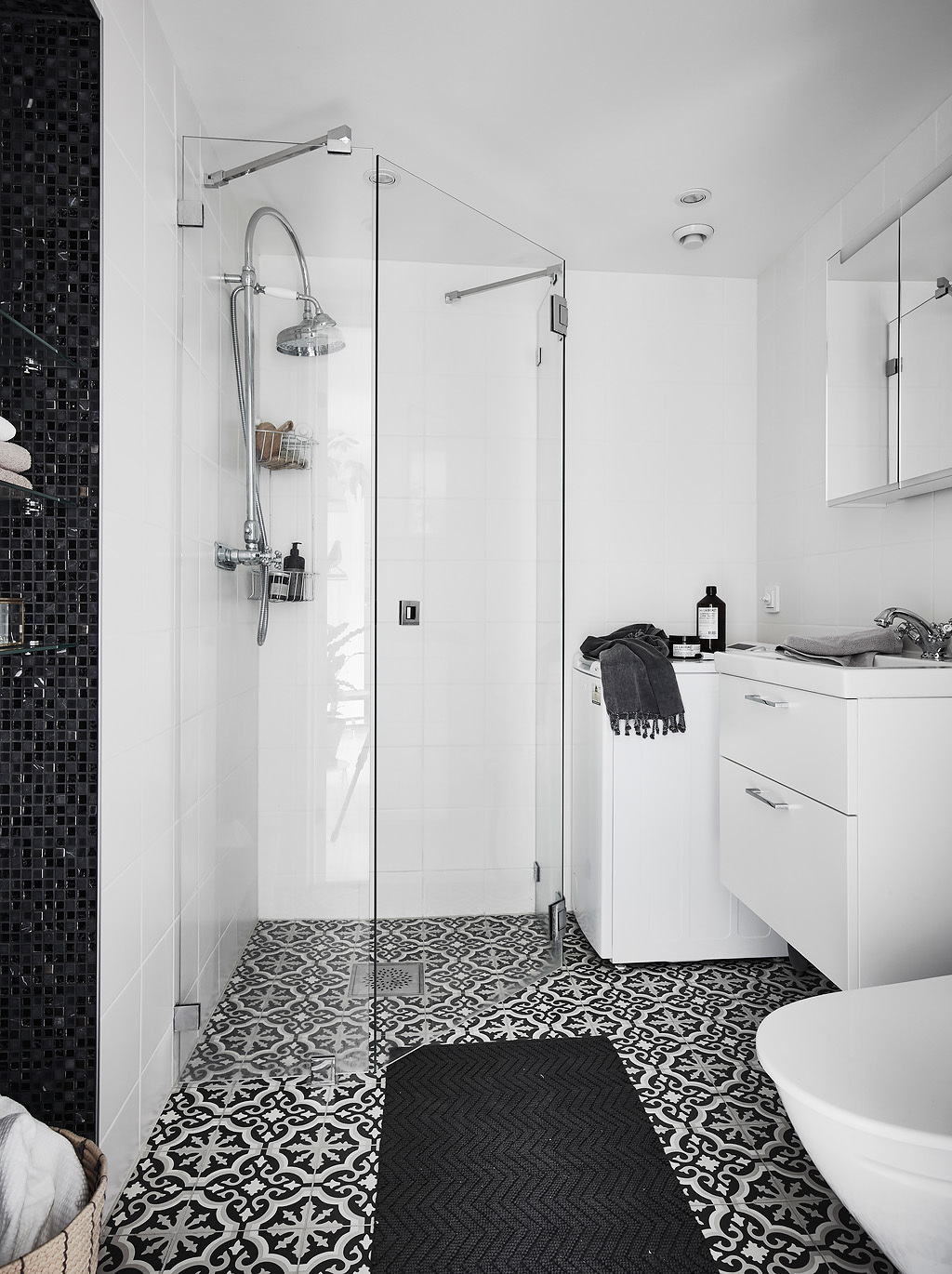 Source : Entrance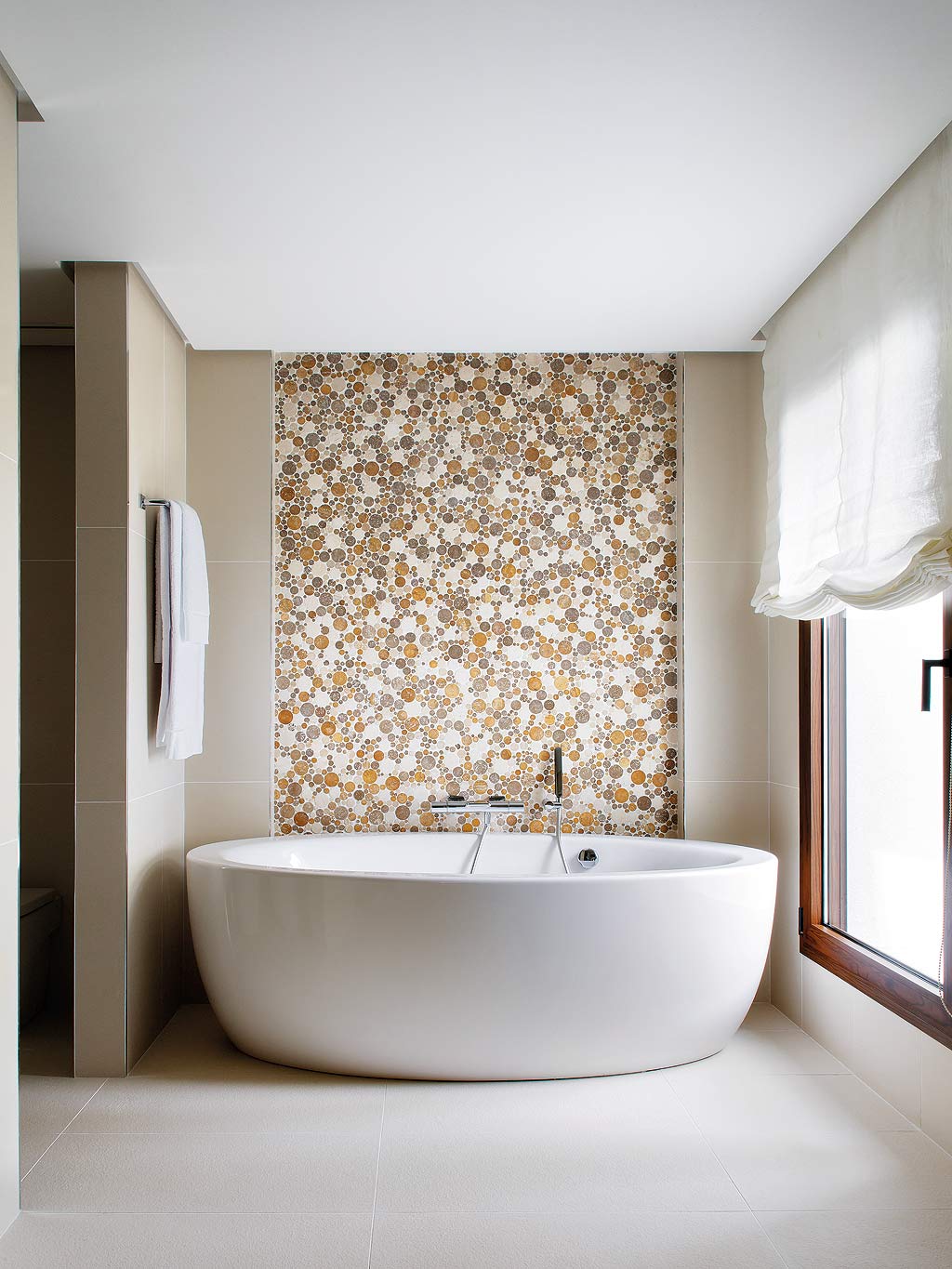 source : Nuevo Estilo
Les couleurs claires sont souvent plébiscitées. Elles permettent aux salles de bains de conserver une certaine luminosité même en l'absence d'une fenêtre. Si la salle de bain est aveugle, il faut prévoir une VMC efficace, afin d'éviter les problèmes de condensation et de moisissures qui sont, non seulement inesthétiques, mais également dangereuses pour la santé. . Le blanc est une valeur sure, et ne se démode pas. Si on veut un peu plus d'originalité, on peut choisir également du carrelage mosaïque, de teinte sombre, où la lumière va se refléter, et qui va rendre n'importe quel espace très chaleureux.
Light colors are often popular. They allow bathrooms to maintain a certain brightness even in the absence of window. If your  bathroom is windowless, an effective VMC must be provided, to avoid condensation and mold problems that are not only unsightly, but also dangerous to health. . White is a safe value, and does not go out of fashion. If you want  something a little more original, you can also choose mosaic tiles, dark, where the light will reflect, and that will make your space very warm.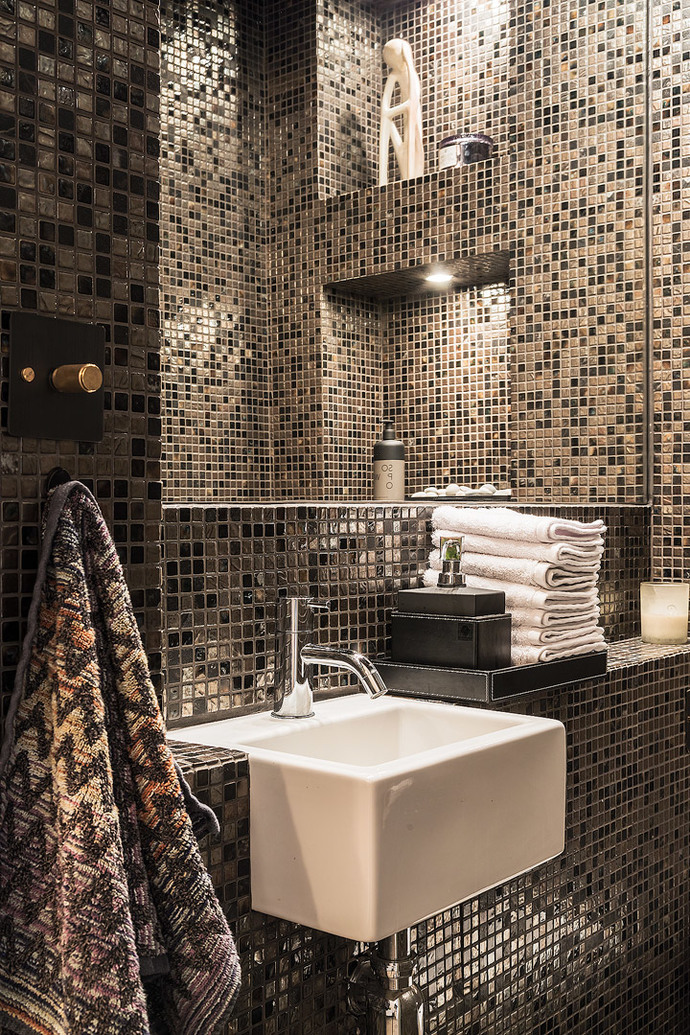 source : Pinterest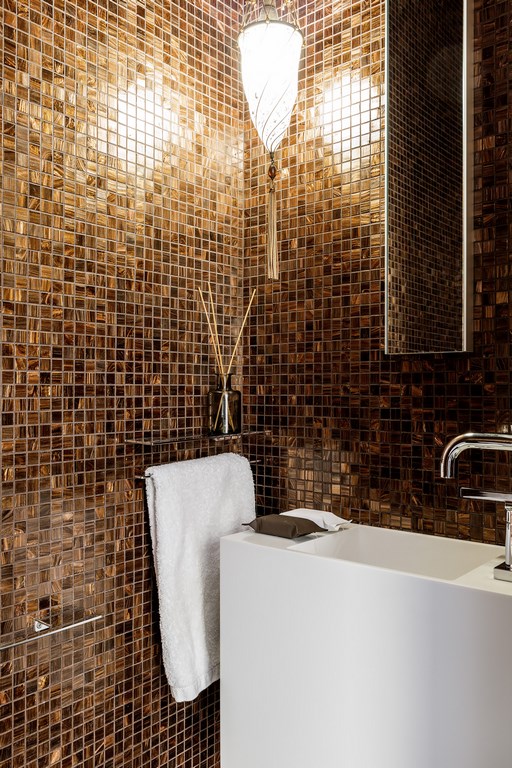 source : Per Jansson
La décoration doit être étudiée, comme pour toutes les autres pièces de la maison. Ainsi rien n'empêche de poser des objets décoratifs sur des étagères, comme dans cet appartement rénové par l'architecte Margaux Beja, et si on le souhaite, l'ouvrir sur la chambre, comme ici, avec l'installation d'une verrière qui donne beaucoup de personnalité à un endroit et qui devient un atout décoratif évident.
You have to think about the decor, as for all other rooms in the house. Consequently,  nothing prevents to place decorative objects on shelves, as in this apartment renovated by architect Margaux Beja, and if desired, open it on the bedroom, as here, with the installation of a glass partition which gives a lot of personality to a place and becomes an obvious decorative asset.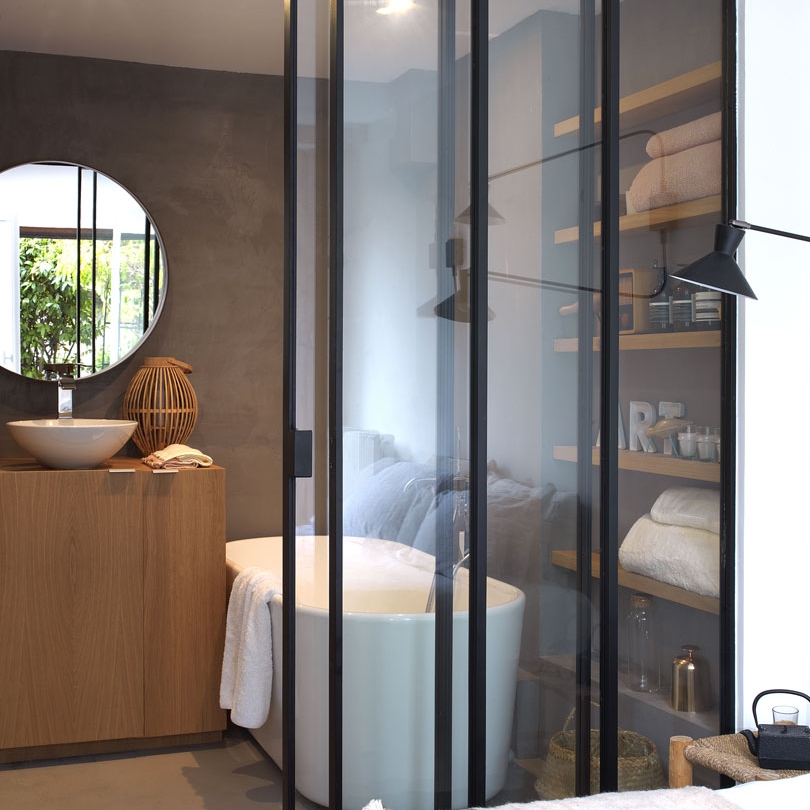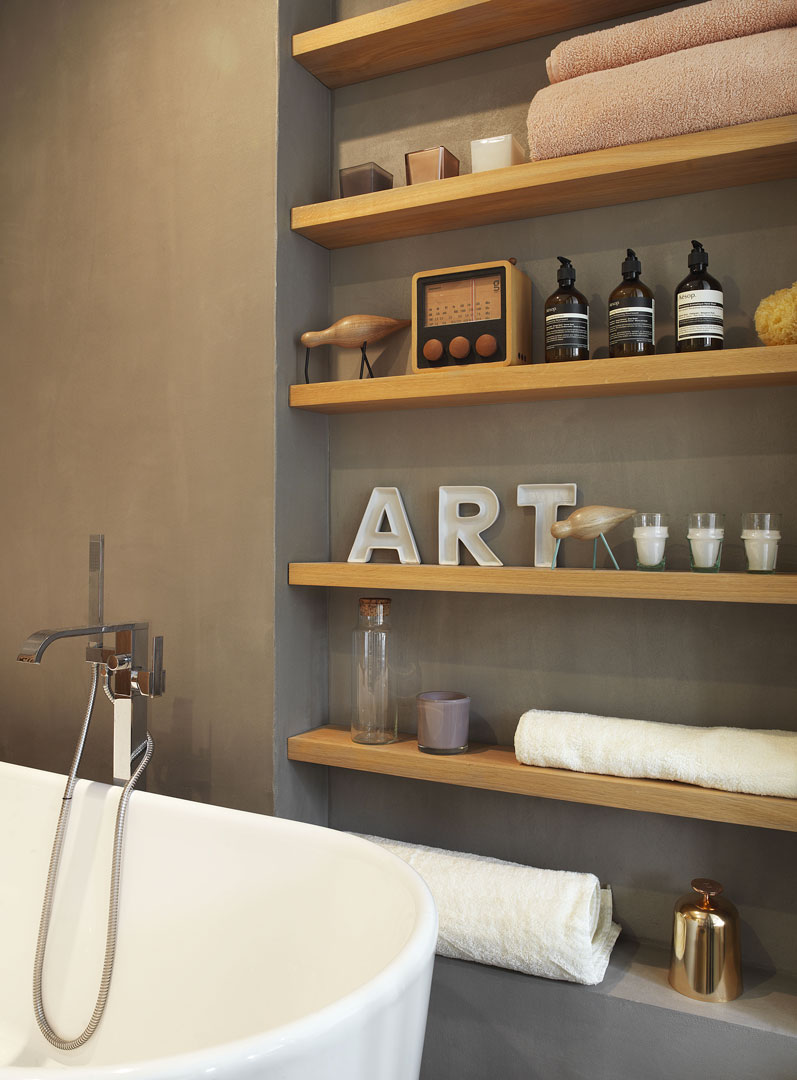 Une des ambiances à privilégier est un mélange de genres, carreaux de ciment, ou tomettes grises, mariées à des éléments plus design, qui vous assureront d'avoir une salle de bain traversant les années sans prendre une ride. Le béton est également un des choix à votre disposition. Si je l'aime beaucoup sur les murs et en plan de travail, j'ai un peu plus de mal personnellement avec la baignoire maçonnée en béton. Mais il faut avouer que dans un loft, c'est parfait.
One of the atmospheres to privilege is a mix of styles, cement tiles, or terracotta gray tiles, combined with more design elements,and will ensure you have a bathroom through the years without a wrinkle. Concrete is also one of the choices at your disposal. If I like it a lot on the walls and in the worktop, personnally, I have a little more trouble  with the concrete masonry bathtub. But I must admit that in a loft, it's perfect.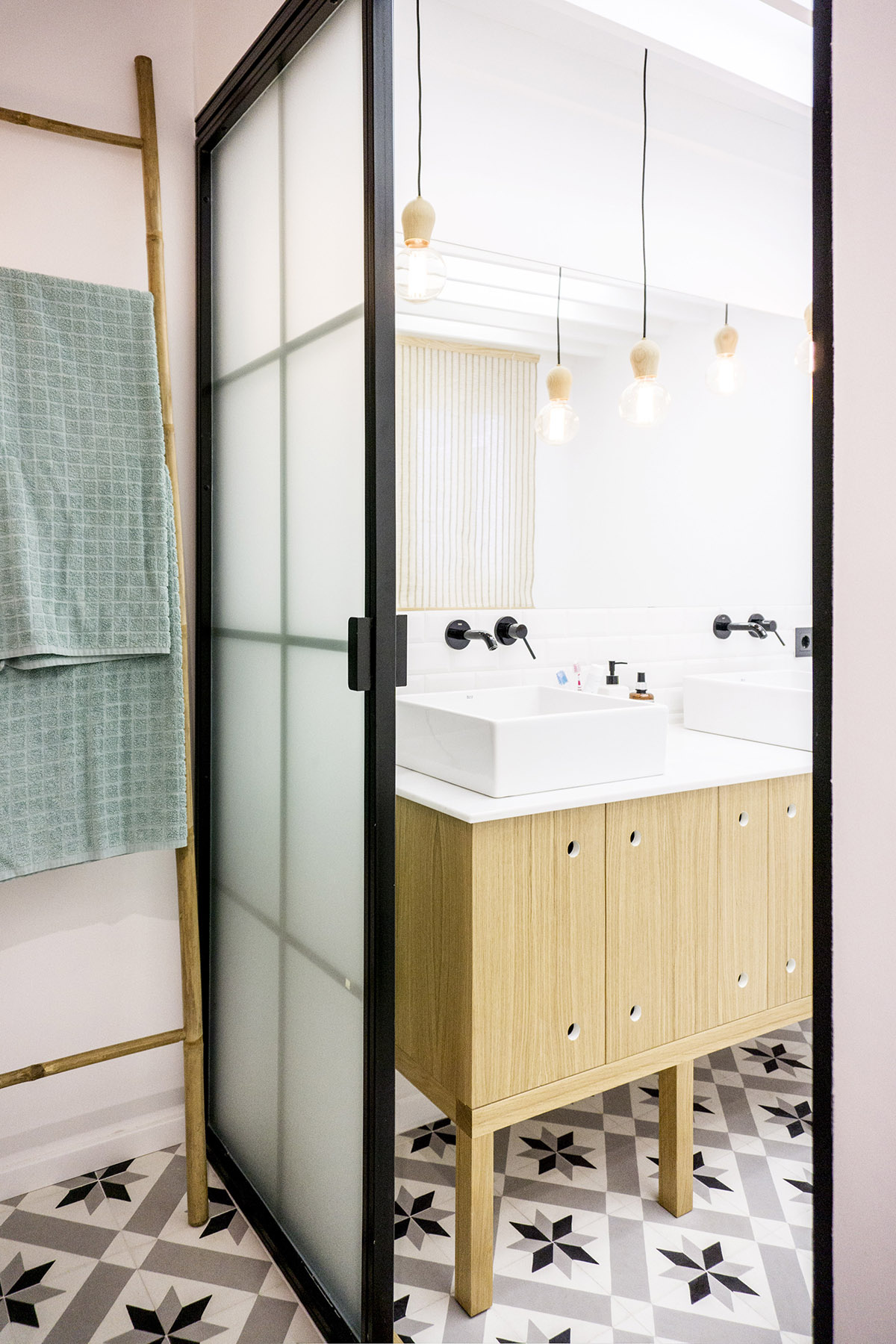 Source : Emmme Studio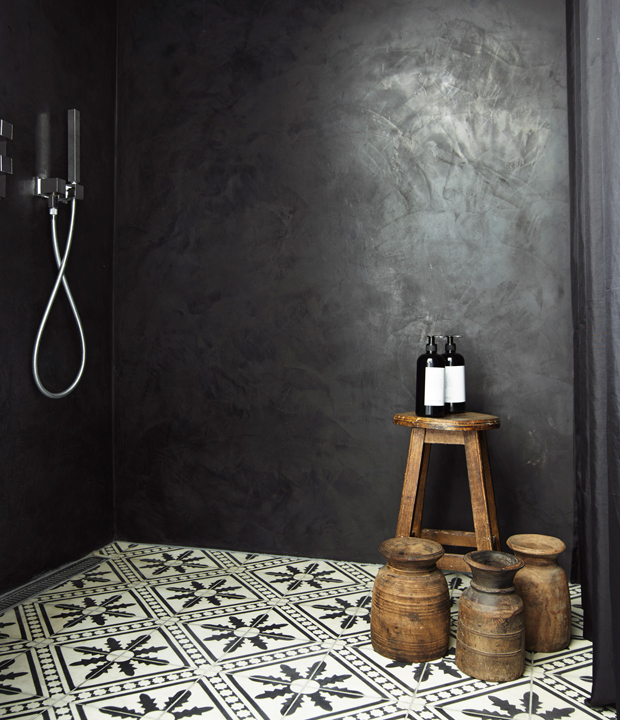 source : Madogbolig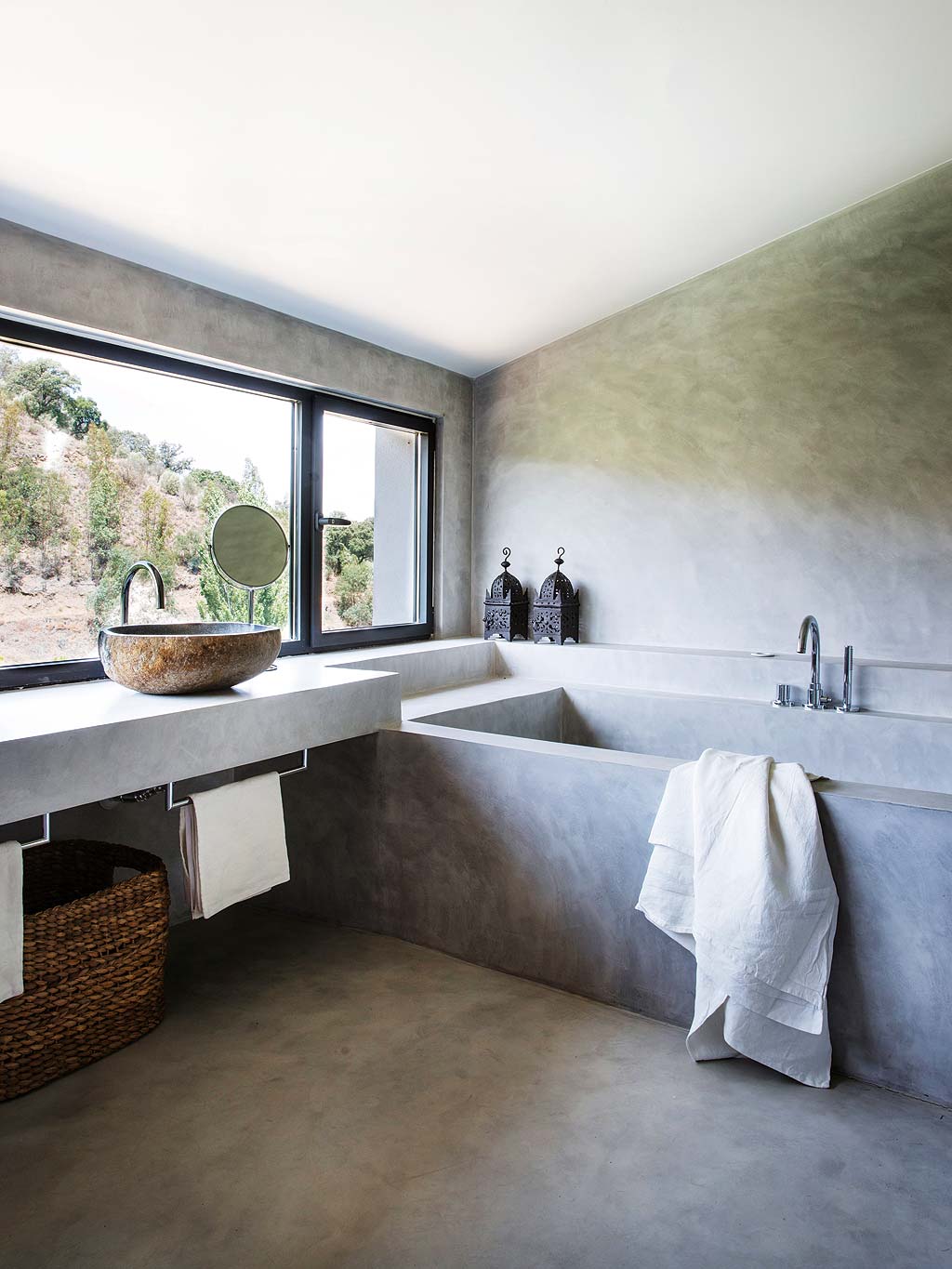 source : Nuevo Estilo
Alors tentés par la rénovation de votre salle de bain? C'est mon cas, j'aimerais avoir une baignoire, mais également une douche. Hors la mienne est minuscule. Je pense donc à investir dans une véritable baignoire douche…Un jour viendra sans aucun doute !
Are you tempted by a renovation of your bathroom ? This is my case, I would like to have a bathtub, but also a shower. But my bathroom is tiny. So I think to invest in a real shower tub … The day will come without a doubt!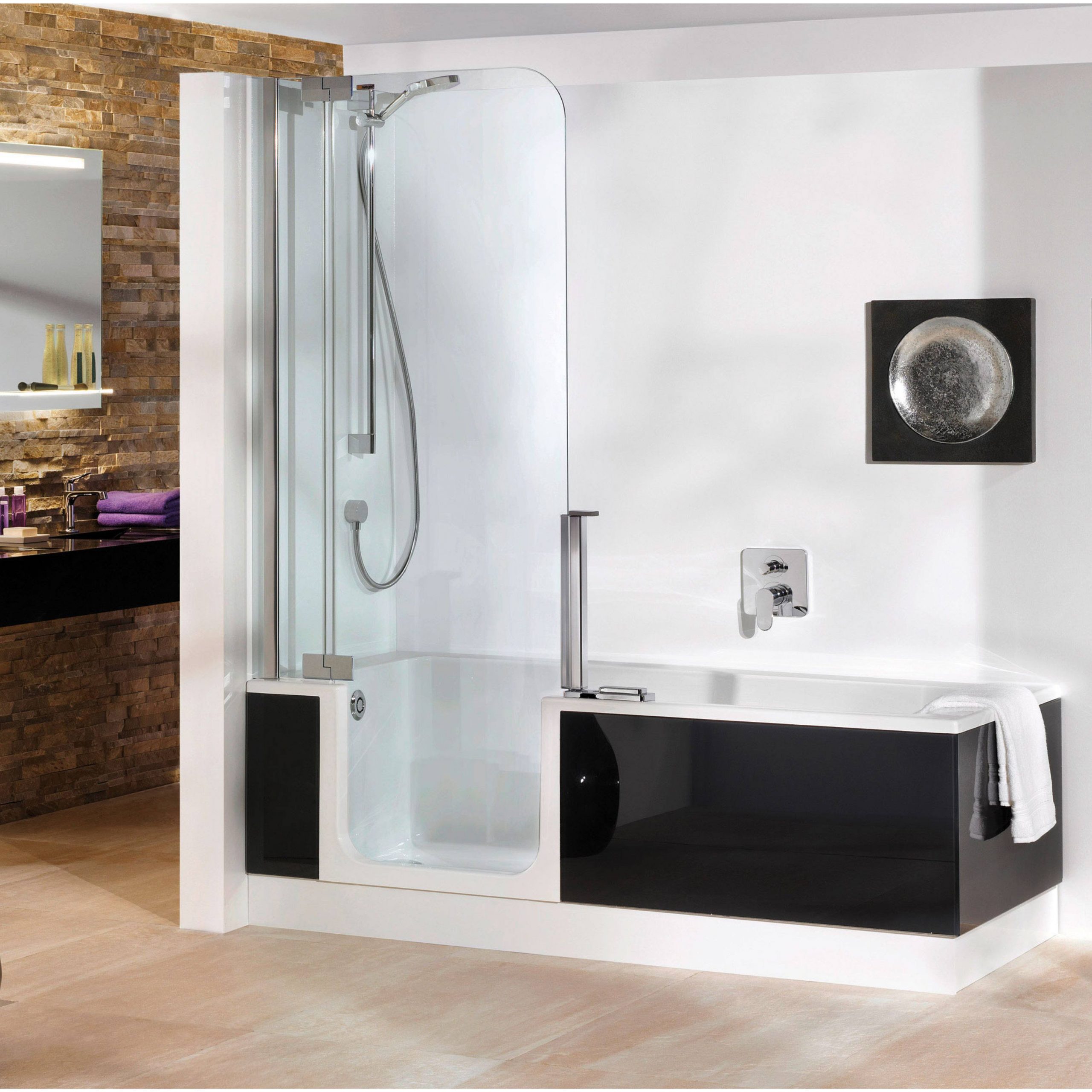 source : Pinterest
En attendant, je vous propose de vous inspirer de toutes ces jolies photos, retrouvées dans mon Pinterest (comme cela est pratique!), Il est difficile avec Internet désormais de ne pas trouver ce qui convient exactement à ses goûts, et à son budget. Prenez le temps de la réflexion, et n'oubliez pas d'investir dans la qualité !
While waiting for this, I propose you to take inspiration from all these pretty photos, found in my Pinterest (it's very useful !), It's difficult with the Internet now not to find what exactly suits your tastes, and your budget. Take time for reflection, and don't forget to invest in quality!