Aménager votre jardin ou votre terrasse est quelque chose que vous avez un peu mis de côté à la mauvaise saison, mais qui vous préoccupe aujourd'hui. Ce n'est pas au dernier moment que l'on s'occupe de préparer ces espaces pour les beaux jours, mais assez tôt dans la saison afin de profiter au mieux dès que les températures montent. Quelles sont les règles à suivre pour ne rien oublier?
La terrasse
Habiller une surface en béton avec du bois, ou du carrelage donne tout de suite une allure agréable à votre extérieur. N'oubliez pas d'assortir votre revêtement extérieur au style de votre décoration intérieure, afin de préserver une unité d'ensemble. Si vous choisissez un carrelage, une qualité ingélive sera privilégiée. Pour le bois, vous aurez le choix entre le bois naturel et les matériaux composite si vous redoutez l'entretien;
How to fit out your outdoors for the beautiful days?
Landscaping your garden or terrace is something that you have put aside a little at the bad weather, but that worries you today. It's not at the last moment that we will prepare these spaces  for  the beautiful days, but early enough in the season to enjoy at the best when temperatures rise. What are the rules to follow in order not to forget anything?
The terrace
Dressing a concrete surface with wood, or tile gives a pleasant appearance to your outdoor. Don't forget to match your exterior  with the style of your interior decoration, in order to preserve an overall unit. If you choose a tile, a nofrost-riven quality will be preferred. For wood, you will have the choice between natural wood and composite materials if you're affraid with maintenance;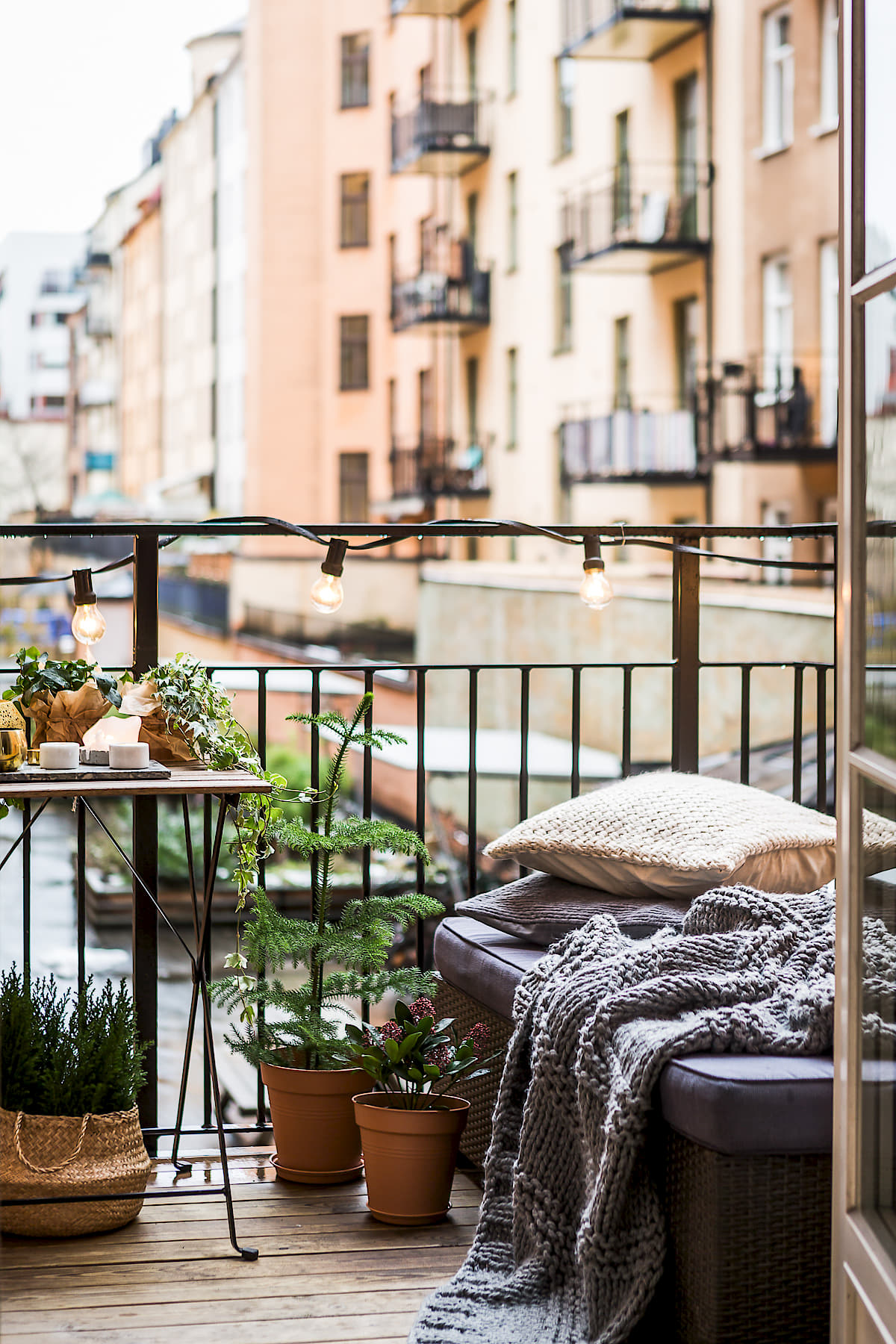 Source : Svenskamaklarhuset
Le mobilier
Salon de jardin en résine, en bois, en métal, le choix est grand, et les coloris sont nombreux. Si vous avez envie de couleur, il est plus facile de se lâcher dans le jardin que dans n'importe quel autre endroit de la maison, profitez en si cela vous fait plaisir ! Vous aurez le choix entre les coloris neutres dont le style intemporel passera les années sans vous lasser, mais également avec tous les tons de l'arc-en-ciel que vous pourrez même mixer, et qui donneront une ambiance joyeuse à votre jardin. Vous choisirez une table pour les repas, mais également un salon de jardin avec une table basse, voire une balancelle pour plusieurs personnes, ou individuelle, en métal, en rotin ou en bois.
The furniture
Garden furniture made of resin, wood, metal, the choice is great, and the colors are numerous. If you want to color, it's easier to let go in the garden than in any other place of the house, enjoy in if it pleases you! You will have the choice between neutral colors, the timeless style  will pass the years without tired you, but also with all the tones of the rainbow that you can even mix, and which will give a joyful atmosphere to your garden. You will choose a table for meals, but also a garden furniture with a coffee table, or even a swing for several people, or individual, made of metal, rattan or wood.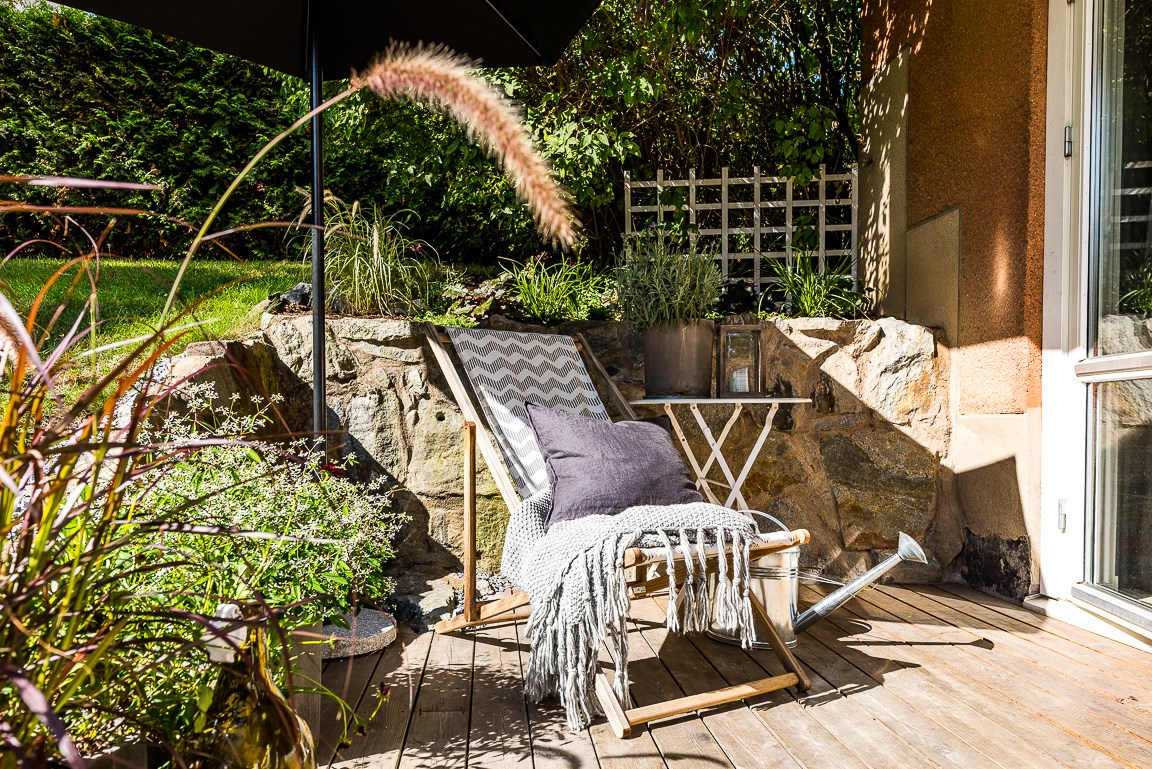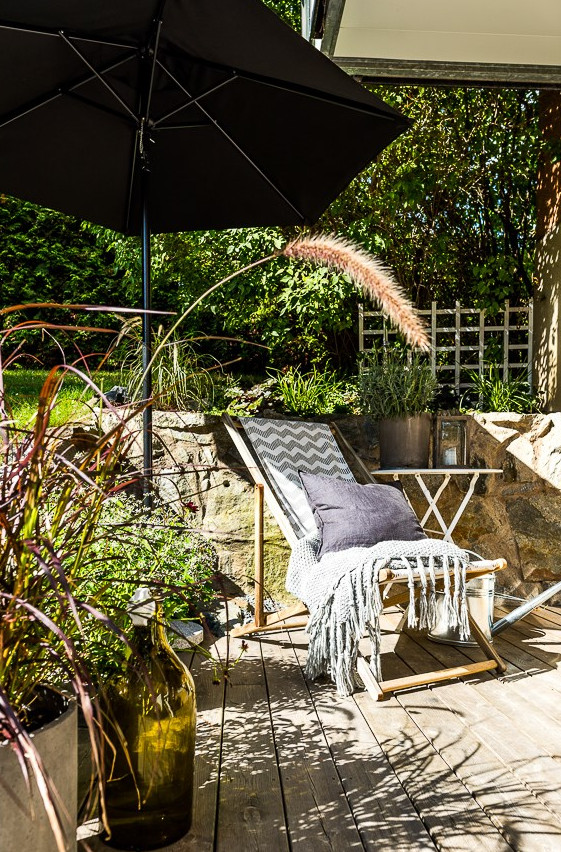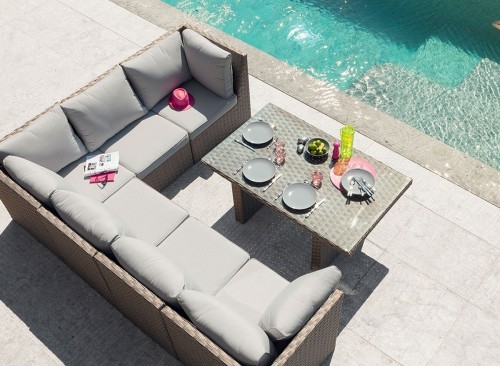 Source : Mon Pinterest
La pelouse
Si votre jardin possède une partie en pelouse, vous aurez le choix entre le gazon naturel, mais également désormais le gazon synthétique dont certains modèles imitent presque à la perfection le gazon semé, mais qui bien entendu ne nécessite ni tondeuse, ni arrosage, ce qui en fait un choix très écologique. Un système d'arrosage automatique sur une pelouse naturelle sera un investissement dont vous vous féliciterez pour des années.
The lawn
If your garden presents a lawn area, you will have the choice between natural grass, but also synthetic turf, some models almost perfectly imitate sown lawn, but of course no needof  lawnmower or watering. In fact a very eco-friendly choice. An automatic sprinkler system on a natural lawn will be an investment you will appreciate for years.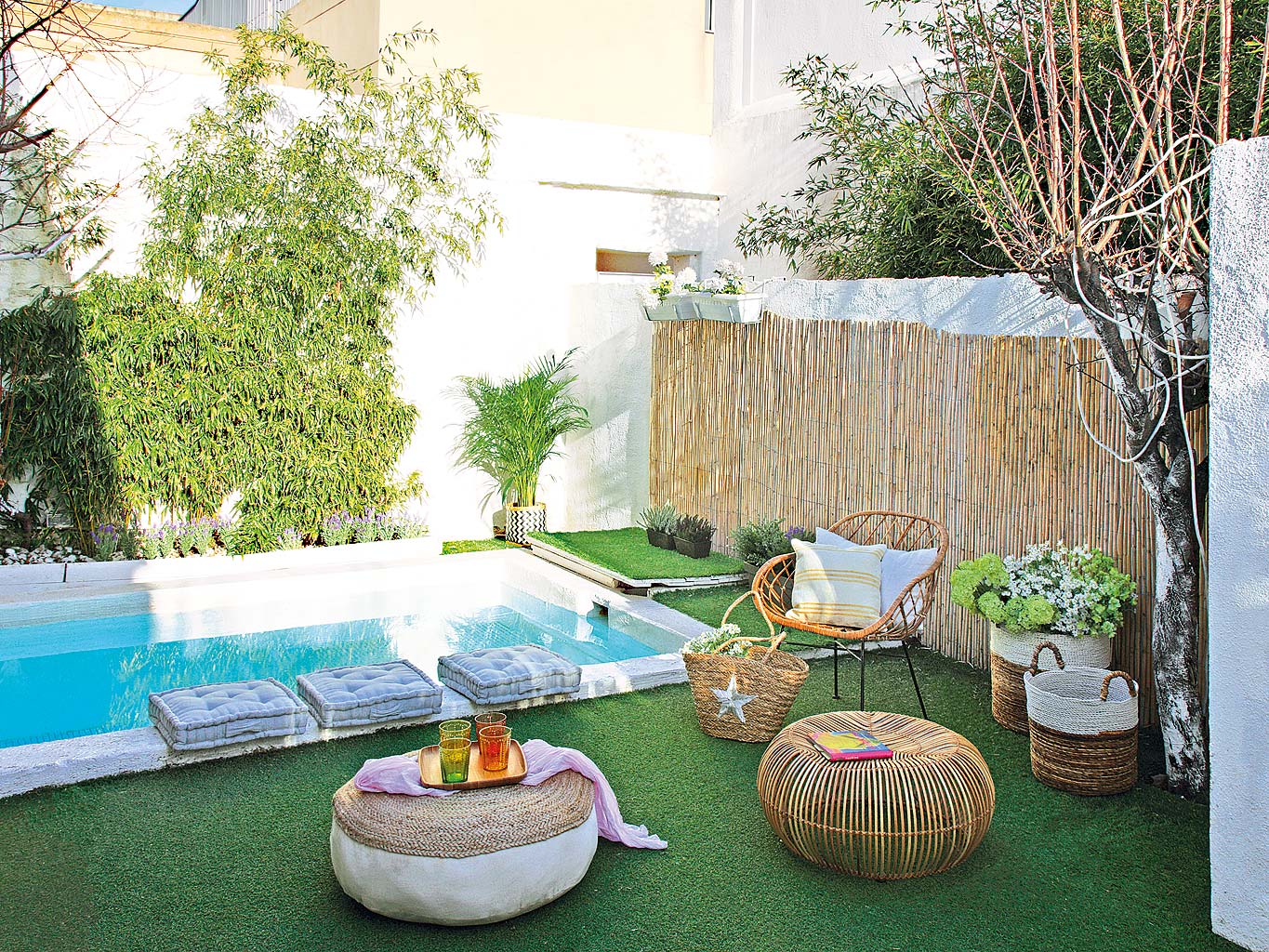 Source : Micasa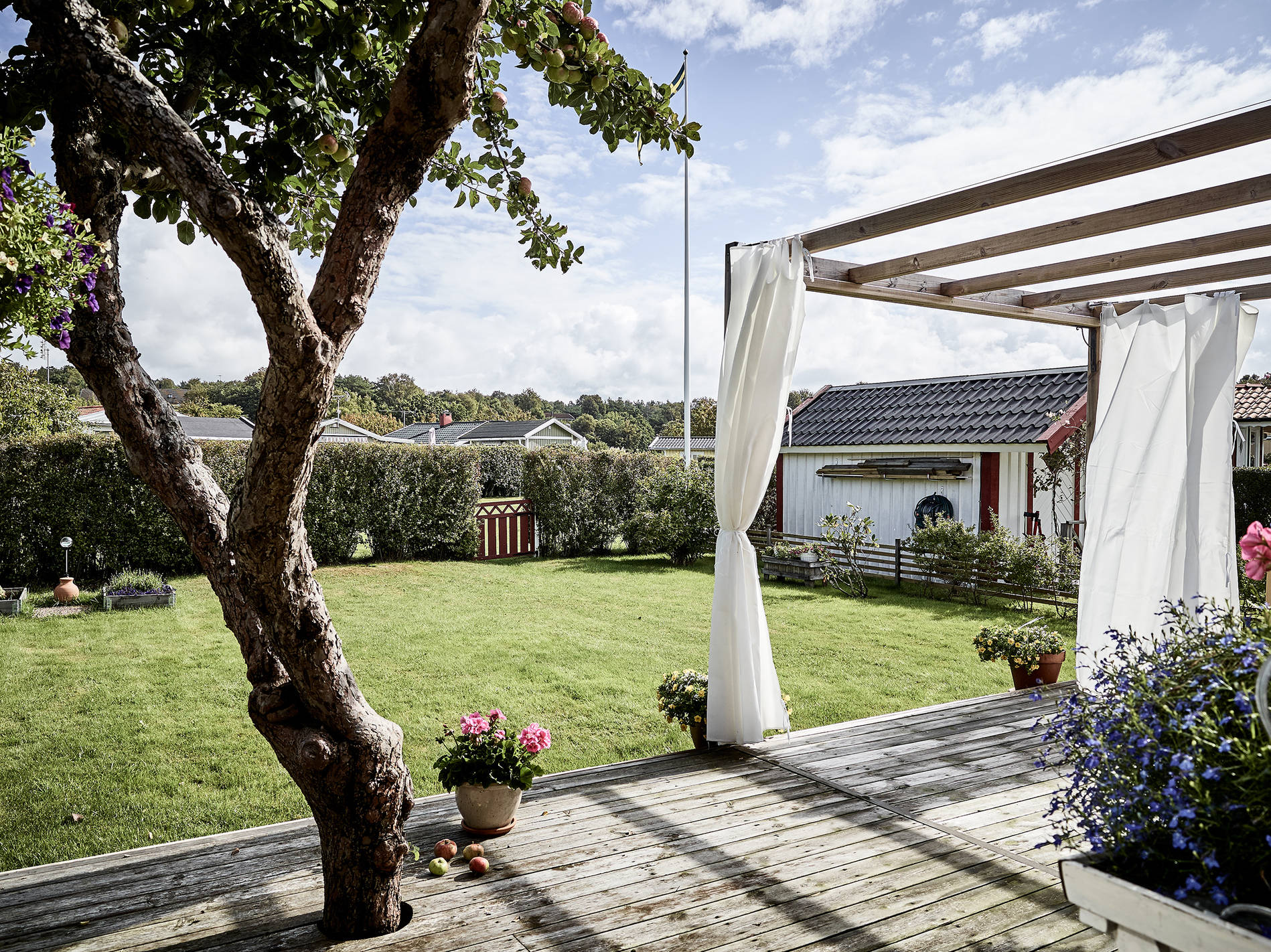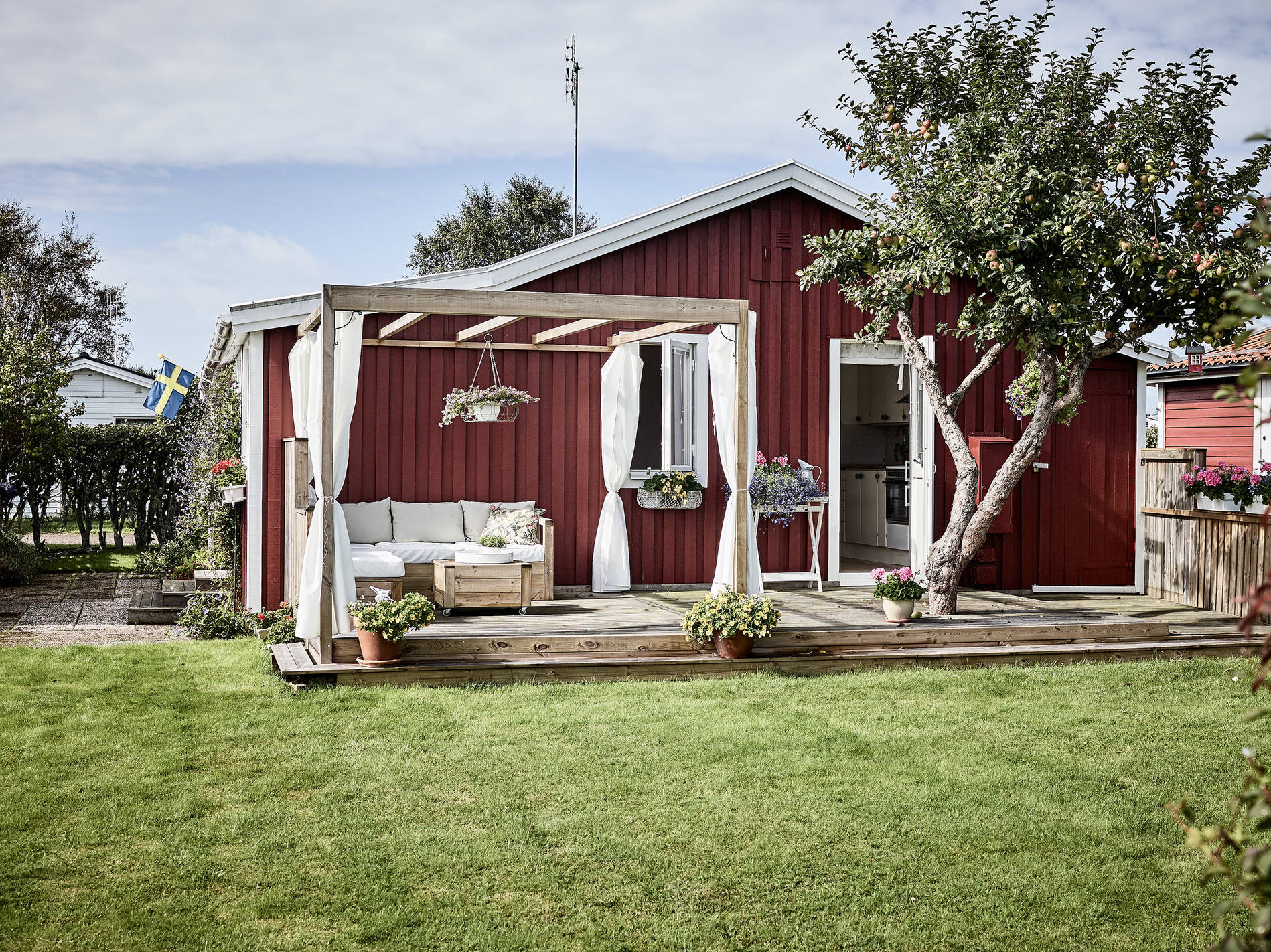 Source : Stadshem
Les jeux extérieurs
Le jardin est l'endroit idéal pour créer une salle de jeux en plein air. Balançoires, trampoline, voici l'espace dont vos enfants ne voudront plus partir. Sur une zone en pelouse synthétique, qui ne s'abîmera pas, vous pourrez poser une piscine tubulaire hors-sol facile à installer et à retirer, car si vous n'avez pas le budget pour une piscine creusée, c'est un choix très abordable et qui fera plaisir à tout le monde dès qu'il fera chaud. Il faudra la remiser à la fin de la saison avec son système de filtration. N'oubliez pas que l'achat d'un robot de piscine, même pour un modèle de petite taille sera un élément de confort non négligeable. Vous pourrez acheter également des jeux d'eau, pistolet propulsant des jets au loin, ce qui ne manquera pas d'amuser tous les participants surtout par temps chaud.
Outdoor games
The garden is the perfect place to create an outdoor playroom. Swings, trampoline, here is the space that your children will not want to leave. On a synthetic lawn area that will not spoil you will be able to install an above-ground tubular pool that is easy to install and remove if you don't have enough money for an inground pool, it »s affordable and will make everyone happy when it's hot. It will have to be stored at the end of the season with its filtration system. Don't forget that buying a pool robot even for a small model,  will be a significant element of comfort. You can also buy water games, pistol throwing jets in the distance, which will surely amuse all participants especially in hot weather.
Source : Casa Tiba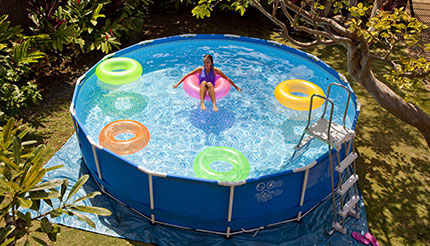 Alors, prêts à faire de votre terrasse et de votre jardin, un véritable  salon d'extérieur de votre maison?
So, ready to make of your terrace and your garden, a real living room outside your home?