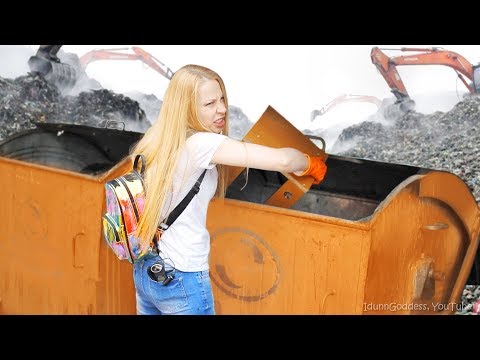 My big project about waste, trash and junk. The experiment – would people take remade junk, that was laying in trash bins before?
The main task of my art-crafts-ecological experiment was to save our planet's space which is dramatically buried under landfills. And plus – to save its natural resources by giving a second life to old useless things. Just think that for making a new chair people waste not only wood (which is also pretty sad), but also energy – often harmful for climate, nature and people themselves.
I spent one day searching waste containers in my city to find useless thrown away junk. I picked: old mirror, broken armchair, hanging shelf, totally broken office chair, two plastic fruit boxes, old tire and piece of wood.
Then I took the rubbish I found to my home and cleaned it thoroughly (disinfected).
Next week – for makeover! I spent countless hours remaking all that junk and transforming it into new useful things. Amazing, how one week of hard work could be placed in a short sentence! 🙂
Then I took photos of things I've remade. Uploaded them on online store, left my contact information and was waiting for new owners of my creations.
Was the experiment successful? – you'll find out from the video 🙂
Let's create wisely! Love you! Idunn