Today we visit Citizen Eatery in Austin, Texas, where you can choose from a delicious menu of plant-based dishes while dining in a bright, modern space peppered with earthy accents. White walls maximize the natural light streaming in from a series of large windows, while special touches such as round hanging planters and tabletop persimmon arrangements make a big impact.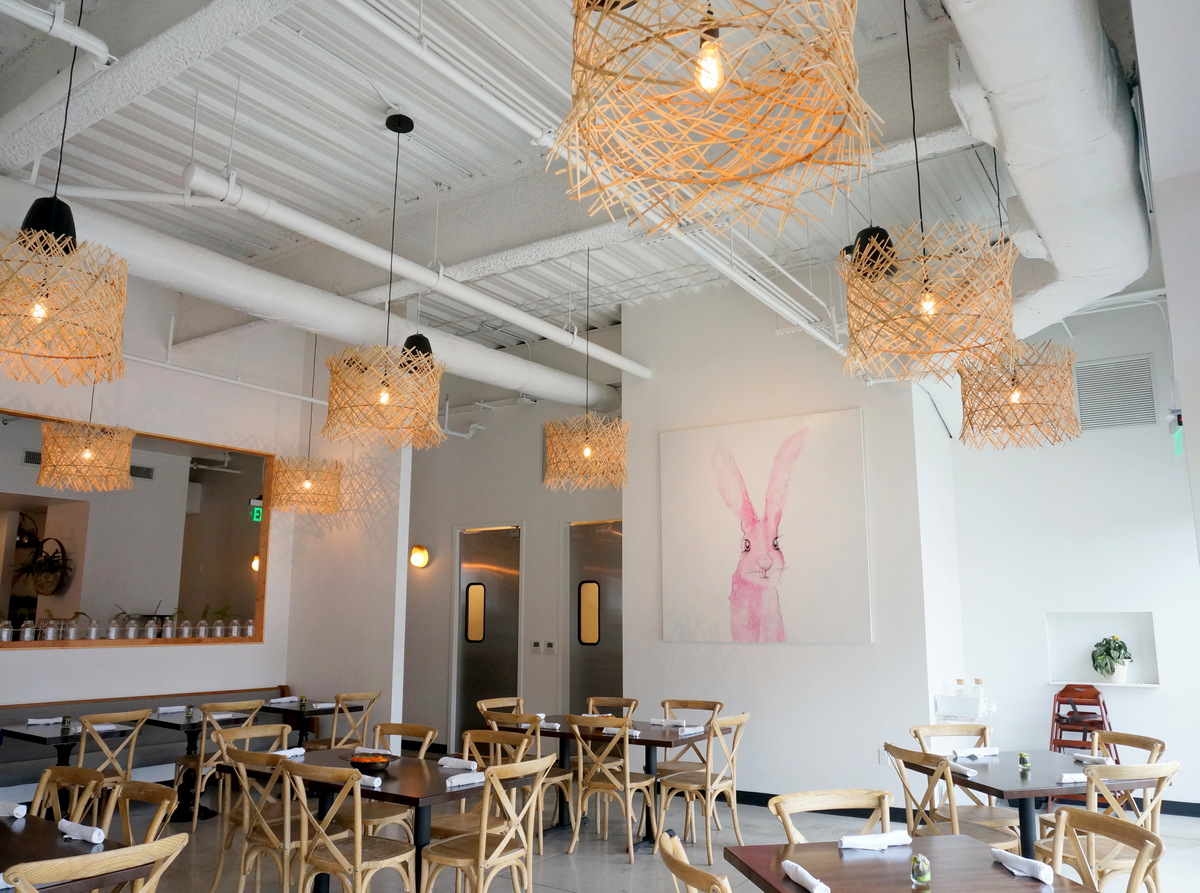 *All photos by Kate Simmons for Decoist
The Citizen Eatery Story
Even more inspiring than admiring the inviting interior is chatting with Aimee Walden-Moyer, who opened Citizen Eatery with her husband Michael Moyer after years of experience in the restaurant industry. In addition to Michael's 25 years in the business, Aimee worked in fine dining for 10 years, honing her skills at Terence Conran's London restaurants under chef John Torode.
RELATED: Surprisingly modern: Alice in Wonderland-themed restaurant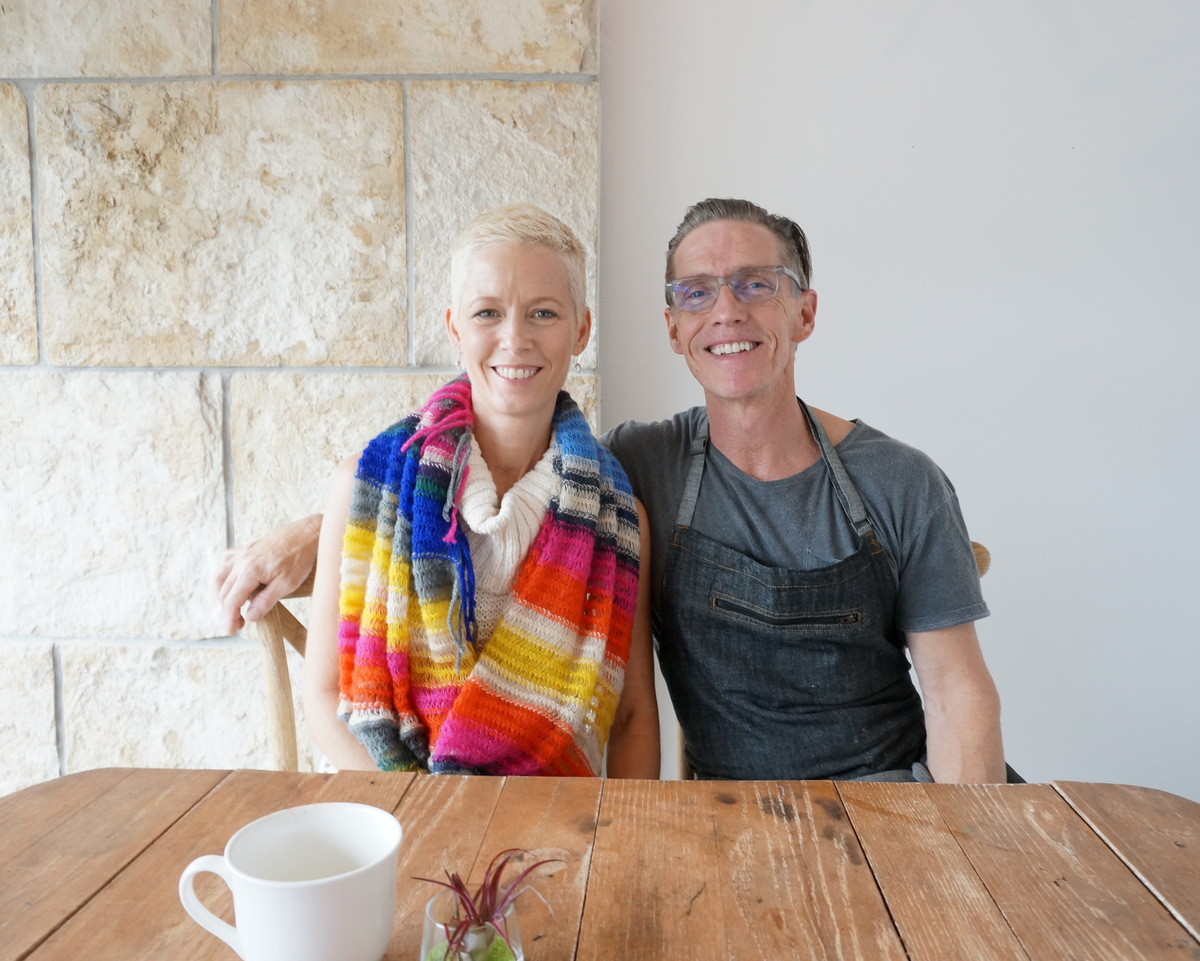 Their path to opening Citizen Eatery began eight years ago, when they embraced the challenge of developing veggie burger recipes filled with just the right combination of healthy fats, proteins, amino acids and fiber. In fact, Walden-Moyer wanted each patty to rival the protein content that can be found in a four-ounce patty of meat. Since the nutritional requirement was a key element in the process, she and Michael enlisted the help of Spirited Food Co.'s chef Andrew Brooks. The rest is history!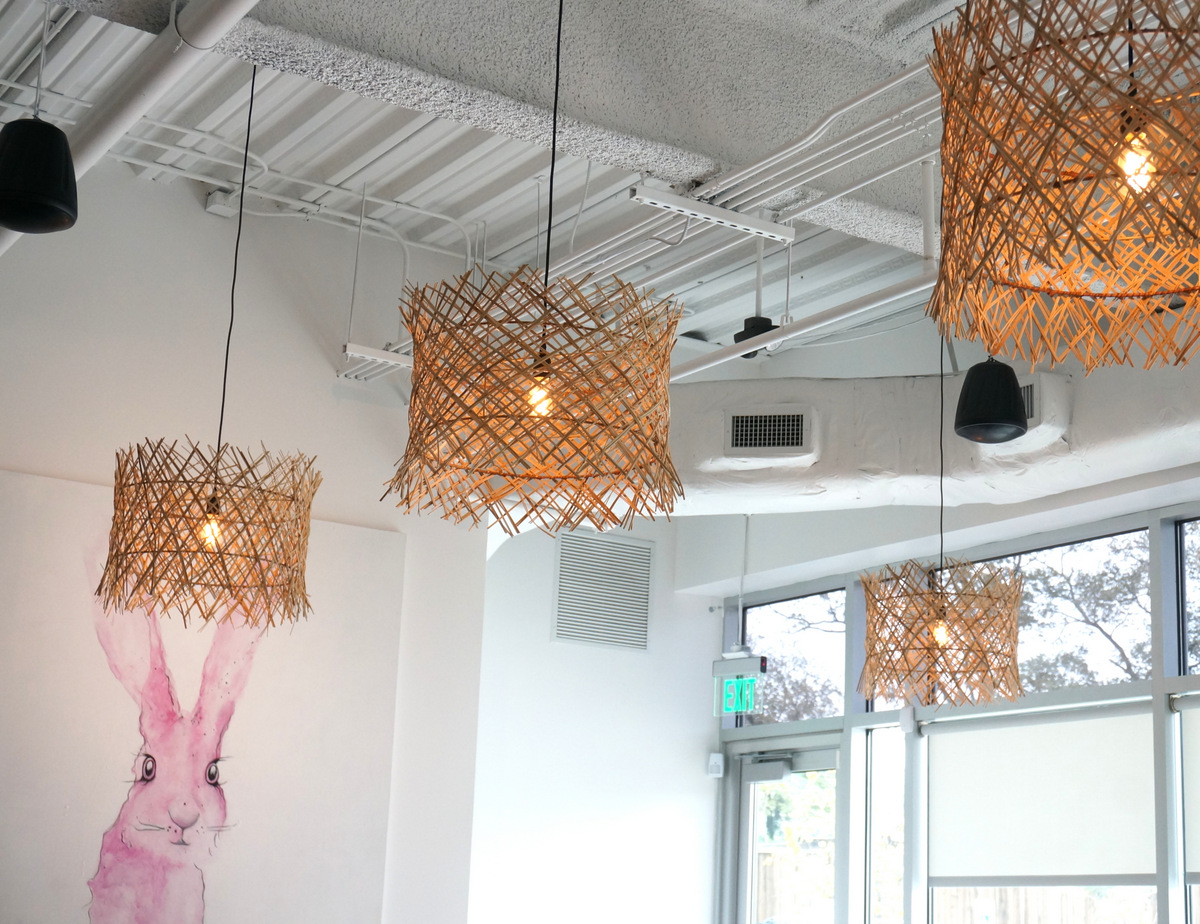 Citizen Eatery offers five delicious veggie burger options, such as the Paleo, which is made from sweet potato, cauliflower, mushrooms, onion and toasted pecans. Not to mention, a section of the menu is devoted to breakfast items (served all day). Below we see the The Californian Toast, which includes a fried egg, avocado, asparagus and herb oil served on wheat toast: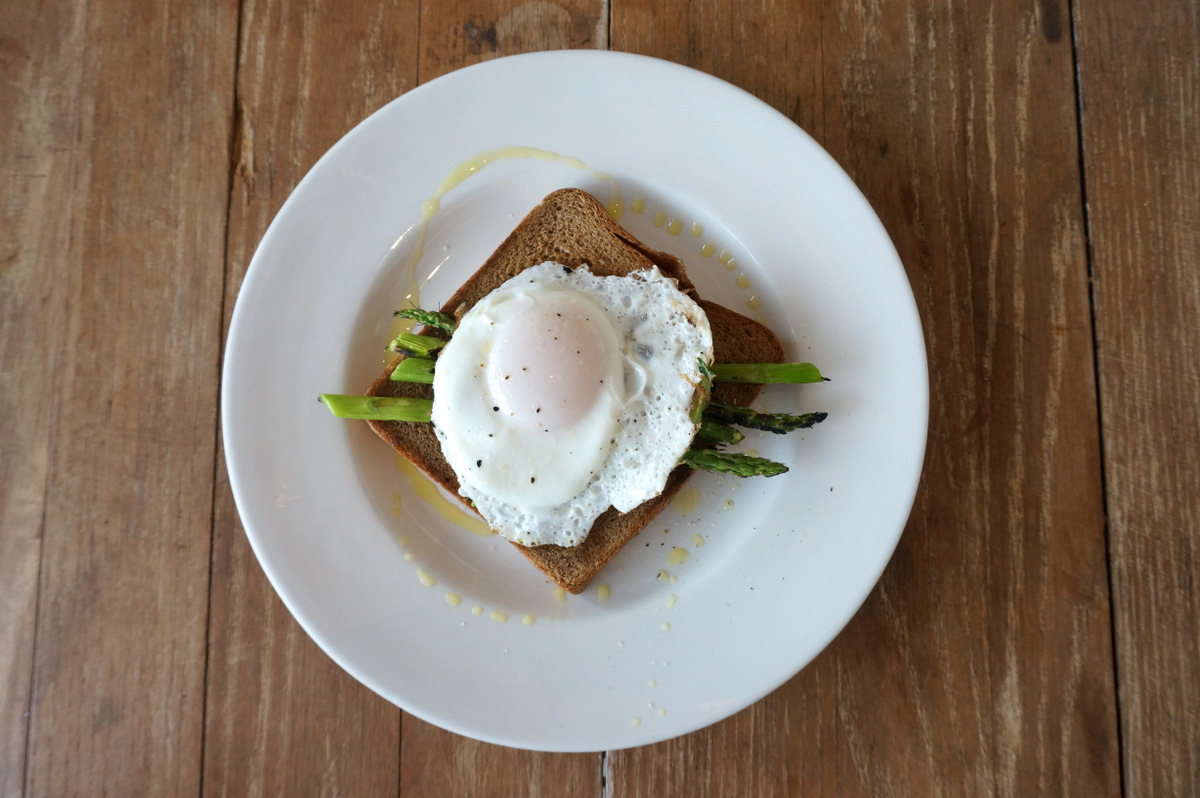 "I love improving the quality of peoples' lives," says Aimee, who has worked as a hairstylist, a musician and a yoga teacher, in addition to owning her own health and wellness business. When describing Citizen Eatery's cuisine, she adds, "It's just good food. It tastes good. It doesn't matter that we happen to not use the other protein that you can find at 99.9% of all other restaurants…We're just providing a service so that people can get more real food in their bodies. To help them heal themselves."
Designing the Space
With a priority on healthy, delicious food comes the desire to create a bright, fresh space. How did this contemporary, light-filled interior evolve? Add "design expert" to Aimee Walden-Moyers' list of talents, as the restaurant's atmosphere reflects her clear vision for an inviting, artful dining experience.
RELATED: Moyo Restaurant: Sustainable Agriculture Meets Modern Architecture!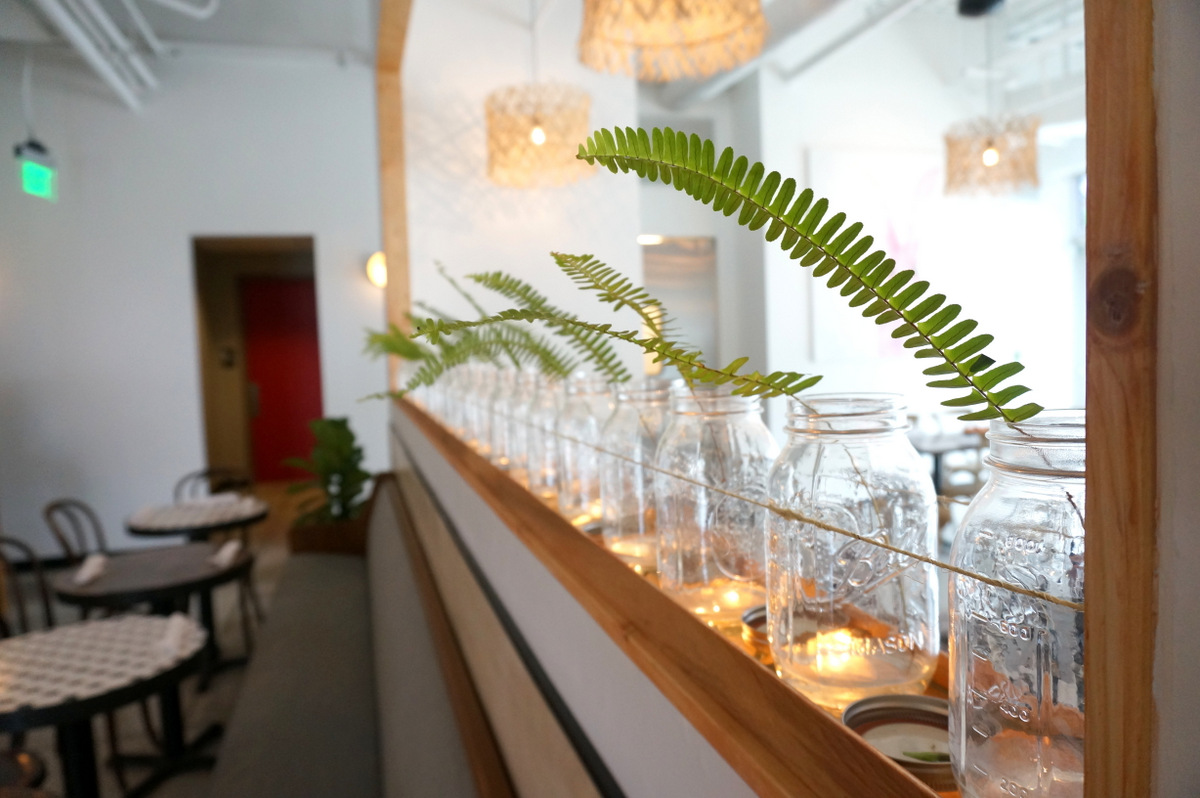 Not only did she design the space, she's put her own special touches everywhere, from the fern frond-filled mason jars to the table numbers crafted from a collection of vintage forks: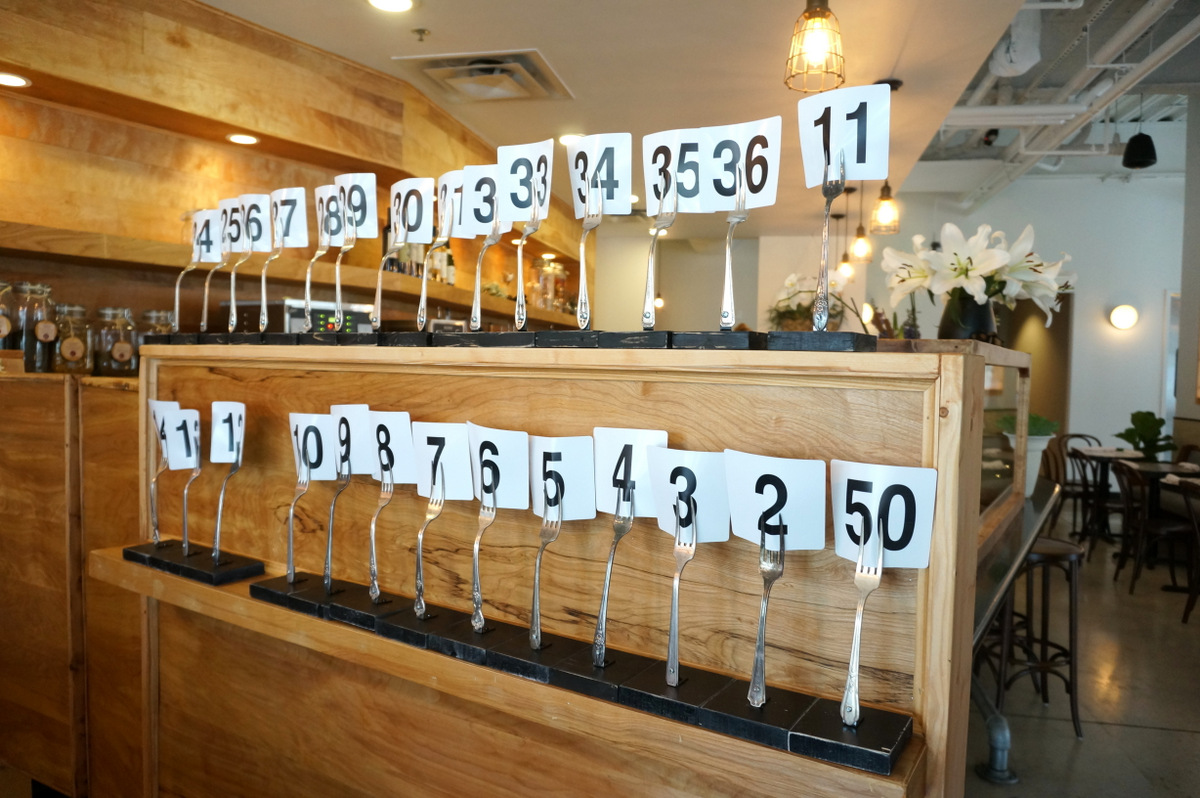 Where do you start when designing the restaurant of your dreams? You start with the space you have. Before becoming Citizen Eatery, the space was another restaurant…that was grey and black. In fact, it was tempting to keep those grey walls. But Walden-Moyer describes a game-changing moment when her friend, a successful designer, gave her an important piece of advice: paint the walls white. She did, and the decision transformed the interior.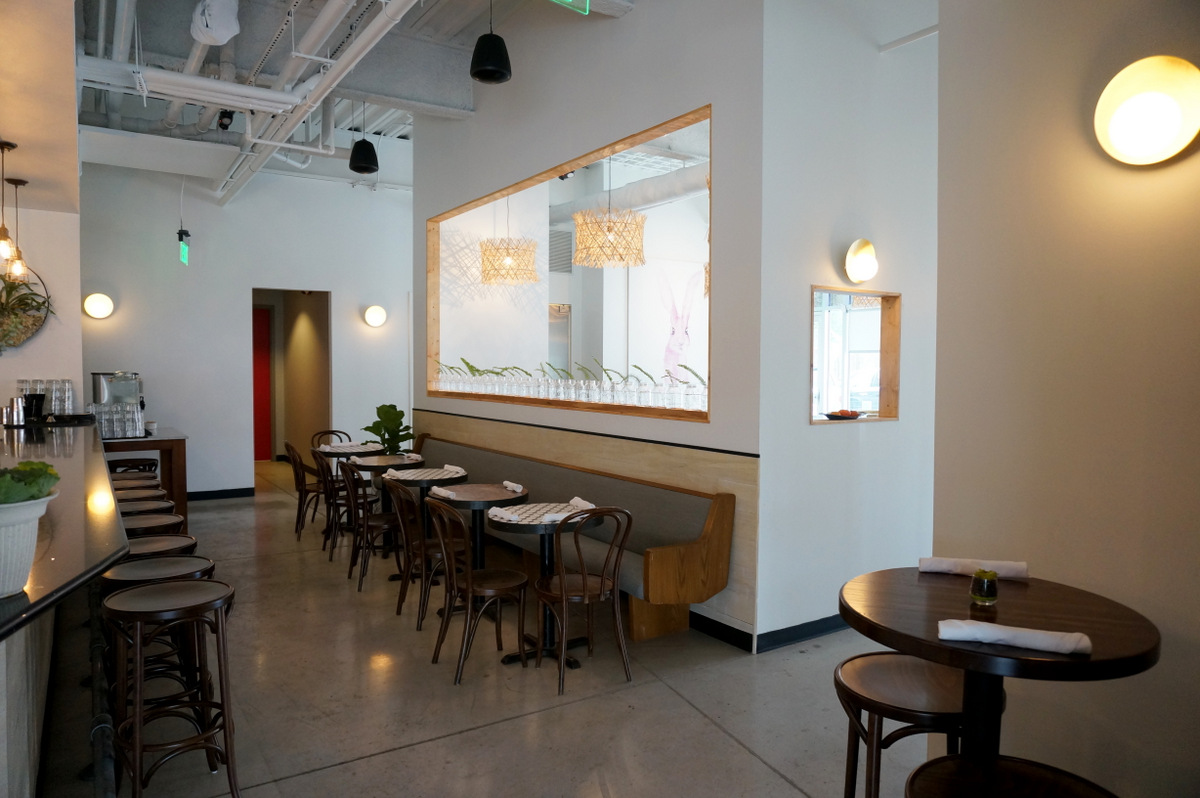 In terms of changes to the flow of the space, Walden-Moyer adds, "The first thing we did was knock a hole in the wall to allow this beautiful natural light to flow through to the bar area." Above and below we see that very wall, which now provides a clear view from the bar to the dining area.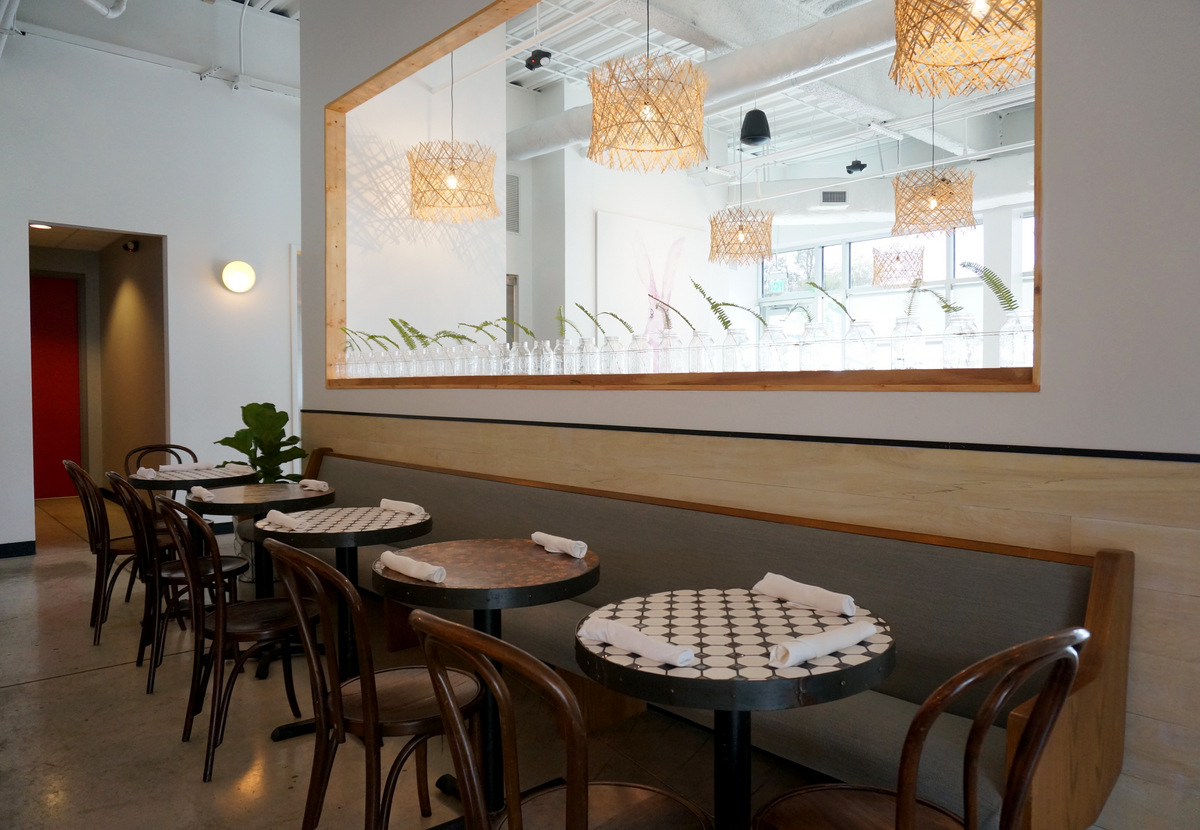 Another defining moment was the installation of wallpaper in the front foyer (a pattern called "The Joy of Plants" by Robin Sprong). After spotting the wallpaper at a local store, Aimee knew she had to have it for Citizen Eatery.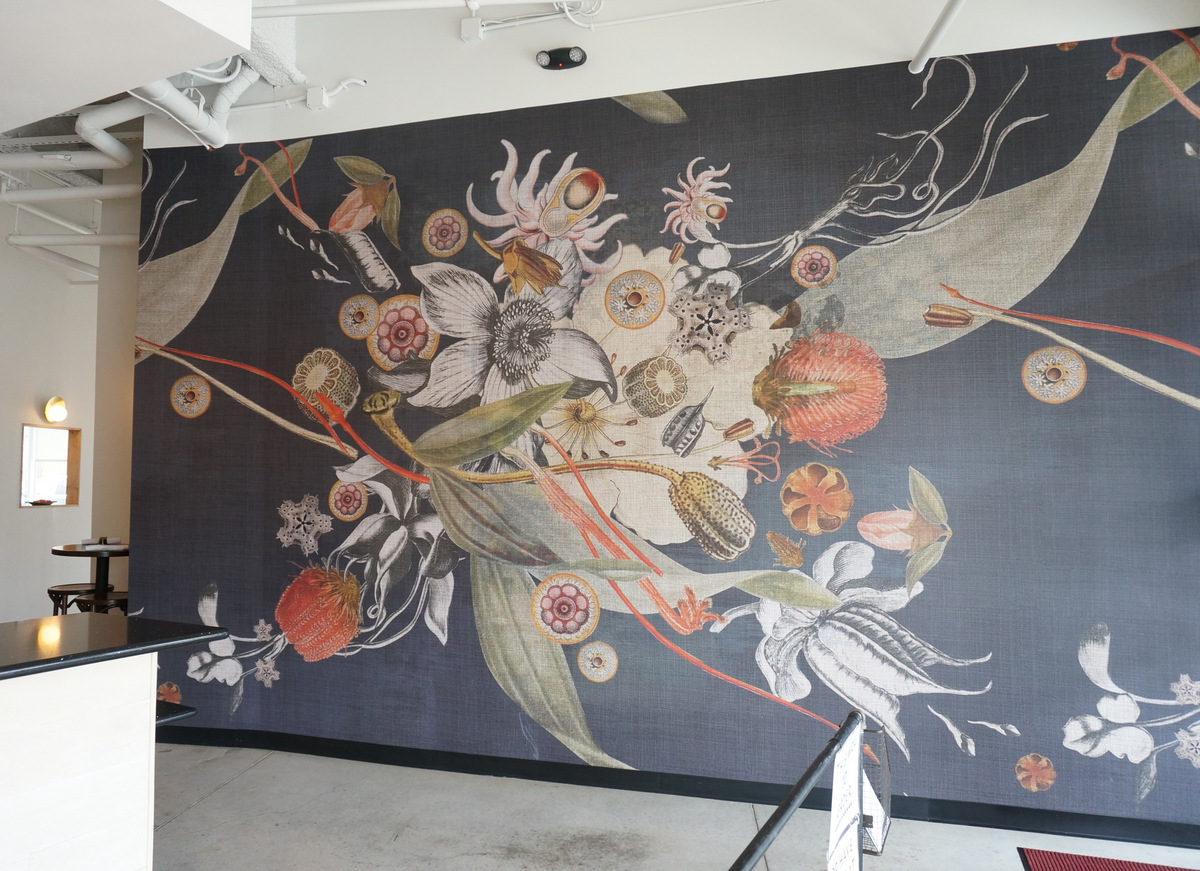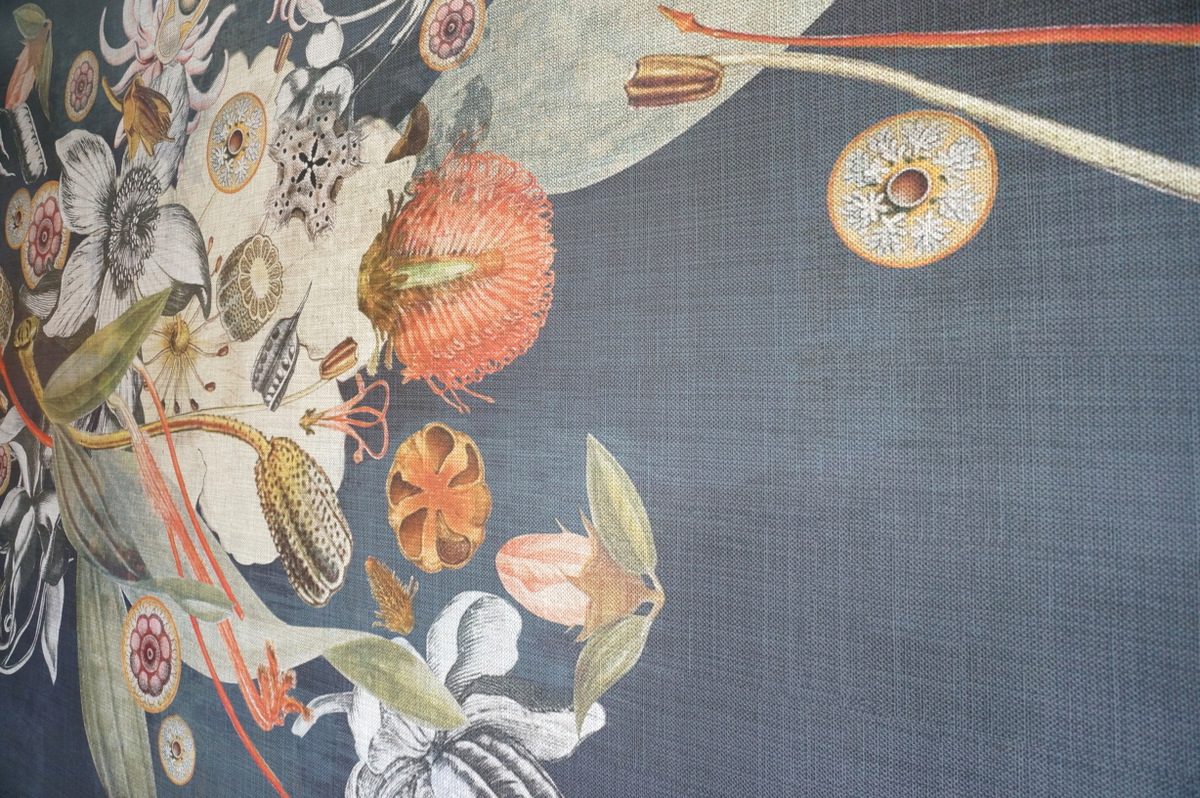 Then there's the pink bunny. The painting that graces the main dining room was created by Aimee's good friend, artist Kendall Rabon. Trusting her design-savvy instincts and her love for color, Walden-Moyer requested a painting of a bunny, but one that clearly differed from what you would find in rooms such as a child's nursery. She sent Rabon photos to help express her vision. This would be a happy, empathetic bunny, one that draws you in.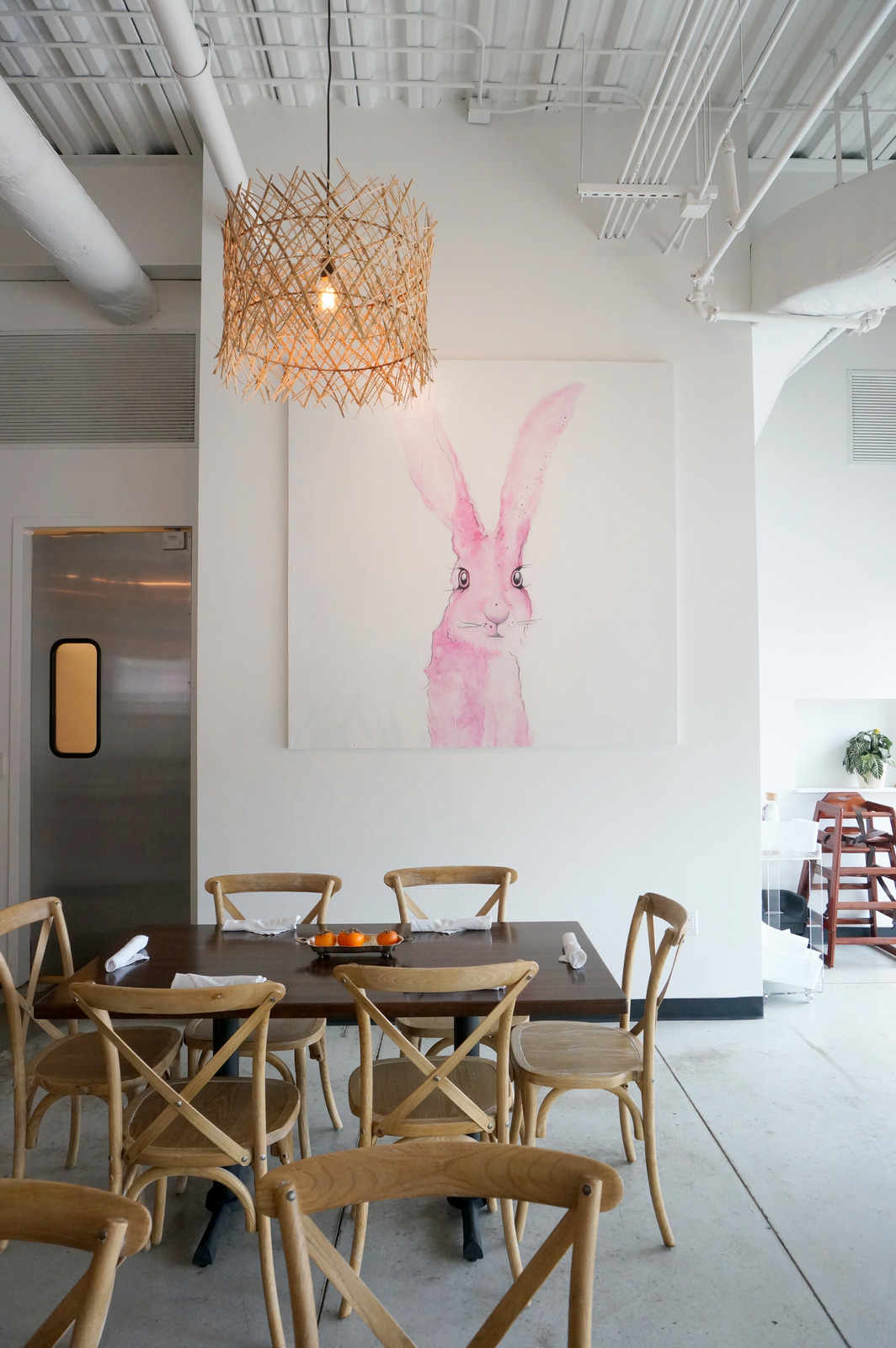 And draw you in it will! Now a favorite spot for photos and selfies, the painting is for sale. Once it leaves the wall, another one will replace it. Walden-Moyer notes how interesting it will be to watch this rabbit evolve each time Kendall Rabon creates a new painting for the space.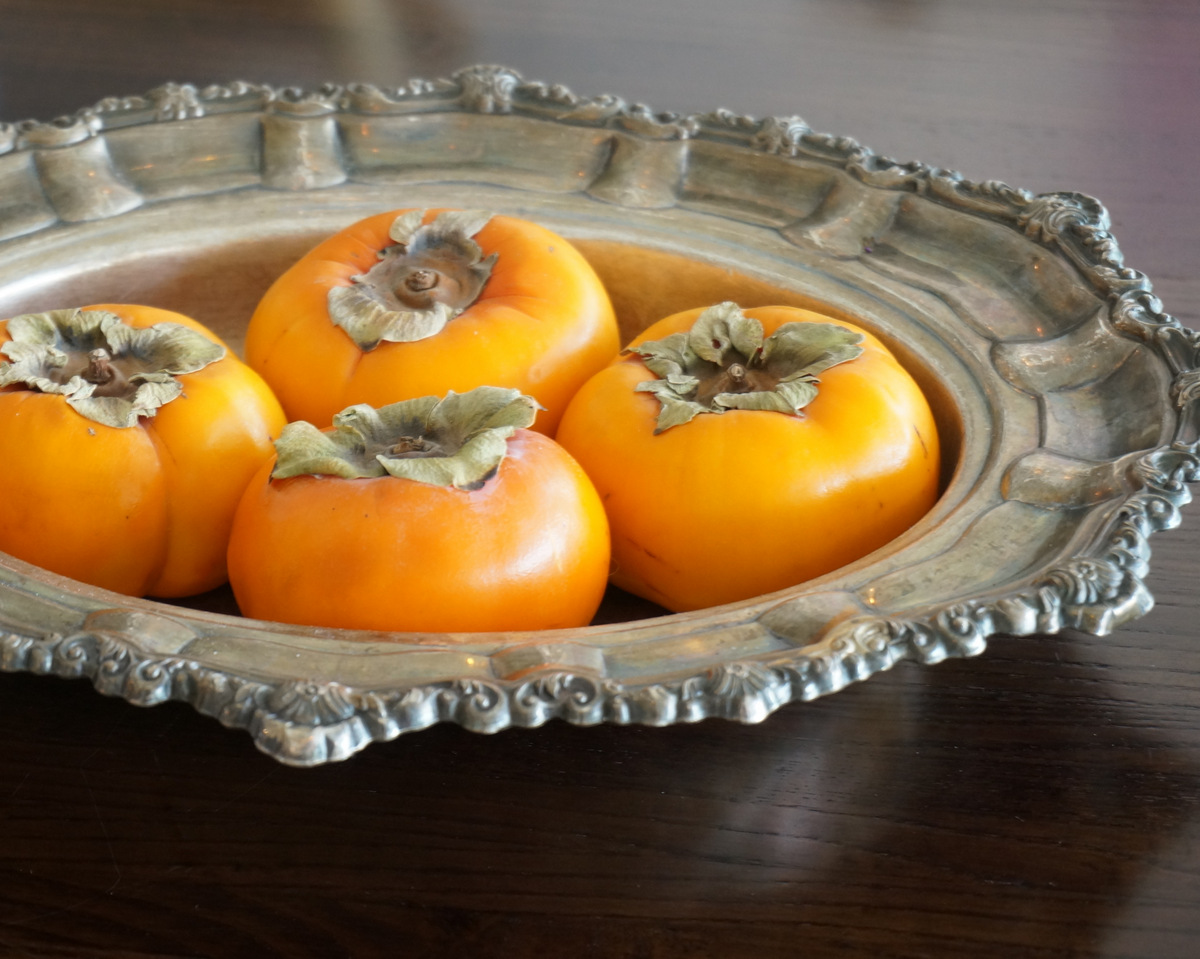 As for the other design details, such as pew benches that Walden-Moyer re-covered herself, she says, "I didn't wake up and this was in my mind. This happened and unfolded as it happened. I would bring things in and listen to how I feel with something in the space, and if it's bothering me then it's too much…It may look good in some store, but if I bring it to my space, and it looks too contrived, too prefab, too 'done', I strip it down and strip it down and just go back to earthy, natural elements."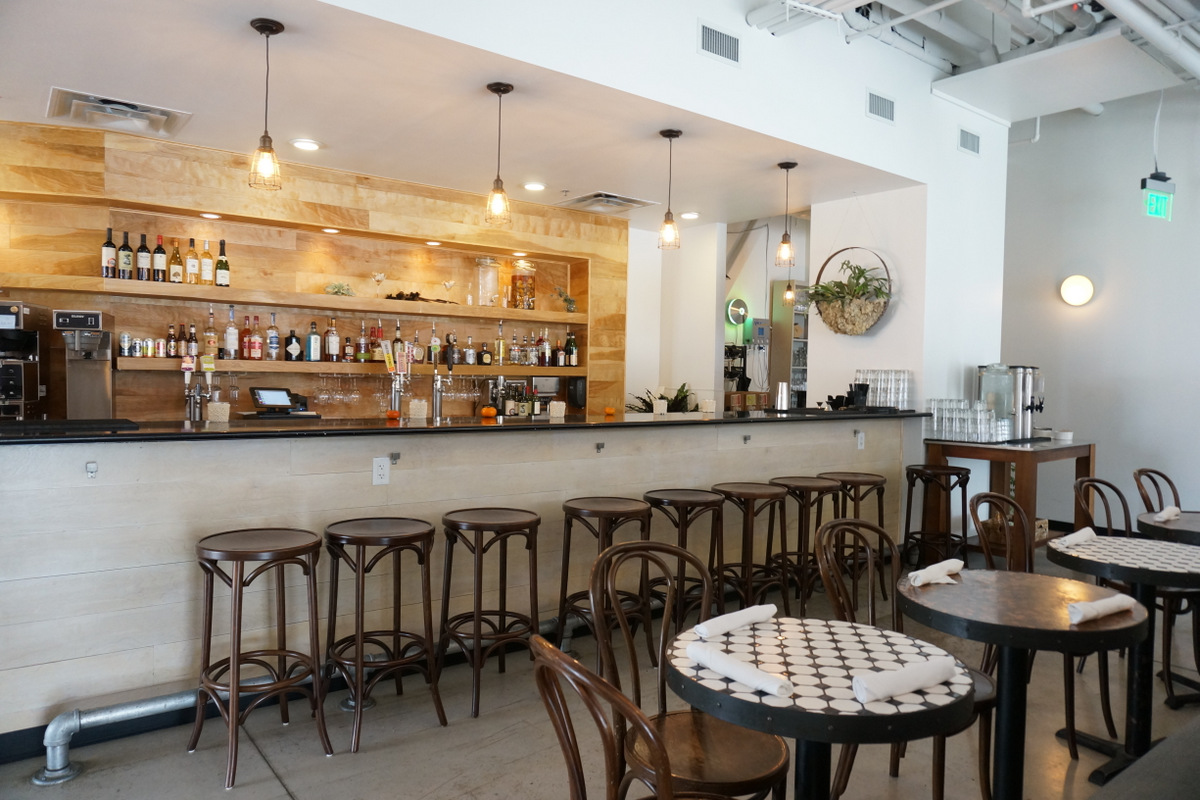 A key source of design inspiration is Aimee's good friend, Juliet, a stylist who lives in England. In fact, during moments of design doubt, Walden-Moyer finds herself asking, "What would Juliet do?" Often the answer is to keep it neutral and pure.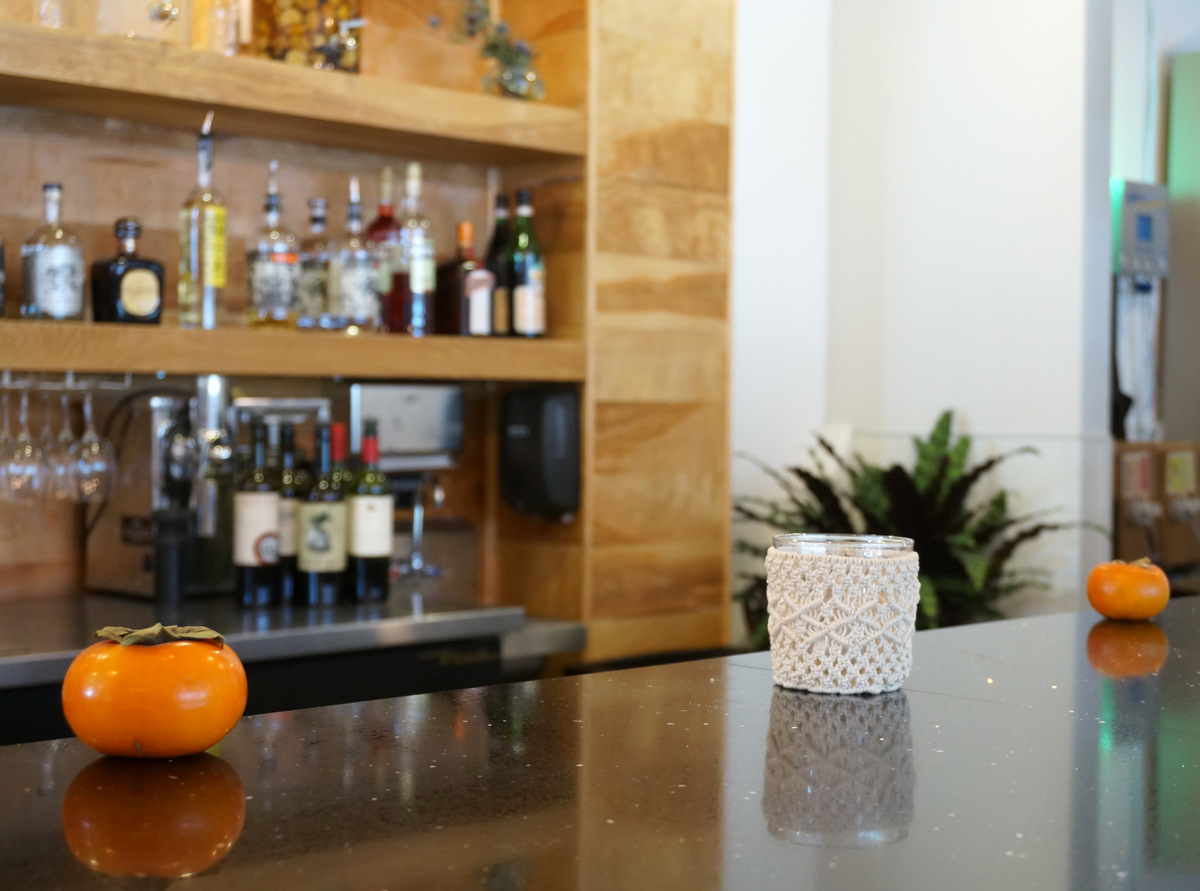 You can see the result of this design philosophy in the restaurant's bar, which features modern wood paneling. The look is stripped down and simple, the antithesis of a bar you'd find in a loud nightclub. The approach is perfect for a restaurant that offers enticing beverage selections such as kombucha, cold-pressed juices, and vodka infused with persimmons and spices.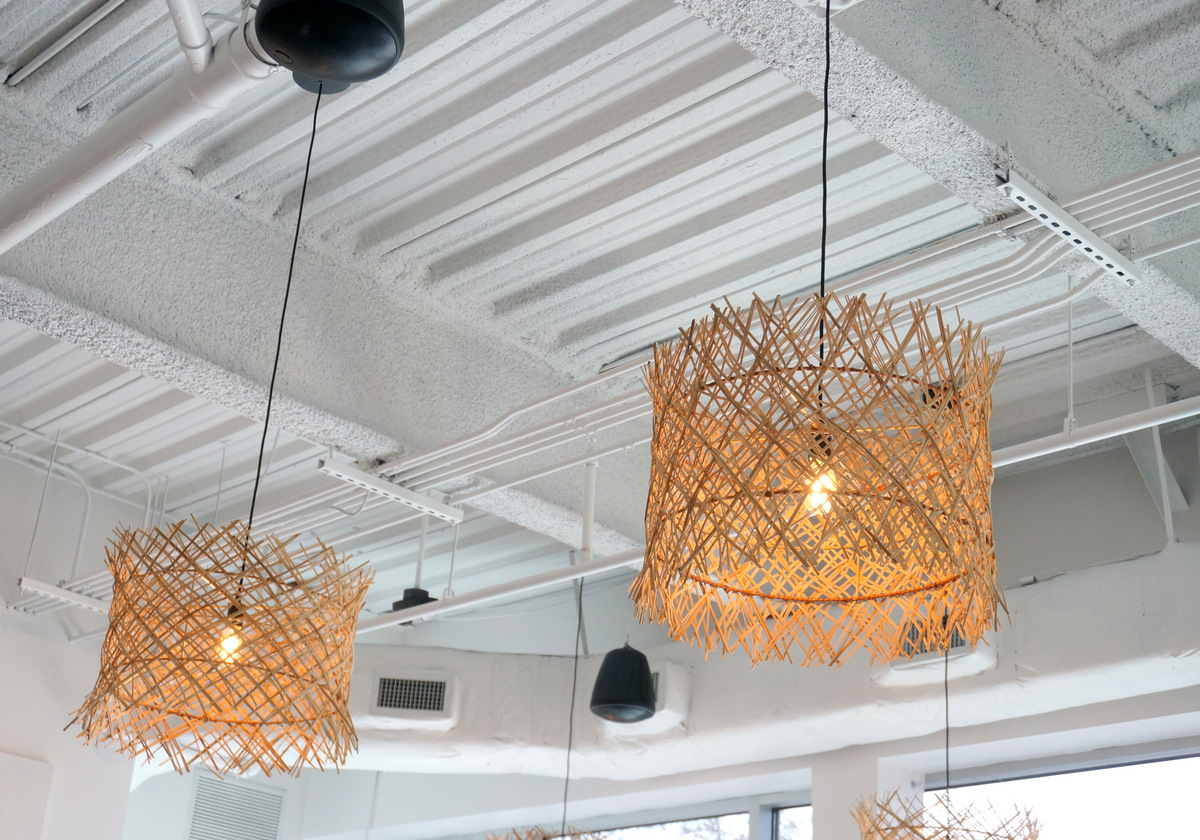 A few other accents to note are the pendant light shades from CB2 (Walden-Moyer got the last 11 in existence, which had to be shipped from various CB2 stores around the country), the earthy x-back chairs that mirror the criss-cross designs in the shades, and the hanging planters she created from wine barrel rings.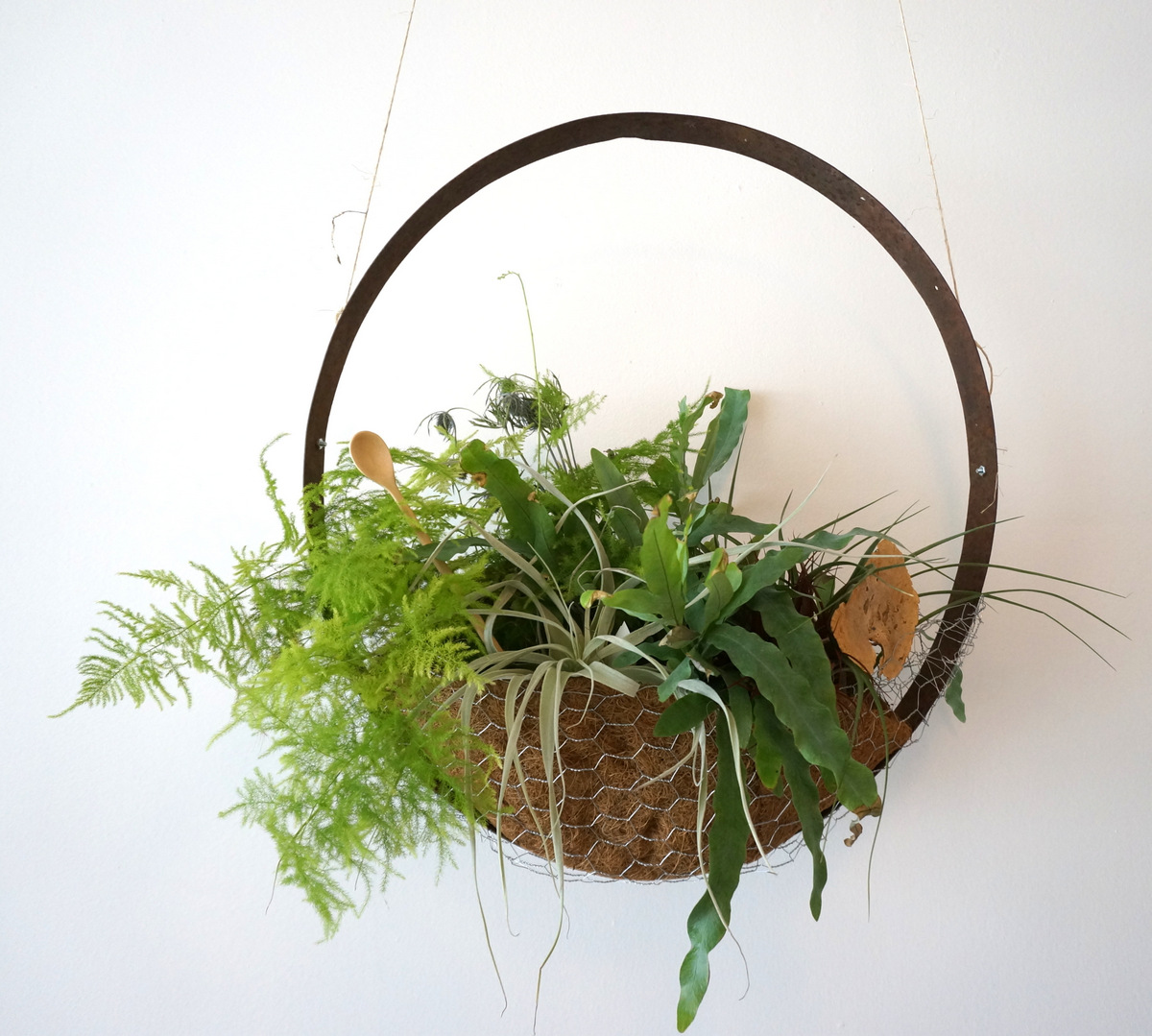 See the tasting spoon in the planter above? Purchased through Kettle & Brine, it was part of a spoon "housewarming" gift for the restaurant's opening, given to Aimee by a dear friend who knew she'd do something creative with it.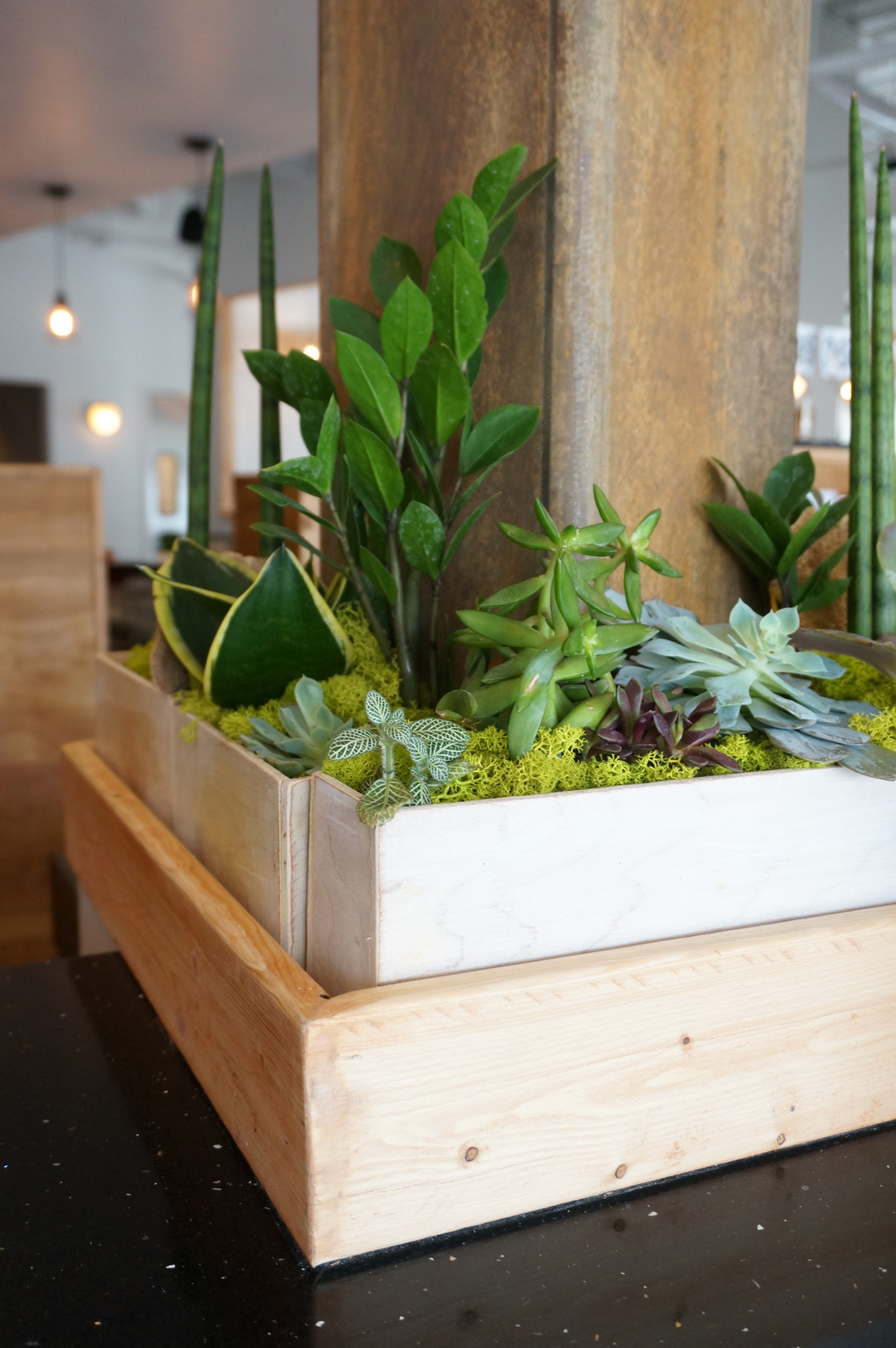 In fact, creativity can be found all over the restaurant, which is no surprise, given that Aimee Walden-Moyer is known for forecasting trends before they hit. In terms of vegetarian restaurants in the Austin scene, she views Citizen Eatery as part of a movement, noting that there will be more.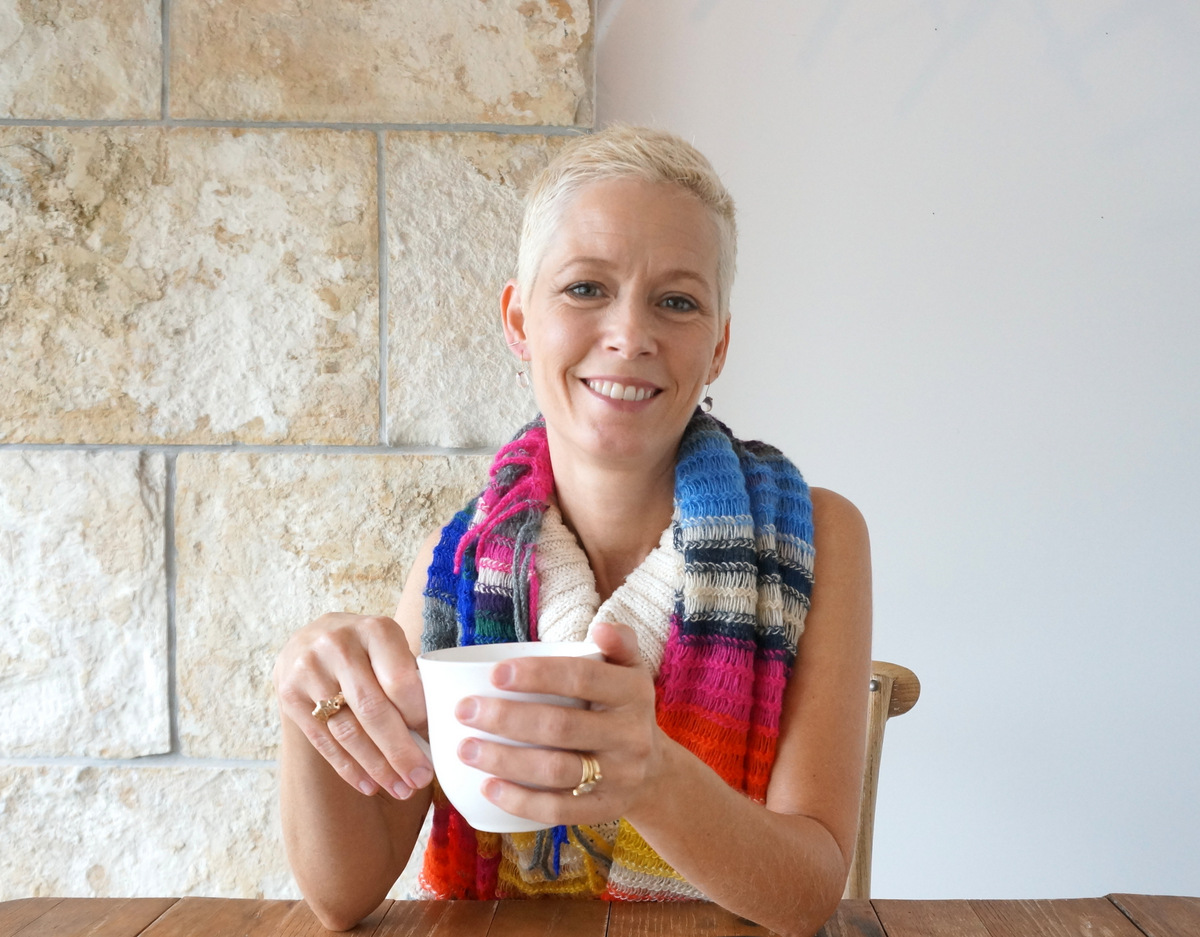 In the meantime, there is plenty to enjoy in the community she and Michael have created, a destination for visitors and locals, and a place where neighborhood regulars can walk with their kids and consume truly good food in a beautifully designed space.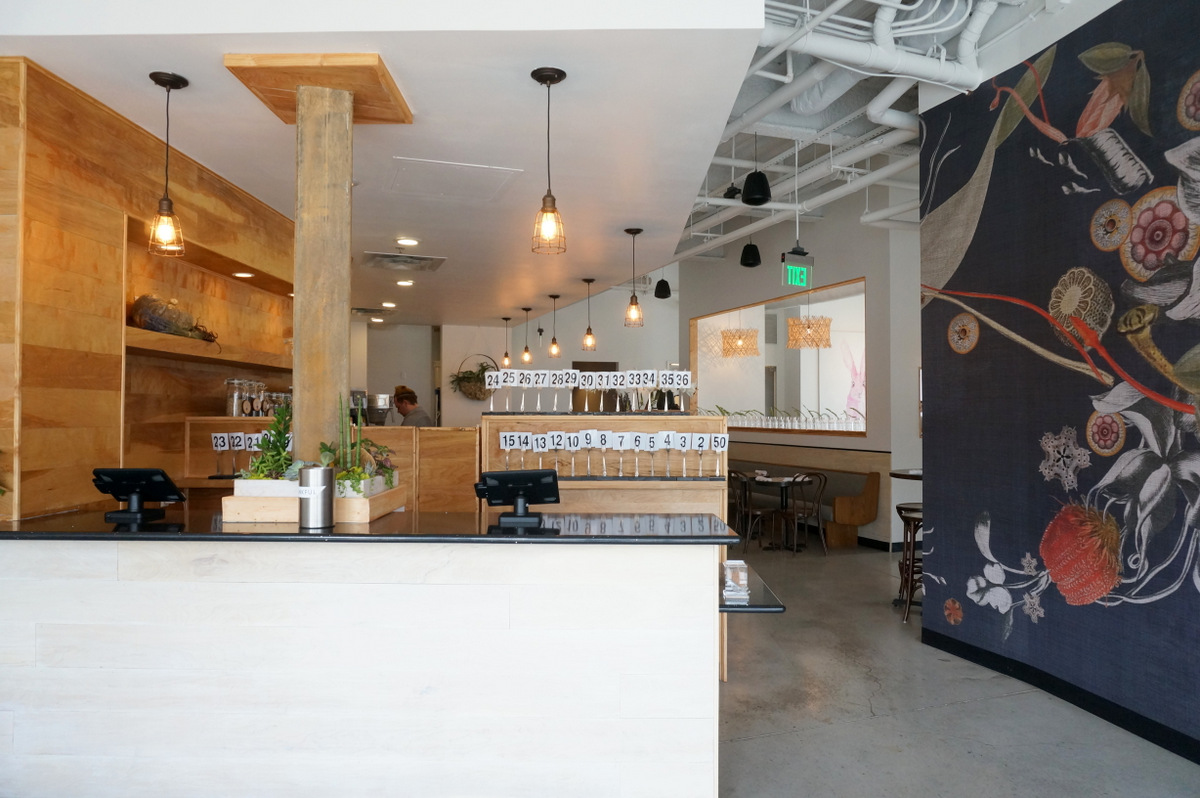 *A sincere thank-you to Aimee Walden-Moyer and Michael Moyer for making this piece possible. Learn more about Citizen Eatery here.
You're reading Citizen Eatery Celebrates Plant-Based Dining and Modern Design, originally posted on Decoist. If you enjoyed this post, be sure to follow Decoist on Twitter, Facebook and Pinterest.