Crochet blankets have got to be one of the most satisfying things one can make. The speed at which they come together and the ability to essentially start using it WHILE you're making it as soon as it's big enough are two huge benefits to this kind of project. They are also super giftable and impressive! After two months straight of working night and day on my spring collection, which is full of dk and worsted weight yarns, I was so excited to dive into a super bulky weight crochet project. The requirements I set for myself were oversized, drapey, and pom-tastic! After several attempts at checking all these boxes (read below for some background and insight into the design process!), the Celestial Poms Throw was born. Scroll down for the free pattern, click here to purchase the printer-friendly, ad-free PDF, or click here to grab the yarn kit from Lion Brand (currently 25% off with code KITS25).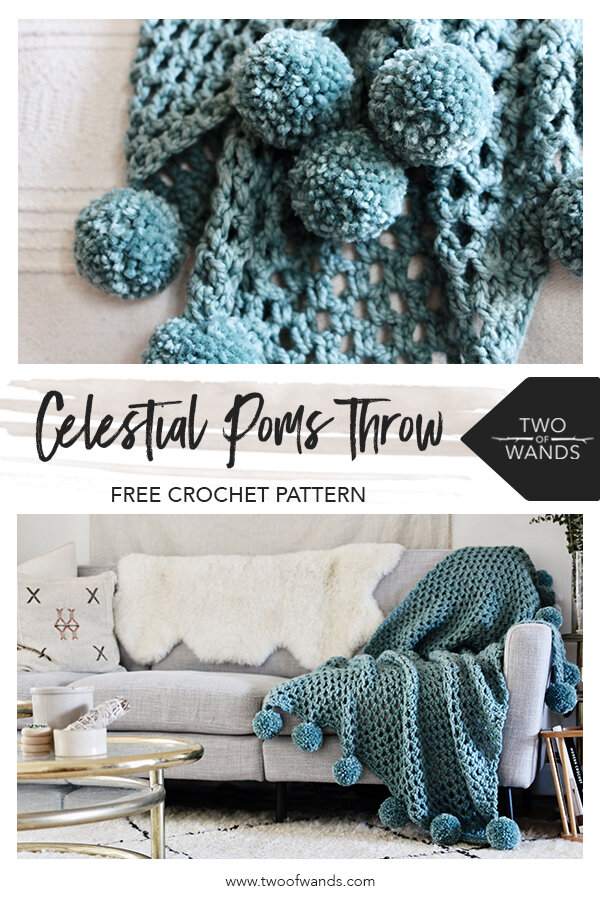 Lion Brand's color of the year, Succulent, felt like the perfect hue for this design. The slightly desaturated Succulent in Wool-Ease Thick & Quick is my kind of perfectly understated color. It pairs so well with other colors, making it an excellent choice for home decor and a "pop" of color without it feeling tacky or cheap. You know I love my neutrals, so while the rest of my home is big on creams and greys, the Celestial Poms Throw feels like a breath of fresh air to add to the mix. Doesn't the color just ooze serenity!?
I ordered eight skeins of yarn thinking that would be more than enough, but as soon as I sat down to start working on the project I immediately realized it was actually going to be pretty difficult to execute what I had in mind with this amount of yarn. I pictured a cascading blanket with huge poms that just begged you to snuggle under it, but after coming to terms with the fact that I would need at least two balls for the poms, it was quite a head-scratcher to figure out how to do that. 
I knew I wanted to keep it simple, so I tested out some basic stitches: half double crochet, double crochet, linen stitch … the list goes on. Not only were they eating up the yarn like crazy, the fabric was much too stiff for my liking. I filled pages of my notebook with math equations, trying to work out how to stretch and maximize the quantity of yarn into an adequately-sized blanket. Something "lacy" seemed like the only option, so I started testing filet stitches. Unfortunately at this scale with a 10mm hook and such chunky yarn, the holes created with the stitches I tested were just too big and, well, holey. After dozens of attempts I settled on a SUPER simple mesh stitch with minimal holes that allows the fabric to move and drape beautifully! The holes actually help keep the blanket breathable, too. Win-win!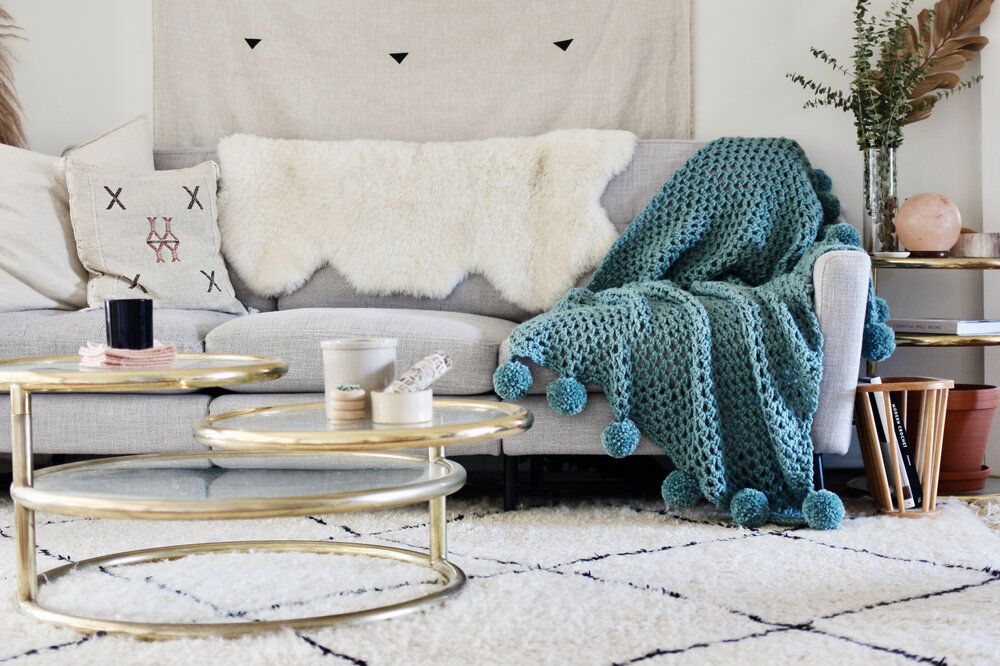 Once the stitch was chosen, I still had to frog about half-way through TWICE. When you have a really flexible, stretchy fabric like this, it often behaves very differently in swatch form than it does when you have a much larger piece of fabric. I had to be really precise with the initial stitch count so the blanket didn't end up too long and narrow or short and wide. It took several attempts to get there! What started as an easy-breezy, no-brainer simple pattern had turned into a very time-consuming, mental gymnastics design.
I share all of this to remind everyone that even the most basic seeming designs often have tons of work behind the scenes to get them just right. When something simple looks perfect and effortless, you can be sure there's a boatload of hours that went into it. We are so used to consuming So. Much. Content. all day every day for free on the internet, that we forget the energy and time spent by the people creating it at no cost for us. I also share this because with the abundance of copying I see in this industry and the amount of times my work has been stolen, it's disheartening that the copiers don't have to go through all of these trials and errors but their audience may never know that. With that said, I think the originals are always better than the knock-offs 🙂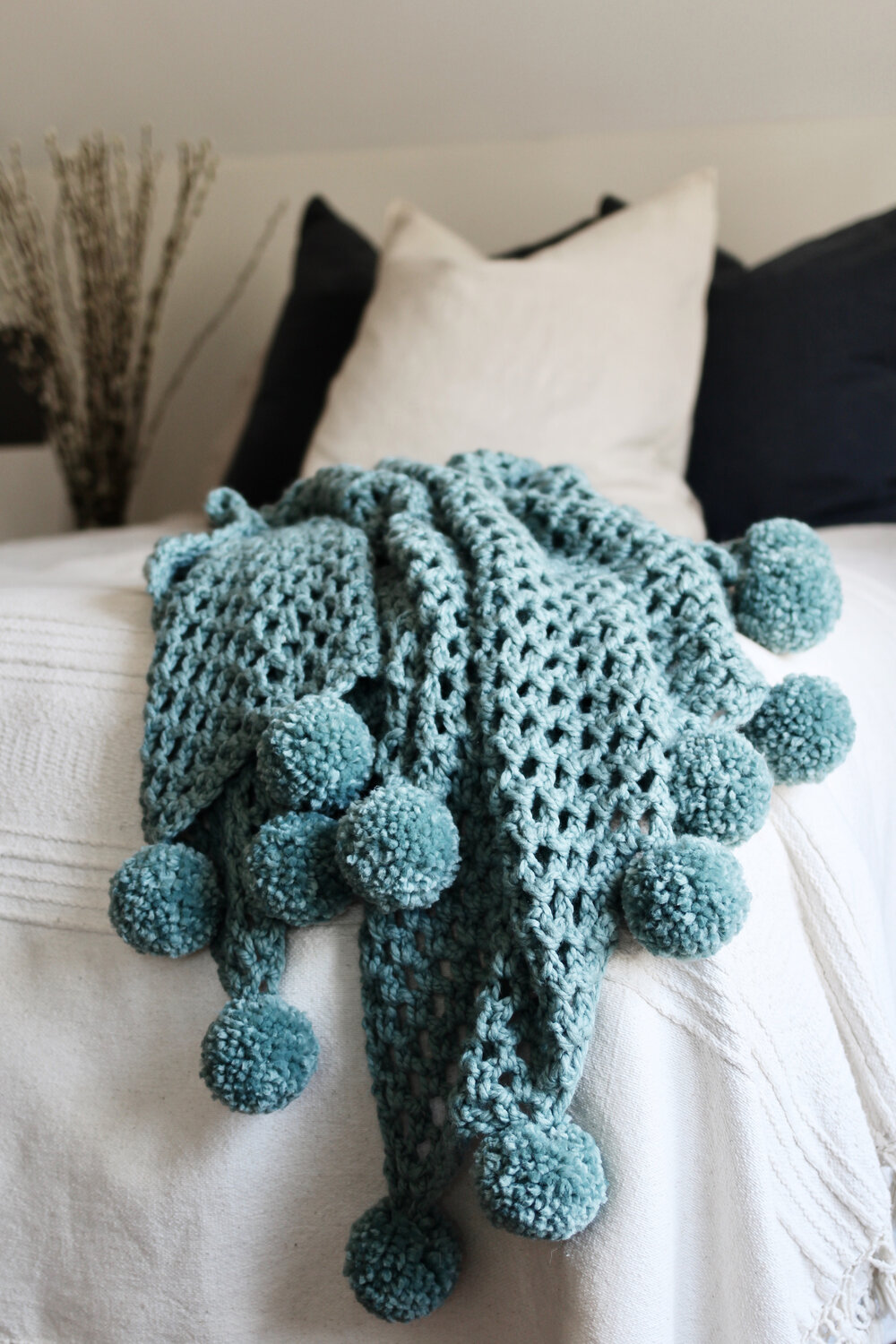 Now that I have this pattern nailed down, I will likely be making this bad boy in several more colors and shipping them off to friends as cozy gifts while we are all stuck at home trying to make the best of a scary, uneasy time. I hope this pattern will bring some much-needed craft therapy to those of you who make it. Like I said, it is quick and easy, and it makes for the perfect project to relax with in front of your latest bingefest.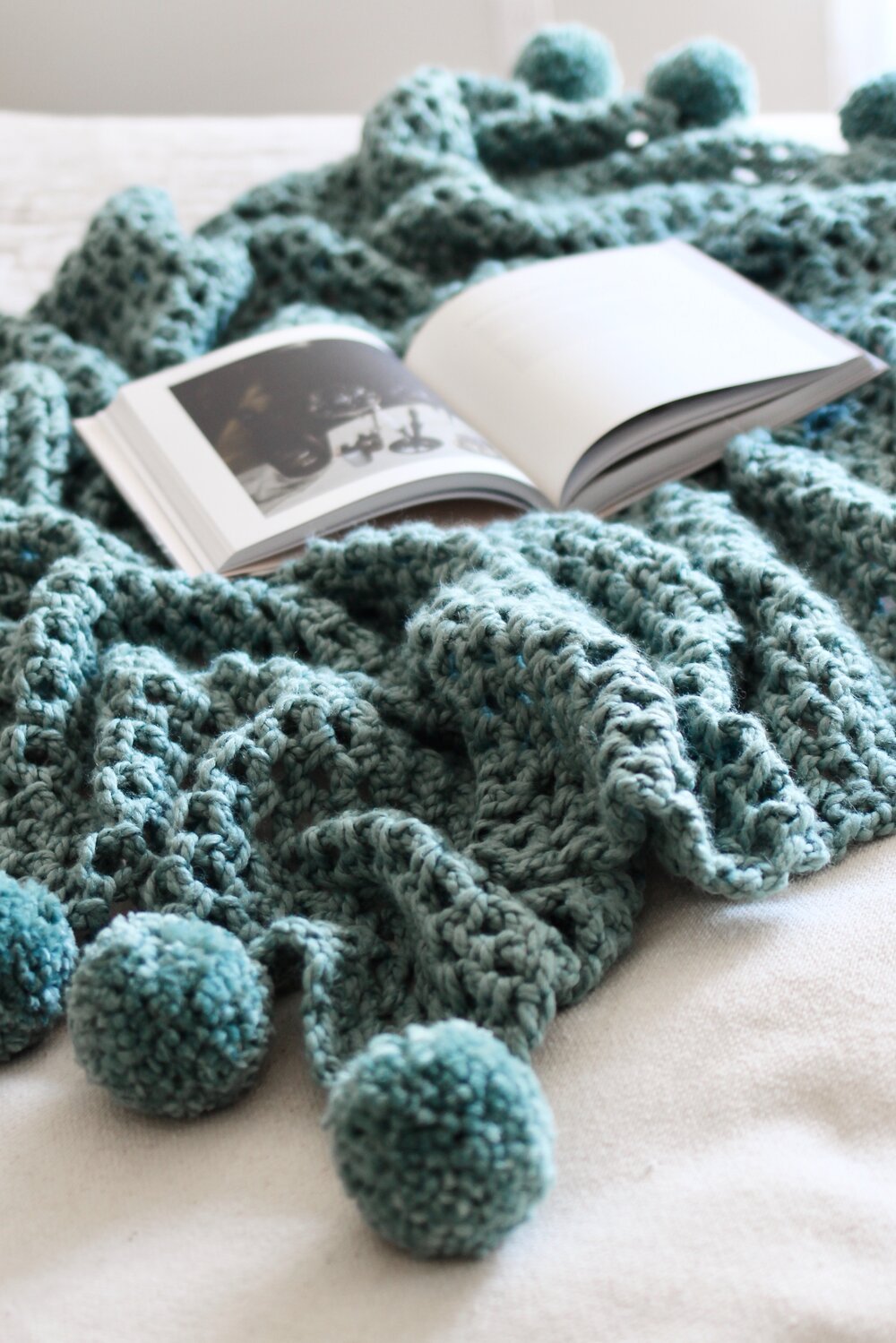 This is a beginner level crochet pattern and the techniques involved are single crochet, chain stitches, skipping stitches, and working into chain spaces. 
MATERIALS:
8 skeins Lion Brand Wool-Ease Thick & Quick in Succulent (640-116) or approx. 848yds/776m of another super bulky weight (cat. 6) yarn
Size US N/P (10mm) crochet hook
Tapestry needle
Large (3"/8cm) Pompom maker
FINISHED SIZE:
(A) Width: 40"/102cm
(B) Length: 54"/137cm
GAUGE:
3 ch-2 loops + 4 sc x 6 rows = 4"/10cm in pattern (after blocking)
ABBREVIATIONS:
*All Two of Wands patterns are written in standard US terms
Ch – chain
Ch-sp – chain space
Rep – repeat
Sc – single crochet
Sk – skip
St(s) – stitch(es)
Notes: Blanket is worked flat. Turn at the end of each row. The ch 3 at the beginning of each row counts as a ch 1 and a ch-2 sp. The fabric of this blanket will stretch immensely when blocked.
Ch 66.
Row 1: Starting in the 4th ch from hook, sc 1, *ch 2, sk 1, sc 1, rep from * to end of row.
Row 2: Ch 3 (counts as ch 1 + ch-2 sp), sc in ch-2 sp, *ch 2, sc in ch-2 sp, rep from * to end of row.
Rep row 2 until there are only 2 skeins of yarn remaining (blanket should use 6 skeins).
Block blanket to finished dimensions.
Secure and weave in all ends.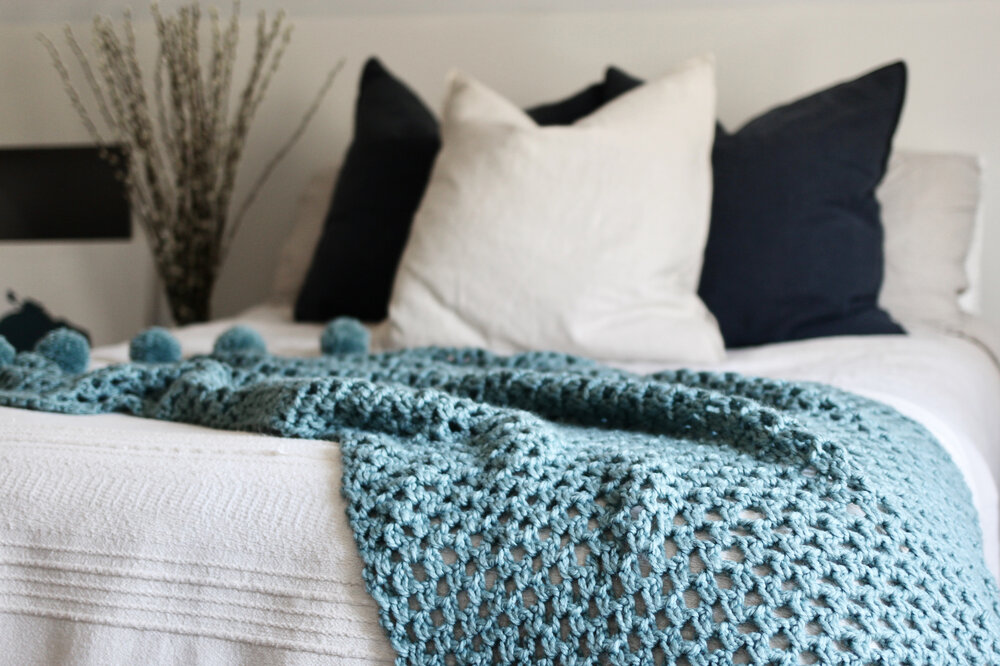 Pompoms:
Make 12 pompoms by wrapping each side of the pompom maker 80 times. This will ensure you have enough yarn to create at least 6 pompoms per skein of yarn.
Using the two tie ends, secure the pompoms onto the blanket. Secure and weave in ends.
Purchase the printable, ad-free pattern here.
Purchase the kit from Lion Brand Yarn here.
Don't forget to share your projects made using Two of Wands patterns on Instagram with the hashtag #crewofwands so your post will get featured on my site and you'll be in the running for monthly pattern giveaways!
Check out the #crewofwands community page here.
The patterns and photographs of items on this site are the property of Two of Wands and are for personal, non-commercial use only. These patterns files are protected by US copyright, and you may not distribute or sell them electronically or physically. Small batch sales of finished pieces made from these patterns are permitted, but seller must use their own photographs and credit must be given to Two of Wands as the designer.