In Toronto, Atelier RZLBD replaces a nondescript home on an infill lot with a breezy, adaptable dwelling.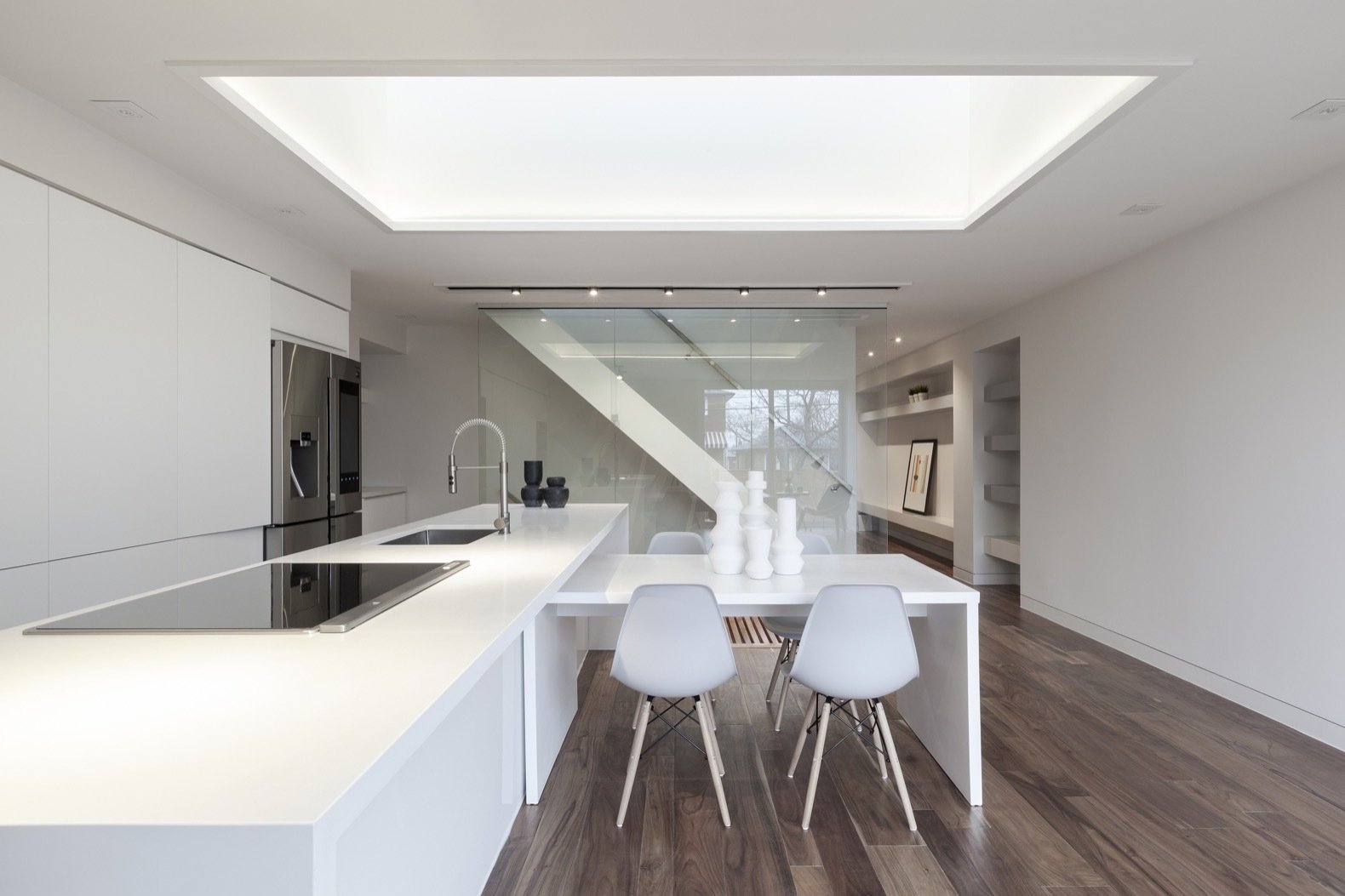 After long admiring Toronto–based Atelier RZLBD's contemporary infill projects from afar, Sage Shujan, owner of the construction firm Sage Building Ideas, finally saw an opportunity to collaborate. In 2016, he approached architect and Atelier RZLBD founder Reza Aliabadi with an idea to transform a nondescript, two-story building in Toronto's Scarborough Junction into a creative and contemporary home that can adapt to different lifestyles over time.
The soft costs, which included design and consultant fees, city permits, and utilities, totaled $108,500 CAD (or about $80,720 USD), while construction costs amounted to $599,999.42 CAD (about $446,378 USD).
$13,560
Demolition & Excavation
$5,099.42
Toilet & Fence Rental
$20,000
Shoring
$65,365
Footing Foundation & Forming
$81,870.16
Structural Framing
$14,712.50
Windows
$1,793
Skylight
$25,820
HVAC
$11,450
Fence & Deck
$12,500
Aluminum Siding
$15,876.50
Stucco
$8,000
Cedar Siding
$17,719.40
Roofing
$1,000
Downspout
$16,780.25
Spray Foam Insulation
$25,320
Electrical
$3,300.63
Lighting
$17,065.75
Plumbing
$46,010.48
Bathroom
$22,715.74
Flooring
$33,900
Drywall, Taping & Finishing
$28,250
Interior Trim Works & Doors
$27,000
Stairs
$18,884.69
Landscaping
$26,323.96
Kitchen
$13,530
Glassworks
$3,576
Entry Front Door
$17,000
Painting
$3,475.94
Home Automation
$2,100
Washer & Dryer
Grand Total: $599,999.42 CAD
The design brief also called for an airy and light-filled environment, an atmosphere that at first seemed at odds with the narrow and relatively shallow 25-foot lot. The site was further constrained by an east-west orientation that only allowed for limited sunlight to filter through the front and rear, as well as local by-laws that forbid windows from being installed on the side elevations.
To maximize access to natural light, Aliabadi turned the house into "an apparatus to harness light." The home is centered on a central staircase that funnels light into the house from a large skylight above, while two large windows on the front take in morning light. Resembling two eyes, the windows give the dwelling its name, Gazing House.
See the full story on Dwell.com: Budget Breakdown: A Toronto Home Makes the Most of an Infill Lot For $446K