A Brooklyn–based practice reimagines an outdated beach house as a modern year-round second home for a family of four.
When Clay and Margot Coffey, the husband/wife team behind the architecture firm Isaac-Rae, were approached to spruce up a 1987 beach house in Watermill—a hamlet of Southampton—their clients were only looking to give the dated abode a fresher, more modern look. 
Yet, due to several disjointed revamps the home had already undergone throughout the years, along with significant water damage that had affected the structure's framing, it was determined that a ground-up renovation was needed. After reconfiguring the layout, the design duo was ultimately able to reimagine the residence and expand the home for more comfortable, modern living. Take a look at the fascinating "before" and "after" images below.
Before: The Exterior 
Fortunately, the home was well situated and private, as it was tucked off a quiet road, spread across almost two acres of land. Inspired by these surroundings, Isaac-Rae created a beautiful natural landscape and then devised how to bring some of the outdoors in—opening up the home and adding light and breath to the formerly dark spaces.
After: The Exterior
"The relationship between high-quality living space and nature was key in our design process," explains Coffey. "We aimed to create an elegant and private natural landscape and framed it from every vantage point possible within the home. We totally re-envisioned the geometry of the house and the indoor/outdoor space."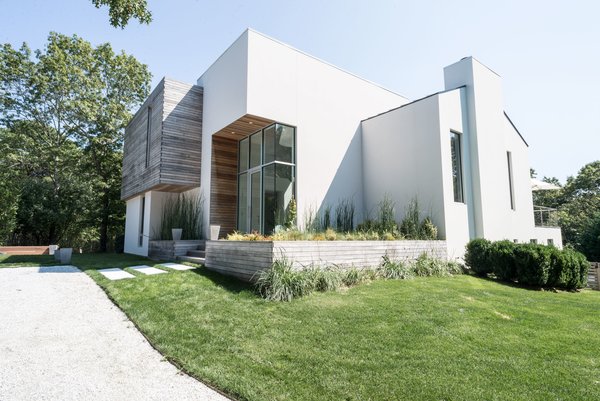 See the full story on Dwell.com: Before and After: A Dated Hamptons Home Is Now a Luminous Retreat
Related Post: