When Peterssen Keller Architecture set out to create a California-inspired property in Minneapolis, they decided to do so with an airy design that works for all seasons.
When principal Gabriel Keller and project manager Ted Martin of Peterssen Keller Architecture signed on to build a new home in Minneapolis, they knew from the beginning that it would be different from their ordinary work. 
For one thing, the couple who hired them weren't everyday clients. They were empty-nesters with grown children, eager to begin a fresh chapter on the banks of their beloved Bde Maka Ska Lake, where they often ran with their dog. The pair had spent years designing, building, or renovating a dozen custom homes in the Twin Cities, carving out a reputation for themselves as authorities on the area's traditional architecture. 
And yet, they didn't want to recreate a sturdy, decidedly Midwestern property akin to those that surround the open lot they found in Southern Minneapolis. They hoped for something different. Something that effortlessly brought the outdoors in.
"The clients wanted a dynamic, modern, and urban oasis with a swimming pool," Keller says. "They also wanted a strong indoor/outdoor connection, a mix of private and public spaces, room for entertaining, guest rooms, and a home office." 
The indoor/outdoor connection would be key to the entire design–the team and the couple saw the views as a continuous backdrop that would unite every square inch in the home. To get there, though, construction had to contend with the unavoidable challenges of the initial site.
"The site is deep, oddly shaped, and slopes from low to high, which is atypical of sites in the neighborhood," Martin says. "The neighborhood is also filled with older, traditional homes, so the designers resolved those technical and aesthetic challenges by setting the house back from the street and designing three pavilions that progress from public to personal." 
The three pavilions—one for a garage, another for the living spaces, and a third for the master suite—are arranged in an L-shape that provides privacy to an inner courtyard and that must-have swimming pool. From there, large sliding glass doors from Western Window Systems lead to the living and dining room, and upstairs, the same sliding doors are used to access a master suite patio with views of the city skyline.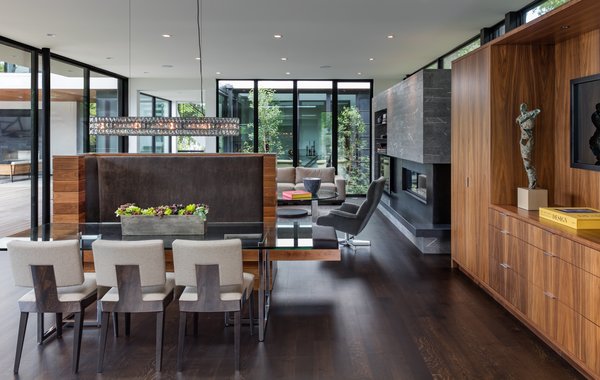 See the full story on Dwell.com: An Indoor/Outdoor Home in Minneapolis Defies a Harsh Climate