Located just steps from the Silver Lake Reservoir, the renovated home mixes classic archetypal details with chic new finishes.
If you're not charmed by the exterior of this Spanish Revival–style home in L.A., then perhaps the home's endearing interior will do it for you. Originally built in 1926, the white stuccoed home is sited on a corner lot less than a block away from the Silver Lake Reservoir. A walkway leads past a wrought-iron gate and through privacy hedges to the front door—beyond which lies a sunlit interior that contrasts subtle architectural details with pops of color.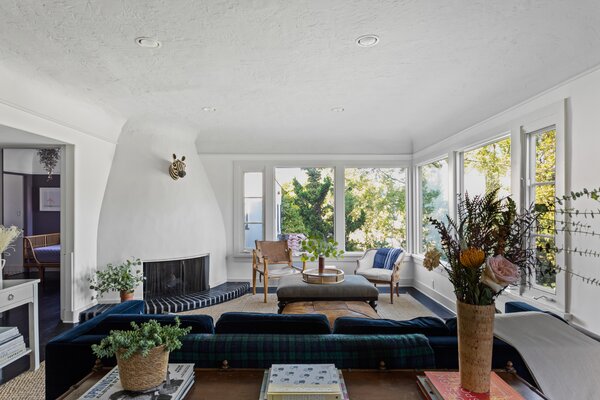 Offering four bedrooms and two full bathrooms, the nearly 2,300-square-foot interior balances Spanish Revival features, such as coved ceilings and a kiva fireplace, with modern additions like colorful cabinetry and whimsical wallpaper. A galley-style kitchen sits in the middle of the lower level, surrounded by formal living and dining areas on opposite sides, as well as a family room at one end. Two bedrooms and a full bathroom are tucked away upstairs, while a fourth bedroom/bonus area is located on the basement level.
See the full story on Dwell.com: An Endlessly Charming 1920s Spanish Revival Home in Silver Lake Asks $1.9M
Related stories: