Marked by elegant simplicity, this steel-clad writer's studio and hunting lookout effortlessly blends into a rocky slope in the Texas Hill Country.
Camouflage was key in the design of Clear Rock Lookout, a minimalist and modern writer's studio with a hunting blind and observation deck, sited on a 1,000-acre ranch outside Johnson City, Texas.
Hired by a client who had spent years carefully scouting the property for the perfect vantage point, architects Stephanie and Ryan Lemmo of Austin–based Lemmo Architecture and Design channeled the owner's meticulous attention to the landscape with a highly detailed structure that makes the most of its cliffside views without detracting from the surroundings.
"The 450-square-foot building is nestled below a limestone cliff-edge, and has to be 'discovered' when approached from the top of the mesa," explain the architects. "This gradual reveal of the building strengthens the unfolding landscape panorama made possible from the unique vantage provided by the structure."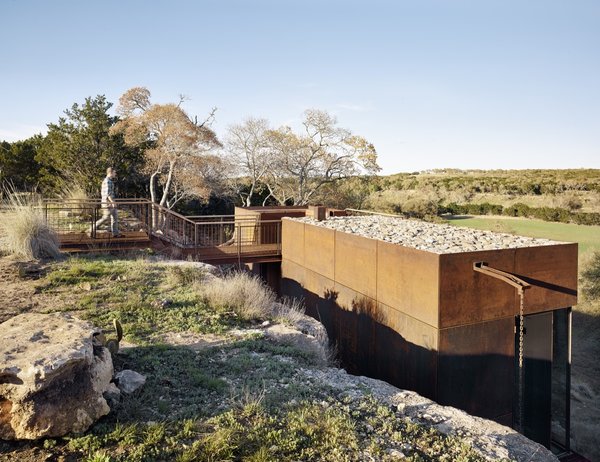 See the full story on Dwell.com: An Award-Winning Writing Studio Hides Quietly in Texas