Set on a forested Vancouver Island lot nestled between mountains and ocean, this sculptural house follows the contour of the land.
Around 2015, architect Javier Campos of Campos Studio ran into his next client while she was out walking her dog in Vancouver, B.C. "She said that she was leaving Vancouver and moving to Sooke," says Campos. The motto for the district of Sooke, located on the southern tip of Vancouver Island, is "Where the rainforest meets the sea"—and that perfectly describes the acreage Campos' client purchased to build a small two-bedroom house, with one bedroom for her, and one for incoming guests she was sure to have. 
"It's remote. Nobody comes and visits you for the afternoon," says Campos. "You need to have some way of hosting people."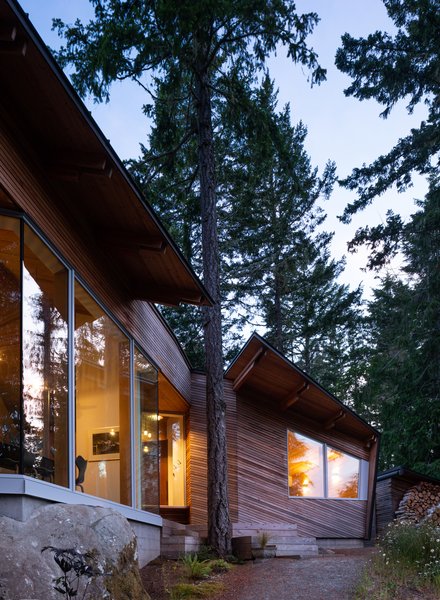 When it came time to do a site visit, the firm decided to camp out. "Something we do with almost all of our projects outside the city, is to actually go and spend time on the site," says Campos. They took a few trips and hiked in with their gear since there was no access road yet.
The approach gives them a more holistic understanding of the setting, rather than a small window of time on a particular day. "You can be there from one to three in the afternoon and you may have an understanding of what the site is like from one to three in the afternoon, but you have no idea what happens when the sun comes up or when the sun sets," says Campos.
The design team do their best to observe as much as possible during those early trips. That way, "you tend to find the place on a site that feels good," says Campos.
See the full story on Dwell.com: An Angular Cabin Is Perfectly Poised to Soak Up Breathtaking Forest Vistas
Related stories: