An architect reimagines a narrow 1901 row house in Noe Valley while preserving its historic facade.
San Francisco couple Jim and Noriko would be the first to admit they never thought much about architecture—that is, until late 2013, when they took possession of one of the city's many worn-out Victorians. By hiring acclaimed architect Anne Fougeron, they hoped to compensate for their lack of knowledge and create something extraordinary for themselves and their young daughter. "We went in with a pretty vague vision and put it into her hands—we trusted her judgment more than our own," says Jim. "Anne is great on her own merits, but it was also nice to have a badass woman as our architect," says Noriko. "Having a daughter makes you think about that."
For her part, Fougeron, who started her practice more than 30 years ago and is currently working on a San Francisco high-rise development with OMA, says, "We like to work with clients who don't have a lot of prejudices about how they want to live and are willing to take architectural risks. And we find remodels interesting. You have to fit this whole new piece into an old house, and do things that you wouldn't do if you were starting from scratch, to create spatially interesting places. That's challenging." 
Jim and Noriko knew that they wanted natural light, space, and color to be priorities for their new dwelling. He's a software engineer for YouTube and she's a data analyst for Lyft; when they're not working long hours, the self-described homebodies are focused on quality time with Sophie, age 7. A few years ago, they were living in a condo in San Francisco's Nob Hill neighborhood but looking for someplace with more room that was closer to their jobs and Sophie's school. Yet their search yielded few appealing options. "Real estate in the Bay Area is crazy—everything is super expensive, and the houses don't seem that nice," says Jim. "You can get either a really run-down old house or something that a developer has remodeled superficially." 
One property grabbed their attention: a lofty building in the Mission District that was part photography studio, part house. Their bid was unsuccessful, but it made them realize that renovating an older home could be the way to go.
"You can't touch the Victorian facade, so the stair distributes light to all three floors at the front of the house." Anne Fougeron, architect 
Then they came across a fixer-upper in Noe Valley. Built in 1901, the 1,540-square-foot row house had two levels above a garage, with two bedrooms and one bathroom, and a small but sunny south-facing backyard. Because of historical preservation mandates, the front of the house had to stay basically the same. But in back, there was the potential for creative license. The couple closed on the property and set Fougeron loose. 
She and her team, including project architect Todd Aranaz, gave the facade a simple makeover, covering the navy blue and white exterior and its Victorian embellishments with dark gray paint. To create a main living space that had direct access to the outdoors, they excavated the backyard and placed the open kitchen and living room behind the garage. Structural engineer Paul Endres and contractor Dermot Barry worked out how to cut and support large openings in the two floors above, which contain three bedrooms and three baths, so that the upper levels function like mezzanines in a voluminous atrium. 
"In a traditional Victorian, the floors are stacked like a series of pancakes," says Fougeron. "We interconnected the floors by creating these big two- and three-story spaces. You're trading square footage, but you're getting light deep into the house by opening it all up, and it feels larger." Another reason the expanded 2,300-square-foot home feels bigger than its true size is the 900 cubic feet of built-in cabinets by John Myers, which reduce the need for sideboards and other furniture.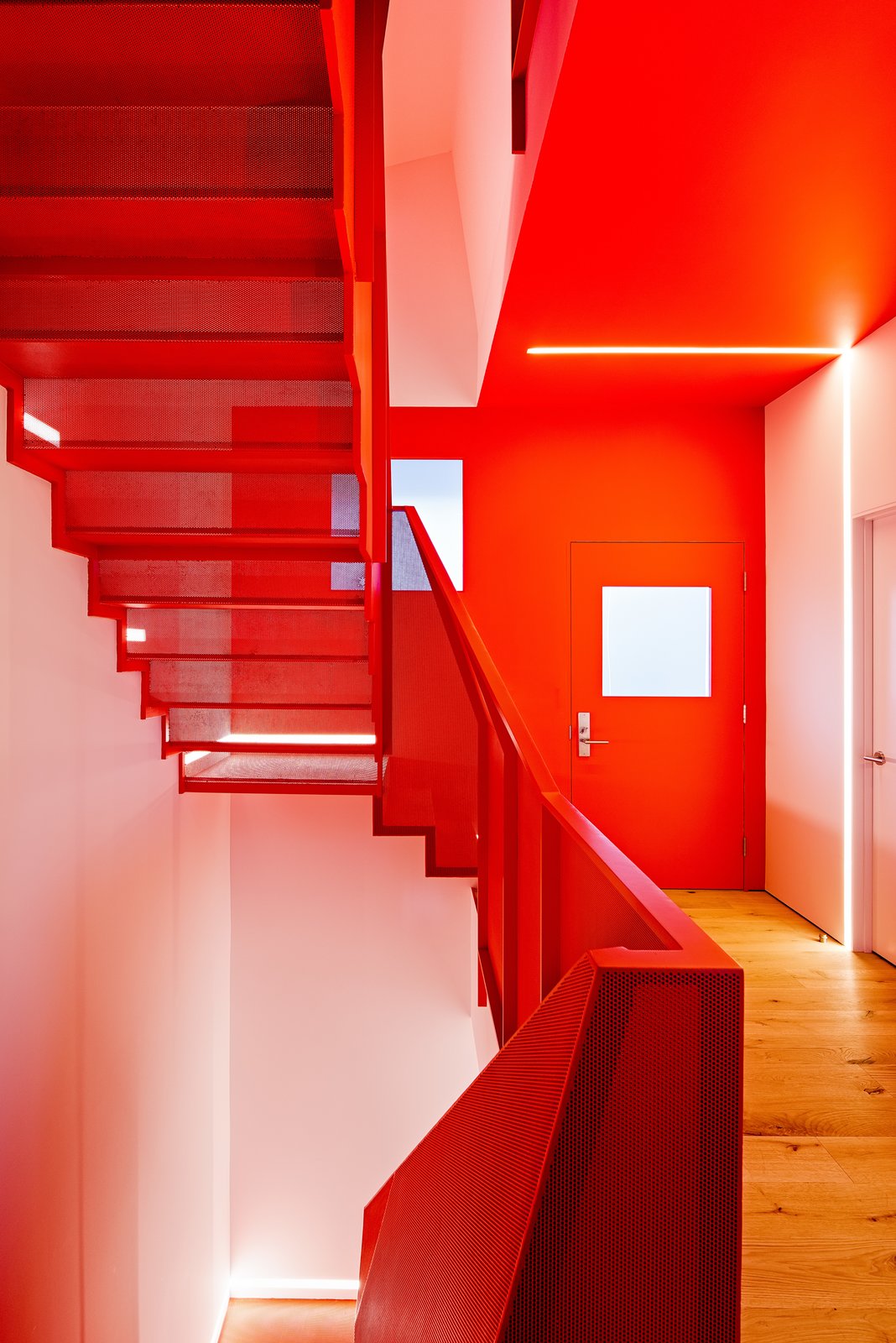 The architects tied the three levels together with a bright tomato-red staircase of perforated steel and the aforementioned built-in storage, done in three shades of blue-gray. "The blue cabinetry and the stair are threads that knit the three floors together spatially, in complementary hues that add a burst of color at the front of the house," says Fougeron.
"The glass component emphasizes natural light and air—things that have nothing to do with the way Victorians are typically organized." Anne Fougeron
Key to the home's openness is the rear wall of glass, which allows the interiors to take full advantage of the sun. It is canted inward at a nine-degree angle for both aesthetic and practical reasons: It gives the space a sense of drama, and it allows the ground floor to extend farther into the yard. (The city's building code mandates a setback for each floor, but the architects made the case that the slanted floors averaged out to meet the setback requirements.) Typically found in large-scale buildings like convention centers or museums, the wall imparts a feeling of monumentality to the 25-foot-wide house.
Six months after moving in, Jim and Noriko are still getting accustomed to their new architectural surroundings. "It was a bit intimidating at first," says Noriko. Sophie, meanwhile, relishes the bright stairs and her custom bunk bed in her favorite color. Says Jim, "This house has definitely raised our design awareness."