An architect masters stylish minimalism in his clever renovation of a small one-bedroom apartment in Melbourne.
When a third-floor walk-up unit hit the market in the 1970s apartment building where architect Jack Chen had been renting, he jumped at the chance to own his first home. Here was the opportunity he had been waiting for—ever since Chen moved into his ground-floor rental a year ago, he had wanted to improve the unit's livability, but was stymied by his tenant status.
Yet Chen's new one-bedroom purchase also posed multiple challenges: an awkward layout, the lack of a working kitchen, and a tight budget. At 376 square feet, the unit is the smallest project he has ever worked on at his firm, Tsai Design.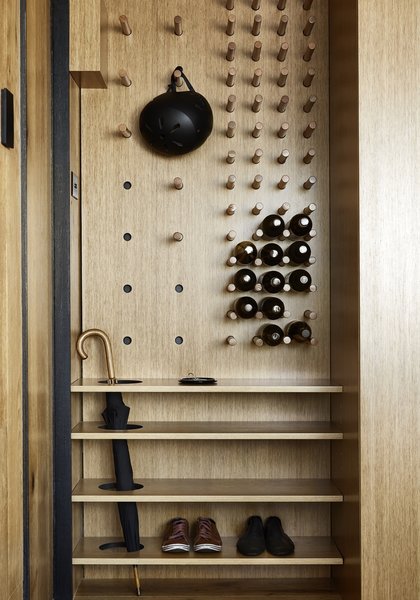 Drawing inspiration from the ethos of the tiny house movement, Chen says: "[Here's] the central question: How might we fit a big house into a small unit? The trick to designing small footprint homes is knowing where it pays to be generous."
After identifying the spaces to prioritize—the entrance, the kitchen, and the bathroom—Chen and his team inserted a floor-to-ceiling cabinetry and wall system into the existing layout. Created in collaboration with a cabinetmaker who specializes in high-end hotels, the multifunctional system conceals an abundance of storage as well as space-saving furnishings.
See the full story on Dwell.com: A Tiny Apartment Is Transformed Into an Award-Winning Minimalist Masterpiece
Related stories: