Hugging a gentle slope on the Argentine coast, Casa Bosque by Besonías Almeida Arquitectos integrates with its forest surroundings.
It was a daring feat—applied in any other fashion, the thorough use of concrete in a home might feel oppressive, but at Casa Bosque by Besonías Almeida Arquitectos, it's sublime.
Set on the dunes of the Argentine coast some 200 miles from Buenos Aires, Casa Bosque—which translates to "Forest Home"—doesn't just rest on the earth; it is steeped in it. Nestled in a dense, ancient forest, the home's texture and palette are harmonious with its natural surroundings.
"The construction coexists with its environment in the friendliest way," says María Victoria Besonías, principal at Besonías Almeida Arquitectos. "This is why the house accompanies, without any modification, the natural slope of the dunes, while pretending not to be resting." 
That slope is more than six feet, and in respecting the land, Besonías accommodated the pitch by way of three staggered volumes, giving rise to the formation of small courtyards that become an organic extension of the home. 
To achieve this, the siting was rotated to align the main axis north-south, which resulted in two well-differentiated facades. To the east is street exposure; to the west, dense forestation. 
"The main challenge was to ensure that the facade did not create dark interiors," says Besonías. To ensure privacy while letting in light, the architects used controlled openings on one side and exposure on the other, inviting in its natural surrounding landscape, interspersed with a series of courtyards. "With the proposed interior courtyards, not only was it possible to provide additional light, but also to recreate a new landscape of minimal scale," she says.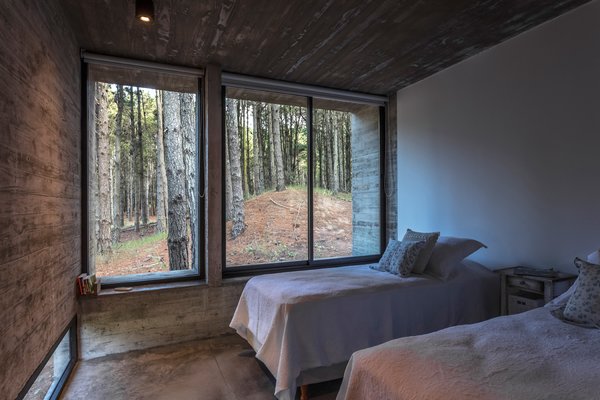 See the full story on Dwell.com: A Staggered Concrete Home in Argentina Nestles in the Woods