Nestled into a forested hillside, the Cain Wong Residence fuses clean lines and chalet-like charm.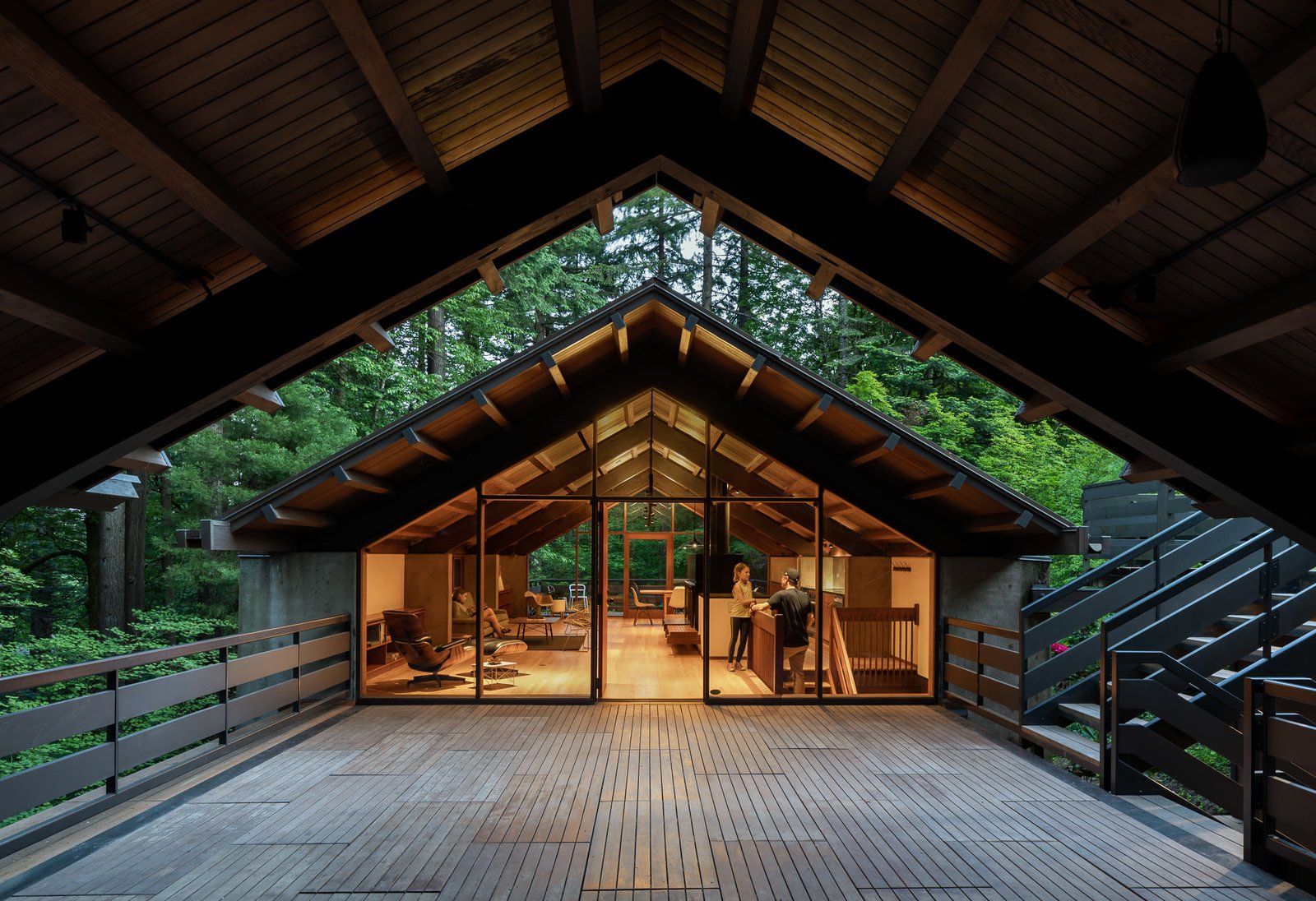 It's not your average remodel story when the homeowner spends a decade fixing up a house he has never lived in. Yet, perhaps strangely, it's also an architectural love story—albeit somewhat of an unrequited one. Call it a continuing quest.
When Nike executive Aaron Cain purchased a midcentury modern house in Portland's Sylvan Highlands in 2010, following a return to the city after years working in Shanghai, he had every intention of moving in with his family. His dad, a retired builder and carpenter, told Aaron the house had leaks and other maintenance issues. "But then he said, 'It's an absolutely incredible home. You'd never in a million years be able to build this today,'" Aaron recalls.
Aaron got an additional opinion on the house from an architect friend—Paul McKean—who felt similarly smitten. "I ended up putting in a bid before I even saw the house in person," Aaron remembers. "It's bridging these two worlds: a Northwest rustic aesthetic and a modern aesthetic. For me, that's always been what's special."
In the early 1960s, architects Richard Campbell and Joachim Grube acquired a parcel of forested land in Portland's Sylvan Highlands west of downtown that had gone undeveloped because of its uneven topography. Soon the partners co-designed for themselves and their families a pair of houses nestled on two small swaths of high ground.
The house Aaron owns today—which was completed in 1962 and won an award in Sunset magazine shortly thereafter—was the one architect Richard Campbell occupied with his wife, at least until their divorce. But Aaron bought the house from Campbell's ex, who lived in the home for more than a half century and left its design—including the feeling of being enveloped in a cocoon of wood on the main floor—largely untouched.
"There's not much drywall in that house," says McKean, "just those beautiful cedar ceilings and the Douglas fir beams."
See the full story on Dwell.com: A Portland Midcentury Home Shines After an Epic, Decade-Long Renovation