Stylishly modernized by Thomboy Properties, the home is another midcentury relic of the prolific partnership between architect William Krisel and the Alexander Construction Company.
Once barely visible behind overgrown bougainvillea and Queen Palms, a renovated 1950s "Alexander home" is back on the market in Palm Springs, California. Jackie Thomas and DeeAnn McCoy, the local design gurus behind Thomboy Properties, completely renovated the property in 2019—removing an '80s-style interior and restoring the home's classic features. Originally designed by iconic midcentury architect William Krisel, the home is one of many in Palm Springs that Krisel completed in partnership with the eponymous Alexander Construction Company.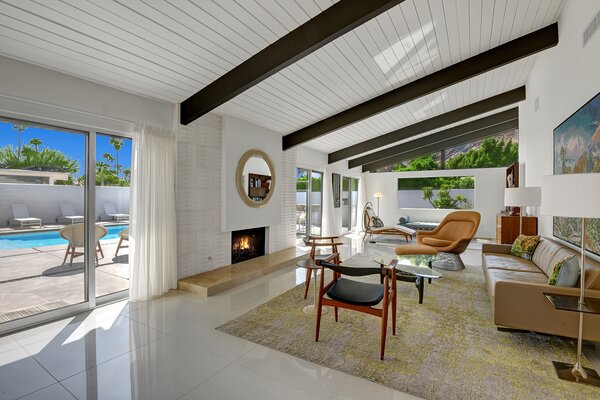 The current owners also completed a round of upgrades, including new backsplash tile and countertops in the kitchen, as well as other system and cosmetic updates. The interior is also stocked with classic midcentury-style furniture—most of which is included in the purchase price. Yet arguably the home's biggest draw is the quintessential backyard patio, complete with a sparkling pool and views of the San Jacinto Mountains.
See the full story on Dwell.com: A Palm Springs Alexander Home Sings After a Chic Renovation and Hits the Market to the Tune of $2.1M