Awkward sloping ceilings are put to good use in this family apartment known as the Starburst House in Beijing, China.
When a young couple purchased a 1,259-square-feet apartment in Beijing's Haidian District, there was one element they knew would need to be fixed immediately in order to maximize the small space: the steep, sloping ceilings. 
After turning to Taiwanese–based HAO Design Studio, the founder of the firm, Ivan Chen, thought the slanting, asymmetrically pitched roof—which resulted in the sloping ceilings—was one of the apartment's most beautiful features, so he decided to insert a mezzanine area to take full advantage of the unusual dimensions.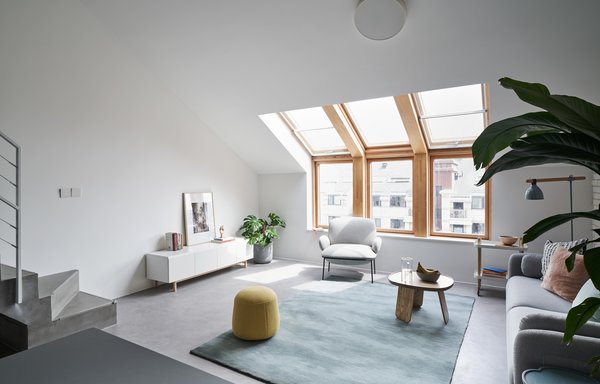 Not only did the team make the most of the slanted ceilings by creating a cleverly designed lofted area, they have also redesigned the flat to accommodate the family's "open-ended, unfixed, and flexible" lifestyle. 
See the full story on Dwell.com: A Loft Mezzanine Cleverly Enlarges This Small Beijing Flat