Secret passageways and surprise design elements abound in this playful home renovation for an active family of five.
Celebrated for their clever and playful subversion of norms, Austin Maynard Architects has once again raised the bar for bold design with the Union House: a multifunctional home that reflects the dynamic personalities of owners Heidi and Craig, and their three energetic teenage boys.
Heidi and Craig approached the Melbourne-based firm after realizing that their beloved but very narrow Brunswick home was becoming impractical for their growing family. "Rather than sell up and move elsewhere, we decided to engage the services of an architect who understood the challenges of building in the inner city, with limited space, restricted access, and proximity of neighboring residences," explain the couple, who sought a renovation and expansion that would provide a robust forever home for their family. 
To make the most of the small 18-foot-wide plot, the architects created a fluid and flexible design across four floors that include the basement and the roof terrace. While the interior of the four-bedroom, three-bath home is entirely new, the existing street-facing Dutch gable was preserved in remembrance of the home's former life—even though there were no heritage overlays or council requirements to keep the facade intact.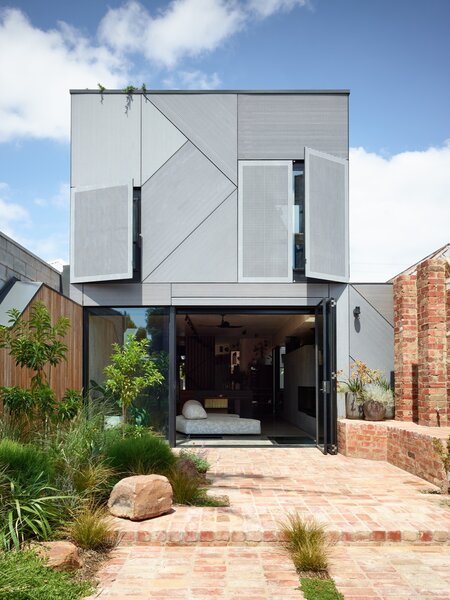 See the full story on Dwell.com: A Kids' Escape Route Puts the "Fun" in Functional at This Reimagined Melbourne Cottage
Related stories: