In the Elgin Valley, a simple rural form by Scott + Partners sets the foundation for an indoor/outdoor getaway.
As co-creator of the Daddy Long Legs Art Hotel in Cape Town and the Elgin Valley's Old Mac Daddy—where guests sleep in converted Airstream trailers—entrepreneur Jody Aufrichtig knows better than most that location is everything. And he knew just the spot for the vacation home he and his wife, Deirdre, envisioned for themselves and their four children: a west-facing site between a dam and an apple orchard not far from the Old Mac Daddy. The couple also knew just the architect for the job: Greg Scott of Scott + Partners, who had designed the hotel's modern barnlike main structure.
Scott welcomed the idea of revisiting the rural-turned-contemporary theme. "It's a very pure architectural form, and if you can stay true to it and put in some beautiful apertures and open up the ends, it relates well to its context," he says. Such a structure also lends itself to a straightforward and efficient building process—a plus in a relatively remote location like the Elgin Valley, a region of vineyards, orchards, and nature reserves about an hour southeast of Cape Town.
Scott and builder OJW began with a prefabricated steel frame, which they enclosed and clad in corrugated metal sheeting, adding solar panels to keep the home's creature comforts sustainable and its ecological footprint small. Set into deep recesses, the windows frame views over the dam and the valley beyond and create what the architect calls "a slightly irregular spread of light" throughout the interior.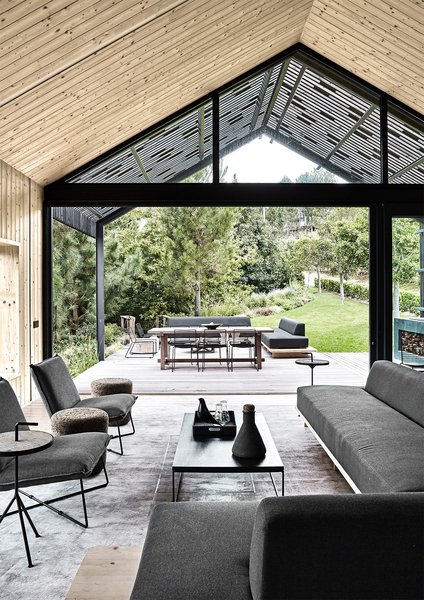 See the full story on Dwell.com: A Hotelier Realizes a Modern Barn For His Family's Retreat in South Africa