Each of the home's four staggered volumes is covered in a blanket of native grasses.
For most of the 40-odd years that Paul and Bonnie Bunning visited San Juan Island, they stayed in a ramshackle cabin on a rock-strewn, moss-covered hill overlooking the Salish Sea. After they retired, the couple decided it was time to add modern amenities like running water to their rugged getaway, so they hired Seattle-based Prentiss + Balance + Wickline Architects to renovate. But Geoff Prentiss soon convinced them that to really take advantage of the site, they needed to start fresh. "I could create something where the different parts of the house all celebrated the different views they had previously experienced in one single spot, enlarging and diversifying their experience," says Prentiss.
From the road, the new house that he and project architect Dan Wickline designed, located next door to the still-existing old one, appears as a one-story structure poking its head out from behind the slope. From the seaward side, however, the house reveals itself as four rectangular volumes cascading down the cliffside. 
"Locating the house in the ravine and stepping the building up the hill reduced the need for excavation while still nesting the house into its surroundings." Dan Wickline, architect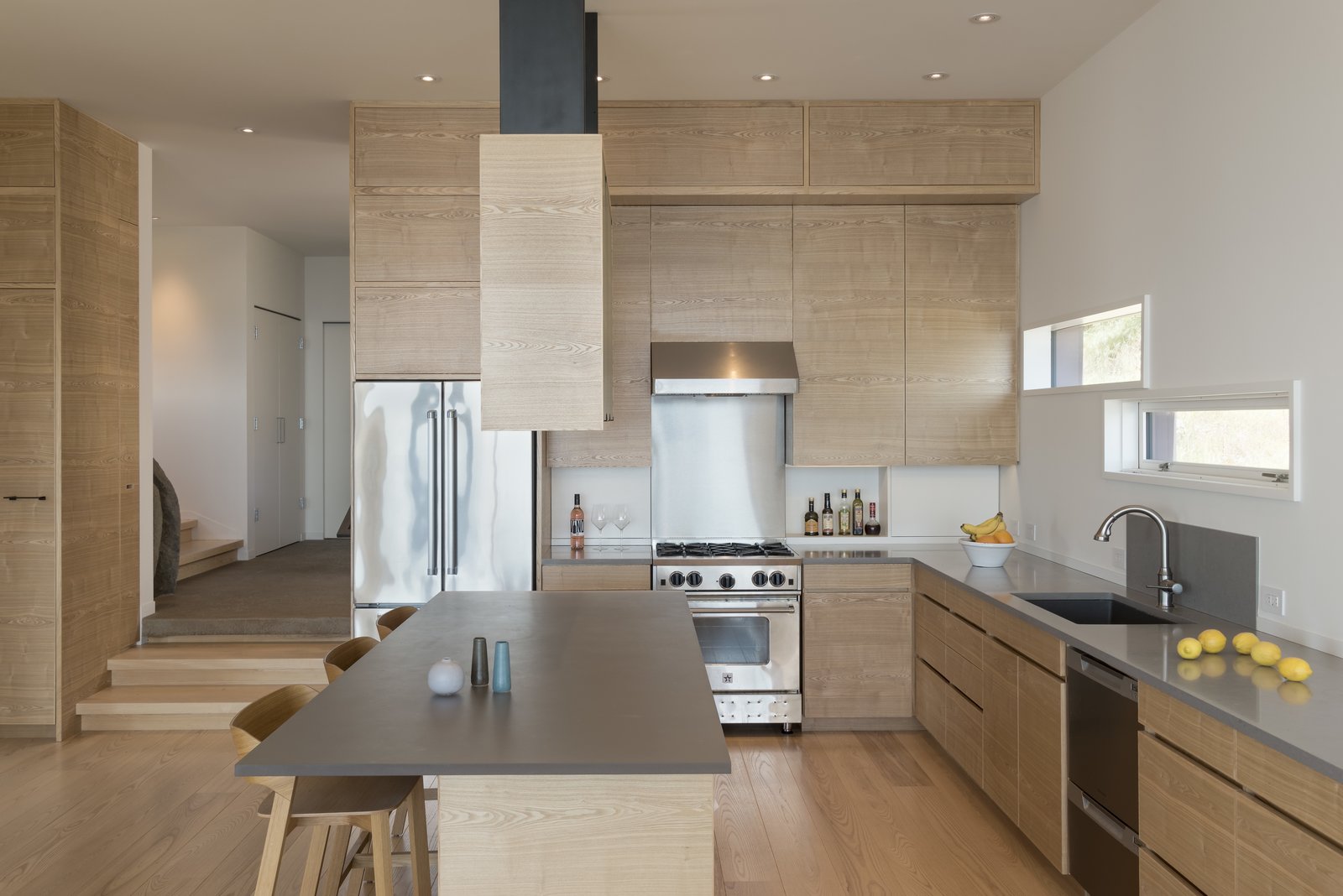 The unevenly stacked volumes fan out, each blanketed with a green roof that's accessible from the floor above. Bonnie, a former geologist, stripped seeds from various native grasses on the site for the roofs, which provide thermal and sound insulation. Paul, an artist and former writer, chose a split-in-half boulder, found during excavation, to grace the entryway.
Limited furnishings and materials, including ash millwork and concrete flooring, maintain the interior's focus on nature. Says Bonnie, "It was thoughtfully designed and meticulously built, and seems to be an organic part of the landscape."