Omelette you finish, but these are the best egg-shaped buildings of all time.
Suddenly, it feels like everywhere we look an egg-shaped structure is popping up. From a mirrored, golden sauna to a perfectly oval, wood-shingled tree house, each one is unique in its own way. Intrigued? There are even a couple companies offering these cozy capsules for sale.
The Pigna tree houses were created by Tarvisio-based architect Claudio Beltrame in collaboration with DomusGaia, an Italian firm that manufactures wooden prefabricated homes. The team developed the dwellings for an architectural competition in 2014, and they're now available as holiday rentals.
This 150-square-foot cabin gives hikers a comfortable place to rest and recharge while hiking through the rugged, unspoiled beauty of Hammerfest, Norway. The region was previously inaccessible due to its challenging terrain and harsh climate, so the Norwegian Trekking Association developed plans for a "day trip" shelter in collaboration with SPINN Architects and Format Engineers to encourage exploration. This unique egg-shaped structure, dubbed the Hammerfest Cabin, is the result.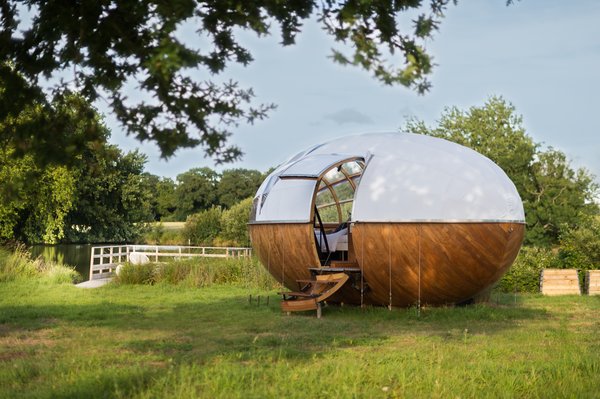 See the full story on Dwell.com: 8 Egg-Shaped Buildings That Can't Be Beat