Here are 29 easy Christmas and winter nail ideas, from Stay Glam:
Let's face it, at Christmas there are so many things to do so your manicure is often bumped right to the last of the list, if it even gets done at all.
We've decided to bring you the easy winter and Christmas nail ideas that you can totally recreate at home. And that leaves you with plenty more time to cook turkey, shop for gifts, and find that perfect Christmas day outfit!
1. SIMPLE RED AND GOLD GLITTER DESIGN
On the Autumn Winter catwalks for 2016, short plum nails were a big hit. Not only were they short, they were rounded too, which many of us would find easier to work with on a daily basis.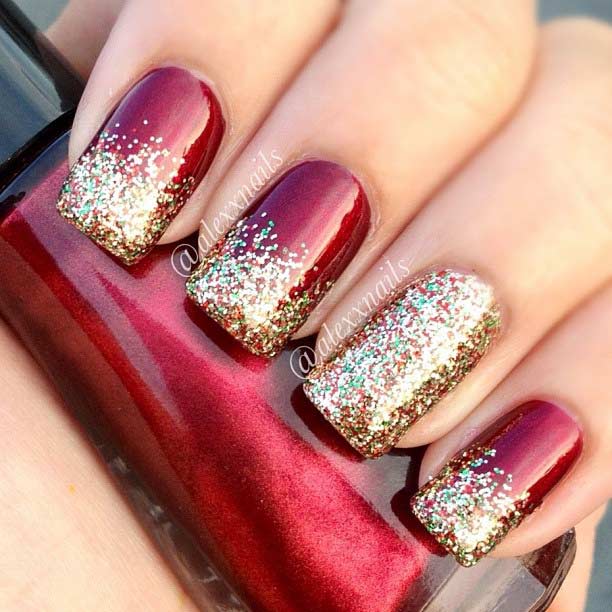 Instagram / alexxnails
If that sounds a little too dull and not very Christmas-like for your liking, add a touch of glitter, just like you can see here. It's just a little addition, but one that makes the world of difference. And you'll see be in trend!
Products used: Insta-Dri in Wined Up and China Glaze in Twinkle Lights.
2. SNOWFLAKE DESIGN
When it comes to easy winter and Christmas nail ideas, you can't get much more wintery than these cute blue snowflake designs!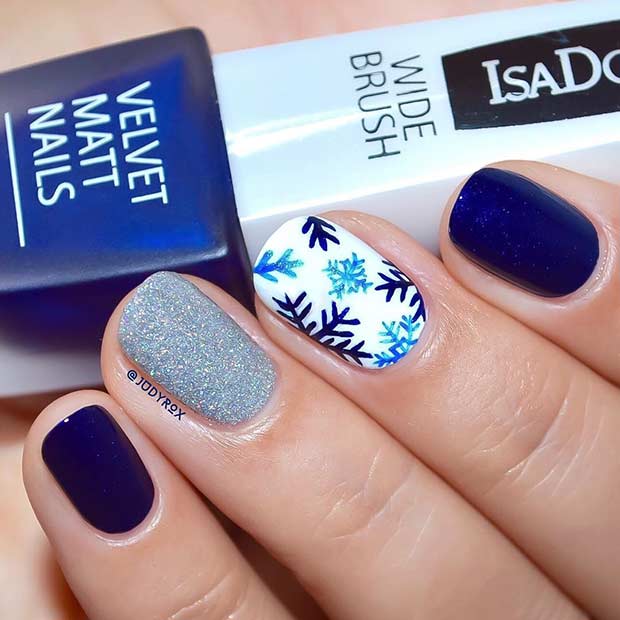 Instagram / judyrox
You could opt for an ombre-effect across your nails, which we think is a great idea. The thumb could be dark blue, for example, moving to the pinkie finger, each nail getting lighter in shade, until you get to white.
Add your snowflakes and you're basically good to go. Now all you need to do is hope for a white Christmas!
Products used: Isadora Velvet Matte Nails in Moody Blue and Marble.
3. GREEN AND GOLD CHRISTMAS TREE DESIGN
How about a Christmas tree? The tradition of having a Christmas tree, decorating it, and placing presents underneath it has been around for thousands of years, although the customs have changed a little over time.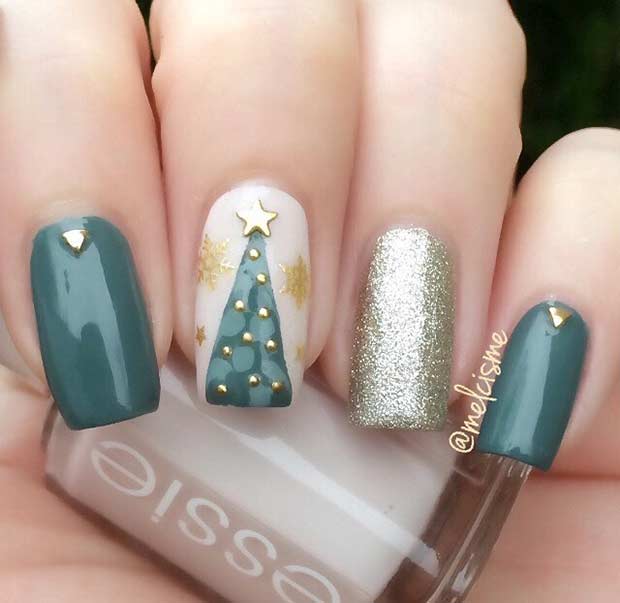 Instagram / melcisme
We can't think of a better way to pay homage to the humble christmas tree than with these brilliant green and gold Christmas tree design nails. What do you think?
Products used: Essie in Fall in Line, Urban Jungle, Beyond Cozy, and Blanc.
4. CUTE REINDEER DESIGN
Rudolph the red nose reindeer … Admit it, you sang it too right? We love the way that the red rhinestone has been used in the place of Rudolph's nose, which we think is a genius idea!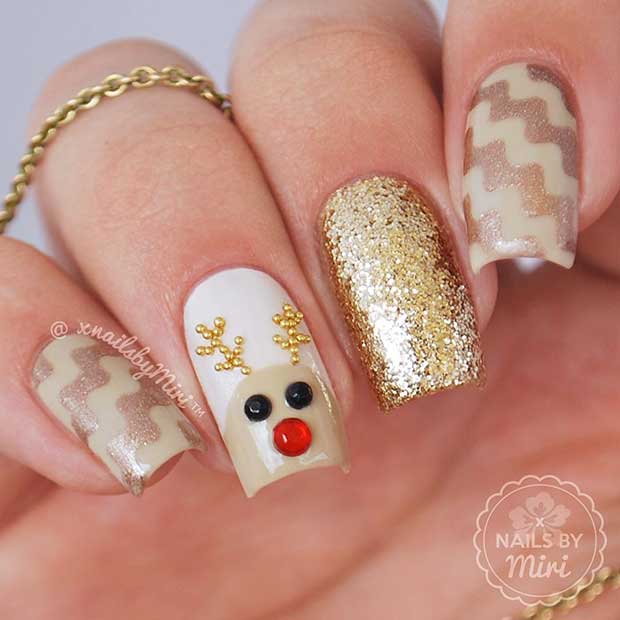 Instagram / xnailsbymiri
You can't get much more Christmassy than the story of Santa and his reindeer helpers, and that's why we fell a little bit in love with these easy Christmas designs.
Products used: Revlon in Bare Bones, Catrice in Get Boho in SoHo , DA in Famous, and Lucia Couture in Honeybee.
5. CHRISTMAS BAUBLES
What about Christmas baubles if the Christmas tree or Rudolph didn't light up your life? These are easy to do too – it's just a circle to start with, some glitter to make it sparkle, and then some greenery to make it look as if they're hanging from a Christmas tree.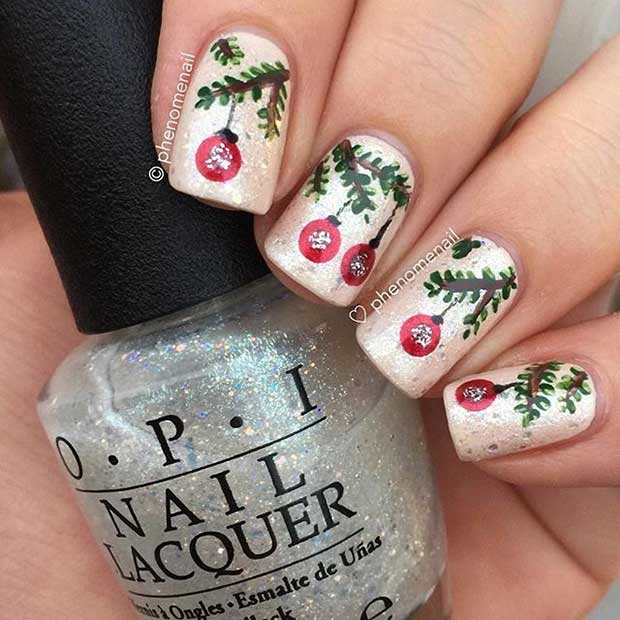 Instagram / phenomenail
It shouldn't take you long, and it's definitely a look that no one else will have. So why not?
6. GREEN, GOLD AND RED
Green, gold, and red have been associated with Christmas for many years. The red is said to represent the blood of Jesus Christ, and the gold colour is show luxury and wealth. Green is the colour of the earth and everything living and natural.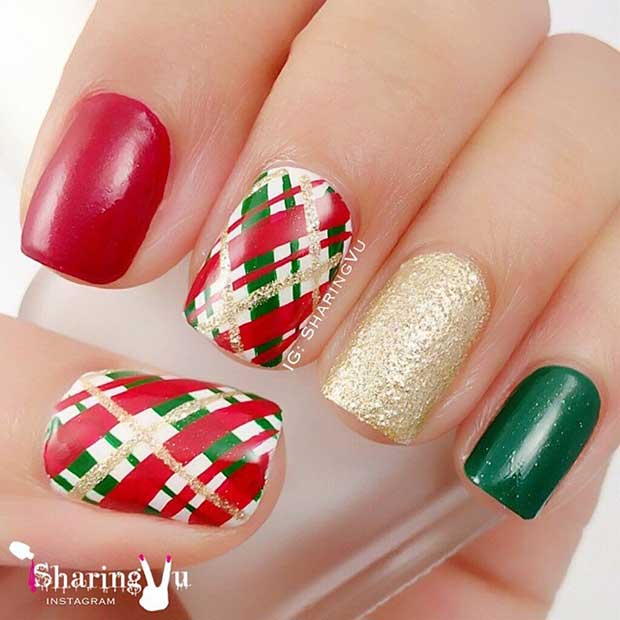 Instagram / sharingvu
All that aside, of course, the three colours look really good together. And they look Christmas-like so they're good enough for us!
7. SPARKLY WHITE AND GOLD DESIGN
These remind us of wrapping paper that we bought last year, and honestly, we love these a little bit! Quite a lot in fact.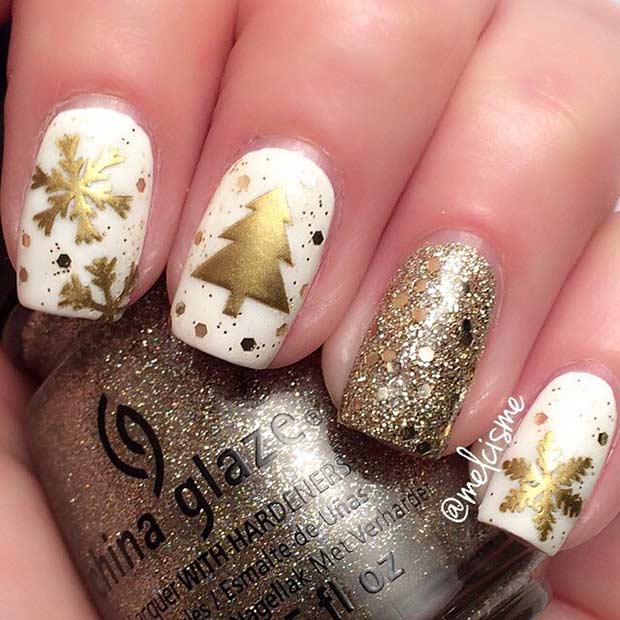 Instagram / melcisme
If you don't have a very good steady hand, cheat your way to these nails with decals and embellishments which you can pick up for almost no price at all these days, especially online.
Products used: China Glaze in I'm not Lion and White on White, and e.l.f. in Gold Star. Snowflakes and Christmas tree are vinyls.
8. EASY CHRISTMAS NAILS
If you've ever been looking for an excuse to buy some nail gems or decorations, now is definitely the time. These winter and Christmas nail ideas just call for it!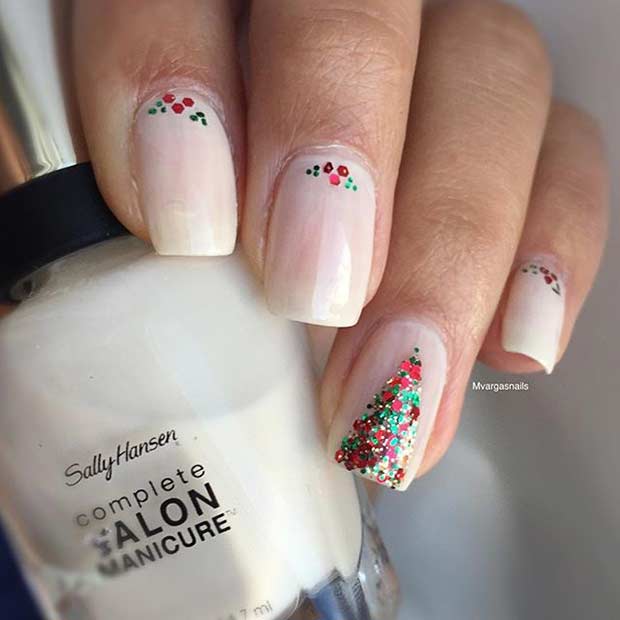 Instagram / mvargas_nails
With the help of a few flecks of glitter, you too could have amazing christmas nails like these easy Christmas nails! It's all about shaping glitter together, in this case red and green glitter, to make it look Christmassy.
To start with, the tree, and if you're ready to get creative – that mistletoe look.
Products used: Sally Hansen Complete Salon Manicure in Sheer Force, and Salon Perfect in Glam Glitter.
9. ELEGANT RED AND GOLD NAILS
With the help of some masking tape, you could easily recreate these simple winter themed nails at home, and the red and gold colour in them just makes them feel festive and warm.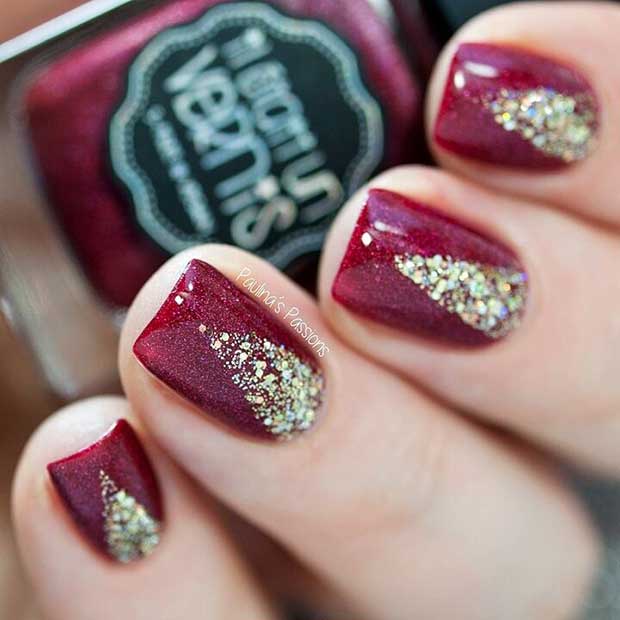 Instagram / paulinaspassions
Just make sure you leave the polish to dry before taking away that tape, otherwise you'll run the risk of smudging. Who has time to do these beauties twice before Christmas? We've got gifts to buy!
Products used: Il était un Vernis in Live Love Laugh and Pinot Noir.
10. MATTE GINGERBREAD NAILS
Gingerbread men have become a symbol of Christmas, as has the candy cane. Both of those things have been brought together with the traditional colours of Christmas in these easy winter and Christmas nail ideas.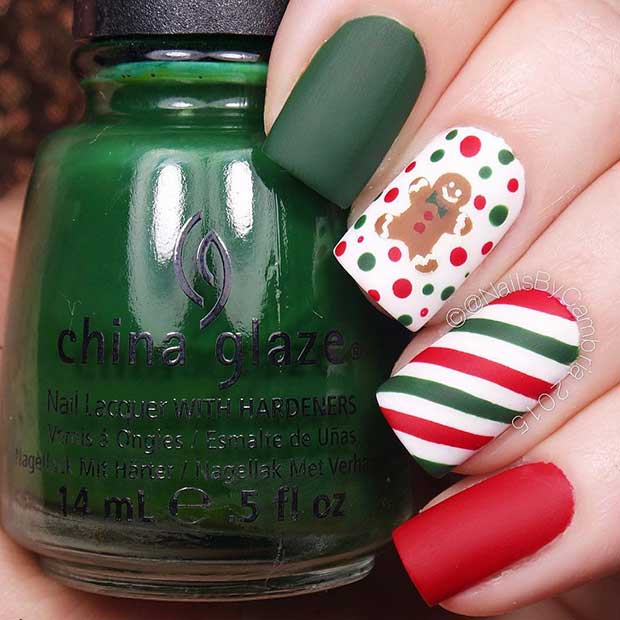 Instagram / nailsbycambria
If you don't think you have the patient to recreate those candy cane stripes, don't worry. You can cheat it (like we did) with nail wraps. It's quicker, easier, and at least then most of the lines are straight!
Products used: China Glaze in White on White, Salsa, Matte Magic and Holly-Day.
11. PINK GLITTER CHRISTMAS NAILS
You might not have thought about using pink glitter in your easy winter and Christmas nail ideas, but we think it goes really well with this light silver / white hue.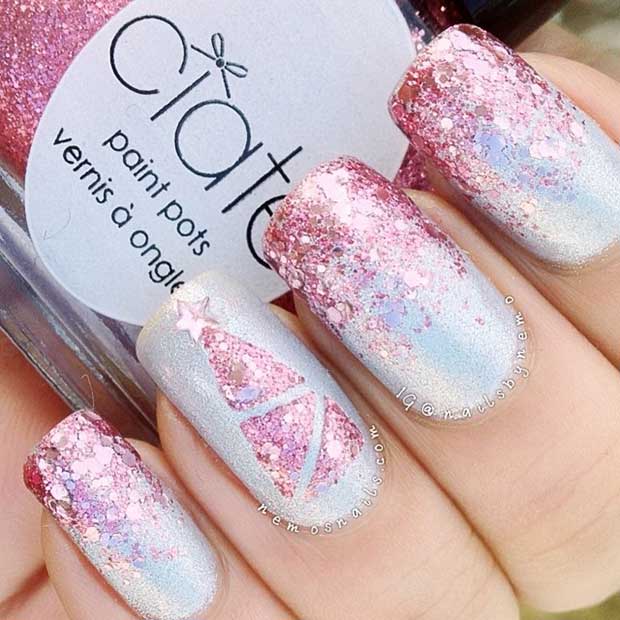 Instagram / nailsbynemo
It's still a Christmassy look, especially with that pretty pink Christmas tree, but it's not too Christmassy. Perfect for those who don't really dig the red, green, and gold theme.
12. CUTE WINTER NAILS
We love the idea of this – it's like a winter sweater on your nails. And because it's only on the one featured nail, you can easily nail it! (See what we did there?)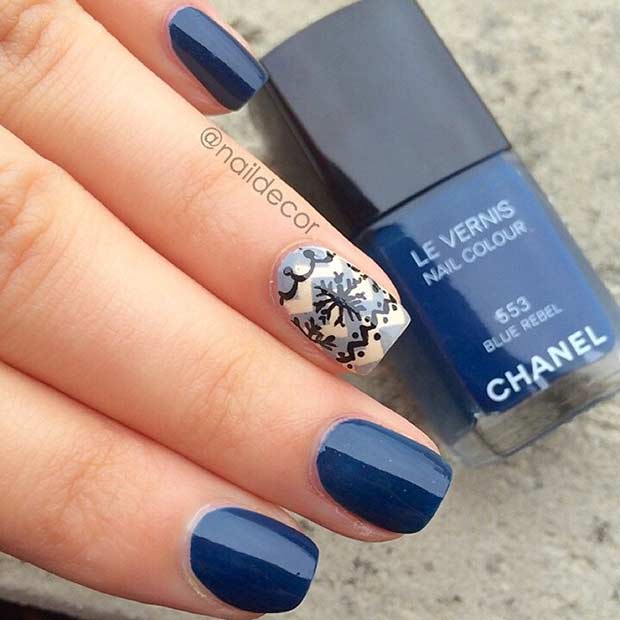 Instagram / naildecor
Again, if the hand-painting of this brings you out in a cold sweat, cheat it with nail wraps, or consider using nail stamps instead. You can get a wide range of designs, meaning there's no limit to the crazy creations you can come up with.
13. EASY LAST-MINUTE CHRISTMAS NAILS
If it's something last minute you want, this is a great look. One red nail, one green nail, one gold nail. That's all you need to make your hands look festive, and you could put them in any order, in any way that you like.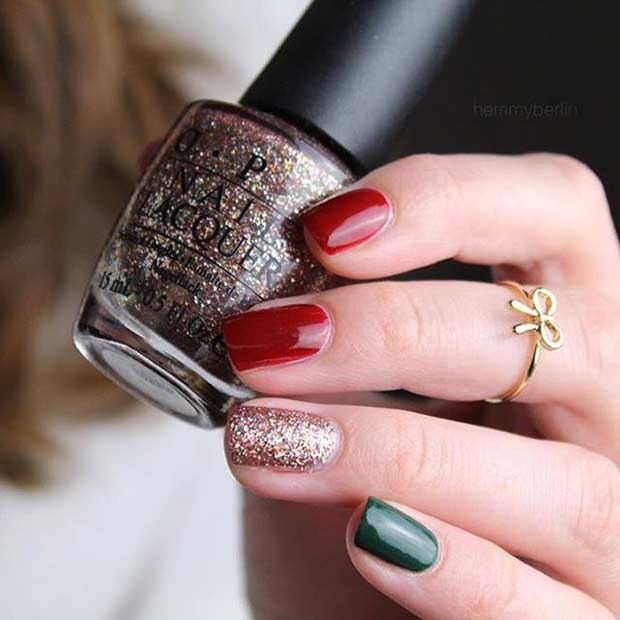 Instagram / hemmyberlin
If you already have red nails, for example, remove the polish from one nail and paint it green instead. Then do the same with another, and repaint it gold. By doing that, you're getting maximum use out of your old mani, and you're still getting a fresh new look at the same time.
14. RED AND GOLD BOW DESIGN
Gold nail foils are the trick when you want to wrap your nails up in a bow, and you can buy a bow embellishment from many places online. You could even switch it up to silver if gold isn't really your thing.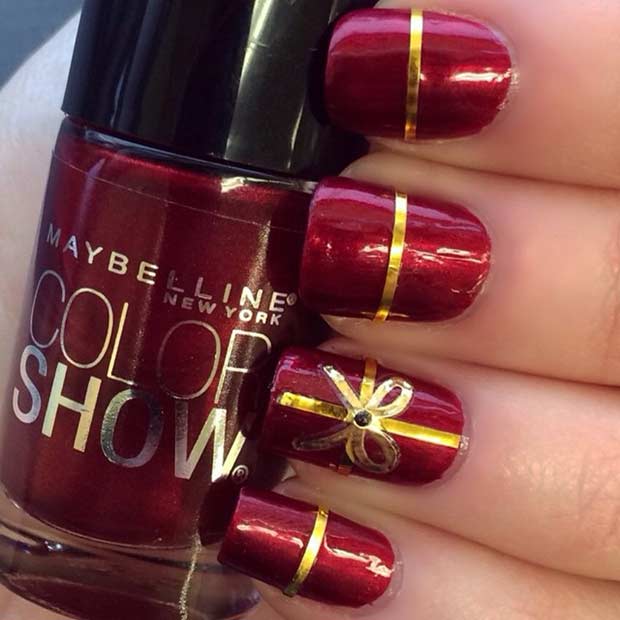 Instagram / my_little_mani
It's cute and simple, and everyone will want to copy them. It's great to be a little Christmas trendsetter right?
15. SUPER CUTE AND EASY
Are you in love this Christmas? Why not show the whole world with these adorable easy winter and Christmas nail design? That mini Christmas tree is too cute for words, and those love hearts are simple, yet add something to these nails that the other's we've shown you just don't have.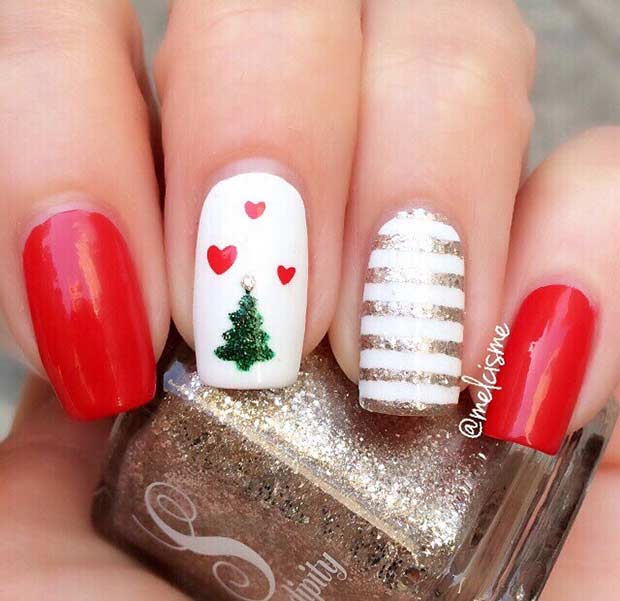 Instagram / melcisme
If you love Christmas, or you're just in love, and you want to shout about it, we reckon these are a winning selection.
Products used: Serendipity Nail Polish in Big Red Bow, Finishing Touch and Starfish Tree Topper.
16. SNOWMAN DESIGN
What winter would be complete without a snowman? What winter nail design would be complete without a snowman?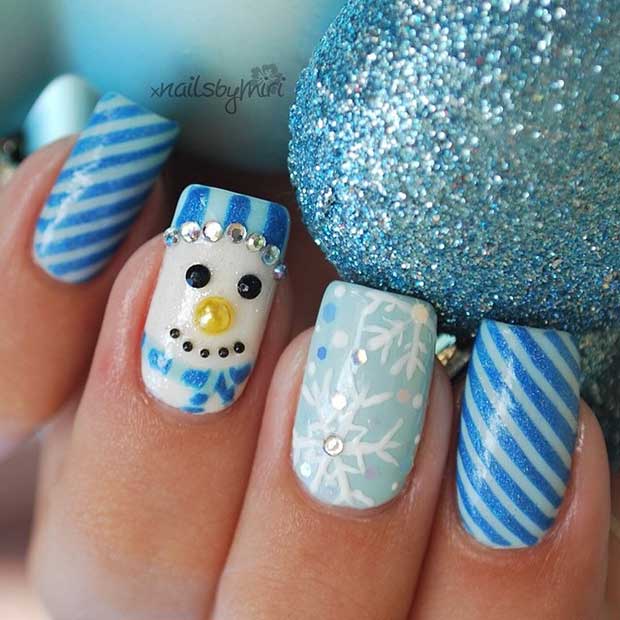 Instagram / xnailsbymiri
The snowman is also a really easy character for you to paint on your own nails too. And these candy cane blue stripes are also simple. This means that these easy winter and Christmas nail designs are perfectly achievable at home!
Products used: Sally Hansen in Breezy Blue, Milani in White on the Spot, F.U.N Lacquer in Cinderella, and Hema Glitter Topcoat #8.
17. ELEGANT SNOWFLAKE NAILS
When you're painting your nails and it's just one base shade, you should only need three strokes of your brush to completely cover them.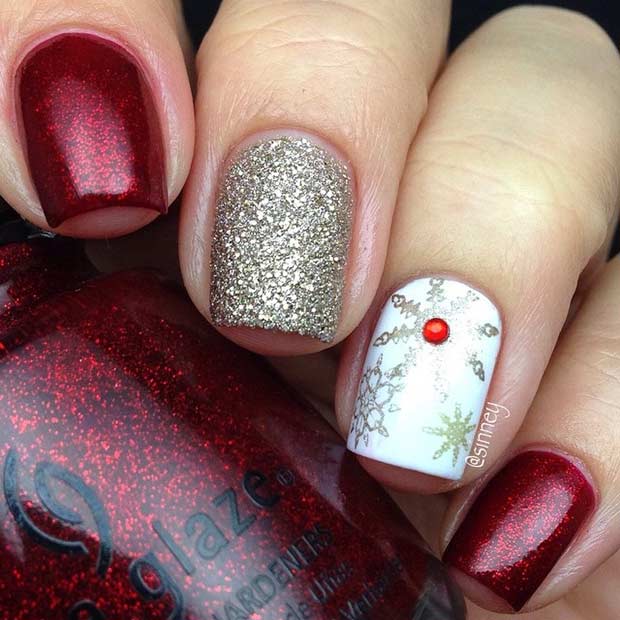 Instagram / sinney
One swoop down the middle, and one down each of the sides. Let it dry, and then repeat, and that's how you get a decent base. You'll want to make sure that the coats aren't too thick too – that'll cause a gloopy mani, and it'll take an age for it to dry as well.
18. MISTLETOE NAILS
Who do you fancy kissing under the mistletoe this year? We're just looking for an excuse if we're being honest, and with these mistletoe nails, we've got it! Now … who can we kiss?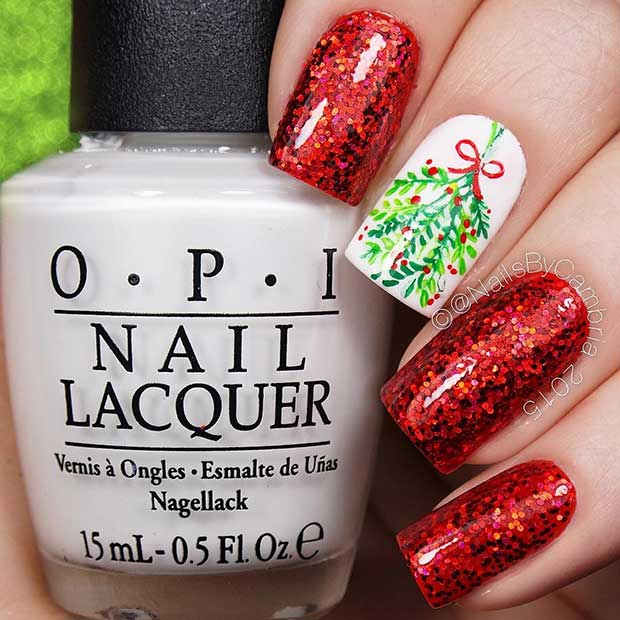 Instagram / nailsbycambria
We're obsessed with the red glitter look in these easy winter and Christmas nail ideas, and the best way to achieve this look is to start with a solid bright red base, and then add a couple of layers of large red glitter.
Products used: OPI in Alpine Snow, China Glaze in The Heat is on, Seche Nails in Seche Vite, and Red holo glitter from Michaels.
19. CHRISTMAS NAILS WITH RHINESTONES
If you're going to have rhinestones and other embellishments on your nails, make sure you carry a spare tube of glue in your bag at all times.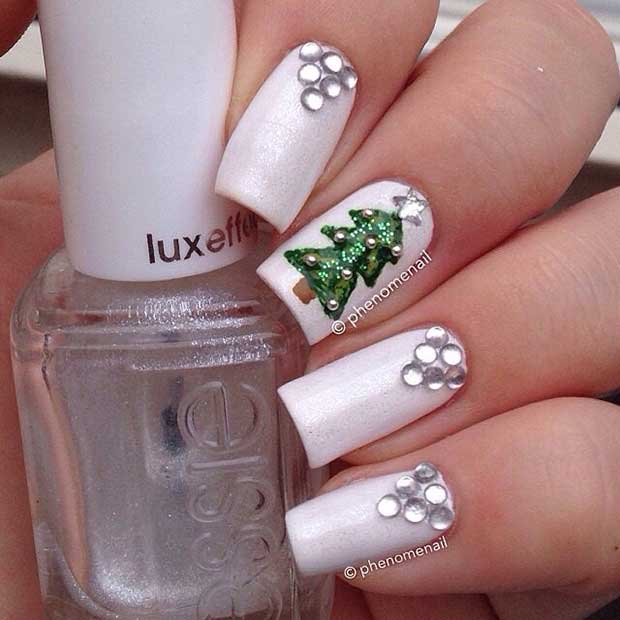 Instagram / phenomenail
It's going to be just your luck that you'll lose a stone right at that crucial moment. At least if you have nail glue in your pocket or bag, you can pick it up and put it right back on again. In fact, nail glue is quite a handy thing to have in your bag. Just saying.
Products used: Essie in Pure Pearlffection, white base and rhinestones.
20. FESTIVE DESIGN
This festive design is brilliant, and it encompasses a couple of different designs which gives you even more opportunity to play around. You could recreate the entire look, or just pick one nail and focus on that.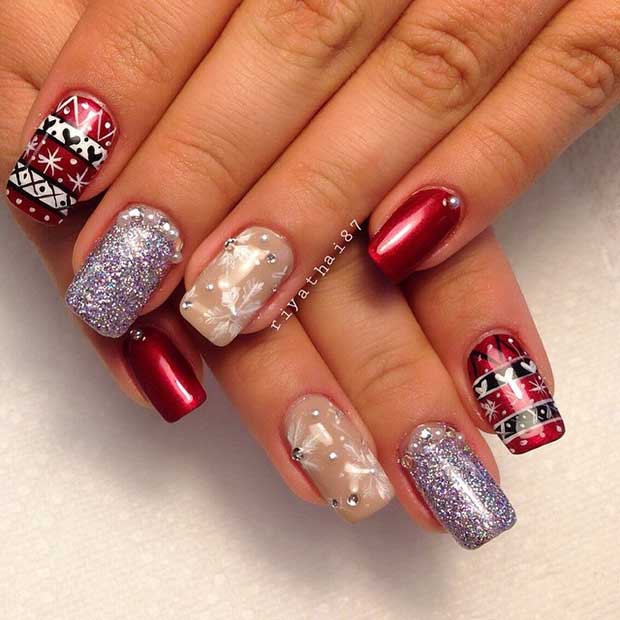 Instagram / riyathai87
Which out of this lot is your favourite? We really like the red Christmas jumper style nail in this design, but we're in love with the whole lot!
21. REINDEER ACCENT NAIL
What goes better with reindeers than red nails? Plus, you can't get more Christmassy than red either, can you? That's why we love these easy winter and Christmas nail ideas.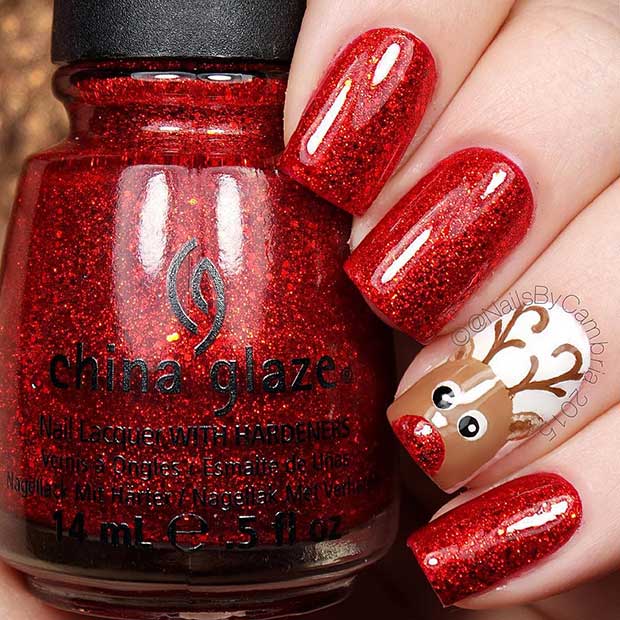 Instagram / nailsbycambria
Whatever you do, don't forget the big red nose. That'll spoil the look!
Products used: China Glaze in White on White and Ring in the Red.
22. SPARKLY CHRISTMAS BAUBLES
What a great idea – using larger pieces of glitter to create a Christmas bauble nail design that is bound to catch the light wonderfully.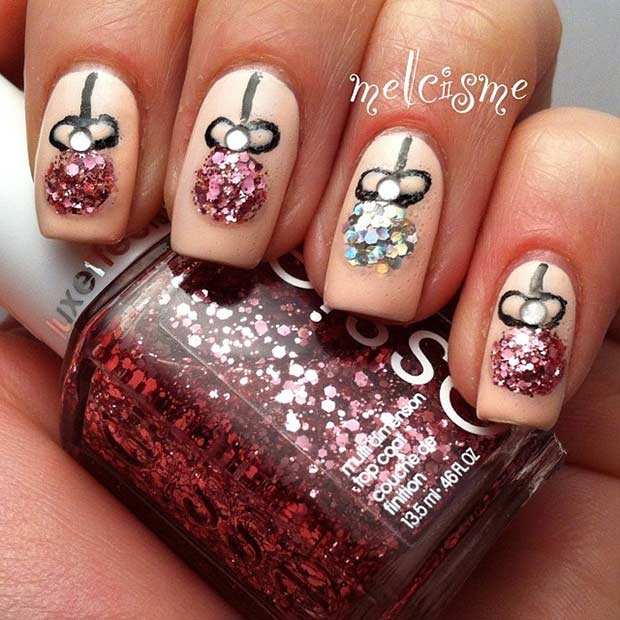 Instagram / melcisme
A quick flick with a black nail pen will help you retreat the bow and string at the top, and once again, rhinestones have been added to really bring the entire look to life. Another winner if you ask us.
23. SIMPLE & ELEGANT DESIGN
How do you feel about blue Christmas nails?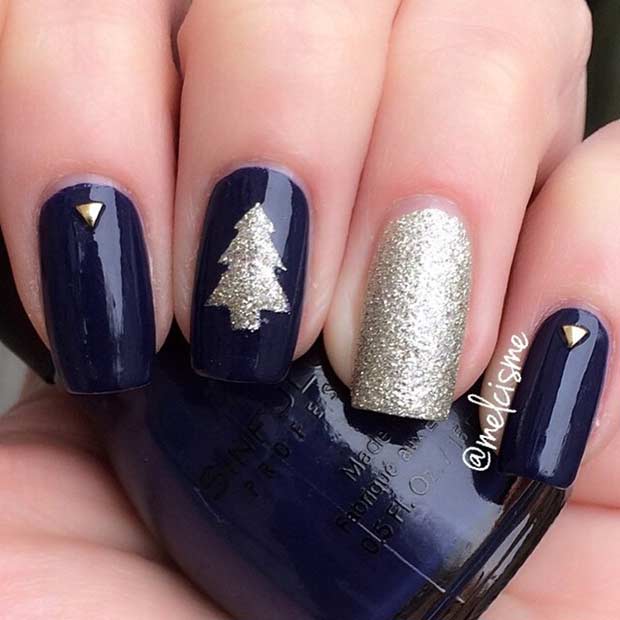 Instagram / melcisme
It's not a shade that will automatically spring to mind, but now you've seen how cool this navy shade of blue looks with the sparkly gold Christmas tree, aren't you a little convinced?
Products used: Sinful Colors in Mesmerize, and Essie Polish in Beyond Cozy.
24. SPARKLY WINTER DESIGN
What a fabulous idea! It's a holographic almost ombre look at the back, and that's the part you'll want to do first. On these nails, those silver designs are decals applied over the top.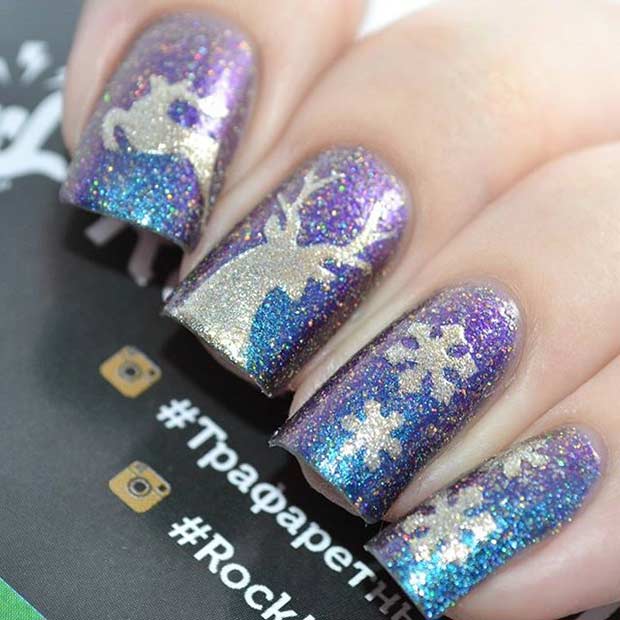 Instagram / my_forever_nails
The other way that you could recreate these is by painting your nails silver, then placing the decals on top (with the aim to remove them once the nails are dry), and then painting over the top with this ombre blue to purple holographic look. When you take the decals away, you should be left with the silver shimmer outline just like you can see here.
Products used: F.U.N Lacquer in Frost
25. RED & GOLD GLITTER OMBRE NAILS + CHRISTMAS TREE
Glitter at the base of the nails is such a simple idea, and one that is often overlooked when it comes to easy winter and Christmas nail ideas. This one has been perfectly matched with a 'squiggly' Christmas tree.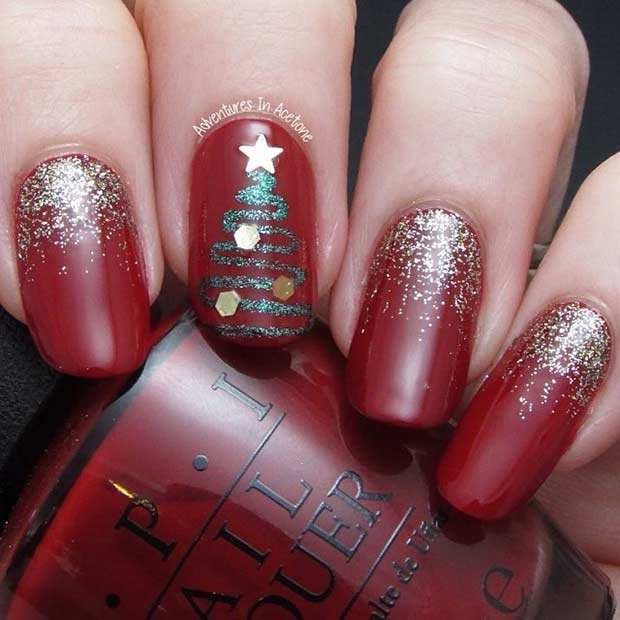 Instagram / adventuresinacetone
Let's face it, this Xmas tree design is a lot easier to recreate than some of the other intricate designs we've come across!
Products used: OPI in All I Want for Christmas and All Sparkly And Gold.
26. SNOWFLAKE ACCENT NAIL
Make just one of your nails a big feature, such as this snowflake feature nail, when you just don't have the time to head to the salon, or give yourself a home manicure.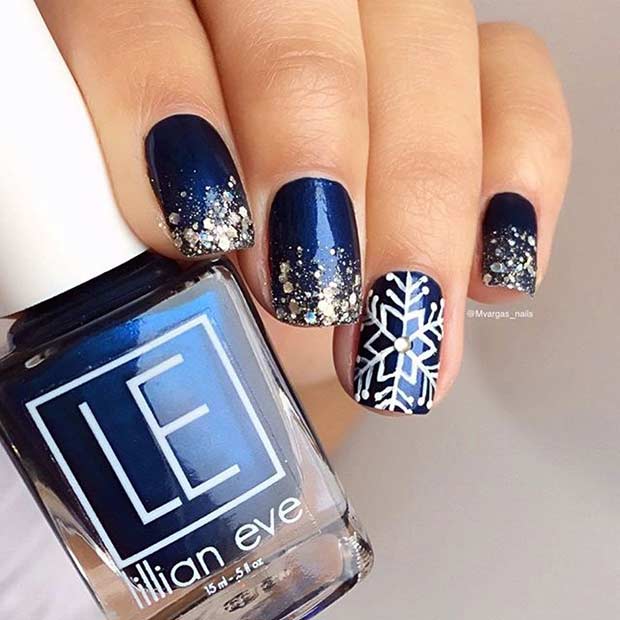 Instagram / mvargas_nails
It's a great way to give your mani a new lease of life when you don't have the time (or patience) to re-do them all, and it'll help bring the Christmas cheer to your life. That's what we keep telling ourselves anyway!
Products used: Lilian Eve in Mere Mortals.
27. PRETTY SNOWFLAKES + CHRISTMAS TREE ACCENT NAIL
Wow! What a fabulous look. To start with, you have that silver glittery / shimmery shade on the bottom. Then you add a few bright white snowflakes, either hand-painted or decals.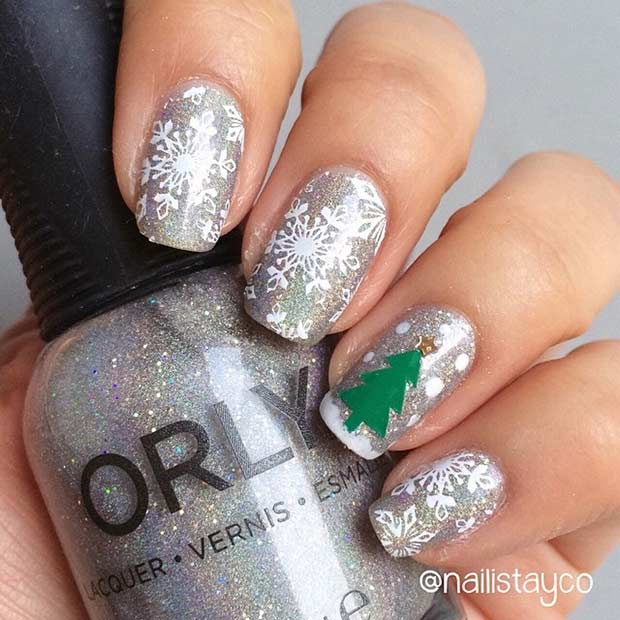 Instagram / nailistayco
After that, get doodling with your Christmas tree. Make sure everything stays exactly where it should with a good top coat, and then show off your nails for all the world to see.
Products used: Bundle Monster snowflake stamps, a white nail polish and a Christmas tree vinyl.
28. CUTE DESIGN FOR SHORT NAILS
If you have short nails, you can still play around with these easy winter and Christmas nail ideas, you just might need to amend them a tad to match your shorter length.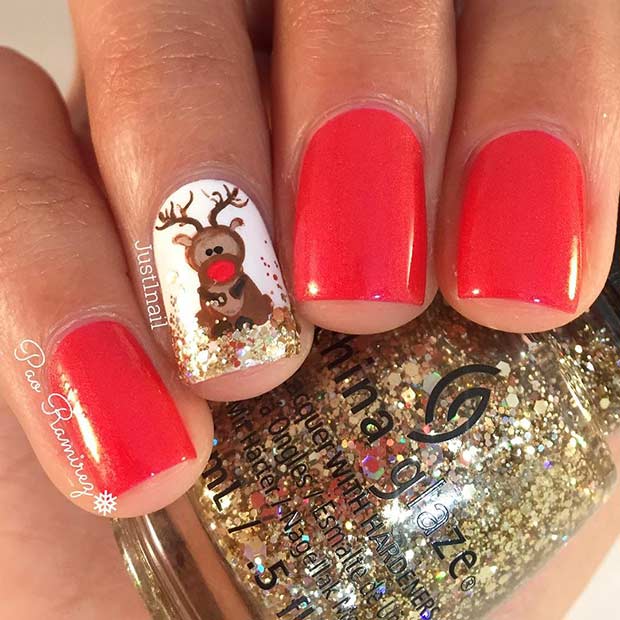 Instagram / just1nail
We love these red reindeer designs, a great way of 'shortening' a design to make it fit a smaller nail. You still have the white background, you still have the refiner design, and you still have the glitter on the tips. It's all the benefits of long nails when you think about it.
Products used: China Glaze in Son of a nutcracker.
29. HOLLY DESIGN
These holly design nails are perfect for when you want to smooch your crush this Christmas, and they allow you to get a little creative too.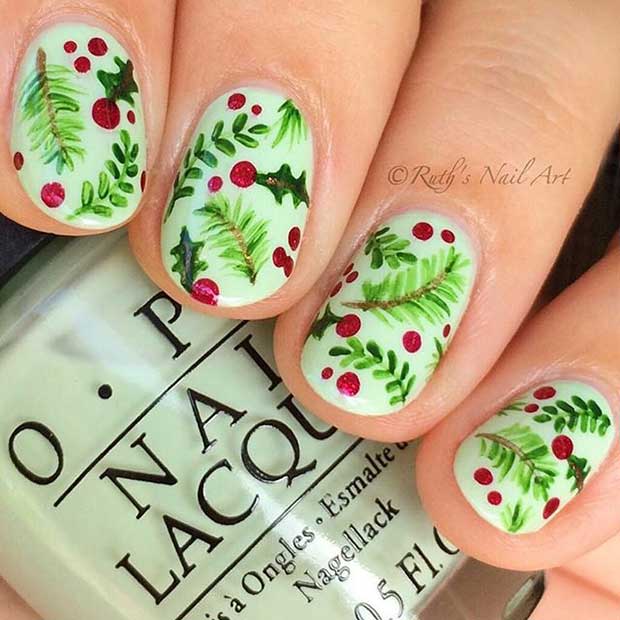 Instagram / ruthsnailart
Berries and leaves are easily painted, and you can include a touch of sparkle with some glitter added for good measure. There are lots of ways you could recreate this one so that it suits you. We can't wait to see what you come up with.
Products used: OPI in That's Hula-rious! + acrylic paint.
And there you have them – 29 easy winter and Christmas nail designs that we think you're going to love. We can't wait for Christmas, and we can't wait to get out Christmas nails on! The only question is, which ones shall we go for?
The post 29 Easy Christmas and Winter Nail Ideas appeared first on crazyforus.