Here are 21 insanely beautiful makeup ideas for prom, from Stay Glam: 
We know that the entire look is important when it comes to getting ready for prom.
There are so many things to think about too – the hair, the dress, and then you'll need to work out which makeup looks goes with the lot. Thankfully, we've come together to bring you a few looks that we think you might just get on board with.
These insanely beautiful makeup ideas for prom are not only beautiful, but relatively easy to do yourself at home. Of course, if you're hiring a makeup artist, just make sure you show them the photo you love the most to get the same finished effect.
1. PEACHY EYES
The entire world went mad for the Two Faced Sweet Peach Eye Shadow Palette, and with looks like this coming into fashion, it's not very hard to see why. If you were looking for the perfect excuse to own that palette (and use it, obviously), this prom look is definitely it. Pretty, feminine, and shimmery-splendid too. It's got prom night written all over it!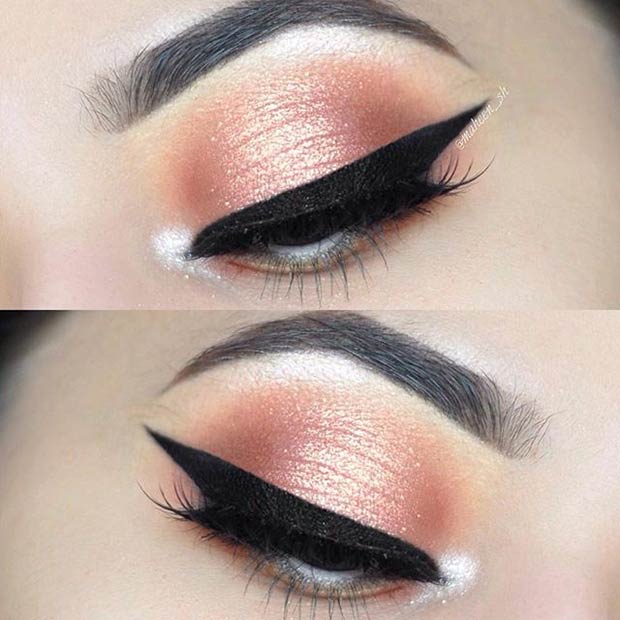 Instagram / maheen_sh
Products used: TheBalm Primer, Anastasia Beverly Hills 'Modern Renaissance' Palette (Primavera, Vermeer, Cyprus Umber and Burnt Orange), Inglot AMC Pure Pigment 50, NYX Jumbo Pencil in Milk and Inglot Body Sparkles XL73 (inner corner highlight).
2. PURPLE GLITTERY EYES + PINK LIPS
Just when you thought you couldn't wear pink and purple together in a beautiful makeup look, we show you how to do it with style. When it comes to beautiful makeup ideas for prom, this glittery one definitely adds the right amount of pink and girlie colour to the mix. We love the way that that a slight lilac line has been added to the edges of that black eyeliner flick. It's all about paying attention to detail, and that's just what this stunning makeup look does.
Instagram / rubina_muartistry
Eyes: Anastasia Beverly Hills 'Self Made' Palette (Deep Purple shade), ABH 'Modern Renaissance' Palette – Raw Sienna, Venetian Red & Red Ochre (crease), Cyprus Umber (Outer V), Tempera (Brow Bone), and Vermeer (tear duct), NYX Glitter in shade 'Purple Reign', Tarte Cosmetics Tarteist Clay Paint Liner. 
Lips: Lena Lashes Liquid Lipstick in 'Tony'.
3. ELEGANT EYE LOOK FOR BROWN EYES
Of course, you could stick with what you know. This brown and gold well-bended smokey look is so easy to do at home, you'll be kicking yourself for not learning how to do it sooner. The trick is to blend well, and you'll need a big and fluffy blending brush for that – a good one, from a reputable brand. Half the battle to getting these looks just right is having the right tools to do them with, so make sure you have everything you need to start with.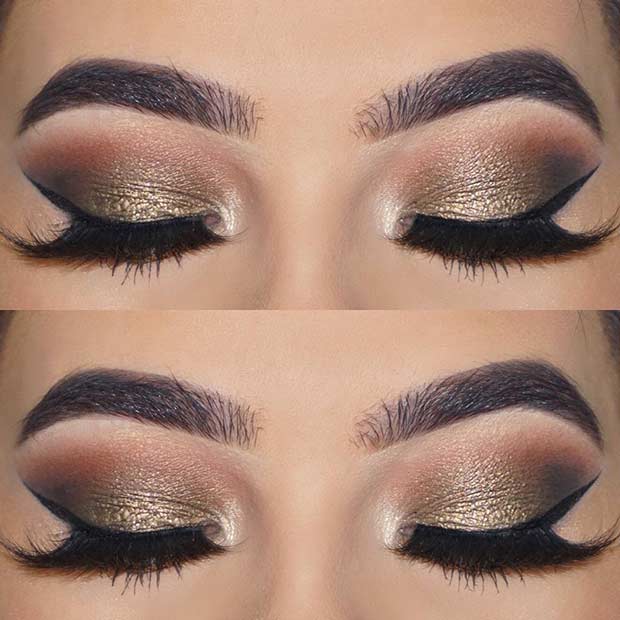 Instagram / laurabadura
Products used: Huda Beauty 'Rose Gold Palette' – Dubai (Lid),  Henna and Sandalwood (crease), Blacktruffle (outer corner), and Moon Dust (brow bone + inner corner); Tarte Cosmetics Double Take Eyeliner. 
4. DRAMATIC BLACK & SILVER SMOKEY EYE
You can't go wrong with a classic black and silver smokey eye look. The smokey eye look is perfect for any occasion, so you couldn't expect to see a list of beautiful makeup ideas for prom without seeing at least one classic smokey look on there … right? Once again we're paying attention to detail, and you may find that using tape is a great way to ensure your liner flicks are as "on fleek" as possible. Tape will also help to make sure your eyeshadow doesn't end up anywhere you don't want it to also.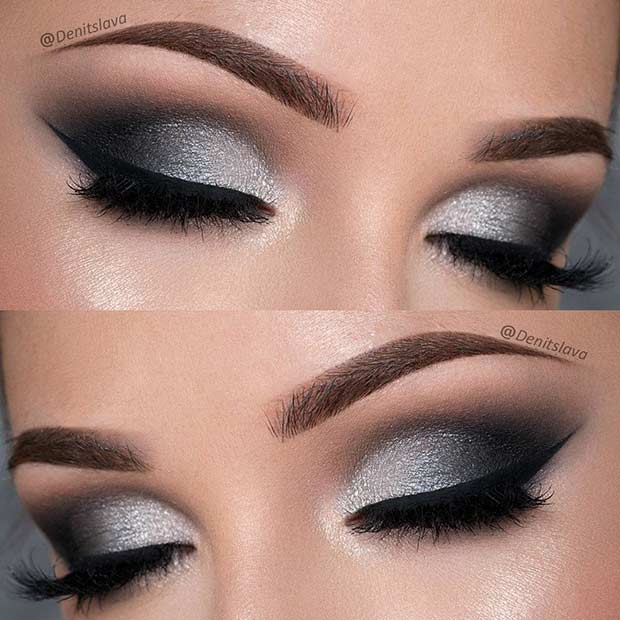 Instagram / denitslava
Products used: Sigma Night Life Eyeshadow Palette, Line Ace Liquid Liner, and Eclipse Eyeliner Pencil.
Youtube Tutorial – Link.
5. BLUE SMOKEY EYE + NUDE LIPS
What about when you really want to stand out form the crowd? How do you feel about bright and bold blue eyes? If you're going to go for a really bold and brave eye like this one, your best bet is to keep your lips nice and neutral. As you can see here, a nude lipstick and gloss combination has been used. It gives you the perfect excuse to pop out those Mac nudes!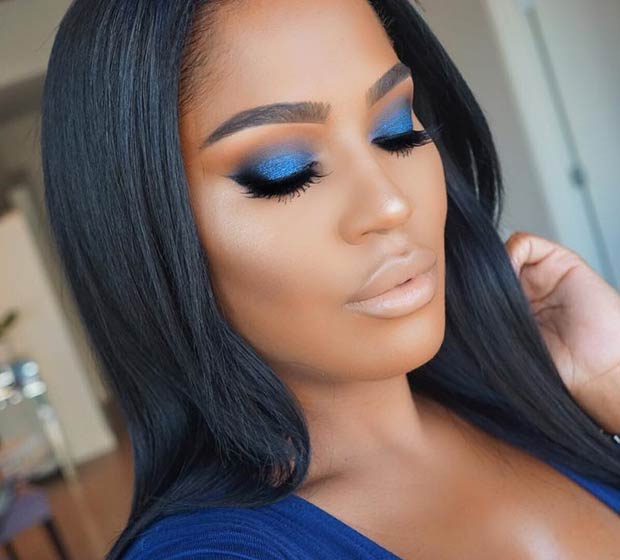 Instagram / makeupshayla
Eyes: MAC 'Blue Flame' Mineral Eyeshadow (lid), Melt Cosmetics 'Rust Stack' (crease).
Lips: Kylie Cosmetics 'Exposed' lip gloss.
6. GOLD GLITTERY EYES + MAUVE LIPS
Glitter can be really hard to work with if you don't really know what you're dong (which is most of us here at StayGlam!) but there are a few really clever tips and tricks you can use to ensure your eye glitter doesn't end up being worn by everybody else. A makeup setting spray is essential for keeping your entire face in check, and when worn with a decent primer, and a good glitter adhesive, you should find that your look lasts the distance.
Instagram / rubina_muartistry
Eyes:  Tartelette Amazonian Clay Matte Eyeshadow Palette – Force of Nature (Upper Crease), Dreamer & Multi-Tasker (Crease), Natural Beauty (Inner Corner), Fashionista (Outer V), Super Mom (Brow Bone and Tear Duct); NYX 'Copper Sparkle' Glitter and TheBalm Schwing Black Liquid Eyeliner.
Lips: Molly Cosmetics Matte Liquid Lipstick in 'Hot Chocolate'.
7. NATURAL LOOK
When your dress and hair speaks for itself, you could leave your makeup as nude as possible. This barely-there look still has enough about it to make a difference, but without being really out-there. It's a good place to start if you're not sure where to go with your prom makeup look.
Instagram / lilia.iva
Products used: ABH Eyeshadow Singles in Birkin, Deep Brown, Smoke & Penny Metal; Misslyn Cosmetics Black Eyeliner Pen.
8. PINK SMOKEY EYE
If you want to jump in on the pink eye makeup bandwagon, there are a few things you should know first. It's easy to want this look, but recreating it yourself might be quite hard work. That is if you don't want to look like you've been smacked in the face! For the record, if you don't have pink eye shadow to hand, there's nothing to stop you from layering up your pink blusher, or even your pink lipstick, to get a similar effect. We've seen lots of makeup artists using matte liquid lipsticks as eyeliner, and we think it's a jolly marvellous idea.
Instagram / amrezy
Products used: Kylie Cosmetics The Burgundy Palette in 'Dubai', 'Penny' and 'Almond' (crease + lower lash line), ColourPop Cosmetics 'Bubbly' (lid), and Inglot gel liner.
9. CLASSY BROWN SMOKEY EYE WITH A POP OF GOLD
Your eyebrows are just important as the rest of the look when it comes to your beautiful makeup ideas for prom. They have the power to really frame your face, which is why it is important to remember them when bringing together your look. If you have the time and a few bucks to spare, can we recommend threading? It gives you a really crisp and beautiful brow look, and once you have the basic shape right, you can build the rest with your preferred brow tools of choice.
Instagram / briciaemilyn
Products used: Elf Cosmetics Palette, NYX Roll On Shimmer in 'Chestnut', Wet n Wild Black Mega Liner, and BBByBeholderEL lashes in 'Jewel'.
10. BRONZE EYE MAKEUP FOR BLUE EYES
If you have blue eyes, you have the perfect eyes for gold and bronze shades of eyeshadow. When you have the opportunity to play around with such beautiful metallic tones, and very on-trend ones, can we just add, why wouldn't you? A quick slick of a metallic shade, teamed with an elegant flick of eyeliner, and you're good to go for almost any and every occasion, prom included.
Instagram / _tiarni_
Products used: Makeup Geek eyeshadows and House of Lashes lashes in 'Iconic'.
11. MAUVE LOOK
We love this stunning dusky pink look, perfectly glammed up with just the lightest hint of gold in the inner corner of the eye. In fact, this is a very good trick to know. If you use a lighter, brighter shade on the inner corner, it will reflect the light and make your eyes appear bigger and wider. It'll also help you to look more awake, just in case you need that. We certainly do!
Instagram / rubina_muartistry
Eyes: ABH Modern Renaissance Palette and Morphe Brushes Pressed Pigment in 'Untamed' (Lid); Certifeye glitter in Lemonade; NYX gel liner & smudger.
Lips:  OPVBeauty Matte Liquid Lipstick in 'Soho Secrets'.
12. GLITTER EYELINER + NUDE LIPS
How do you feel about glitter eyeliner? We know that it's quite a brave move, but it's one we definitely think you should look at whilst on the hunt for beautiful makeup ideas for prom. Keep everything else nude, because the glitter eyeliner does all the talking for, and you'll find that people are chatting about your makeup looks for all the right reasons. It's good to be so on-trend, right?
Instagram / stephie.b_
Eyes: NYX Face & Body Glitter in 'Rose Highlight'.
Lips: Jouer Cosmetics Rose Quartz Lips + Kylie Cosmetics 'So Cute' Gloss. 
13. SILVER EYES + GLOSSY NUDE LIPS
We've gone for gold / nude glitter eyes, but what about an all-put silver sparkle? Those glossy nude lips go really well with the silver shades, even though you might have thought they'd clash. It's all about knowing how to work them together, going against the "work with one – eyes or mouth" rule that we were all taught by our mothers as kids.
Instagram / thefashionfreakk
14. GOLD GLITTER LOWER LASH LINE
If you want to inject some sparkle, but you don't want to inject too much sparkle, how about this bottom liner look? You've got a dusky pink and relatively neutral top eyelid look, keeping all the attention on the lower lashes. A quick slick is all it could take to take your look from daytime chic to nighttime prom, and when you don't have a lot of time on your hands, it could be the look that proves the answer to all your prayers.
Instagram / paola.11
Products used: BH Cosmetics 88 Color Matte Palette, SLMissGlam lashes in 'Sparkly Glam'. With this look we recommend light pink, glossy lips.
15. PURPLE & BRONZE GLITTER EYES
Purple and bronze – how do you feel about combining those two shades together? Now look at the beautiful beautiful makeup ideas for prom we're showing you below and then get back to us. Isn't it crazy how well the two shades blend together? If you want a look like this that'll last the entire night, invest in a good eyeshadow primer. It'll keep everything in place for the duration, and when you're working with glitter that's not a bad thing!
Instagram / dianamaria_mua
Products used: Morphe Brushes 35B & 35F Eyeshadow Palettes, Certifeye glitter, and Certifeye lashes in 'Dreamy'.
16. NUDE LIPS + POP OF COLOR
When you're rocking nude kips, you can afford to go with a bit of colour on the eyes. How about this beautiful icy blue shade, perfect when you're wearing a Cinderella-esque gown? Do you remember that we mentioned before about adding that lighter, almost-white shade to the inner corner of your eye to open it up? Well, this is a classic example of that. IT's been done beautifully!
Instagram / mariaaakaledzera
Eyes: J. Cat Beauty Blinkle Shimmer Eyeshadow in 'Joyful Emrald' (inner lid), Too Faced Chocolate Bar Palette in the shade 'Haute Chocolate' (outer lid), Morphe Brushes 35C palette (crease), J. Cat Beauty 'Dolce de Leche' triple crown baked shadow (inner corner).
17. PEACHY LIPS + NEUTRAL EYES
To achieve these peachy lips and neutral eyes, you'll want to start by going over your entire eyelid with a pale skin-tone shade. This is to act as a primer, over the top of the actual primer you've applied of course. You shouldn't forget eye primer when making a feature of your eyes. Throw your darker brown shade into the corner, and then blend that with a lighter brown shade into the crease. The inner corner of your eye, and also the centre of it, should be that brighter and more shimmery shade. Finish things off with a peachy shade of liquid lipstick and you're prom ready!
Instagram / rubina_muartistry
Eyes: Morphe Brushes 350 Palette, and Tarte Clay Paint Liner. 
Lips: Huda Beauty Liquid Matte Lipstick in 'Bombshell'.
18. ELEGANT, GOLD EYES
Are you in the mood for some elegance? When it comes to beautiful makeup ideas for prom, this gold look is got to be one of the greats. Gold is always very well known to be a luxurious shade, and combined with that flick of jet-black eyeliner, you have a classic look that you can always rely on. Team with beautiful red lips for a Hollywood glam look, or opt for something more modern with a nude lip.
Instagram / briciaemilyn
Products used: Too Faced Natural Eyes – 'Honey Pot' (lid), 'Sexpresso' and 'Cashmere Bunny' (crease); NYX Liquid Crystal Liner 'Crystal Silk' (lid).
19. BROWN SMOKEY EYE + GOLD GLITTER LINER
Why not make a feature of something you would wear every day? If you always have black eyeliner, add a little something new to the table for your beautiful makeup ideas for prom. Once you're done with the black liner, add a tiny line of gold around it to really bring everything to life. It's a simple trick, and a tiny change to your regular makeup routine, but one that really will make all the difference.
Instagram / vvisionsss
Products used: Morphe Brushes 35O Palette, Tarte Cosmetics Tartelette In Bloom Palette, Becca Cosmetics Champangne Collection Face Palette – Prosecco Pop & Champagne Pop (inner corner), Lycheexo Champagne Gold Glitter, and NYX Glitter Primer.
20. GOLD EYE MAKEUP + DOUBLE EYELINER
Another day, another double eyeliner look, we're telling you this eyeliner pop is a big thing right now. You're going to regret NOT doing it! The gold on the lid has been really packed on with this beautiful look, and that's something you're going to want to do with your beautiful makeup ideas for prom. The trick is to build the colour up in layers gradually. Whacking it on and hoping for the best is not the greatest tactic.
Instagram / priscilla_fhern
Products used: BH Cosmetics Gold Rush eye and cheek palette.
Mini tutorial on the look – Instagram.
21. SOFT GLITTERY EYE MAKEUP FOR GREEN EYES
Alternatively, cool things down a touch with this more nude and natural shimmery eye look, just the slightest addition of a light peach tone along the lower lash line. You'll be amazed at how much difference that tiny flick of colour on the lower lash line can change the tone of your makeup, and when blended properly, can really soften any look.
Instagram / lilia.iva
Products used: ABH Modern Renaissance Palette – Warm Taupe (Crease), CoulourPop Cosmetics 'Nillionaire' (lid), and Tarte Clay Paint Eyeliner.
Whether you want something glamorous, simple, elegant, or sophisticated for your prom this year, we think these beautiful makeup ideas for prom will cover everything. Just remember to be yourself, go with the looks that you want to go with, and above all else, have loads of fun! We long to go back to the days of our school prom!
The post 21 Insanely Beautiful Makeup Ideas for Prom appeared first on crazyforus.