Here are 21 cute Thanksgiving nail ideas, from Stay Glam: 
Thanksgiving is almost here. So, you may be thinking about what you are going to wear. One way you can add a fall and Thanksgiving vibe to your look is with nails. There are so many ways to jazz up your nails for the festive event. To give you some inspiration we have put together 21 Thanksgiving nail ideas. There is a design for everyone whether you want something fun or stylish. Take a look and find your favourite.
1. FALL LEAF NAIL DESIGN
First up we have a Thanksgiving nail design that features fall inspired leaves. Thanksgiving is in the fall so nail art like this would be perfect. The nails have a white base with multi tone leaves on top. Each leaf has gold detailing. You could easily recreate something like this at home, you could try freehand or with a stencil.
Source: @thedotcouture
Products used: OPI 'My Vampire is Buff' (base), M Polish Metallic collection, and MoYou-London Mother Nature plate.
2. CUTE THANKSGIVING TURKEY NAIL DESIGN
We couldn't have a thanksgiving list without mentioning turkey! It wouldn't be thanksgiving without it. Our next idea shows how you can create a cute turkey design for your nails. Some of the nails have an orange ombre effect, one nail has a turkey feather inspired design and the middle nail has a turkey face. Something like this will need practice but it would look awesome for the festive occasion.
Source: @clairelofthouse
3. FALL BURGUNDY AND PURPLE GLITTER NAILS
One of the must have colors for the fall is burgundy. So, add some fall trends to your thanksgiving look with burgundy nails. Our next pick features the burgundy color on some nails with some purple glitter accent nails. Glitter and burgundy complement each other beautifully. The glitter is a nice touch as it is a special occasion.
Source: @selfie_beautyclub
4. TRENDY THANKSGIVING NAIL IDEA
Celebrate thanksgiving in style with trendy nails like these. The nails have been inspired by the fall. These have orange tones, red, yellow, brown and white. There is a hint of glitter to. All the colors have been put onto the nail in a creative and artsy way. We love these because you get the warm tones of the season. You could recreate this look at home just experiment with similar shades.
Source: @alisa.nailcare
5. GOLD PUMPKIN NAILS
Pumpkins are another iconic part of the fall and thanksgiving. Not only that but pumpkins can be used to create super cute nail art. Our next idea gold nails with a half pumpkin design on the top of the nails. The gold adds glamour and the pumpkins give the design a festive look. You could recreate something like this will full pumpkins to.
Source: @mayasnailart
Products used: China Glaze 'Mingle with Kringle' + acrylic paint.
6. CUTE CHEVRON ACCENT NAIL DESIGN
Next up we have a funky chevron nail art design. Chevrons look like zig-zag stripes and are a stylish way to wear a few colors. This nail art features the chevron pattern in warm autumnal shades. There a couple of ways to get this look and there are plenty of tutorials to help you online. Try to choose shades like these for a trendy thanksgiving look.
Source: @nailstorming
Products used: Essie 'Jump in My Jumpsuit' (burgundy shade), Whats Up Nailschevron vinyls, and Glisten & Glow HK Girl top coat. Need a tutorial for the multi-colored nail? Check it out here!
7. STYLISH FALL GLITTER NAILS
Thanksgiving is a special occasion so, why not glam up your look with glitter nails? Glitter designs will add some glitz and glamour to any outfit. These nails have a nude base color with gold glitter over the top. The glitter has an ombre look to it and creates a beautiful effect. You could recreate nails like these in any glitter color.
Source: @nail_sunny
8. GLITTER LEAF NAIL DESIGN
Another way to wear glitter this fall and thanksgiving is in a leaf design like this one. The nails have a dark purple polish with a rosy glitter leaf design on top. Art like this is glam and takes inspiration from the season. You could recreate these with the glitter accent nail or just choose the leaf design.
Source: @nails_control32
9. FUNKY GLITTER ACCENT NAILS
If you like glitter designs, then you may like this one to. The nails have been painted in dark shade with two accent nails. On the accent nails the nail has been covered in gold glitter except for a little bit at the bottom. The gap at the bottom creates a funky and unique look. You could recreate a design like this using any color.
Source: @ghenja2
10. FALL LEAF AND FLOWER ACCENT NAIL DESIGN
Our next pick is perfect for thanksgiving. All the nails are different but each uses a thanksgiving or fall theme. One nail is painted in a pumpkin orange, one in a dark warm red, one in glam glitter and the other has a floral and fall leaf design. We love these nails as it uses all colors and patterns from the season.
Source: @nailstorming
Products used: Essie 'Gala-vanting' (burgundy), Kiara Sky 'Strike Gold' (gold glitter), OPI 'You're So Vain-illa' (nude base), and Essie 'Roooarnge' (orange). Check out the tutorial here.
11. THANKSGIVING PUMPKIN AND GLITTER NAILS
Next we have another super cute pumpkin design. This nail art features two pumpkin orange nails with one gold glitter nail and a pumpkin accent nail. The accent nail features gold stripes and a small pumpkin. This is design is perfect for thanksgiving and can be recreated at home. You could use all the elements or just the orange polish and accent nail.
Source: @melcisme
Products used: OPI ' Alpine Snow' (white base), My Favorite Ornament (champagne glitter), and Pants on Fire (neon orange) + Snail Vinyls (pumpkin and marbled chevron vinyls).
12. AUTUMNAL GLITTER NAILS
A great way to get a thanksgiving look is with autumnal colors. These nails use glitter in fiery warm orange tones. Glitter like this is stylish and statement making. Wear it with a nude polish like these nails or go for an all over glitter.
Source: @thedotcouture
Products used: Nude base + OPI 'Orange You Fantastic'.
13. GLITTERING GOLD NAILS
Metallic colors and glitter complement each other beautifully. The combo of glitter polishes and metallic ones will create a stylish manicure. These nails use a sparkling gold glitter with metallic rose gold on the other nails. We love this trendy mixed metal look. Something like this is perfect for a special occasion and you can wear both colors separately to.
Source: @nailartkamilakufta
14. THANKSGIVING PUMPKIN NAILS
Next we have another cute pumpkin design. This one features two orange nails with a small little pumpkin with three other nails with an all over pumpkin design. You could recreate something like this freehand or use a stencil. Try both designs or you could even try just one.
Source: @n.ice.nails
15. PRETTY PURPLE NAILS
Want stylish thanksgiving nail ideas? Then this pick could be for you. These nails feature a dark purple polish with two glitter accent nails. The glitter used is a lighter purple so compliments the dark purple well. Nails like these will look stylish for thanksgiving and beyond.
Source: @laura_nails_studio
16. AUTUMN LEAF ACCENT NAIL DESIGN
Liked the leaf nail design from earlier in the post? Then you may like our next idea. These nails use the autumnal leaf art but use it with other nail designs to. The must-have burgundy shade has been used as well as a trendy black accent nail with a gold embellishment. We love this look as it is both seasonal and stylish. Want to recreate this design? Check out the tutorial here.
Source: @thenailtrail
17. BURGUNDY, PINK AND GLITTER NAILS
Our next thanksgiving nail idea is feminine and stylish. A burgundy nail polish has been used on two nails and the other nails have a soft pink polish and silver glitter. The combo is stunning and will suit everyone. This for the ladies who want to bring glamour to the thanksgiving festivities
Source: @joannasnails
18. THANKSGIVING TURKEY AND STRIPE NAILS
Loved the turkey thanksgiving nail idea from the beginning of the post? Then this next nail art could be for you! These nails feature a cute turkey accent nail with a striped nail and two brown nails. These nails bring together the fall and thanksgiving. There are tutorials online to help you recreate a turkey look.
Source: @fervelia
19. CHIC NAILS WITH GLITTER ACCENTS
Next we have an idea that brings together the must-have colors of the season with an added touch of glamour. Some of the nails feature a dark shade, one features a soft pink shade with an elegant design and there is one silver accent nail. We love this chic and stylish look.
Source: @nail_sunny
20. BURGUNDY AND GLITTER
Give all your family and friends nail envy this thanksgiving with a design like this one. These nails feature a very dark burgundy polish with a gold glitter accent nail. Gold and burgundy complement each other perfectly. Nails like these can be worn for Christmas and new year to!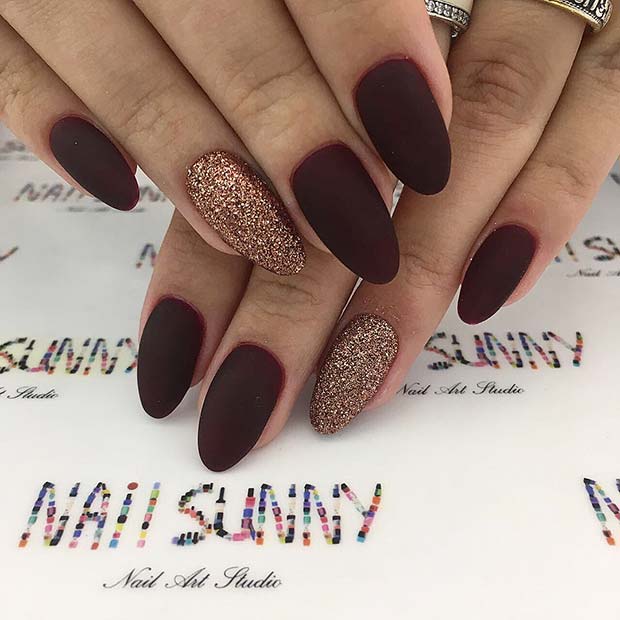 Source: @nail_sunny
21. AUTUMN TREE NAIL DESIGN
Last on our list is this autumnal tree design. We love this design as it has used inspiration from the season that thanksgiving falls in. Nail art like this will take some practice but it will be worth it. The glitter adds a touch of glam to the finished result.
Source: @nailistayco
Products used: Revlon 'Bare Bones' (base), OPI 'A-Taupe The Space Needle' (branches), OPI 'Uh, Oh Roll Down the Window' (grass), OPI 'Orange you Fantastic' (glitter).
We hope you have been inspired by our thanksgiving nail ideas.
The post 21 Cute Thanksgiving Nail Ideas appeared first on crazyforus.