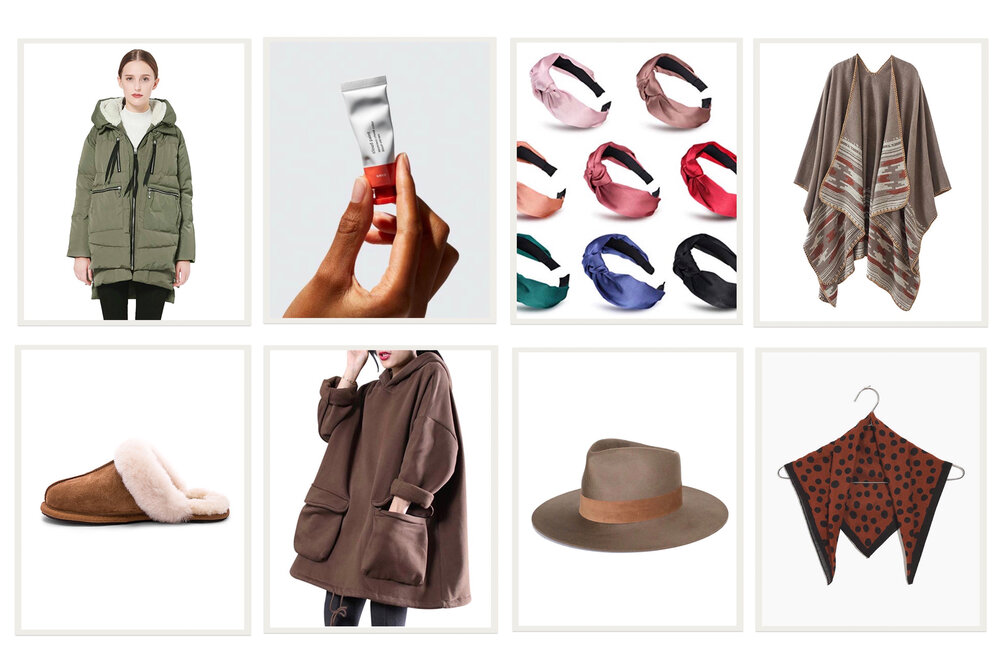 Part 3 of the Two of Wands 2019 Maker Essentials Gift Guides focuses on fashion and beauty. Now that we have our tools and self-care out of the way, it's time for a little fun retail therapy! Check out Part 1 of the gift guide for Maker Goodies + Tools here and Part 2 for Self-Care products here.
FASHION + BEAUTY FOR THE MODERN MAKER
Working from home affords me a very "comfortable" daily routine where I don't have to put too much effort into how I look, and while that might sounds pretty wonderful (and it is in many ways!), it can also put me in a literal slump where I feel super unattractive and frumpy. I grew up loving getting dressed up and even studied fashion design in college, so it kind of breaks my heart that I have a closet full of clothes and accessories that never get to see the light of day any more. That being said, I am now the queen of "comfy chic" outfits and easy accessories that can pull a simple outfit together and have you stepping out in style with minimal effort. This list contains all of my favorite cozies, beauty products, and easy fashion and accessories for those of us with busy lifestyles.
CLICK ON EACH ITEM TO SHOP!
This post contains affiliate links. When you shop with my links I make a small amount of money from each sale that helps fund my business. All opinions are my own. Thank you for helping me continue doing what I love!
If you follow me on social media you've likely seen me singing the praises of these Aerie ribbed long sleeves in my stories. I bought them in almost every color available and have worn nothing but these things for weeks. They are so soft against the skin and look surprisingly elegant for "loungewear."
I can't remember the last time I wasn't wearing a bandana. I literally have an entire drawer full of them. They're my favorite effortlessly cool accessory and I find that they go with nearly every outfit I put together. I love wearing them around the neck of course but they also look super cute worn as headbands or to tie up a top knot. Madewell is my go to for cute stylish options.
This henley version of the Aerie long sleeve comes in the coolest faded colors and is so cute worn alone or under a plaid button down. I may or may not have an entire stack of these in my closet now …
RMS Beauty Uncover Up is a coconut oil-based sheer foundation that is the number one item in my makeup bag. This lightweight layer makes your skin look and feel healthier while offering a subtle tint of color to cover up imperfections without covering up your skin. It's quick and easy to apply with your fingers or a foundation brush and will have you out the door in seconds feeling young and fresh.
While I love the coziness of the whole fleece trend, I think the majority of options out there look a little cheap and definitely don't enhance the average outfit. That was until I found this Aerie Cloud Sherpa Pullover. It's perfectly oversized and fleece looks like much better quality than others I've seen. Wearing this with skinnies and boots makes me feel cute while remaining uber cozy.
If I add anything to my face other than the RMS Uncover Up, it's this Glossier Cloud Paint. Yet another sheer, buildable product, a dab of this rubbed into the apples of your cheeks will wake your look right up and it's just so simple and quick to apply. I love makeup that I can apply with my fingers since I'm usually on the go and putting it on in the back of a taxi or on the subway, and this is one of my favorite products for that reason.
I found this gorgeous set of silky knot headbands for such an amazing price ($14.99 for all eight colors!) a few weeks ago and I haven't left the house without one on my head since. They instantly make an outfit fancier and make me feel so put together with zero effort. This is such a cute pack to grab and distribute amongst all of your girlfriends!
Available in several colors by Free People, this dolman sleeve quilted jacket is the ultimate cozy light coat. It has such an effortlessly cool look to it that's both on trend and classic, and it feels like wearing an upscale sweatshirt.
The details on these Aerie plush joggers give them a street-acceptable look while still maintaining a high cozy level. This color in particular looks so elevated in comparison to your average sweatpants.
There are so many lovely Glossier products, but this is the first one I used that got me hooked and that I've purchased over and over. This Generation G Sheer Matte Lipstick is so lightweight and buildable and will give you an instant effortless look that livens up your face. I read somewhere when it first came out that the inspiration for this formula was to recreate the effect of your lips getting stained from eating a popsicle, and I still it still feels so youthful and fun to apply each day because of that idea.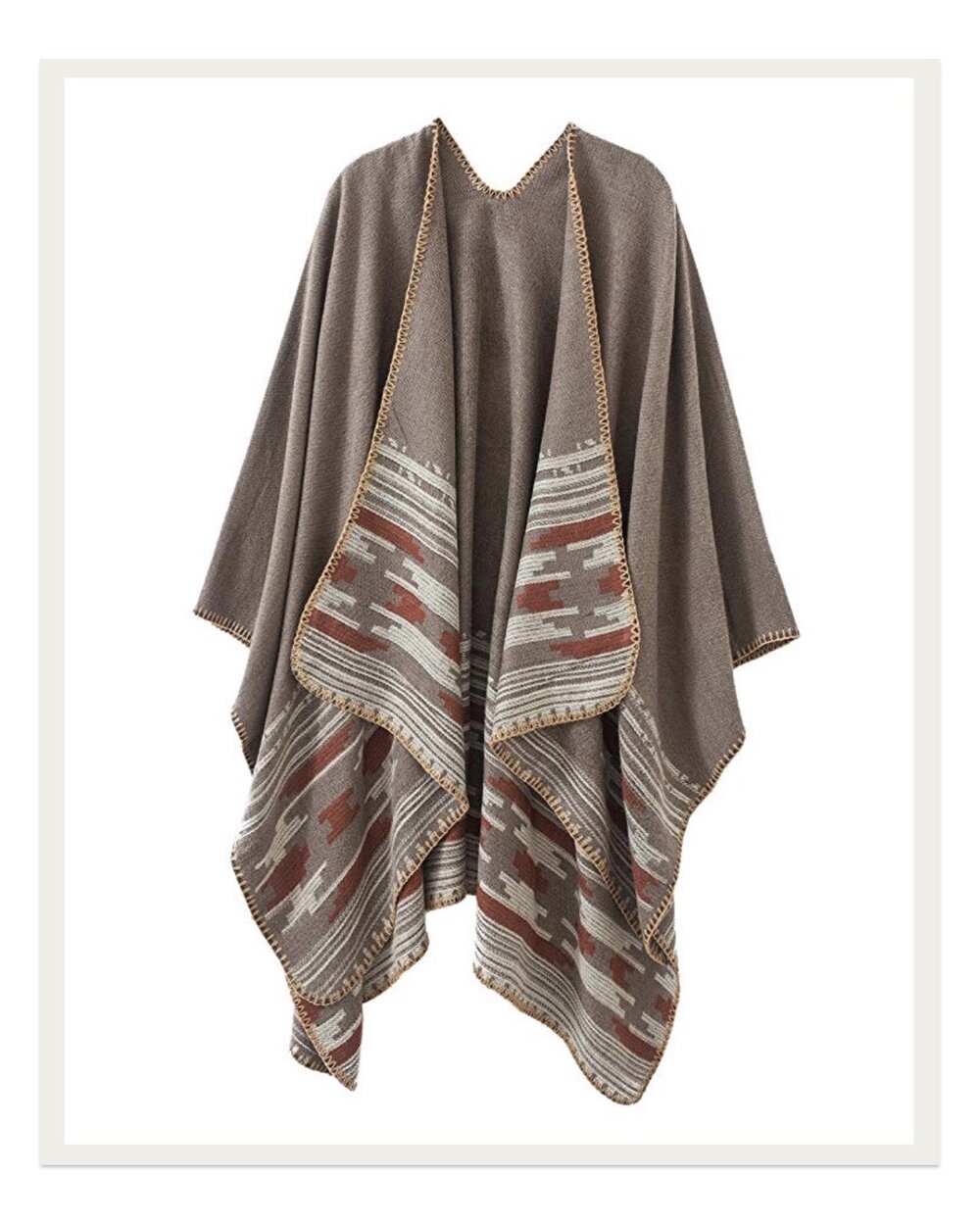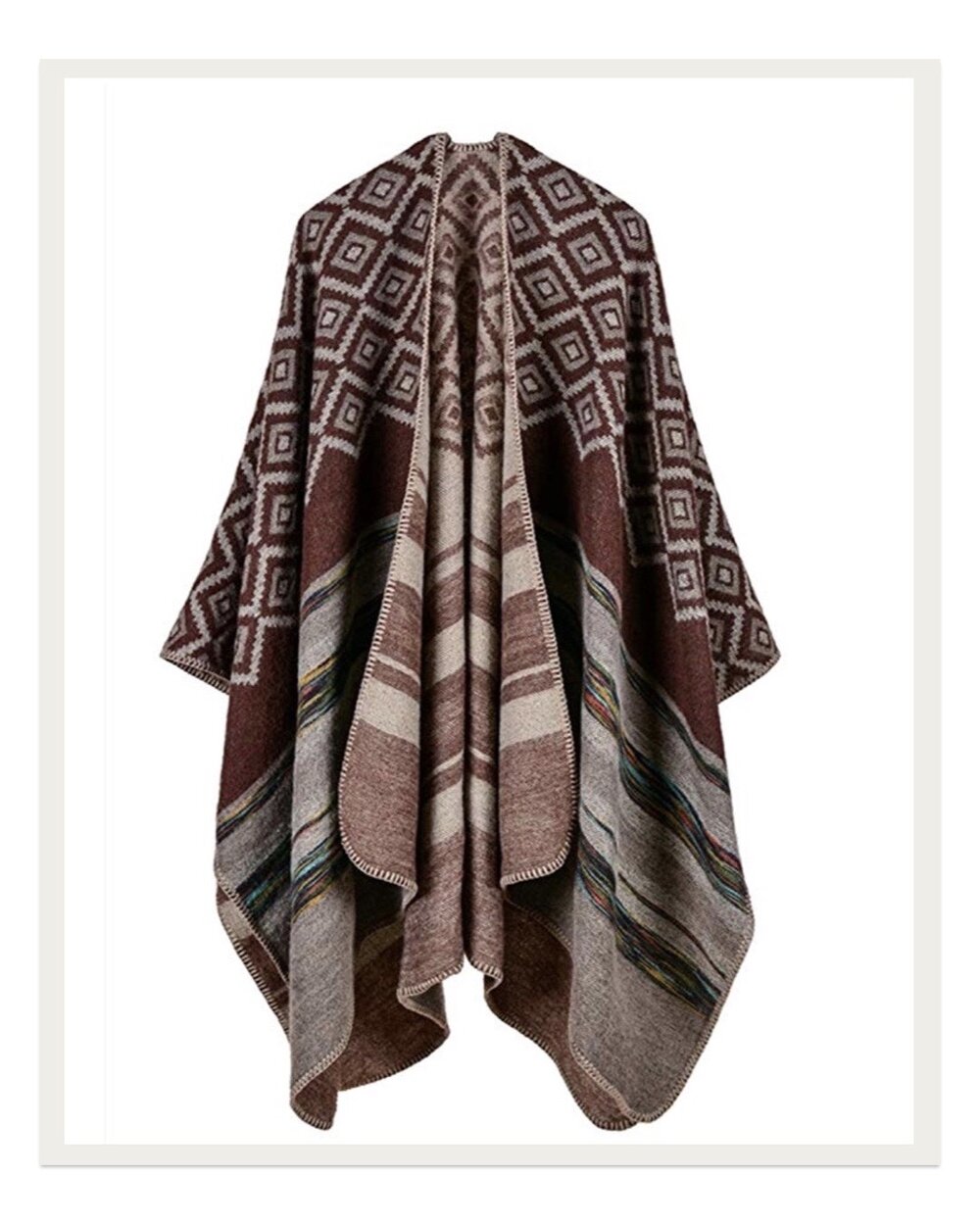 I found these "imitation cashmere" ponchos on Amazon and bought several for myself and to give as gifts. They're so inexpensive and dramatic and I just love them. The material is super soft and warm but very lightweight. They are so easy to just throw on and run out the door, and I've even been using them as a cozy layer while working from the couch.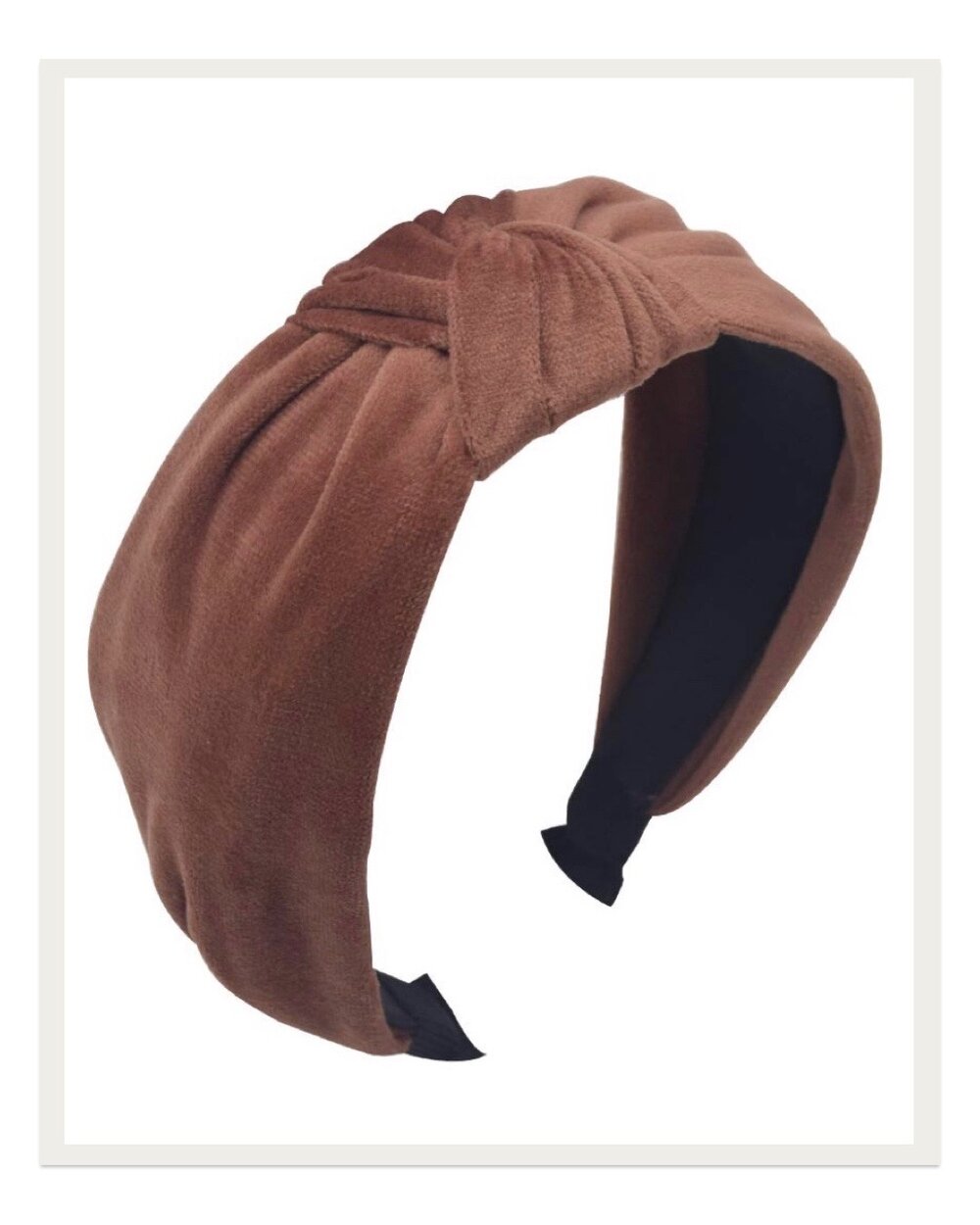 I'm in love with this velvety knot headband too! It looks so luxe and because it's a little more low key than the shiny options above, I can pair it with virtually any outfit to pull it together into something more sophisticated. I am so into this blush/clay color lately and absolutely adore this accessory.
Is there anything cozier than a fluffy robe? This sherpa lined fleece robe from the Gap is so comfy to wear around the house, and it's not too bulky so you still feel chic in it. Throwing this on after a bath will make you feel so sophisticated!
When I'm looking to get a little fancier, my new favorite product is this Inferno eyeshadow palette from Nars. I love the 70s inspired colors and sparkly options that glam up your look for nights on the town. I'm so excited to wear these shades to holiday parties!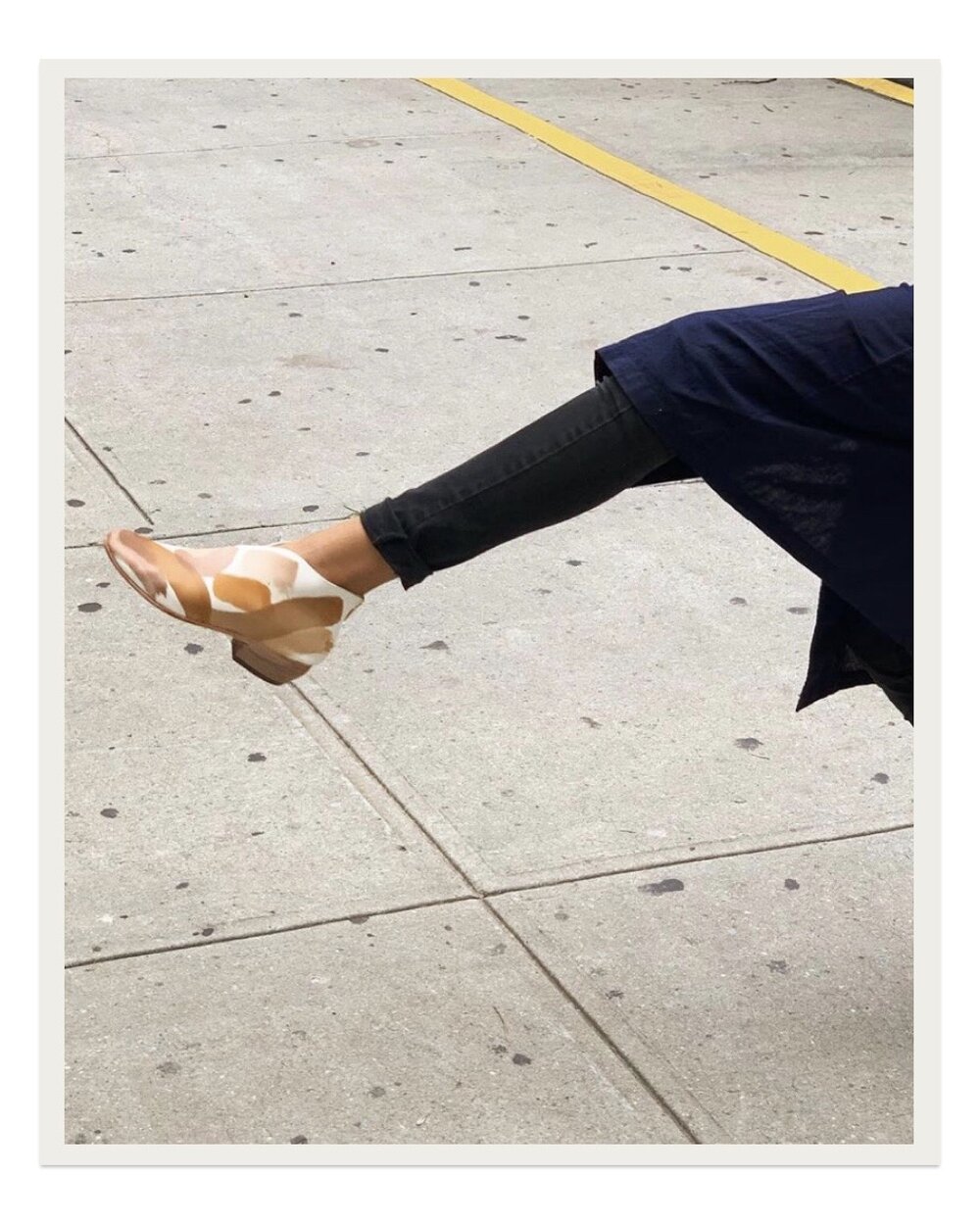 Lauren Brinkers handmade shoes are probably my favorite high ticket item that I've ever bought for myself. Usually with more expensive items like this I'd be afraid to wear them to often in case I destroy them, but these babies rarely leave my feet. Made with buttery soft leather and hand-painted in whimsical colors and strokes, Lauren's shoes feel like slippers and make my feet feel oh-so-special.
The Amazon Coat. If you don't already own it, what are you waiting for? There's a reason this affordable coat is so popular, and it's because it's like wearing an actual cloud sleeping bag with pockets galore and expandable sides. I can probably count at least one on every block of NYC and I don't even care that I look like everyone else when I wear it. It's that good.
Can you tell I'm loving Aerie lately? There's just something about these washed out colors and soft fabrics that have me swooning. This Oversized Desert Sweatshirt feels like a worn-in favorite the second you put it on.
Mukluks seem to be part of the maker uniform these days, and I just love this pair with buffalo plaid heels and a cozy sweatshirt-vibe front. Putting these on my feet in the morning gets me right into the maker mood!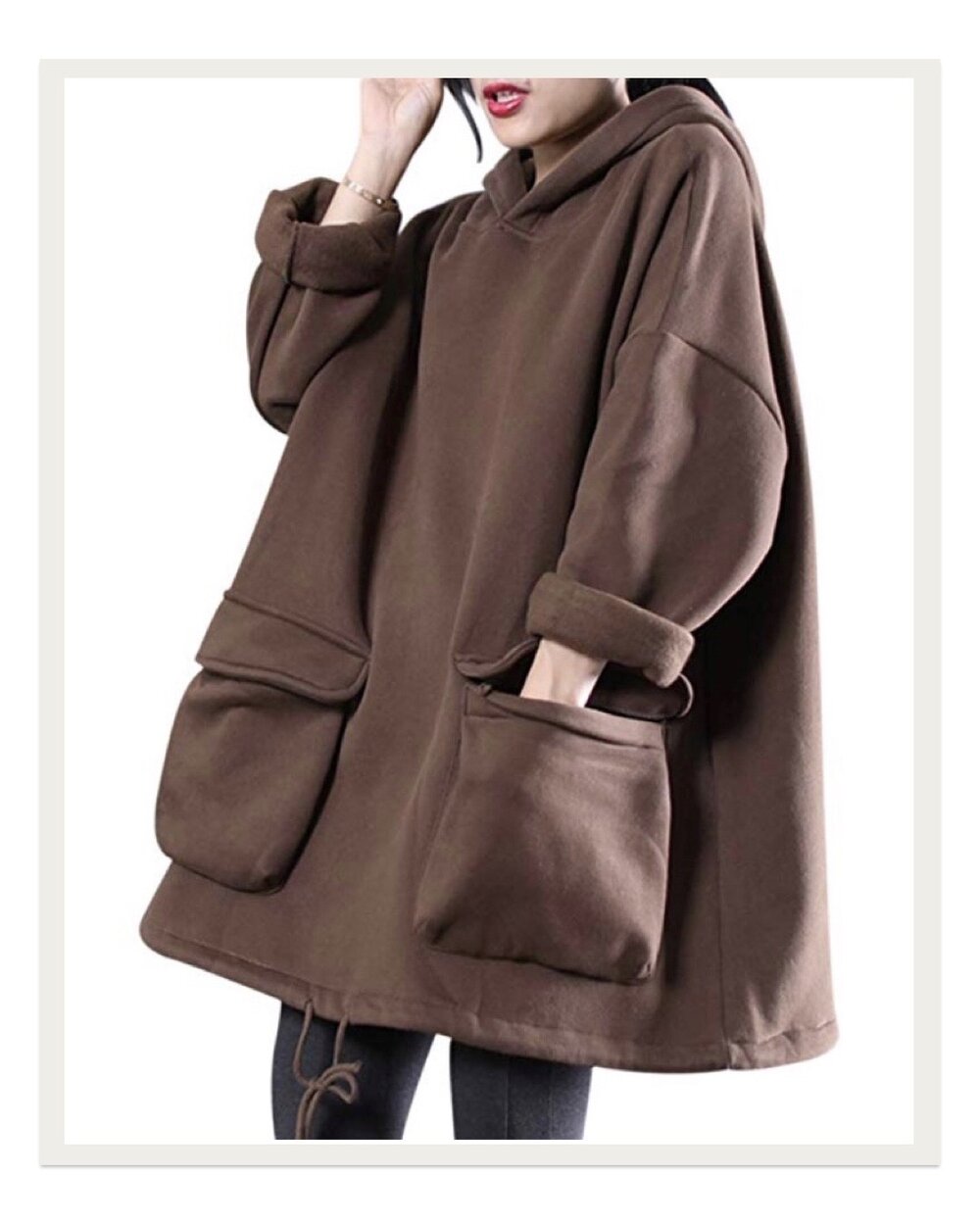 The oversized silhouette and giant pockets on this sweatshirt from Amazon make it look like something off of the runway. I love how cozy yet fashionable it is, and I will likely be living in it all winter.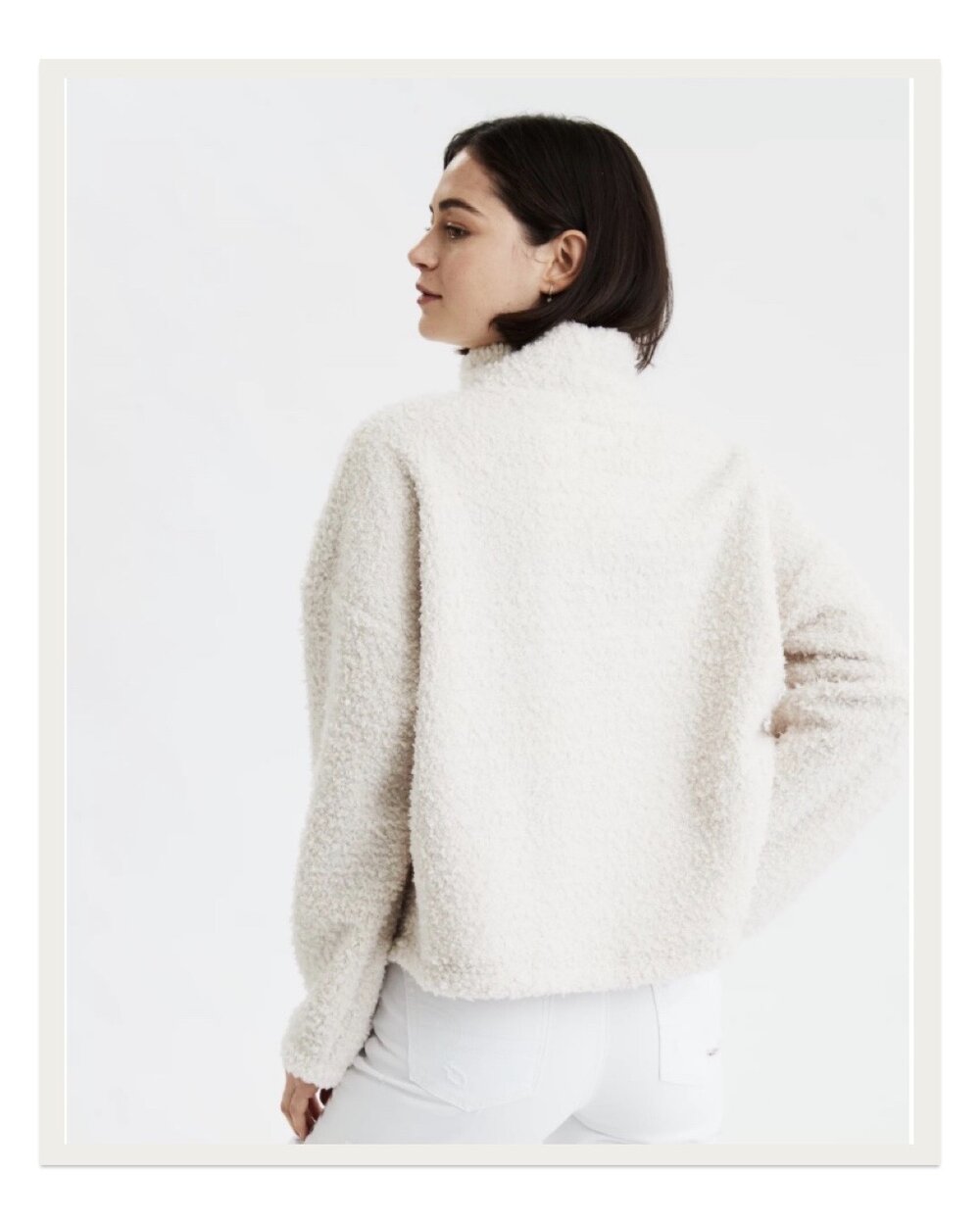 This boxy sherpa mock neck pullover is the epitome of cozy chic. The silhouette is so stylish and modern and I've found this piece to be acceptable for everything from sleeping to drinks out with friends.
If you're looking for a more luxe slipper this holiday season, these Ugg beauties are so nice looking and well made. They are kings when it comes to cozy, furry shoes, and these slippers are a favorite amongst their customers.
Easiest way to keep it cozy while you're on the go? Fuzzy socks! I love these leopard print babies and feel a pep in my step as soon as I put them on.
A favorite amongst European "it-girls," I've seen these Veja sneakers paired with everything from jeans to cocktail dresses, and they still look cool. I will admit they need need to be broken in, but I love throwing these on to run errands and feel super cute even though I'm in sneakers.
My trusty Janessa Leone Alara hat is my most loved accessory. It's impossible to feel frumpy in this hat, and any time I need to look put together I reach for this stunner. The color pairs with everything I own and I get compliments on it every time I wear it. It's the easiest and quickest way for me to feel cool and confident when I leave the house.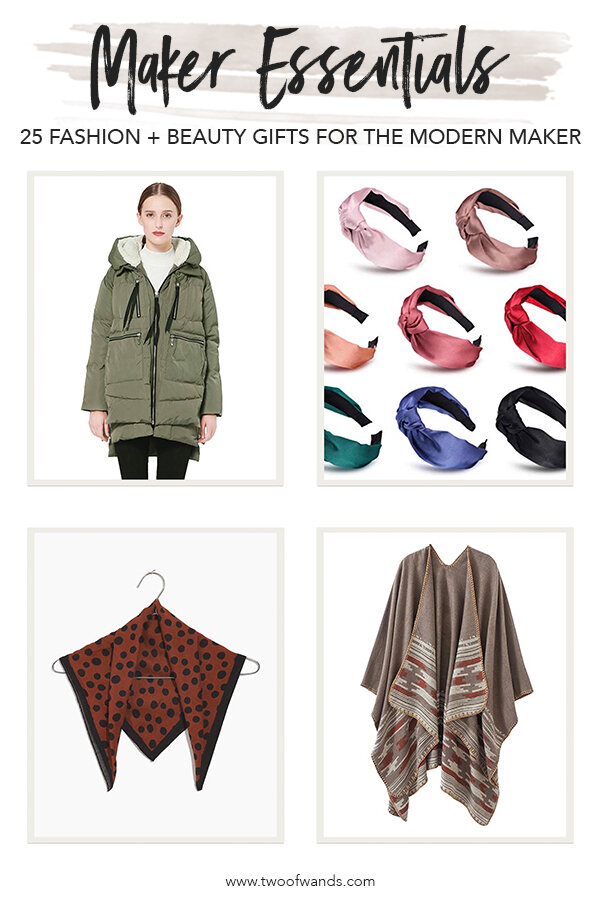 Check out Part 2 of the gift guide for self-care items here.
Check out Part 1 of the gift guide for maker goodies + tools here.