A midi skirt is the best choice for fall and winter because it's comfy to wear and warm while girlish and sweet. We've already shared some cool ideas to wear a midi skirt but today I'd like to share one of the trendiest ideas for this year – a velvet midi skirt. Velvet is the hit of the year, and velvet skirts are going to be on every celebrity and fashionista this fall and winter. Let's have a look how to style such a skirt.
A-Line Skirts
An A-line midi velvet skirt is a gorgeous idea to wear, it's very feminine and chic. Choose the color you like, anything is available, from pink to emerald; if you want to add a fall or winter feel to your look, have a look at navy, emerald, red, burgundy, mustard. Put on a tee and a black leather jacket, or a slouchy sweater and nude heels. Stylish such a gorgeous skirt is easy, have a look at the examples.
a striped black and white tee, a yellow pleated velvet midi skirt, a black leather jacket and a black bag
a blush pleated midi skirt, a white turtleneck, a faux fur shawl and white booties for a glam holiday look
a yellow velvet midi skirt, a white shirt, a navy velvet blazer and velvet booties for a chic winter look
Straight And Pencil Skirts
Straight silhouette is non-typical for velvet skirt but you can find some very eye-catchy ones. Choose bold colors to make a statement, add a tee, a black leather jacket and sneakers. You can also try a refined pencil velvet skirt with a slit and lace there. Styling such a skirt is a bit more difficult, you'll need a sophisticated blouse, or a boho one with bell sleeves and matching shoes.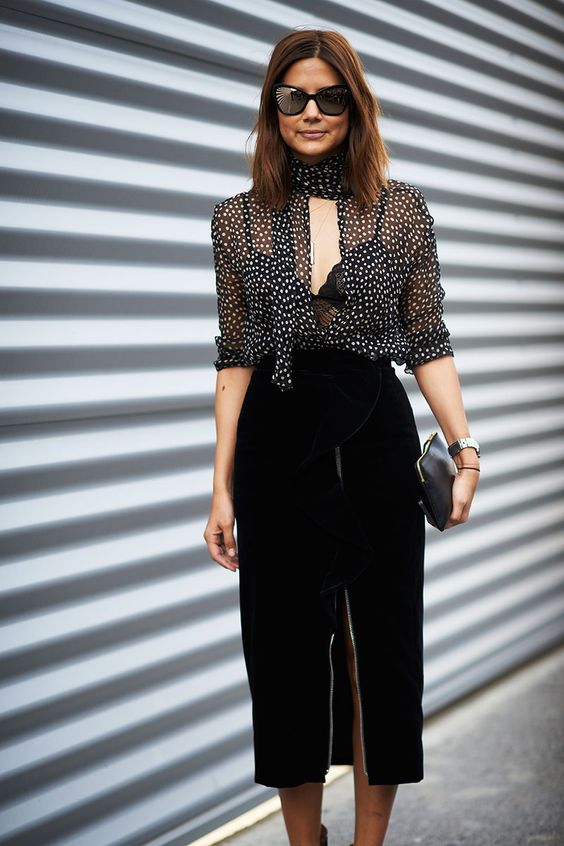 a black lace bralette, a black polka dot sheer blouse, a black velvet pencil skirt with a front slit
a bold bohemian look with a printed blouse with bell sleeves, a black velvet skirt with a slit, velvet shoes and a silver bag