Since its invention by Le Corbusier in 1930, the butterfly roof has endured as a dramatic architectural feature.
Popularized in the 1950s, the butterfly roof is an inverted gable whose V-shape resembles that of two lifted wings. We have French architect Le Corbusier to thank for the distinctive feature; in 1930, he proposed it for a Chilean vacation home for heiress and arts patron Eugenia Errazuriz, but she went bankrupt before it could be built. The butterfly roof would become a reality in 1933, however, in Karuizawa, Japan, where Czech architect Antonin Raymond built a home for himself and his wife based on Le Corbusier's design—a residence featured by Architectural Record in 1934.
The butterfly roof made its way to the States in 1945 with Marcel Breuer's Geller House in Lawrence, Long Island. Breuer placed long windows under the roofline to let in light without sacrificing privacy, a key advantage of the butterfly roof. Finally, in 1957, architect William Krisel would propose the design to the Alexander Construction Company, a development company that built over 2,500 homes in Palm Springs, California. From there, the butterfly roof spread through the rest of Southern California.
A striking break from flat or gable roofs, the butterfly roof has clear appeal. Take a look at some of our favorite examples below.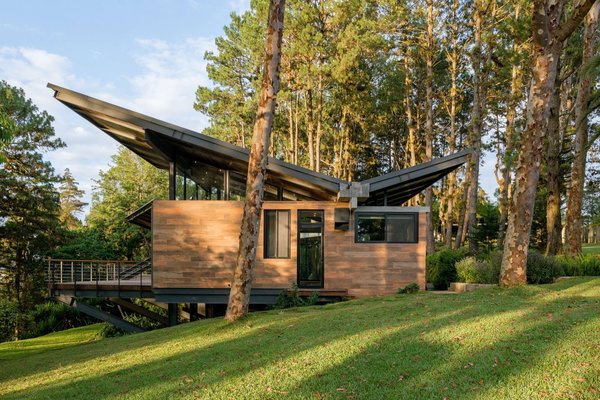 See the full story on Dwell.com: 15 Butterfly Roofs That Set the Heart Aflutter
Related stories: