Here are 10 Halloween costume ideas for teens, from Stay Glam: 
Choosing a Halloween costume is not easy!
There are so many choices from scary to spooky to cute and more. We have done some of the hard work for you and found 10 Halloween costume ideas for teens.
Any of these costumes will be a hit at any Halloween party. Take a look to find your favourite.
1. WEDNESDAY ADDAMS
The Addams family are classic costume choices for Halloween. Wednesday Addams is a great choice for teens. Her look is easy to recreate and will look spooky. You could even get your friends to dress up as the rest of the kooky family.
Instagram | quirkygirlcosplay
2. STRANGER THINGS NANCY AND STEVE
Stranger Things has become a horror TV show favourite, which makes the characters from the show great costume ideas. You could be any of the characters but these two have dressed up as Steven and Nancy. This would be the perfect couples costume and it is easy to recreate. We love this simple and awesome costume idea!
Instagram | verilyvictoria
3. CREEPY CLOWN
Clowns are very creepy! So it is no surprise that clowns are popular Halloween costumes. This costume uses vibrant colors and still has the scary look. You could even wear an outfit like this and wear scarier makeup. A clown is a low-cost outfit that could be recreated in so many ways.
Instagram | debdan62
4. STYLISH SKELETON
If you want to dress up for Halloween but don't want to be too over the top then this next pick could be for you. This outfit is black and spooky with a skeleton skirt. An outfit like this is easily recreated and will give you the Halloween look. You can be as stylish as you like with this!
Instagram | glistencreations
5. GYPSY COSTUME
Next, we have a gypsy costume. A gypsy costume is a creative choice, it will give you a mystical look with a crystal ball. You could recreate your gypsy costume however you like but a crystal ball is a must have. You could even add some dark makeup to give the costume a Halloween vibe.
Instagram | jessicaladida
6. BEETLEJUICE, BEETLEJUICE, BEETLEJUICE
Beetlejuice is an iconic Halloween move. He is a male character but that does not mean that the girls can't dress up as him to! A costume like this is the perfect way for the girls to dress up as this scary character. You could even go more over the top with the makeup. However you recreate the Beetlejuice look just make sure you include stripes. Stripes are a must have!
Instagram | karolinaviolet
7. HOTEL TRANSYLVANIA MAVIS AND JOHNNY
Hotel Transylvania is a fun vampire movie. These two have dressed up as Johnny and Mavis. Mavis is the perfect vampire costume choice for any teen. You could could even get your other half or a friend to dress up as Johnny to. We love this creative and spooky costume idea!
Instagram | kit.sun.e
8. DAY OF THE DEAD SKELETON
Day of the Dead costumes are very popular for Halloween. With this next costume idea we can see why! This costume features the intricate makeup, the floral crown and a funky outfit. You could easily recreate something like this. With the Day of the Dead skulls you get to be both vibrant and spooky.
Instagram | kylakronicles
9. HERMIONE GRANGER COSTUME
Take inspiration from the wizarding world of Harry Potter this Halloween and dress up as one of the characters. This costume is of Hermione Granger from the Deathly Hallows. A costume like this is simple to recreate and would be a hit at any Halloween party. You could dress up as any of the characters to create an awesome Halloween look.
Instagram | magic_cosplaygroup
10. SCARECROW
Scarecrows can be either cute or terrifying. This costume has gone for a cute look. An outfit like this would be perfect for any teen. It is low-cost, easy to create and the makeup is simple to do to. We love this look and it would be a great look for any girl this Halloween.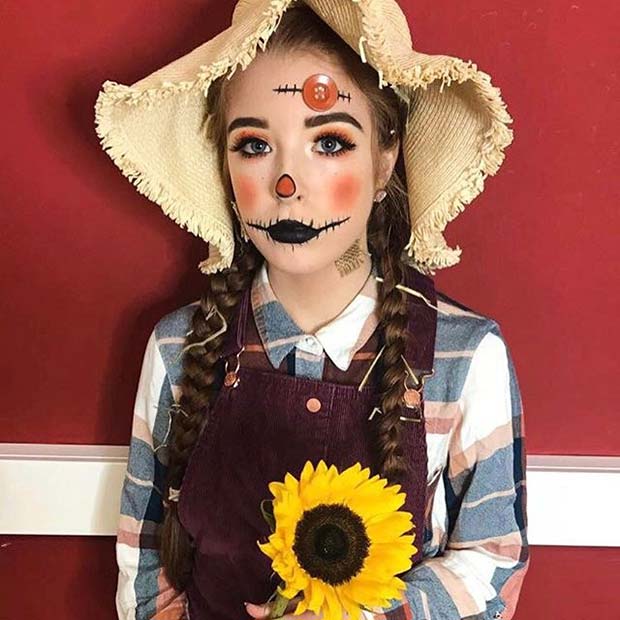 Instagram | makeupwearingunicorn
The post 10 Halloween Costume Ideas for Teens appeared first on crazyforus.