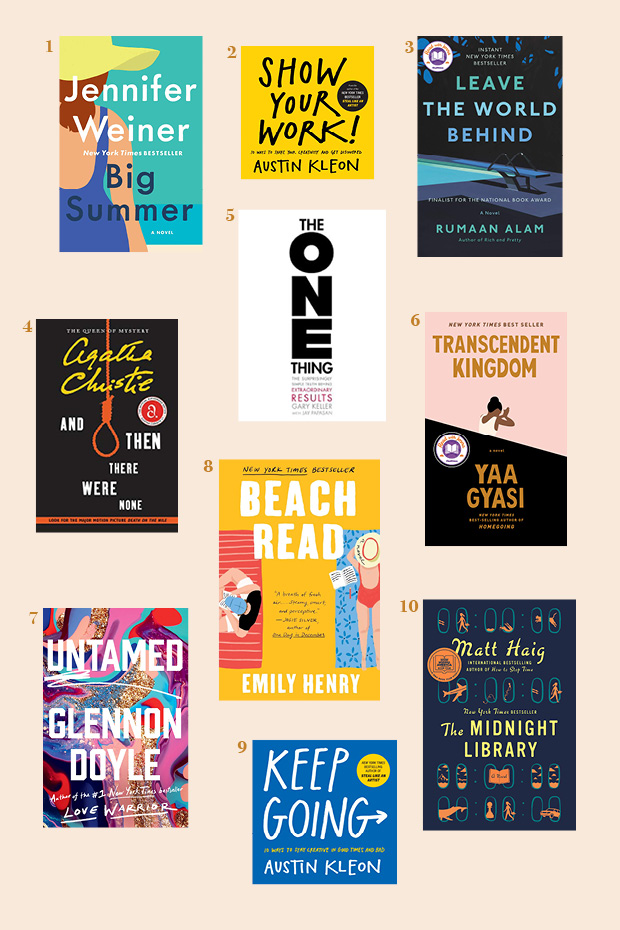 It's been over a year since my last blog post. That's hard for me to admit because I really enjoy blogging, but I just did not have the energy last year. Though I already worked from home since before the pandemic, 2020 was exceptionally difficult. The one thing I did consistently was read (and of course watch dozens of new Netflix series). Every year I set a reading goal on Goodreads, and I feel like I'm flying through the 40 book goal I set for 2021. Here are the first ten books I've read this year…
This was just OK for me.  The first half had potential but I didn't care for the frenemies drama or social media influencer focus (which is ironic as I'm a blogger).  Halfway through the book the genre changes from dull romance to an unbelievable (literally) murder mystery. Overall, I was disappointed as this was one of top books of 2020.
Show Your Work!: 10 Ways to Share Your Creativity and Get Discovered
It's kind of hard to not like this book, specifically because it took less than an hour to read.  It contains a lot of practical advice, but if you're looking for something deep, this probably isn't for you.  Great ideas for sparking creativity and sharing your work.
Reading some of the reviews for this book, its clear opinions are divided. People either loved or hated this book, and while I was reading it, I kept going back and forth between the two. In the end, I really liked it. It had a simmering tension that kept me thinking about the book even when I wasn't reading it, but then it just dies out and you are left wanting more. I also found myself having to use the dictionary function on my Kindle a lot, but I guess I'm smarter because of it.
An oldie but a goodie.  I'm a big fan of mysteries and the concept of overdue justice as a whole. I loved that we knew what would happen next because of the sequence, but had no idea how it would come about. This is my second Agatha Christie book after "Murder on the Orient Express" and I can't wait to read more.
The One Thing: The Surprisingly Simple Truth Behind Extraordinary Results
The book's main message for productivity is to focus on one thing at a time. If that sounds obvious to you then this book probably isn't for you. But for someone who tries to do multiple things at once, aka me, you might find this book helpful.  
A sad and thoughtful narrative about a woman trying to survive family trauma while pursuing her ambitions. This book questions religion, science, and the different ways to handle grief. The story is heartbreaking and the writing is beautiful. I have yet to read the author's previous work "Homegoing" but it's definitely on my list.
There was a lot of hype surrounding this book so I went in with high expectations. The book was half memoir and half self-help, and the memoir parts were way more interesting.  The author had me in the first half but then became completely self-righteous.  I lost count of the amount of contradictory quotes and stories. Some of the chapters were about serious topics like race, but were only a few pages long and definitely lacked perspective and self-awareness. The way I described this book to a friend was as a "compilation of chessy Instagram quotes".  It was a struggle to finish.
I love a good romance and that's exactly what this book was. Honestly, I expected to read something more chic lit but instead I got a warm love story that juggles friendship, regrets, secrets, and betrayals. I honestly can't tell if the past year has softened me to the idea of clichéd romances, but if you love the enemies to lovers trope, this one's for you!
Keep Going: 10 Ways to Stay Creative in Good Times and Bad
My second Austin Kleon book of the year, and probably not the last. I enjoyed this book a tiny bit more than "Show Your Work!" particularly because the pandemic had emotionally exhausted me from doing anything creative. This was a short and easy read and unlike many other self-help books never once felt patronizing. I highly recommend this book if you're a creative struggling with creativity.
The book has a magical premise. Between life and death there is a library. Select a volume and see how making a different decision leads to a different outcome and thus a completely different life. While the book wasn't riveting, I really enjoyed the premise. That might also have to do with the fact that I constantly think about how different my life could be if I had made a different decision. The author offers a beautifully nuanced story that speaks to the joys found in living.
Let me know your thoughts on any of these books! And if you want to keep up with what I'm reading, follow me on Goodreads!
The post 10 Books I've Read This Year appeared first on Why Don't You Make Me?.