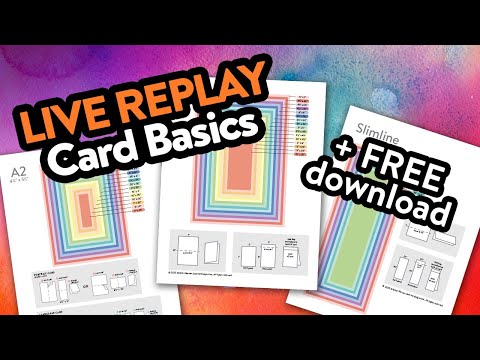 NO LONGER LIVE – A chat on cardmaking basics—card sizes, measurements, how to create card bases, proportional layers, etc. Plus, a bit of a Q&A.
DOWNLOAD PDF of card/layer dimensions (UPDATED PDF): https://kwdesign.at/cardbasicsPDF2
Subscribe for more videos: http://kwdesign.at/1QaRWtb
REGISTER FOR MY ONLINE WATERCOLOR CLASS: https://kwdesign.at/simplywatercolor
ENTER MY MONTHLY GIVEAWAYS!
https://kwdesign.at/monthlygiveaways
SHARE YOUR CARDS with MAIL CALL!
Details here: https://kwdesign.at/mailcall
• —– • L I N K S • —– •
C A R D . B L O G : http://kwdesign.at/kwernerblog
M Y . S H O P: http://kwernerdesignshop.com/
T W I T T E R : http://twitter.com/starofmay
F A C E B O O K: http://www.facebook.com/kwernerdesign
I N S T A G R A M : http://instagram.com/starofmay
P I N T E R E S T : http://pinterest.com/kristinawerner/
• —– • M A I L • —– •
I love receiving mail and hearing from you! Please do not send gifts or products. But I do love letters and seeing your handmade cards! 🙂
MAILING ADDRESS:
Kristina Werner
770 E. Main St. #143
Lehi, UT 84043
UNITED STATES
• —– • D I S C L A I M E R • —– •
Some product is provided by manufacturers for review and use. Compensated affiliate links used where possible.